Collette Tours Reviews
Claimed This company has claimed this profile, is getting alerted on any new customer reviews entering this page, and may engage in dialogue with its customers to address their matters.

Companies cannot pay money or provide goods in order to remove or alter customer reviews.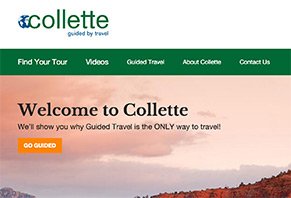 In business for nearly 100 years, family-owned Collette Tours provides their customers with guided travel experiences in cities across all seven continents.
About Collette Tours
Founded by Jack Collette in 1918, Collette Tours is a family owned business that provides guided travel experiences across all seven continents, including land tours, river cruises, rail journeys, small group tours, family trips, garden holidays and more. In other words, Collette claims to handle all the details, such as airlines, accommodations, transportation, meals, sightseeing and more, and all you have to do is enjoy the experience.
When choosing Collette Tours, the company offers 4 different types of touring experiences:
Explorations – With small groups of 12-24 passengers, these tours are intended to help you "capture the spirit of the destination" while enjoying local cuisine and even exploring on your own.
Family Travel – Tours specifically focused on providing your whole family with enjoyment, including some of the top local experiences, must-see sites, cultural activities, and family-oriented hotels.
Royal Horticultural Society – Claimed to help "garden enthusiasts and their fellow travelers gain privileged insider access to the world's finest gardens," while also exploring other must-see sites. With this option, you'll also receive a 1-year gift membership to the Royal Horticultural Society.
Spotlights – Shorter trips claimed to provide a blend of in-depth exploration and leisure time so that you'll have the ability to connect with a destination's daily life.
How to Choose Your Collette Tour
In order to begin your Collette tour, you'll first need to select the region and country you're interested in visiting through the home page, as well as your travel dates. You can also click the Find Your Tour link at the top of the company's website, and then narrow your choices based on important factors such as group size, if the package focuses on museums, wine, national parks, etc., and more.
After you press the Search button, all results matching your criteria will be listed, including the name of the tour, a brief description, dates, the number of meals included, and starting prices. From here, you can find out more by clicking on the Tour Details or Request a Quote buttons.
Then, once you've found your perfect Collette Tour, you'll have to provide your information to secure your spot, but then have your local travel agent assist you in making final reservations.
Sure, based on all the advantages that Collette Tours might provide during your traveling experience, it might seem like a no-brainer. But before you book your reservation, consider the following:
What is Guided Touring?
According to the Collette Tours website, the company acts as a tour guide and concierge throughout your trip, including "sightseeing, entertainment, admissions to museums and other venues, and hotels."
In other words, Collette's tour guide remain with you throughout your trip in order to make you more comfortable in your new surroundings, show you the sites, and to take care of any problems should they arise.
Who Might Benefit Most From Collette's Guided Touring?
Although guided touring can provide many of the benefits mentioned above, it's often best utilized for individuals traveling alone, for large groups or families, or simply for those that want a turnkey traveling experience. Also, guided touring can be ideal when visiting "off the map" locations such as Antarctica, where chartering planes and boats individually could present a huge hassle.
On the other hand, guided tours mean that you'll be grouped with other people (sometimes a lot of other people), which might make the experience a little unwieldy, especially if you're travelling with a group with different goals than yours. Also (as we'll talk about in a moment), many of the guided tours might simply consist of driving past different landmarks in a bus going 30mph, which might not provide you with the personal experience you were expecting.
What Collette Tour's Customers Are Saying
Collette Travel Services based out of Pawtucket, RI had an A+ rating with the Better Business Bureau, with 11 closed complaints (as of 4/9/15). Most of this appeared to reference difficulty obtaining refunds, although the company seems to have settled all complaints in an amicable manner.
Collette Tours also had a 2-star Yelp rating, with the most common complaints stating that travelers received budget-style accommodations and meals at luxury prices.
Numerous Collette customers also provided their feedback on this Fodors.com thread, most of which appeared to have been pleased with their experiences. As with Yelp reviews though, most of the negative comments seemed to revolve around low-quality hotels and dining.
There were also numerous customer reviews for Collette across several TripAdvisor forum threads. And while most travelers seem to have been pleased with their experience, the most common complaints were of panoramic (e.g. bus only) tours and of lower-than-expected accommodation quality.
Finally, 83 Collette customers provided feedback on Epinions, and rated the travel company an average of 3 stars. Common compliments included good tour guides, high-quality food and accommodations, and a pleasurable experience for the money. On the other hand, the most common complaints cited mis-scheduled flights and road transportation, and disorganized tours.
Collette Tours Pricing
What you'll pay for your Collette Tour depends largely on your destination and the things you'd like to do while there, and can range from several hundred to several thousand dollars per person.
However, according to Collette, their planning services come with "volume buying power," which means you can save up to 40 percent versus planning the same trip on your own. Also, if you're planning to choose a Family Travel tour, Collette provides substantially discounted rates to children 14 and under.
Important note: Airfare to your destination is not covered under Collette's package prices. In other words, their listed prices only include travel and accommodations once you've arrived at your final destination.
In order to speak with a Collette Tours representative to get a better idea of costs, you can contact one of their Travel Experts at 800-340-5158.
Should You Choose Collette Tours For Your Next Travel Adventure?
Chopping to the Point: If you're traveling to a foreign country on your own, don't enjoy researching travel plans, or just want a hand-off traveling experience, Collette Tours is a company that has been in business nearly 100 years, and the vast majority of their customers seem to have been pleased with their experiences. As such, it might be the case that you will too.
However, it appears that the most common complaints seem to revolve around poor quality lodging and food, although this seems to be heavily dependent on location.
Never again.

By Oneida M.

,

Monticello, NY

,

Nov 6, 2019
Verified Reviewer

I just returned from a trip to Jerusalem...I had waited my whole life to go! Had it not been for our wonderful guide, I would have left on the second day. The whole trip was a hectic mess...it had been advertised as a pilgrimage, but there was very little spiritual benefit or activities. The bus rides were so long, and then we had only a very brief time to visit a site...we were even thrown out of a major church after only five minutes. I agree with others on this site, that the transportation issues were horrendous. Collette canceled an all-important trip to Mount Carmel with no notice which was a disappointment to many as we came from a Carmelite national shrine. Again, I wish to say had it not been for our guide (Rami) the whole thing would have been beyond horrible. Two people were injured, one requiring surgery upon his return to the states. We were rushed, exhausted, and led about by a time table that was close to twelve hours a day. There was no time to sit and savor the sites or to pray. At this point, most of the trip was a blur.

I do have to say that the hotels were fine, and the food was passable. Myself and a few others backed out of two bus trips and set out on our own...because we couldn't take the frantic pace anymore. At this point, I am planning to return to Jerusalem on my own to complete the objectives of my pilgrimage. It is a terrible thing to take money from people and leave us so frustrated and unhappy. Most people will never be able to return. For shame.

Bottom Line: No, I would not recommend this to a friend

---

Disaster with Collette

By Maria C.

,

Boston, MA

,

Jun 25, 2019
Verified Reviewer

I just came back from Germany: Romantic Rd/cities tour every day, the entire trip my friend and I were aggravated and so bored. Up 5:30 am daily for 11 days, we wanted to literally go home, the trip was absolutely boring and you're on the go to a little cute area that's as big as baseball field for hours with boring tours of the cities with a guided tour before you're back on the bus for hours continuing your trip like this boring for 8 days. The only nice place was Rothenburg, which you don't need two nights there just one, but it was for two, and Munich with Bavaria to Ludwig's castle was nice. This was a disaster trip. I used Collette twice before had no problem but this trip is making me stop taking tours with them.

Bottom Line: No, I would not recommend this to a friend

---

Advertisement

---

Spain Classics Tour with Collette Travel in October 2018

By Barbara P.

,

Tennessee

,

Dec 12, 2018
Verified Reviewer

I just wanted to say that the tour we took to Spain was horrible. Collette markets themselves as "first class." Wrong...

Example: The tour bus we had was cramped, absolutely NO legroom, we were told not to use the onboard bathroom as then we would have to spend time driving around Spain looking for a receptacle to dump it. We ate at "TRUCK STOPS," yes, truck stops! There were 45 people in this tour and we had absolutely NO TIME to do anything but stand in lines - a line for the bathroom, a line for food, and with our guide telling us we had TEN minutes, hurry up. We had ZERO time to shop, we spent the time, that's right, in "touring lines," forming lines to walk through the town, touring one church after another church. We came home with NOTHING purchased from Spain...and the meals that were covered in the tour package? Never included a good variety of fish. If you were lucky you had "hake fish" to choose as one and only fish option, the rest was pasta, lots of bread...very sad.

If you have had this kind of experience with them, the only thing I say that will call their attention to this, is to demand your money back for the price of the tour. Complaints alone just don't do it.

But here's an update: I sent in my letter complaining above and received a phone call from Collette rep. I demanded 1/2 minimum of my tour package price back...Today he called back to say "they do not refund for reviews of this nature." What? How bad does a tour have to be in order to get a refund....

All I can say to you out there, let the buyer beware.

Not worth the money we paid, for our 27th Wedding Anniversary! Yep, that's right. I don't know how they are getting more than two stars overall.

Bottom Line: No, I would not recommend this to a friend

---

British Landscapes

By Lynne M.

,

Westerville, OH

,

Dec 6, 2018
Verified Reviewer

We booked this tour through Ohio AAA Members Choice. It was never represented to us that it was a Collette Tour. We were told we would have afternoons free, which was untrue. The tour guides and coach driver were excellent, and we saw much of the United Kingdom, but it was too rushed. The hotel in York was a smelly cheap Holiday Inn. The rest of the hotels were 4-star. Although we enjoyed our time, we would not go on another Collette Tour, too much with not enough time spent anywhere. Too rushed.

Bottom Line: No, I would not recommend this to a friend

---

Advertisement

---

Worst tour

By Arny K.

,

Ventura, CA

,

Nov 27, 2018
Verified Reviewer

Left for guided tour 10 days. Destination Israel. Flight on El Al was direct but I was told I did not need to upgrade because El Al had extra leg room...not so.

From day one, my wife and I were hurried to the bus, lunch, and back on the bus. The trip was a nightmare, even when the bus ran over a piece of luggage in their haste to keep on schedule.

I can go on and on, but I feel it would be futile to warn people of such tours.

Bottom Line: No, I would not recommend this to a friend

---

Terrible

By Marcia C.

,

Santa Monica, CA

,

Sep 28, 2018
Verified Reviewer

I booked a tour to France, was to receive documents three weeks prior to departure, but I never received them. I called, they then said 14 days prior, I was to receive the documents no later than today, but I never received them. I called again and they said they never sent them and will send sometime next week, maybe Tuesday, and everyone is gone for the weekend, so no manager was available to help until Monday. That leaves if mailed Tuesday, maybe received by Friday or Saturday or later, if received at all. Find a company that cares and is not just taking your money and giving you the runaround. It is not worth it when there are so many other, better companies who care.

Bottom Line: No, I would not recommend this to a friend

---

Best trip and tour guide ever!

By Carole O.

,

Ireland

,

Aug 21, 2018
Verified Reviewer

This tour to the UK and Ireland was our first with Collette and certainly will not be our last. It was a wonderful experienced. There is a lot packed into two weeks, but we were fortunate to be lead by Norman Greene. What a treat! Poor guy had a coach full of seniors with varying degrees of temperament, but he never showed any signs of frustration or ill temper. He had a wealth of information and in general, a very nice man. We would tour with him anytime!

We saw everything from sheep herding in Ireland to the Edinburgh Scottish Tattoo in Scotland. I can't wait for our next trip! Highly recommend this tour! Collette also did a great job with pre-trip readiness.

Bottom Line: Yes, I would recommend this to a friend

---

Shades of Ireland

By Linda M.

,

Middleton, MA

,

Aug 20, 2018
Verified Reviewer

I convinced my husband to go to Ireland, I looked at many tours but decided on Collette. Fiona was wonderful, well organized, and very nice. Nick was our excellent driver and Jaimie filled in one day with a very scary ride down from the Ring of Kerry, but he did a great job, nothing was better than this trip.

Limerick was probably my least favorite and Killarney was my favorite, it was such a beautiful buggy ride over the island by a boat. It was a beautiful area, wish we could have stayed one more day and two days at Cabra Castle. It was so beautiful and would be a relaxing day before we got home. We enjoyed how beautiful it was. We had a bus with 43 wonderful people all so congenial and friendly.

Thank you Collette tour, Fiona, Nick, and Jaimie for making us have such a wonderful tour. Hopefully, I can convince my husband to "cross the pond again!"

Bottom Line: Yes, I would recommend this to a friend

---

Collette tours October 2017 to China and Yangtze River cruise

By Maureen D.

,

Lincolnshire, England

,

Jul 11, 2018
Verified Reviewer

My son Steven and I went on a Collette tour and cruise on the 4th of October 2017. We were the only two from England, the rest of the party came from America and Canada. One person from Canada was a doctor and another a lady called Evelyn, also a lady who was a midwife from the USA. Many of the passengers whilst on Victoria cruise were taken very poorly, me in particular, and I had to be taken to the hospital, transferred from the boat to hospital in China by ambulance suffering from salmonella, septicemia, etc.

We had a photo taken and many people had the booklet signed, with email addresses by other passengers but unfortunately, we did not get ours signed. I would be very happy to hear from some of the other passengers regarding the holiday experiences, particularly the outbreak.

Bottom Line: No, I would not recommend this to a friend

---

Portugal and Spain classics

By Leonor J.

,

North Carolina

,

May 29, 2018
Verified Reviewer

I am very dissatisfied with Collette and its tour director. This company only offers panoramic tours. In our case, people in our tour had to pay to get into the Alhambra and the arts and science museum in Valencia, even though Collette said we were going to get inside those places. The tour director is not qualified. Lacks empathy, promised we were going to Montjuic to see the water fountain color and sound show and just took us back to the hotel.

Bottom Line: No, I would not recommend this to a friend

---

South Africa trip

I had the opportunity to go on a tour of South Africa with friends planned by Collette Tours. I found that during the planning process that there were a few mishaps with Collette, including not being able to identify the group when I called Collette to answer a question, canceling not once but twice, an informative session with the group and failure of Collette to follow-up with concerns that came up with the trip on our return.

Things Collette did well: picking wonderful hotels for us to stay in, sending a beautiful package prior to our leaving and before leaving a willingness to correct problems (I haven't seen this on our return). I would like to see Collette improve on activities and places we visited while in South Africa. Our tour was 14 days and we visited a winery for 3 days, a riverfront hotel for 3 days and though they were beautiful places, we really did not have an opportunity to visit surrounding areas as the hotels were off the beaten path and we didn't have evening transportation, missing museums, art galleries, nightlife, etc., for us to get a taste of the different cities of South Africa.

In 14 days, we had a one-day safari, visited a diamond "factory" that was actually a diamond store in downtown Cape Town where we were greeted with champagne and cappuccino, with the goal for us to spend money. I actually was encouraged and previewed diamond earrings on sale for $13500, a diamond bracelet for $100000! We visited an aloe "factory" to buy aloe products and with the exception of going to the Apartheid museum, the ostrich farm and paying to have dinner with a local family, we never visited something that was for the purpose of seeing what made South Africa special.

We spent many hours on the bus and given the opportunity to see many Dutch buildings and churches in most of the cities we visited, the beautiful coastline of South Africa and the winery. All nice, but not what I think about when I think of South Africa. If we had visited these places for a few hours and not spent days, I believe my trip would have been more enjoyable. On return, I have compared my trip with other South African tours online and I feel cheated.

I suggest before booking this tour that you compare. I can't blame anyone but myself for not checking out Collette and their idea of what should be seen on a visit to South Africa!

Happy travels.

Bottom Line: No, I would not recommend this to a friend

---