Cologuard Test Reviews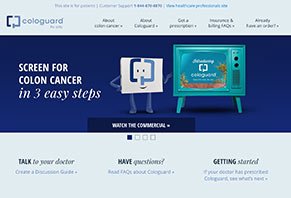 Created by Exact Science Corporation, the Cologuard Test screens for precancerous and cancerous cells in the colon lining, before they enter the bloodstream.
About Cologuard Test
If you're 50 years or older and are at average risk for colon cancer, the Cologuard Test is a prescription-only, noninvasive colon cancer screen that you can take in the comfort of your home.
On top of this, Exact Science Corporation tells us that Cologuard doesn't require any preparation, diet changes, medications, or time off. It simply works over three easy steps: 1) Get, 2) Go, 3) Gone.
Once the company receives your kit, we're told their screening technology can help identify abnormal cells in the colon, making it potentially effective for precancer and cancer (more about this soon).
Colon cancer is a serious issue, and you're looking to take some initiative by getting screened in advance. But is the Cologuard Test necessarily your best option? This is but one of the many important questions we'll help answer in this review.
How Does Cologuard's DNA Screening Work?
The Cologuard Test has been approved by the FDA since 2014 and can be prescribed by any licensed healthcare provider.
To help screen for colon cancer, we're told that Cologuard works using "advanced DNA technology," which identifies abnormal (precancerous or cancerous) cells in the lining of your colon, through your stool.
This way, colon cancer (or the potential for developing it) can be identified long before it enters the bloodstream and increases in severity.
Cologuard vs. Colonoscopy
How does this compare to a traditional colonoscopy? Whereas Cologuard detects abnormal cells via DNA screening, a colonoscopy involves inserting a thin flexible camera into your large intestine, looking for polyps, areas of bleeding, and so forth.
In other words, Cologuard is a DNA screen, compared to the visual inspection provided by a colonoscopy.
Important note: Compared to some of the other health screening kits like Counsyl, 23andMe, and Pathway Genomics, Cologuard is not a genetic test. Here's how they word it in their FAQ:
"Cologuard does not provide information about DNA changes that are inherited or can be passed on to your children. Cologuard identifies DNA mutations that are acquired over time in cells lining the colon; these mutations can be associated with the presence of colon cancer or precancerous lesions."
For more, Cologuard's Patient Brochure and Doctor Discussion Guide are must-reads.
After you've discussed your risk level for colon cancer with your doctor (we'll come back this thought again shortly), they'll order the kit and have it shipped directly to your door.
Once received, you'll open and unzip the plastic bag inside and pull out the contents. Don't forget to keep the bag attached.
Then, the Cologuard collection process works over the following four steps:
Step 1: Sit
Raise the toilet lid and seat, place the included plastic bracket on the toilet rim, and then lower the seat onto the bracket. Next, you'll unscrew the lid of the container and place the container into the hole in the bracket.
Finally, sit on the toilet and have a bowel movement into the container. Remove the container and place it on the counter.
Step 2: Scrape
Now, you'll unscrew the cap on the small plastic tube and pull out the attached probe.
Next, scrape the surface of the stool sample until it lightly covers the end of the probe, and then place the probe back in the tube.
Step 3: Soak
Take the bottle of stool preservative and empty it into the container, covering the stool. Afterward, you'll need to replace the lid on the container, making sure it's straight and tightly closed.
Step 4: Ship
Fill out both labels using a ballpoint pen, including your full name, date of birth, and the sample collection date and time. Peel off one label and wrap it around the tube. Peel off other label and place it on the lid of the container.
Then, return the labeled components to the box, close the zippered bag, and seal the box.
Keep in mind that Cologuard's lab will need to receive your sample within 72 hours of collection. As such, since it's shipped prepaid overnight via UPS, the company recommends sending it within 24 hours.
From there, the company tells us your test results will be delivered to your doctor within two weeks.
What kinds of results might you expect? We'll discuss this in a minute, but let's first find out for whom the Cologuard Test might be ideal.
Who Shouldn't Use the Cologuard Test?
According to the Cologuard website, their test should not be used by "high-risk individuals, including those with a history of colon cancer or polyps, IBD, certain hereditary cancer syndromes, or a family history of colon cancer."
How can you determine your level of risk? The manufacturer recommends talking with your doctor, who can let you know more.
Even if you don't fall into one of the above groups, you can't use the Cologuard Test if you have blood in your stool from hemorrhoids, as well as during menstruation or other existing conditions, as this may result in a false positive.
Speaking of false positives…
How Accurate Are Cologuard's Results?
Again, referencing what we learned on the test's website:
"In a 10,000-patient clinical study, Cologuard found 92% of colon cancers. It also found 69% of high-risk precancers (high-grade dysplasia), those most likely to develop into cancer."
On the other hand, in a clinical study of Cologuard (unknown if it's the same one referenced above), "13% of people without cancer or precancer tested positive." In other words, based on the company's testing, it seems Cologuard results in about a 13% false positive rate.
What happens if your Cologuard Test results come back positive? The company recommends following up with a diagnostic colonoscopy.
Negative? While the company recommends continued screening at regular intervals, they note that Cologuard's "performance when used for repeat testing has not been evaluated or established."
In other words, it's unclear if it can continue to provide effective colorectal screening beyond the first round of testing.
How Much Does the Cologuard Test Cost? Is It Covered by Insurance?
If you'd like to pay for Cologuard out of pocket, the maximum cost is $649. The test's website indicates that 30+ states have legally mandated insurance companies to "cover colon cancer screening tests like Cologuard for fully-insured patients."
This includes Medicare, Medicare, as well as many private insurers.
If you have questions about pricing, coverage, or anything else, Exact Science Corporation's customer service department can be reached at 844-870-8870.
Given what we've learned so far, what are Cologuard's patients saying?
Does the Cologuard Test Come With Solid Patient Reviews?
The screen can provide easy screening that's more accurate than current tests, there seems to be some back-and-forth among authority websites about its overall value.
For example, a 2014 LA Times article puts it this way:
"… anyone testing positive with Cologuard should confirm the result with a colonoscopy. It also said that anyone testing negative should still be regularly screened "with a method appropriate for the individual patient," which in many cases means a colonoscopy.

This raises questions about the value of this "breakthrough test," which Exact Sciences is pricing at about $600 per patient — compared with $25 for the traditional stool blood exam …"
A more recent Health News Review article notes:
"… there's ongoing debate about the appropriateness and cost-effectiveness of the test. While both the FDA and CMS (which recommended approving Medicare coverage of the test for enrollees) had approved the Cologuard test last year, the US Preventive Services Task Force (USPTF) recently concluded in its draft colon cancer screening guideline update that Cologuard should be used as an "alternative screening" tool in certain populations, rather than a "recommended" test."
Together, this means that Cologuard occupies a middle ground between a colonoscopy, which you'll need to have regardless of the results, and the existing FIT test, which provides less accurate results, but also costs a great deal less.
On top of this, many authority websites indicate that Cologuard might not necessarily improve screening rates or mortality rates.
Finally, despite the fact that Cologuard had been around about two years at the time of our research and is FDA approved, we found no direct patient feedback about the process or the results.
From a company perspective, Cologuard is brought to you by Exact Science Corporation based out of Madison, WI.
How Can You Know If the Cologuard Test Is Right for You?
Whether you're concerned about colon cancer and are seeking professional feedback, or you've decided to get screened with a Cologuard Test, you'll need to speak with your doctor first.
They'll be able to provide feedback about all the available options, help you understand your risk level for colon cancer, and discuss any of your concerns.
So, given its accuracy and ease of use, if your insurance carrier covers all (or at least most) of the Cologuard Test, then it might be easy to justify the added cost compared to a traditional FIT test.
Whether you choose Cologuard or FIT, though, keep in mind that neither of these is intended to replace a colonoscopy. Instead—especially if you have a family history of colon cancer or other high-risk factors—they're only designed to work as supplementary screening.
With so little online Cologuard patient feedback, why not be a pioneer, add your voice to the conversation, and help others shop smarter? Write your review below!
Cologuard Test - not reliable!

By Chris S.

,

Arizona

,

Mar 24, 2020
Verified Reviewer

My Cologuard Test results came back as positive. This made my wife and I very anxious. It was a scary time. Just last week, I underwent a Diagnostic Colonoscopy and there were no signs of Colon Cancer with no polyps!

Bottom Line: No, I would not recommend this to a friend

---

Great product

By Lisa B.

,

Berryville, AR

,

Feb 14, 2020
Verified Reviewer

This is a wonder, easy, important product for everyone. My problem is that most insurers do not pay for it. Arkansas Blue Cross and Blue Shield DO NOT COVER THIS PROCEDURE. BUYER BEWARE. But a great product!

Bottom Line: Yes, I would recommend this to a friend

---

Advertisement

---

Bogus test

By Brian K.

,

Denver, CO

,

Jan 30, 2020
Verified Reviewer

BE VERY AWARE. If your Cologuard comes back positive (and it may be a false positive) you will now need a "diagnostic" colonoscopy, instead of a routine screening colonoscopy and your insurance may no longer cover it in full (I HAD TO PAY $1500 OUT OF POCKET).

Just about everybody I talked to tested positive on Cologuard Test. Their 13 percent false positive is BS.

Do not use them. The test will only come back positive and scare the heck out of you and you will need a Colonoscopy anyways. All Cologuard did for me is cost me much worry and anxiety and sleepless nights and money out of pocket.

Bottom Line: No, I would not recommend this to a friend

---

Health insurance fraud

By Joseph P.

,

Chesterfield, MI

,

Jan 25, 2020
Verified Reviewer

Them: "Your test came back positive."

Me: "OMG, I have cancer."

Them: "We don't know."

Me: "What do you mean, 'we don't know?' Positive for blood? Positive for cancer cells or DNA?"

Them: "We don't know, one or the other."

SO I GUESS THIS EXACT SCIENCE IS NOT AT ALL "EXACT." IT'S USELESS SCIENCE. A scam making money for nothing! Health insurance fraud. A waste of my waste. Caused me unnecessary anxiety.

Bottom Line: No, I would not recommend this to a friend

---

Advertisement

---

False positive

By Teresa S.

,

Ohio

,

Jan 22, 2020
Verified Reviewer

I took the Cologuard Test.

It turned out to be a false positive.

I had the colonoscopy and was absolutely fine.

Patients should just have the colonoscopy as their doctor recommends. Waiting a month for my colonoscopy, scared to death that I had colon cancer, and just to find that it was a mere false positive. I do not recommend this inaccurate test.

Bottom Line: No, I would not recommend this to a friend

---

Do not trust Cologuard results!

By Ajit B.

,

Haymarket, VA

,

Jan 20, 2020
Verified Reviewer

I will not trust this test or recommend this test to my friends and relatives. My test came back POSITIVE on 10/22/2019 and me and my wife were surprised and scared. Then I performed three more tests, FIT test once and FOBT twice on two different days about one week apart and they all came back NEGATIVE. But my doctor still wants me to do the Colonoscopy. Maybe all these guys are in this SCAM. I was not scared anymore after my negative test results and I took my time to make the appointment on 1/14/2020 and got my Colonoscopy done anyway. The results were normal and not even a single Polyps was found and I am between 65-70 years old. I will recommend to my friends and family members to do a FIT test annually since it has about the same probability of preventing cancer as Colonoscopy every ten years.

Please take care of yourself!

Bottom Line: No, I would not recommend this to a friend

---

Questionable results

By Cynthia K.

,

New Hampshire

,

Jan 8, 2020
Verified Reviewer

Took the Cologuard Test in December 2019. Have taken the FIT test every year with negative results. This came back positive. Couldn't get the results from Cologuard without waiting up to 30 days. I went to the doctor's office for the results. They gave me the results that just had my name, the date of the text, and the word POSITIVE and nothing else. No explanation of what was positive or how they arrived at the positive result. My doctor wanted me to hurry in and meet with the gastroenterologist to do a colonoscopy which I had five years ago as a result of another positive Cologuard result and the colonoscopy was normal.

Please get other opinions because in 2018, I was told I had a pinpoint cancer tumor in my right breast. I go every year for a mammogram and ultrasound and it was caught. I hurried into surgery, the doctor said she could clear the margins and I lost my right breast. When I went for a follow up a few weeks later, the other surgeon said there was no other cancer found in the breast, it was fine. I WISHED I HADN'T PANICKED AND GOTTEN ANOTHER OPINION OR HAD ANOTHER SURGEON DO ANOTHER LUMPECTOMY. Don't let the doctors panic you to do something you may not need. Get another test, get another opinion as I am doing now.

This seems like a scam. Why can't we see the results without a hassle? And why isn't a colonoscopy recommended after age 73? Is it too dangerous? Is that why? Believe me, if these doctors only got $200 instead of $4000 to do a colonoscopy, I wonder if so many would be done. It's like tonsillectomy when I was a kid, which I had. Now you don't even hear about it anymore. Please slow down and get as many opinions as possible. I didn't with my breast and wish I had. I had to tell the surgeon to wait for the mastectomy, she wanted to do it right away for a zero to one stage cancer. I had three major surgeries in six weeks. Now I wonder if I did the right thing. I never got another opinion because I felt rushed. Don't fall for it. You have time. Thank you.

Bottom Line: No, I would not recommend this to a friend

---

Product is not reliable, will never use again

By Lisa F.

,

Ohio

,

Dec 10, 2019
Verified Reviewer

Will NEVER use this product again. Since I'm now 60 years of age, doctor and medicare requested I take this test. I am not having any problems at all, no family history of colon cancer so I was shocked when my doctor's office called and told me I had received a bad test result and would now have to have an actual colonoscopy. Saw the doctor my primary physician recommended but when I saw the cost for the procedure, facility, and other costs I put off having it done but had to pay a $49.00 specialist fee. After waiting several months and worrying myself to death over this, I contacted a local hospital since they have financial assistance programs and found a doctor there. Hopefully it will be cheaper. Well, I got my results and absolutely nothing is wrong, no sign of any problems and not even any polyps. Great news but now I have medical bills to pay which weren't necessary. I am on disability so funds are limited which really irritates me. Yes, Medicare will pay for the original Cologuard test but they don't pay for any follow-up tests or procedures as a result of a negative Cologuard. I guess if they give out bad results, Medicare is off the hook for payment and doctors still get to bill large dollar amounts. Needless to say, I'm out money and extremely upset and will never use this product ever again or recommend it to anyone else.

Bottom Line: No, I would not recommend this to a friend

---

Never got results and they were positive...

By Anjela G.

,

Connecticut

,

Nov 20, 2019
Verified Reviewer

I never wanted to have a colonoscopy. I had a far removed cousin who had one and had a tear as a result and sadly died.

Okay, so now I felt every year my gyn and my internist would ask me "Have you had a colonoscopy" and finally I went to a gastroenterologist and told her my qualms and anxieties so we reached a compromise. I would do the non-invasive Cologuard Test and depending on the results would then decide how to proceed or not.

In end of July I received my kit and by August I had done the test.

The test itself is simple to follow and they give you great step-by-step instructions and on phone help whenever you need it.

One opens the box and takes out the various pieces. One piece is to place under one's toilet seat. Another is a collection container that fits into that after the seat has been put down. You go to the bathroom as you normally would and then you take a scraping from the sample to put into a vial. Then you pour a bottle of preservative over the sample in the large container. Label the vial and sample box (all are supplied and easy to write on and stick on samples).

Then you close the box and put on the return label. I called for FedEx to pick up and then it was all done. That part was great. I couldn't say enough good things.

After numerous phone calls and emails and a letter or two from the people at Cologuard. I have to say they were exhaustive in their pre-testing attention. A few weeks to a month passed, I received a letter saying the results had been sent to my Gastroenterologist. I called - the machine gave me different prompts and I used the prompt that said: "If you want to talk with a clinician regarding your test results press this number."

I left a message. I heard nothing. I forgot about it and felt if it was a bad result that I would have heard.

I left another message and was now feeling after a week and no response that I should call Cologuard. I called and they were able to tell me that a fax HAD been sent to my doctor. Hmmm. The next day I called the office and this time I spoke with the receptionist. She checked out my file. "No, they hadn't received any results for me." I called Cologuard again. I was told they would resend. They also said I could receive my own results IF I filled up a form and this I did and faxed them in. A day later I received a fax back. They needed the forms resent as the fax was not complete. I decided to instead send the info by email. The next day I called the doctor's office and left a message with the receptionist. I received a call from the doctor who left a message as my phone was not with me. She said I should call the office to discuss how I'd like to proceed with my results. Well, I still didn't have my results so I called back and no answer. I got another message that said to call the office and the PA would let me have my results. I called a few times and she was with a patient. Finally she reached me to tell me that the results were positive and I should schedule a colonoscopy. That was when I called back Cologuard and told them that I just got the results now 4 months later. I asked them about the fax which apparently was the incorrect fax number (though I don't know how this would have happened - unless someone was handwriting the fax number from the doctor's office, or they misread the fax number at Cologuard). But it happened. I asked if they do a follow-up call, especially when a result is positive and they said they did.

So no matter what happened I am going to have to face a colonoscopy and the stress is unimaginable. It is made many times worse as the result was positive and because all these months have passed. I think this test has potential but for me it would have been far less stressful had I just gone ahead and had the bloody colonoscopy. I have to wait a month before I could be scheduled so in all it will be over 5 months from when I received the test to the colonoscopy. I think they need to make sure the doctor has received positive test results. I think the patient also should be told their results. Thankfully to me, I followed through until I got an answer.

Bottom Line: No, I would not recommend this to a friend

---

Not recommended

By Deborah Z.

,

Phoenix, AZ

,

Nov 14, 2019
Verified Reviewer

Unfortunately, I feel scammed by Cologuard and my insurance. Even after an inquiry to both before pursuing the Cologuard option neither party informed me that if your preventative services cover both the Cologuard and colonoscopy and if Cologuard comes back positive it negates the colonoscopy as a preventative screen covered by your plan. So, choose colonoscopy. Otherwise, you will pay out of pocket for the colonoscopy anyway if Cologuard comes back positive. The Cologuard is not worth it. It's a scam to take money and the insurance now takes your money for the colonoscopy. Just get the colonoscopy if you are concerned or want to be checked. Don't give Cologuard the money!

Bottom Line: No, I would not recommend this to a friend

---

I would NOT recommend this!

By Linda J.

,

Whittier, CA

,

Nov 8, 2019
Verified Reviewer

I would NOT recommend this test. My test came back positive and scared me to death. I had a follow-up Colonoscopy which was normal. Get a Colonoscopy and not this test! The Colonoscopy was not bad. You are asleep. The only thing that is not pleasant is the liquid you have to take the night before. I'm normally not a complainer but again this is not a test I would recommend. As a last comment, my insurance paid a good portion but I still had to pay $258.00.

Bottom Line: No, I would not recommend this to a friend

---