Color Changing Humidifier by Bell & Howell Reviews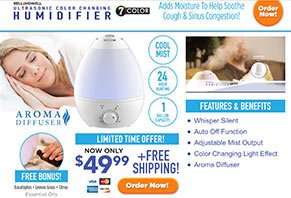 The Color Changing Humidifier by Bell & Howell features 7 energy saving LEDs to create the perfect ambiance, while its ultrasonic mist relieves irritation.
About Color Changing Humidifier by Bell & Howell
The Color Changing Humidifier by Bell & Howell features ultrasonic technology that emits a cool, healthy mist, helping to add moisture, soothe coughing, and ease sinus congestion.
Like its namesake, we're told the Color Changing Humidifier also uses seven built-in therapeutic lights to "create the perfect ambiance," simply by pressing a button.
It includes a replaceable ceramic filter they claim can help eliminate bacteria, further reducing your coughing and congestion.
Compared to the competition, the Color Changing Humidifier features a proprietary aroma diffuser that works with any essential oil to create an even more soothing atmosphere. Simply add a few drops and close the tray.
Additional Color Changing Humidifier features include a 1-gallon capacity, 24-hour run time, automatic shutoff, adjustable mist output, and whisper-silent operation.
But will the Color Changing Humidifier work meaningfully better than the competition? Will its lights add any value? Can you realistically expect to "breathe better and feel better"?
That's what we're here to help you find out.
What Causes Coughing & Sinus Congestion?
It's All About Irritation
Coughing and sinus congestion aren't conditions themselves; instead, they're symptoms caused by other underlying conditions.
The problem? There are literally thousands of different conditions that can lead to each of these symptoms. In fact, since coughing and sinus congestion are caused by anything that irritates the airway or sinuses, respectively, there are probably more things that can cause these conditions than not.
Why Is Indoor Air Quality So Important?
As far as your home goes, the EPA tells us that indoor air pollution is generally a bigger problem than the air we're exposed to outside, primarily since we spend about 90% of our time inside.
As a result, it's easy to imagine that there are a number of common airway and sinus irritants floating around your home, including dust, pet dander, cleaning chemicals, and more. But will the cool mist delivered by devices like the Color Changing Humidifier change the situation?
First, let's find out how they work.
How Do Ultrasonic Humidifiers Work? Are There Any Pros & Cons?
There are several popular types of portable humidifier, such as:
Steam Humidifiers – Boils water and releases steam into the room.
Impeller Humidifiers – A diffuser breaks water droplets into fine particles that float into the air as a cool fog.
Wick/Evaporative Humidifiers – Moisture is drawn from a reservoir with a paper, cloth, or foam wick, and blown out into the room using a fan.
On the other hand, ultrasonic humidifiers feature a metal (or ceramic, as in the case of Color Changing Humidifier) diaphragm that vibrates at an ultrasonic frequency, which simply means it's above audible sound.
When water touches this diaphragm, it's broken into ultra-small droplets that exit the device as a fine mist.
Before reaching this plate on the Color Changing Humidifier, water will pass through its ceramic filter, which is common in these devices to help remove mold, bacteria, and other contaminants and impurities. This way, the mist it emits will be as clean as possible.
All things being equal, compared to other humidifier types, ultrasonic options are generally among the most expensive.
In return for your money, however, you'll often gain advantages like energy efficiency, zero noise, low maintenance, ease of cleaning, and that, since they greatly reduce the risk of burns, ultrasonic humidifiers are often acceptable for use in a child's room.
On the other hand, perhaps the biggest downside to ultrasonic humidifiers is that they're prone to bacterial contamination, which then can cause your air quality to decrease. This can be avoided by cleaning your humidifier frequently—typically after each tank.
How does Color Changing Humidifier compare to other options from a price perspective? We'll talk more about this in a moment, but let's find out what benefits you can expect to achieve from using Color Changing Humidifier.
Will Using Color Changing Humidifier Result In Any Health Benefits?
Since all humidifiers release water vapor into the air, their main purpose is to act as a natural moisturizer. And by adding moisture to your environment, you might be able to reduce symptoms associated with dry skin, sinus congestion, coughing, cracked lips, irritated nose, and more.
However, it's important to note that, like any other condition, there can be multiple causes for each of these. So, while Color Changing Humidifier (or any other humidifier, for that matter) might help address them, it's certainly not a sure thing.
How Much Does the Color Changing Humidifier Cost?
Bell & Howell priced the Color Changing Humidifier at $49.99, which includes free S&H. As a bonus, we're told you'll also receive bottles of the following essential oils:
Eucalyptus: Relieves stuffy sinuses and helps cleanse your body of toxins
Lemongrass: Helps relieve anxiety, irritability, and insomnia
Citrus: Increases energy, improves focus, and boosts mood
Pro tip: Bell & Howell doesn't tell us how often you'll need to replace your ceramic filter or how much one costs, but after a quick search online (for third-party models) it seems you'll probably pay in the neighborhood of $5 to $15.
All Color Changing Humidifiers come with a 30-day refund policy, less S&H. To request one, customer service can be reached at 800-898-3885.
Are There Any Color Changing Humidifier Reviews? What About the Competition?
While we didn't find any customer feedback for this specific Bell & Howell Model, if you search online for "color changing humidifier," you'll find several meaningfully similar options. Many of these even include the same aroma diffuser.
You can expand your options even further by searching for related terms like "lighted humidifier" and "nightlight humidifier."
You'll find that some of these can be purchased for as little as $26, although most seem to fall in the same $40–$50 range as Color Changing Humidifier.
We've also reviewed several other popular Bell & Howell products in the past, including TacLight, TacLight Lantern, microBrite, and Solar Charger.
For the most part, HighYa readers give these products an average rating of about 2 stars. It appeared that most complaints didn't relate to products, instead referencing business practices like higher order totals than expected and long shipping times.
For Bell & Howell's products themselves, it appeared that most complaints related to low quality, and/or that they didn't perform as expected. On the other hand, a number of customers reported positive experiences, claiming that they worked as advertised and delivered solid value, etc.
In fact, we tested Bell & Howell's TacLight a couple months back and found that it "delivered—or came very close to delivering—on most of its claims."
Obviously, we're not saying you'll experience any of the same with Color Changing Humidifier. But given the frequency of this customer feedback (for ASOTV and infomercial products in general, not just those from Bell & Howell), it might be worth keeping in mind.
Is the Color Changing Humidifier by Bell & Howell Right for You?
If you're looking for an ultrasonic humidifier that provides a variety of lighting options and features an aroma diffuser, you probably can't go wrong with Bell & Howell's Color Changing Humidifier. After all, it comes from a well-known manufacturer and is priced competitively.
But if you're more focused on the ultrasonic function than on the lights, it's important to point out there are even more choices, like the PowerPure.
Also, while they might add moisture, remember that humidifiers don't actively cleanse the air of microbes like air purifiers, such as Airocide, Wynd, Molekule, or Airmega.
And while Color Changing Humidifier includes free shipping, perhaps the only risk you're taking is paying for return S&H if you end up dissatisfied with its performance.
From this perspective, several competing models can probably be found at local home goods retailers like Bed Bath & Beyond and Walmart, which could help you save S&H and make the return process super easy.
Did you try the Color Changing Humidifier by Bell & Howell? Write out your thoughts and share them with the world in your review below!
Read Next: 11 Ways to Stay Warm for Less This Winter
Color Changing Humidifier - Bell & Howell

By Kimberly M.

,

Wisconsin

,

Jan 14, 2020
Verified Reviewer

Overall, great product!

Works well for an average room.

The color change option is nice.

Should include more filters or sell them separately in the same section (Walmart did not have additional filters).

Very quiet.

Bottom Line: Yes, I would recommend this to a friend

---

Does its job but...

By Kevin D.

,

Madison, WI

,

Dec 17, 2019
Verified Reviewer

As with other reviewers, the diffuser is a disappointment, but it works good, otherwise, maybe a video of how the diffuser works? Or a how-to comment from Bell & Howell could clear this up for us. I have dry skin and it helps.

Bottom Line: Yes, I would recommend this to a friend

---

Advertisement

---

Not quiet, it rattles

By Lewis H.

,

Iowa

,

Feb 25, 2019
Verified Reviewer

It worked great for about a week then it started to rattle like the fan had something stuck in it. I am going to take it apart to see what can be done but why would I have to fix my new machine? When it works, it is great. I agree that you cannot smell the oils when you use the diffuser.

Bottom Line: No, I would not recommend this to a friend

---

3 out 3 people found this review helpful

Just love it!

By Diane Sayegh

,

Laval, Quebec, Canada

,

Feb 1, 2018
Verified Reviewer

I love it! Quiet, colors are soothing, essential oils not overwhelming, and humidity is great, without the mineral deposits on furniture like other humidifiers do.

There is only one problem; where do I buy the filters? I purchased my humidifier at Walmart, but they do not stock on filters. Can you help me with this issue, please?

Thanks.

Bottom Line: Yes, I would recommend this to a friend

---

Advertisement

---

3 out 3 people found this review helpful

Love this but...

By Anna Arnone

,

Illinois

,

Jan 19, 2017
Verified Reviewer

I found that this humidifier does what it claims to, and that is to humidify the room. The diffuser part, though, I am not so sure about. I love that it puts so much moisture into the air, but I am so disappointed that I cannot smell my essential oils enough. I literally have to go and breathe in the mist, and even then it is slightly fragrant. I have tried a few different types of oils, and brands and I have the same result.

So, if you are looking to humidify a room with no scent, this is perfect. If you buy this thinking you will make your room smell great at the same time, you are badly mistaken.

Bottom Line: Yes, I would recommend this to a friend

---

7 out 7 people found this review helpful

Color Changing Humidifier

By Sue

,

Illinois

,

Dec 18, 2016
Verified Reviewer

I have enjoyed my Color Changing Humidifier. I do find a lot relief from the moisture. I love the colors, it really sets your mood for the evening. The oils seem to really help with relaxing, clearing my breathing ways. I have loved oils in the past and I find relief with them. I like the fact that this humidifier has a one gallon bowl and will run for 2 hours. I have not changed my filter yet, but I am looking up where to get the refills for the filter. So far I love my Humidifier. I purchased mine at Walgreens and the price was $49.99, but it is a one gallon bowl.

Bottom Line: Yes, I would recommend this to a friend

---

Advertisement

---