Comfort Click Belt Reviews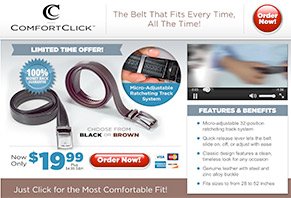 Instead of holes, Comfort Click Belt uses a 32 position, micro-adjustable ratcheting track system and quick release lever to provide massive adjustability.
About Comfort Click Belt
Comfort Click Belt is a genuine leather belt that uses a 32 position, micro-adjustable ratcheting track system that promises to "fit every time, all the time."
This same track system allows Comfort Click Belt to easily slide on and off with ease, while the quick release lever makes removal a breeze. According to the company, Comfort Click also features durable stitching, a strong steel and alloy buckle with a gunmetal finish, and a classic, timeless look "for any occasion."
Taking all of this together, because Comfort Click claims to fit sizes between 28 and 52 inches, the manufacturer claims you won't have to worry about stretched or ill-fitting belts again. Does this necessarily mean that it's worth the money? Is there any competition? We'll explore everything you need to know in this review.
How Do Ratchet Belts Like Comfort Click Work?
While the manufacturer doesn't explain exactly how Comfort Click Belts work, the good news is that there are dozens of similar products from third-party manufacturers (more about this next).
In general, the underside of these belts contains a long strip with tiny "teeth" that are sewn into the leather. As these teeth move through a specialized buckle, a magnet causes them to catch a peg that locks the belt into place. This way, you can have a much greater level of adjustability, but without using holes like traditional belts (or adding new holes if you're between sizes).
Now, let's talk about the competition.
Are There Other Belts Like Comfort Click?
Even if you've only been reading HighYa's consumer-focused content for a short while, you know that we often talk about how—sometimes—ASOTV products are just slightly redesigned versions of products already on the market. In most cases, we think these companies then undercut their mainstream competition's pricing (more soon) in order to gain some of their market share.
In the case of Comfort Click Belt, it appears to be a close copy of Mission Belt, which appears to be the original. In fact, Mission's design was so revolutionary when it was first released that the company appeared on Shark Tank back in 2013.
Apparently other companies took notice too, as you'll now find dozens of different ratchet belts from just as many manufacturers. You know what they say: imitation is the sincerest form of flattery!
How does Comfort Click Belt compare? Again, the company tells us very little about how their belt stacks up, but Mission Belt offers their customers unique features like interchangeable buckles, two different widths, and mix and match leather—which is guaranteed not to crack.
Comfort Click's manufacturer tells us that their belt comes with genuine (which doesn't mean quality) leather, durable stitching, and a strong steel and alloy buckle with a gunmetal finish. But how much of this is marketing hype? As such a new product, there's no way to know.
What about price?
How Much Does Comfort Click Belt Cost?
Each Comfort Click Bely is available in S/M or L/XL sizes (although there's no sizing chart listed on their website), as well as your choice of black or brown colors, for $19.99 plus $4.99 S&H.
During checkout, you'll also be able to upgrade to the Deluxe model that features "premium grade leather" for an additional $9.99. Given this, you'll be adding 50% to your overall costs—but what are you really getting for this extra money? Again, with such little information provided by the manufacturer, we can't be sure.
Comparatively, other ratchet belts like Mission generally fall in the $35 range—which, if you were to choose the Deluxe option, will run you about the same price for Comfort Click.
Speaking of manufacturers, Comfort Click Belt is brought to you by Idea Village, who offers a 30-day money back guarantee, less S&H charges. In order to request one, you'll need to call customer service at 844-482-1453.
Comfort Click Belt's Arbitration Agreement
Arbitration means that, instead of going through traditional legal proceedings, you'll have to settle any disputes through third-party arbitration, which tend to favor companies instead of consumers.
Why's this important? Because all Comfort Click Belt purchases are automatically bound to an arbitration agreement, so you'll be waiving your rights to a trial by jury or becoming part of a class action lawsuit.
Is Comfort Click Belt a Better Deal Than the Competition?
Let's look at it this way: If you purchase the "standard" version of Comfort Click, after factoring in S&H, you'll save about $10 compared to much of the competition. However, although the company claims this version is made with "genuine leather," there's no way to know what quality the leather is, or how long you might expect it to last.
On the other hand, you can spring for the Deluxe version with upgraded leather, but again, we're not told what kind of quality you'll be getting. Compare this to a product like Mission Belt that's guaranteed to never crack—along with the fact that ASOTV products in general don't exactly have reputations for high quality—and you definitely have a tough decision on your hands.
Here's the bottom line: Sure, ratcheting belts can offer an unprecedented level of comfort and convenience, but only you can decide if it's worth giving Comfort Click a try. You can always take advantage of their 30-day refund policy, although you'll be about $10 or so in lost S&H charges.
1 out 1 people found this review helpful

GREAT PRODUCT

By Bruce B.

,

Hudson, WI

,

Oct 25, 2019
Verified Reviewer

I also don't understand why there are some negative reviews. Perhaps only the people that have a problem take the time to complain. Looking at the bad reviews and weighing that against the likely thousands of belts that have been sold I have to dismiss those reviews. I got my belt from the Goodwill in town. It was new and I don't remember the price or model, but I have used it for over a year and it still looks like new. I once had to reattach the belt end into the buckle, which is designed to allow you to shorten the belt as needed, but that is all and no big deal. When I saw the belt I thought it was such a good idea and it has proved to be just that. I use it every day and will get 2 more so I can always keep one on each of the several pants I use the most. After going online to get more belts and reading the reviews, I felt compelled to balance the picture of what I think is a good and creative product. I wish all the satisfied customers would do the same.

Bottom Line: Yes, I would recommend this to a friend

---

1 out 1 people found this review helpful

poor quality

By Song H.

,

Carmichael, California

,

Jun 8, 2019
Verified Reviewer

To Whom It May Concern:

I have purchased two of your Comfort Click belts at price of approx, $27.00 each about a year ago. About two inches of the sown edge of the black belt is separated and the liner of the belt is broken as if it were made of cheaper plastic. Please advise.

Bottom Line: No, I would not recommend this to a friend

---

Advertisement

---

Failed to last a year.

By Charles W.

,

Marysville, WA

,

Apr 4, 2019
Verified Reviewer

I bought one black and one brown belt about a year ago, both 44" long. Black belt end was packaged in a reverse roll back while the brown belt was not reversed. Had to wear the black belt many times to get the end to lay flat around my waist. Black belt buckle never clamped on securely, falling off occasionally. Leather on black belt separated; the facing from backing in two places: 5 inches back from the tip and 6 inches the buckle end.

Ironically the brown belt was packaged in a smooth roll, the buckle clamps on and no separation is occurring.

I ordered a replacement black belt on internet touted as "one size." Thought that meant the same as my order a year ago. Got a 40" belt, which was too short. Per your instructions, the return via UPS cost me $6. I THINK YOUR COMPANY OWES ME A BLACK BELT.

Bottom Line: No, I would not recommend this to a friend

---

No good

By Steve T.

,

Asheville, NC

,

Mar 29, 2019
Verified Reviewer

Same as most other negative reviews. It won't stay tight. Slips. I called and spoke with a customer rep. She said that they would send a replacement, but it never arrived. Now I see that there is no phone number to call customer service. The email link doesn't work either. Maybe out of business?

Bottom Line: No, I would not recommend this to a friend

---

Advertisement

---

1 out 1 people found this review helpful

Buckle

By Mike F.

,

Thackerville, OK

,

Jan 11, 2019
Verified Reviewer

It will not stay tight, will not hold. I didn't even put it on, I put it together and could strip it with my hands 0 it will not hold tight. I tried 4 belts and every one did the same thing, you can pull them loose with your hands.

Bottom Line: No, I would not recommend this to a friend

---

They do not stand behind their product

By Peter E.

,

New York, NY

,

Nov 29, 2018
Verified Reviewer

I purchased a brown and a black belt. I used the belts while rotating with the other belts that I own. I found after approximately 90 days, that the black belt cracked, a few inches below the buckle. This was an area that had no stress and should not have cracked. I contribute the crack to the quality, or lack of quality in the leather used. When I requested a leather strap replacement, I was told that the belt was beyond the warranty period.

Bottom Line: No, I would not recommend this to a friend

---

Waste of money

By Frank F.

,

Charlottesville, VA

,

Oct 7, 2018
Verified Reviewer

At first, this seems the perfect belt, fully adjustable.

BUT it failed miserably (buckle detaching from the leather), SIX TIMES while I was on a boat. I had to buy another belt while aboard, at an exorbitant price.

It failed again, yesterday and today.

If the teeth were a little longer, this might work better. But, if could sing...

Bottom Line: No, I would not recommend this to a friend

---

0 out 1 people found this review helpful

The best belt...

By Sam M.

,

New Jersey

,

Sep 4, 2018
Verified Reviewer

I am very happy. I ordered myself the black and brown belt for a Christmas gift. Good quality, arrived on time.

Bottom Line: Yes, I would recommend this to a friend

---

1 out 1 people found this review helpful

About the belt

By Bobby C.

,

Georgia

,

Aug 8, 2018
Verified Reviewer

I like the idea of the belt zipping together but I've had a big issue with the belt match coming off. I have to keep cutting the thing and I'm afraid if I cut it too much it's not going to fit. I'm not buying this product again because it's not worth the trouble.

Bottom Line: No, I would not recommend this to a friend

---

0 out 1 people found this review helpful

Best belt I have ever owned

By David B.

,

Lynchburg, VA

,

Jul 21, 2018
Verified Reviewer

I am very surprised at the number of negative reviews on this belt. I have used mine literally every day for over a year and a half and have had absolutely no problems with the belt. It still looks like new and never once have I ever had a problem with it. I guess I must be one of the lucky ones, but I would definitely buy another one.

Bottom Line: Yes, I would recommend this to a friend

---

3 out 3 people found this review helpful

Buckles cannot handle the everyday usage

By Debby Tarafa

,

Dunnellon, FL

,

Feb 23, 2018
Verified Reviewer

I bought these belts as a Christmas gift for my hubby and now not quite two months since the holiday both of the buckles on these belts are broken. The belt itself is fine, but the buckle will not handle the everyday usage. It eventually will not hold on the belt anymore, and when you got to move, it just releases on its own and the belt comes undone. There is no way to adjust the buckle. A buckle is a buckle, and this design is not able to withstand usage.

In the beginning, the belt worked great, but then after using it on a daily routine as belts, the buckle will not work anymore and both are broken. There is no use of just a letter belt with nothing on it, so this is just a waste of money. And of course, it happened after the 30 days so no return, and no way to get a refund, so we just threw our money out the door, so to speak. Not worth purchasing.

Bottom Line: No, I would not recommend this to a friend

---