Compare.com Reviews
Claimed This company has claimed this profile, is getting alerted on any new customer reviews entering this page, and may engage in dialogue with its customers to address their matters.

Companies cannot pay money or provide goods in order to remove or alter customer reviews.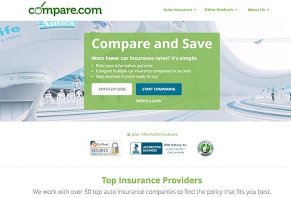 Compare.com can help you obtain auto insurance quotes from some of the top carriers, at no charge and without having to worry about spam or phone calls.
About Compare.com
After entering your information just once, Compare.com makes it easy for you to find out if you're paying too much for car insurance and help you find a lower rate. And all of this happens without having to worry about spam or unwanted phone calls!
How? Compare.com searches over 50 of the top insurance companies for the best premiums, including Met Life, Liberty Mutual, 21st Century, Mercury, Safeco, and more. On top of this, in selected states Compare.com offer renters insurance and bundle auto and homeowners insurance.
Despite all the promises made by a lot of these comparison sites, most customers seem to think they come up short, not to mention being inundated with sales calls and emails after handing over their information. Is there anything different about Compare.com, or are they the exception to the rule? We'll help you find out.
They are an accredited website with an A+ rating from the Better Business Bureau, a Silver Seal of Approval from customer feedback company ekomi and have been deemed a secure site by GeoTrust.
To put things in motion, we'll first look at how you can get a quote through Compare.com.
Compare.com's Quoting Process
Compare.com's interface is user friendly with all major devices; you won't have any problems getting a quote using your phone or tablet. To obtain a quote. you'll first need to enter your zip code on the home page. Next, you'll enter your vehicle information (year, make, model, anti-theft features), whether or not you own it and how long for, intended use and mileage.
It's also important to keep in mind that Users can call an adviser to complete the quote process if they need help.
In the next few screens, you'll enter details about the drivers, including name, date of birth, address, gender, marital status, residential status, license status, age first licensed, major infractions (license suspensions, DUIs, etc.) level of education, employment status and membership to organizations such as the AAA.
In the insurance history section, you'll enter your current carrier, annual premium, policy limits, time with carrier, when you need the insurance to start and details of any accidents, moving violations or claims in the last 5 years. You will also be asked whether any drivers on the policy require a financial responsibility document and if you would like to receive and sign documents electronically. Compare.com aims to find you the lowest rate possible and identifies discounts that help lower your price, for example, there are paperless discounts, good student discounts and organization membership discounts; these are highlighted to you.
Finally, after entering your email address you will be able to compare insurance packages ranging from State Minimum Coverage to Premium Coverage and select or customize the level you require. Not to worry if you don't know the coverage you require because Compare.com will display the minimum legal requirement for your state and help you pick between the most common coverage options. The company will then contact their carriers to provide you with quotes within as little as 30 seconds, after which you will see the results page where you can compare your monthly payment amounts and choose whether to buy online or over the phone.
It is also worth noting that if you get stuck at any point you can call Compare.com, live chat with one of their agents or contact them on social media and they will help you complete your quote; you are also able to easily come back and retrieve an existing quote for an easy checkout.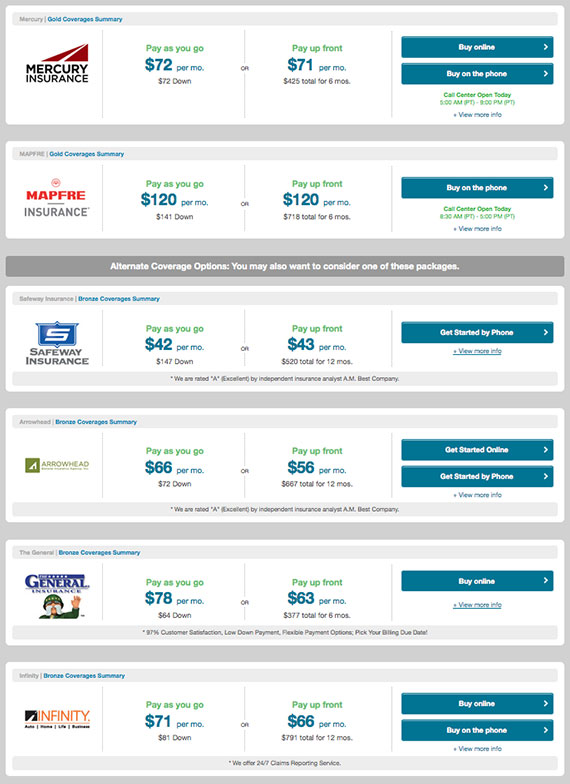 An example of the results you'll see after entering all your information on the Compare.com website.
One thing that immediately struck us about Compare.com was that, compared to many of the other online comparison/lead generations sites we've reviewed, all your information carries over if you choose to complete your purchase online. In other words, you won't have to fill everything out again.
This huge benefit (in our opinion) aside, how does Compare.com stack up against the competition?
Compare.com is Not Just Another Lead Generation Website
In a nutshell, it seems like these companies are solely interested in getting ahold of your personal information and selling it to the highest bidder; then, you're constantly bombarded with sales calls and emails. Meanwhile, Compare.com collects your information to share with insurers who provide real quotes which you can click or call to buy instantly, saving you time and money.
The next section gives more detail on how Compare.com is different from the lead generation companies.
Comparison Sites vs. Online Insurance Agencies
Within the insurance comparison industry, there are two key players: lead generation companies and insurance agencies, each of which exists for very different reasons. Let's quickly take a look.
Lead Generation Websites
As their name might lead you to believe, lead generation websites like those mentioned above exist only to gather information from a captive audience (e.g. someone actively looking for car insurance) and then sell this information (also known as a 'lead') to independent agents looking to sell you a policy.
With some less-than-stellar lead generation companies, they might also sell your information to just about anyone who asks, whether or not they have anything to do with insurance. In fact, they might sell your information to other marketing companies, who then re-sell you information again and again.
This does not appear to be how Compare.com does business.
Insurance Agencies
At its most basic, an independent insurance agency holds contracts with different insurance companies to sell their policies. And when a new customer comes to them the agency will send their information to several of these carriers in order to get them the best price. In return for bringing business to the company, the agency will receive a commission or percentage of the sale.
Well, Compare.com is basically just a very large, well-known insurance agency based out of Virginia, who does the majority of their business online. But instead of speaking with an agent, their system will automatically sort through their list of carriers to get you the best price based on the information you entered.
In this way, Compare.com operates more closely to other online insurance agencies like The Zebra.
Does Compare.com Affect The Rates You Receive?
First, Compare.com has no influence on your rates. They simply act as an independent third party who connects potential customers with insurance companies. That's it. So your quotes relate to the carrier, not Compare.com.
Most insurance companies' rating systems are multivariate, which means that there are thousands of different factors that can change your rate by the time you sign on the dotted line.
This takes into consideration all the standard stuff like driver age, vehicle classification (e.g. sport, utility, farm, etc.), accidents and citations, etc. But it can also look at things you would never imagine could affect your premium, like quote date vs. policy effective date, credit score, date of birth (even changing it by just one day!), and thousands of more data points.
Compare.com is one of the better options out there that appear to not practice hard selling tactics.
Horribly BROKEN website

By Chuck S.

,

Tennessee

,

Jul 9, 2018
Verified Reviewer

I fill out all my info including vehicles, insured family members, and the website fails to proceed with quotes. Very scammy and if not inexcusable to fail on the zip code requirement after going back through their questionnaire multiple times.

Bottom Line: No, I would not recommend this to a friend

---

Car insurance

San Bruno, CA

,

Mar 2, 2018
Verified Reviewer

Fast, convenient, and easy to complete. Agents are very nice, and pricing is better than my applying to each company.

Bottom Line: Yes, I would recommend this to a friend

---

Advertisement

---

Great

Georgia

,

Feb 2, 2018
Verified Reviewer

Very affordable, and very great insurance! And everything is at the touch of a button. I haven't dealt with any customer service, so I'm not one to say anything about that particular area but, everything else I enjoy about this company.

Bottom Line: Yes, I would recommend this to a friend

---

Thanks for helping me save huge on my auto insurance!

By Allyson Boyd

,

Senatobia, MS

,

Jan 31, 2018
Verified Reviewer

My husband bought a new truck, so I decided this was the perfect time to shop insurance rates. I still can't get over how quick and easy this was! The online format was extremely user-friendly. I answered a few fill-in-the-blank questions, very basic information, nothing too invasive, and it took less than 10 minutes to complete.

Immediately after I answered the last question, I was looking at quotes from several major insurance companies. All were less than what I am paying now! It turns out I am seriously overpaying for auto insurance!

Thanks for helping me save on my auto insurance MONEY! I will definitely be recommending this to all my family and friends.

Bottom Line: Yes, I would recommend this to a friend

---

Advertisement

---

Looking for car insurance

I was in need of SR-22 insurance and needed it super quick and Compare.com was a life saver for me (and super cheap too). Thank you Jesus. It saved me from not being able to get my driver's license back. They use really good insurance companies too. Check it out; they can help anyone if they helped me. Thank you Compare.com.

Bottom Line: Yes, I would recommend this to a friend

---

Easy and user friendly

By Lorie Means

,

Cleburne, TX

,

Jan 15, 2018
Verified Reviewer

I will tell all family and friends to use this site. I haven't had such easy nor great experiences with insurance quotes ever. I will continue to use this site and recommend it to everyone. Thank you for an easy and free evening.

Bottom Line: Yes, I would recommend this to a friend

---

Quick and straightforward way to compare!

By April Jensen

,

Everett, WA

,

Jan 13, 2018
Verified Reviewer

I found myself looking for auto insurance last minute, and Compare.com found me several different insurance quotes and I saved big time! Thanks Compare.com! It's definitely your one-stop shop for your automobile insurance needs!

Bottom Line: Yes, I would recommend this to a friend

---

Very good

Questions are easy to answer. Fast quote. Didn't feel awkward about my less than perfect driving history.

P.S. I also need renters insurance even if the car insurance doesn't work out. Thank you.

Bottom Line: Yes, I would recommend this to a friend

---

Excellent search!

You are able to compare rates over a broad range of insurance companies enabling me to see all my options and what is the best deal for my situation. I think this site is perfect for anyone trying to find the best insurance option for their current situation!

Bottom Line: Yes, I would recommend this to a friend

---

Car insurance shopping

By Green Garcia

,

North Carolina

,

Dec 29, 2017
Verified Reviewer

Lightning fast results to get quotes on car insurance. The quote I got was 50% lower than my present insurance with the same coverage. The questions asked to prepare and get the quotes were simplistic and not intrusive.

Bottom Line: Yes, I would recommend this to a friend

---

This site is AMAZING

They were able to save me over $145.00 PER MONTH in less than 15 minutes. I would highly recommend this site to any and everyone! What are you waiting for? Check it out now! Go! You will not regret it, I promise. I am so thankful I came across this site before Christmas so I'd have that extra money to spend on my two children. What a blessing!

Bottom Line: Yes, I would recommend this to a friend

---