Compare.com can help you obtain auto insurance quotes from some of the top carriers, at no charge and without having to worry about spam or phone calls.
About Compare.com
After entering your information just once, Compare.com makes it easy for you to find out if you're paying too much for car insurance and help you find a lower rate. And all of this happens without having to worry about spam or unwanted phone calls!
How? Compare.com searches dozens of top insurance companies for the best premiums, including Liberty Mutual, 21st Century, Mercury, Safeco, and more. On top of this, you'll be able to search for health, life, home, small business, and travel insurance, and even compare mobile plans, auto loans, and auto extended warranties.
Despite all the promises made by a lot of these comparison sites, most customers seem to think they come up short, not to mention being inundated with sales calls and emails after handing over their information. Is there anything different about Compare.com, or are they the exception to the rule? We'll help you find out.
To put things in motion, we'll first look at how you can get a quote through Compare.com.
Compare.com's Quoting Process
To obtain a quote through Compare.com, you'll first need to enter your zip code on the home page. Next, you'll enter your vehicle information (year, make, model, anti-theft features, etc.), whether or not you own it, and intended use.
In the next few screens, you'll continue entering your name and contact information, gender, licensing status and age first licensed, level of education, employment status, major infractions (license suspensions, DUIs, etc.), and more. In the insurance history section, you'll enter your current carrier, annual premium, and policy limits.
After entering your email address and choosing password (which allows you to save your quote and return later), a package level with be automatically selected based on your current policy's coverage. Here, you'll be able to select a different package if needed, or enter custom coverage amounts.
Finally (this probably shouldn't take much longer than 5-7 minutes), Compare.com will display your results. Here, you'll see the company and your estimated monthly payment amount.
Important note: In the upper left-hand corner of each section, Compare.com will indicate which coverage level these rates are based on (e.g. Gold, Silver, or Bronze). So remember that the rate you're seeing might not be based on the coverage package you're interested in.
From there, if you're ready to buy, you can choose to do so directly through the carrier's website, or over the phone.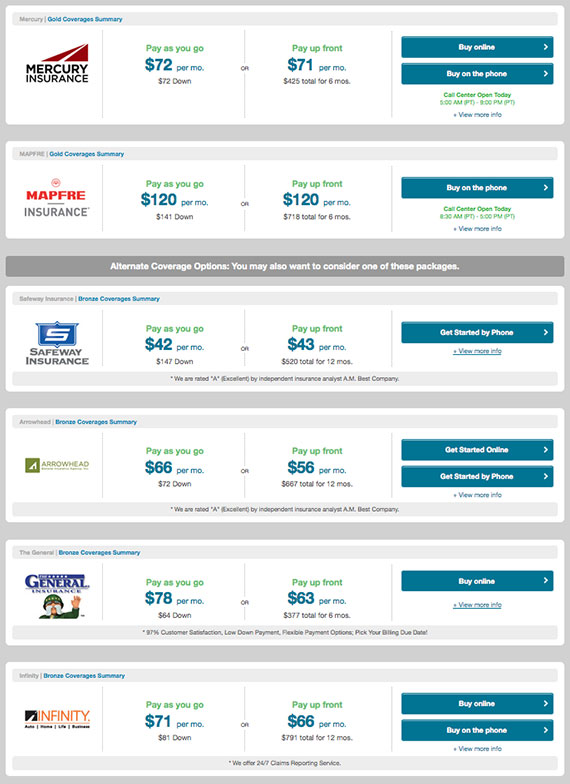 ​An example of the results you'll see after entering all your information on the Compare.com website.
One thing that immediately struck us about Compare.com was that, compared to many of the other online comparison/lead generations sites we've reviewed, all your information carries over if you choose to complete your purchase online. In other words, you won't have to fill everything out again.
This huge benefit (in our opinion) aside, how does Compare.com stack up against the competition?
Is Compare.com Just Another Lead Generation Website?
As we mentioned above, we've reviewed several popular auto insurance comparison websites in the past, including Provide-Savings, Get My Insurance, and US-Quote.com. And in most instances, we've found that customers aren't too pleased. Why?
In a nutshell, it seems like these companies are only interested in getting ahold of your personal information and selling it to the highest bidder. Then, you're constantly bombarded with sales calls and emails. But according to Compare.com, they never sell your information and abide by a Zero Spam policy. In fact, the company claims you'll never be contacted by an agent unless you click on the 'Buy Now' link on the results page (see image above).
Is this what their customers are saying?
Here on HighYa, Compare.com had an average rating of 1.1 stars at the time of our research, based on 37 customer reviews. By and large, it seems these complaints referenced quotes that were higher than the current premium, as well as calls/emails soon after signing up (despite the company's anti-spam policy). On the upside though, the company seems to quickly respond to any complaints.
Why does Compare.com's business model differ so much from other auto insurance comparison sites?
Comparison Sites vs. Online Insurance Agencies
While we won't bore you with the details, within the insurance comparison industry, there are two key players: lead generation companies and insurance agencies, each of which exist for very different reasons. Let's quickly take a look.
Lead Generation Websites
As their name might lead you to believe, lead generation websites like those mentioned above exist only to gather information from a captive audience (e.g. someone actively looking for car insurance) and then sell this information (also known as a 'lead') to independent agents looking to sell you a policy.
With some less-than-stellar lead generation companies, they might also sell your information to just about anyone who asks, whether or not they have anything to do with insurance. In fact, they might sell your information to other marketing companies, who then re-sell you information again and again.
This does not appear to be how Compare.com does business.
Insurance Agencies
At its most basic, an independent insurance agency holds contracts with different insurance companies to sell their policies. And when a new customer comes to them them, the agency will send their information to several of these carriers in order to get them the best price. In return for bringing business to the company, the agency will receive a commission or percentage of the sale.
Well, Compare.com is basically just a very large, well-known insurance agency based out of Virginia, who does the majority of their business online. But instead of speaking with an agent, their system will automatically sort through their list of carriers to get you the best price based on the information you entered.
In this way, Compare.com operates more closely to other online insurance agencies like The Zebra.
Can You Get a Better Rate with Compare.com?
Even if we set everything we've already discussed aside, this is a complex question. Again, we won't go into too much detail, but there are a couple important things you should understand so that you can make a more informed decision.
Does Compare.com Have Any Effect On Your Rates?
First, Compare.com has no influence on your rates. They simply act as an independent third party who connects potential customers with insurance companies. That's it. So if your quotes come back higher than your current premium, this relates to the carrier, not the agency.
In fact, assuming you entered the same information with the same carrier, you'd get the exact same quote through any other independent agency as you would with Compare.com.
Is Your Quote Really Accurate?
Second, even if some of your quotes come back lower than what you currently pay, this doesn't mean they're correct. Why? Because most insurance companies' rating systems are multivariate, which means that there are thousands of different factors that can change your rate by the time you sign on the dotted line.
Obviously, this takes into consideration all the standard stuff like driver age, vehicle classification (e.g. sport, utility, farm, etc.), accidents and citations, etc. But it can also look at things you would never imagine could affect your premium, like quote date vs. policy effective date, credit score, date of birth (even changing it by just one day!), and thousands more data points.
Given these considerations, instead of asking how much you can save with Compare.com, a better question might be, "Can Compare.com help me compare auto insurance rates between different companies, without having to worry about hard selling tactics?" Although some HighYa readers claimed to have received spam soon after entering their information, we think Compare.com might be one of the better options out there.
Before you go, be sure to tell us about your Compare.com experience by writing a review below!
Read Next: The Pros and Cons of Using Auto Insurance Comparison Sites
They are good fast and easy to use.

I was able to get up to ten quotes in less than five minutes, and it was simple. They are able to help anyone find great policy rates even with no prior insurance history. I recommend trying this service. Thanks.

Bottom Line: Yes, I would recommend this to a friend

---

Car insurance company

By

Zahra

,

Texas

,

Nov 5, 2017
Verified Reviewer

Compare.com helped me a lot to search insurance companies. It compared more than 9 insurance companies and gave me their offers along with the contact details and working hours of the companies. Surely, I would not have been able in such a short time to get 9 quotations had I done the search myself, let alone finding 9 companies among the many. Therefore, Comapre.com saved time, which is money.

Thanks to Comapre.com I found the best offer, which I am going to proceed with insuring my car.

Bottom Line: Yes, I would recommend this to a friend

---

Advertisement

---

Insurance quotes fast

The use of Compare.com was fast and easy to get auto insurance quotes. Even better, I was able to view the cheap renter's insurance policies as well! I cannot believe for years I have called company after company to get quotes only to be on the phone on hold or never to be called back, and this site is simple to use and works fast at gathering your information and quotes.

I will never call an insurance company for a quote again! Thank you Compare.com!

Bottom Line: Yes, I would recommend this to a friend

---

Wonderful

Georgia

,

Nov 2, 2017
Verified Reviewer

Quick quotes and very affordable plans with various companies. I would definitely recommend them to other customers. They save time and get your quotes for you then decide which company and which plan works best for you and your family.

Bottom Line: Yes, I would recommend this to a friend

---

Advertisement

---

Insurance quotes

By

William Rudd

,

Nicholasville, KY

,

Oct 31, 2017
Verified Reviewer

They go through a lot of different insurance companies to get you the best and the cheapest quotes that they can find, and for someone like me who is on a fixed income, that helps out a lot.

Bottom Line: Yes, I would recommend this to a friend

---

They found me some really good quotes on auto insurance.

Wortham, TX

,

Oct 29, 2017
Verified Reviewer

I was in the need of me some cheap auto insurance, and they ask me if I wanted to look at me some quotes, so that's what I did. Now I am glad that I didn't give up. They found me some really good! Deals I was amazed on just how cheap it really was by having them help me out on finding me those good deals. Come next month I will be getting back in touch with them again so that I can buy me some auto insurance before I do get in a great big ole mess. Thanks for your time.

Bottom Line: Yes, I would recommend this to a friend

---

Very good

Georgia

,

Oct 28, 2017
Verified Reviewer

It was very helpful; great information and a great way to find the best and lowest prices out there. And I would recommend this to all my friends and people I work with. So many different choices.

Bottom Line: Yes, I would recommend this to a friend

---

Awesome

Pennsylvania

,

Oct 21, 2017
Verified Reviewer

It is easy and fantastic. I enjoyed it very much. I would recommend it to everyone, including family and friends. I also love that it compares with the top companies.

Bottom Line: Yes, I would recommend this to a friend

---

1 out 1 people found this review helpful

Compare.com - no hassle and speedy fast

This was a hassle-free website with quick results. I was rather impressed. I usually do not waste my time with sites like this. I can manipulate the search engines myself with keywords and phrases. Compare.co has a database solely of insurances that cuts right through to your particular need.

Bottom Line: Yes, I would recommend this to a friend

---

1 out 1 people found this review helpful

Looking for automobile insurance

By

James Sneed

,

Augusta, GA

,

Oct 4, 2017
Verified Reviewer

This is the easiest online quote I've ever complete and they gave several different companies, not many businesses will do that. I'm looking forward to doing business with them and plan on changing my auto insurance and checking out their renter's insurance also.

Bottom Line: Yes, I would recommend this to a friend

---

1 out 1 people found this review helpful

Awesome!

California

,

Sep 27, 2017
Verified Reviewer

I was extremely pleased with how this company helped me find auto insurance. It took 90% of the hassle out of it! I just answered a few simple questions and got a list of company's. No telemarketers trying to sell anything to you. You call them if you're happy with your quote, it's that simple. It's awesome!

Thanks again.

Bottom Line: Yes, I would recommend this to a friend

---