Compound W NitroFreeze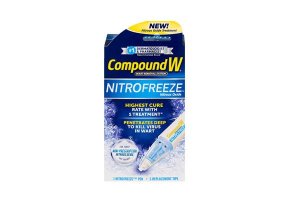 Summary
Compound W NitroFreeze uses a foam applicator and nitrous oxide to kill warts by freezing them. The treatment is well-documented and well-rated by consumers.
Compound W NitroFreeze Review: A Detailed Look
Compound W NitroFreeze is an over-the-counter wart treatment that uses nitrous oxide to freeze warts, causing them to fall off within 10 to 14 days.
The product uses a unique foam applicator saturated with nitrous oxide, making it much easier to apply to the skin than acid-based, brush-on alternatives that require repeated applications.
Compound W is perhaps the best-known brand among wart removers and is a staple in nearly every drug store and department store that sells personal care products like wart treatments.
In this review, we're going to explain to you how NitroFreeze works, talk about the science behind nitrous oxide, then give you a quick list of warnings and side effects that are possible when you use this product.
Next, we'll compare NitroFreeze to two other similar wart removal treatments, then conclude with a section on our thoughts about the product's pros and cons.
How Compound W NitroFreeze Works
When you unbox your NitroFreeze, you'll discover that it has a sizeable clear plastic cap along with a container that houses the nitrous oxide you'll use to freeze your warts.
Following the instructions of use is crucial to getting the treatment to work right. First, you'll twist the clear plastic cap in the direction of the arrow on the cap for a full twist. Then, you'll flip the treatment upside down and press the top of the lid down on a flat surface for two seconds.
You should hear a hissing sound—this is the sound of gas escaping the chamber holding the nitrous oxide. If you don't hear a hissing sound, the product's warning label indicates you shouldn't use it anymore.
After two seconds, stop pressing the cap down on the flat surface. Pick it up and pull the cap off. At this point, your NitroFreeze is ready to go.
From here, you'll want to place the foam applicator tip on your wart. The treatment can treat warts that you have on any part of your body, not including your genital area.
How long you hold the foam tip on the wart depends on the size of the wart. Compound W's instructions offer the following guidance:
10 seconds for warts smaller than 2.5 millimeters across
15 seconds for warts between 2.5 millimeters and 5 millimeters across
20 seconds for warts longer than 5 millimeters across
40 seconds for plantar warts on your heels and the balls of your feet
According to Compound W, your wart will fall off within 10 to 14 days. If it doesn't, the instructions suggest that you go through the steps again: press the cap down for two seconds of hissing, take off the cap, and apply the foam tip to the wart.
NitroFreeze costs anywhere between $23 and $30 depending on where you buy it. At the time of publishing, it was $23.88 for Amazon Prime members.
We called Compound W to find out how many treatments are in one bottle. They told us that the product comes with six applicators and that, once you activate it the first time, it lasts about six weeks. So, you either have six applications or six weeks to use the product, whichever comes first.
Benefits and Drawbacks of Using Nitrous Oxide Treatments for Wart
The use of over-the-counter nitrous oxide products for warts has several advantages over using the traditional method of applying a salicylic acid treatment to a wart.
First, as someone who has had to use acid treatments, I can tell you that they're painful and they smell awful. Plus, you have to use them twice a day to be effective. This combination of pain, odor, and frequency can be a big inconvenience.
Also, because you have to apply the treatment multiple times a day, it's easy to forget and forgetting prolongs the process.
Nitrous oxide treatments like Compound W NitroFreeze eliminates two of these inconveniences by giving you a one-time, odorless treatment. However, Healthline points out, using freeze treatments (cryotherapy) can be a painful experience for some individuals.
Healthline also points out that a 2002 study noted that duct-tape treatment performed by doctors was more effective than at-home cryotherapies. The tape method worked for 85 percent of participants, whereas the cryotherapy worked 60 percent of the time.
We did some more digging and found a Dec. 2017 study that tested NitroFreeze and one other nitrous oxide treatment, as well as an alternative dimethyl ether-based product.
They found that the nitrous oxide treatments were more effective because of the way they implement the combination of nitrous oxide and a foam applicator tip. Not only that, but researchers found that NitroFreeze worked around 70 percent of the time.
"This trial demonstrated that the nitrous oxide device is a safe, user-friendly, and effective wart treatment for home use," the researchers wrote.
Warnings and Side Effects of Compound W NitroFreeze
The NitroFreeze website points out that the two most dangerous side effects possible are frostbite and scarred skin.
They warn against anyone who can't read the directions or who has bad eyesight using this product. This makes sense, as someone who can't see well may not read the directions right and, even worse, could apply the treatment to the wrong patch of skin and cause frostbite.
Customer Reviews of Compound W NitroFreeze
Fifty-eight Walmart shoppers left reviews for NitroFreeze, giving it an average rating of 4.5 stars. What we found most telling was the title of the most recent review available at the time of publishing:
"Works like a charm"
"Works great"
"Works!"
"Really works"
NitroFreeze's reviews on CVS confirm that it works well, too, as 56 reviewers gave it an average of 4.6 stars.
However, our observations come with a huge caveat. A majority of the most recent positive reviews are from people who left a review because they were given the product for free.
Pros and Cons
We believe that NitroFreeze's greatest strength is that there is anecdotal and research-based evidence that it does, in fact, work.
Dozens of reviewers said it killed their warts and two different studies indicate that the product works at least 60 percent of the time.
Also, we believe that the product is affordable considering that the cost of a visit to a dermatologist to have them freeze a wart will most likely be more expensive than buying NitroFreeze from a store, especially those with high-deductible, high co-pay plans and those without health insurance.
The drawback, though, is that this may not be the best option for someone who can't afford the $23 to $30 it costs. For example, a bottle of Equate salicylic acid treatment is around $4.
Also, one bottle of NitroFreeze can handle either six treatments or six weeks of being activated, whereas a bottle of salicylic acid doesn't have the same limitations.
Compound W NitroFreeze is a solid product that, when used according to the directions, will most likely kill warts you treat with it.
Customer Reviews