CompressionSale.com Reviews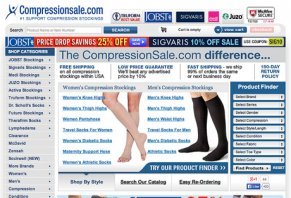 CompressionSale.com claims to offer a wide variety of compression wear brands and products, and guarantees the lowest price.
About CompressionSale.com
As the self-proclaimed "premier source for top brand name" compression wear, CompressionSale.com provides a wide variety of compression stockings, accessories, and specialty products. In addition, the company claims to provide these products at the lowest possible prices, or they'll beat the advertised price by 10%.
But are the low prices offered by CompressionSale.com worth the effort? Let's squeeze the facts and find out where they lead.
CompressionSale.com Details
CompressionSale.com offers several categories of products from many of the top compression wear manufacturers, including Medi, Jobst, Sigvaris, Juzo, and many others, including:
Men's and women's knee highs and thigh highs
Travel, athletic, and diabetic socks
Maternity support hose
Accessories, including application and removal aids, garter belts, adhesives, liners, and more.
Specialty products, including arthritis relief, braces, supports, ulcer care stockings, and more.
When using the CompressionSale.com website, you can search for products by style, brand, compression level, fabric, and more; by top-rated category; by compression level; or based on popular searches from other customers . In addition, you can search their catalog directly by item number or keyword. If you're new to compression wear or are having difficulty finding the right product to fit your needs, CompressionSale.com claims that their certified fitters can help walk you through the process.
CompressionSale.com Pricing & Refund Policy
Due to the diversity of products featured on the CompressionSale.com website, prices range considerably; anywhere from under $20 to $130 or more. However, the company claims to offer a low price guarantee, which means that they'll beat any advertised price by 10%, although this excludes items sold on Amazon and Ebay.
In addition to this guarantee, CompressionSale.com provides free Standard shipping on all compression stockings shipped within the U.S.
CompressionSale.com offers a 180-day return policy, less a 15% restocking fee. However this offer only applies to unworn items in their original packaging. Items that have been tried on are eligible for store credit/exchange only, and only within 30 days of purchase. For full details, be sure to read their Return Policy.
In order to initiate the refund process, you'll need to obtain a Return Merchandise Authorization (RMA) number from customer service by calling 800-504-7315.
What Do Other Consumers Have to Say About CompressionSale.com?
CompressionSale.com is operated by AL and PO Corporation based out of Vernon Hills, IL. The company holds a D+ rating with the Better Business Bureau, based on more than 70 closed complaints over the past three years, most of which appear to relate to poor customer service and difficulty processing refunds. In fact, we noticed that the company's responses on the Better Business Bureau website were very short (despite attempting providing answers to detailed problems), and definitely did not have a friendly vibe. As such, this gives the appearance that CompressionSale.com does not place a nig emphasis on exceptional customer service.
Elsewhere online, most customer complaints appear to mirror those found on the BBB, referencing poor customer service (e.g. unknowledgeable staff, numerous requests for the same information, etc.) and difficulty processing refunds. Despite this, the company appears to have a positive reputation for their large product selection, competitive pricing, and easy purchasing process.
What's the Bottom Line About CompressionSale.com?
Even though it appears CompressionSale.com has a positive reputation for a large selection, competitive pricing, and easy purchasing process, should you buy from them? Based on our research, they appear to be a solid option for your compression wear needs, although there are a few things you should keep in mind beforehand.
First, the top customer complaints we encountered were that CompressionSale.com customer service is often very unhelpful, and that the refund process is overly restrictive. With this in mind, here are a few tips you can use to avoid hassles:
Make sure you keep the original packaging, since numerous customers have complained that they will reject your return without this, even if the item was never worn.
Make absolutely certain that you're purchasing the correct item, as CompressionSale.com will not cancel your order, even if you call within five minutes of placing it.
Even if you do successfully return your compression wear, you'll be responsible for return shipping charges, and CompressionSale.com will automatically deduct a 15% restocking fee from your total refund.
Next, with CompressionSale.com's reputation for poor customer service, we're dubious that their certified fitters can really help you purchase the best product that suits your needs. To gauge what you can expect if you need to return an item, you may want to try contacting them first to experience it firsthand.
Finally, these products have a long medical history of improving patients' circulation and blood oxygenation. However, they have not been shown to improve athletic performance; only to decrease lactic acid buildup and to reduce post-workout recovery times.
Punishing return experience

By Eva G.

,

St. Louis, MO

,

Feb 16, 2020
Verified Reviewer

I'm glad I found this site, just looking for it shows the depth of aggravation I've had. The company has it fixed so that people cannot leave honest feedback, they know why, as it shows here.

I had to return one item. I called to find out what my options were so as to avoid any surprises. They referred me to an email and to follow email instructions.

I did not receive the email (can't remember how long I waited). I called, they apologized, and they then sent an email.

I was told on the phone that I had gotten a store credit and could use that for my exchange item.

I tried to order but there was no credit. I hadn't sent the package back yet, I get it. Not what she said though.

The email stated that I would be responsible for return shipping cost. Not great, but I accepted.

I sent the package via my post office.

One week and no email or response.

I call to find out and she says I have a store credit online.

I try to order online. No credit.

I call back.

I find out that I HAVE TO CALL the return order in, I CANNOT order the exchange item online and there is NO online store credit.

That's all fine and good, but no one told me before. Rather they had given and confirmed (bc I repeat how I understand it) wrong information.

I go about to call in my return item.

Only to find out that they take a restocking fee of 25% that HAD NOT BEEN MENTIONED IN ANY OF THE 3 PRIOR CALLS NOR EMAILS I had been sent.

I go back and make a decision that I will go ahead and pay for the return, the 25% restocking fee, AND the $3.95 shipping cost.

By this time, when I call her back, it's my 3rd call of the day, and while before she picked up immediately, I am on hold for indefinitely. I decide to call from my second landline phone...and voila, she picks up right away...

I order my return, fully aware of the added costs, only to find out there is an ADDITIONAL cost for the previous shipping (which had qualified for free shipping but I didn't remember and she hadn't told me), and I have to add on 2 shipping costs.

Since I had spent so much time and money on all this, I decided to get this done and at least receive a product for it.

This website is very tricky in many ways: it shows "free shipping" clearly listed on product images without asterisks, i.e. false advertising, when there is in fact shipping cost.

(This is a fact, there is an asterisk in other places.)

They have good reviews locked in on some webpage, even though one can't even leave any reviews. Their social media sites are also done so as no one can leave reviews.

It is sad that instead of being an honest company they aggravate their customers.

Bottom Line: No, I would not recommend this to a friend

---

Misleading return policy and bad customer service

By Dana B.

,

Seattle, WA

,

Jan 28, 2020
Verified Reviewer

I purchased a pair of Second Skin stockings in response to a promotion the company placed at the bottom of its order page. (I was about to order my usual, more expensive, Jobst brand.) Here's the come on:

Save More with Value Brand! We invite you to try a pair of stocking from our Value Brand that will provide the same compression and features, at incredible savings.

SECOND SKIN Surgical Grade Closed Toe 20-30

mmHg Thigh High Silicone Dot Top $33.72

However, after I received my order and pulled on one stocking halfway, I could tell right away that the stocking material was very different: - rougher and very itchy. So I returned my order after reading the return policy, which states:

"Products that have been tried on are eligible for store credit/exchange only and must be returned within the first 30 days of purchase to qualify. Returns received after 15 days from original purchase date will be refunded as store credit not as a refund to credit card or PayPal. Due to federal health regulations, worn product must be laundered prior to returning for qualifying items, not all products will be accepted if worn."

I paid to return the stockings, but the company subsequently mailed them back to me in a package containing only a handwritten sticky note that said: "WORN."

Does "try on" mean "worn?" If so, the refund policy contradicts itself and misleads customers.

Bottom Line: No, I would not recommend this to a friend

---

Advertisement

---

All that these people say is true

By Richard S.

,

California

,

Jan 2, 2020
Verified Reviewer

Same terrible buying experience. Same wrong stockings being sent then the same no refund authorization. It's funny that PayPal doesn't break up with them. Supporting a business that is defrauding the public PayPal is not good. PayPal was no help...so you are not buying with confidence. They will not help you.

Got only half of my money back and I had to pay for the return shipping. I can now see that they advertise big stockings but send drugstore quality garments that the person cannot use. They get the item and then they keep some of your money fraud.

Bottom Line: No, I would not recommend this to a friend

---

Bad service

By Mark B.

,

Lexington, KY

,

Dec 18, 2019
Verified Reviewer

Placed order and received an email that the order was processed and I would receive an email of shipping status; never received one. Tried calling customer service number and was on hold for a total of 55 minutes on two calls. Left message but no one returned my call. Tried live chat, but said it was not available. Sent an email to customer service but came back as undeliverable. Think I've been ripped off. Would stay away from this company.

Bottom Line: No, I would not recommend this to a friend

---

Advertisement

---

Worst company I have ever dealt with

By Ted B.

,

Taylors, SC

,

Oct 31, 2019
Verified Reviewer

Ordered a pair of compression socks from this company. I ordered to wrong size. I needed 1 size larger. I returned to 1 pair unopened. I said I wanted to exchange them for a larger size. After they received my return, they wanted another $33.35 for 1 size larger. They would not refund my money.

Bottom Line: No, I would not recommend this to a friend

---

Untrustworthy

By Vircy E.

,

Florida

,

Oct 20, 2019
Verified Reviewer

I see. I will be reporting YOUR company's unscrupulous transaction with me to the BBB, my Florida State Attorney General as well as any affiliated ADA dealers; because I am a member as I have a permanent disability and I am in a wheelchair.

From: Compressionsale.com Support

Sent: Thursday, October 17, 2019 2:42 PM

To: vircy@bellsouth.net

Subject: Re: Compressionsale.com Hi we received your voicemail how can I help you ?

your item is placed as a store credit, we are unable to give you a refund due to our policy.

Bottom Line: No, I would not recommend this to a friend

---

Australian purchasers warning

By Sandra E.

,

South Australia, Australia

,

Oct 13, 2019
Verified Reviewer

If you place an order and THEY stuff it up, YOU have to pay return postage back to the USA. I included tracking and after 4 weeks, found out that they had received it but didn't bother to send me an email or send out the correct stockings because YOU have to pay the postage AGAIN plus a restocking fee, which is absolute crap. Customer Service will not tell me what my store credit is and have caught them out telling me lies. I ordered 2 x compression garments and then I requested the CORRECT 1 pair to be sent to me and they use the remaining store credit to pay for postage. They IGNORE my request, just keep asking for my credit card details for postage. They offer free shipping to their USA customers and so obviously, our postage fees every time pay for that. I'm disgusted at their Customer Service because there isn't any. Australian customers might as well live on the moon for all they care. NEVER, EVER AGAIN will I purchase from them again and I am out of pocket quite considerably.

Bottom Line: No, I would not recommend this to a friend

---

Be aware! They are a scam. Zero stars.

By Magda S.

,

Wyoming

,

Sep 25, 2019
Verified Reviewer

I placed an order on August 9, which was to be sent overseas, supposedly they made the shipment and so far nothing has been received. I have called and written by the chat and they just say that it was sent on 08/09/2019, I called the USPS and they say that there is no package, I write again and they tell me that they would ask for information a representative of the post office and that they would answer me on Monday, today is Thursday and nothing to answer me. I am writing to you and you just say that my order was sent and I have been writing and writing them but, they don't answer me. Avoid this site, it is a scam. If I could put zero stars, I would put it!

Bottom Line: No, I would not recommend this to a friend

---

Terrible service

By Deb P.

,

Sac City, IA

,

Sep 24, 2019
Verified Reviewer

The worse experience. No refunds at all. They sent the wrong stockings and wouldn't give my money back. Only gave me $24 store credit for a $35.00 order. No return shipping. Customer service on the phone was terrible! Do not buy from this company!

Bottom Line: No, I would not recommend this to a friend

---

First ex customer

By Betty H.

,

California

,

Sep 19, 2019
Verified Reviewer

Very frustrated with this biz. Bought Sockwell (2 pairs) and 1 was not as ID'd Wide Calf Fit as stated on the package. Visually can't tell though. Rep advised trying so did for 1 day and too little compression. Site requires agreement to unclear Return Merchandise Authorization policy. Never ever seen any procedure like that before after years of buying things online. So finally get an authorization number and being told Worn Returns will be refused, HUH? Asked for clarification again. I still am not clear if I'm going to be charged for Exchange shipping or not. But I certainly can't use socks that I paid a hefty price for. They claim these prices are discounted. But the maker Sockwell advertises the same prices. So if they're a scam or not...don't think so. But biz practices are questionable for me. Very frustrated.

Bottom Line: No, I would not recommend this to a friend

---

Wrong size

By Norma W.

,

Schenectady, NY

,

Sep 12, 2019
Verified Reviewer

Your company sent me the wrong size stockings, regular rather than short. They say I have to pay the return shipping charges, but it was their error and I think it should be their responsibility. When I tried to reach them by phone I was put on hold indefinitely. Then they said to leave my name and phone number, which I did but they never returned my call.

Bottom Line: No, I would not recommend this to a friend

---