Control GX Shampoo by Just For Men Reviews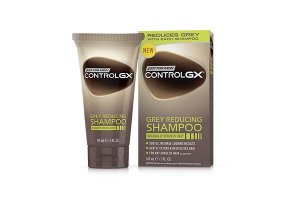 Control GX Shampoo by Just For Men uses a formulation that reacts with air and traps color in the hair shaft, gradually reducing your numbers of gray hairs.
What Is Control GX Shampoo?
Control GX Shampoo by Just For Men claims to use breakthrough technology that can gradually reduce gray hair with each shampoo for subtle, natural-looking results.
The manufacturer tells us that you'll use Control GX just like any other daily shampoo. After a few washes, you'll notice a subtle reduction in the number of gray hairs. From there, you have complete control over how gradually your gray disappears at the start by using every day, or every other day.
When you've achieved the look you want—often within two to four weeks—you'll continue using Control GX three to four times per week for maintenance. Results can last up to eight weeks.
In addition to gradually reducing your gray, Control GX Shampoo also promises to gently and thoroughly clean and revitalize hair, while increasing volume for a thicker, fuller look.
Just For Men's lineup has been a staple among hair and beard coloring products for decades, but does this necessarily mean that their Control GX Shampoo is worth the money? Even then, is it really "shampoo with a brain"?
Here, we'll discuss all the essential facts so you can make a more empowered purchase.
What Causes Grey Hair and Is It Reversible?
The Library of Congress tells us that your chances of going gray increase about 10-20% every decade after the age of 30, although the medical community still doesn't largely understand why this occurs.
Exactly how this occurs is a different matter, though. Here's the situation in a nutshell (we know you're busy):
Melanin is a pigment polymer that gives your skin and hair its natural color, which is delivered via specialized cells called melanocytes. In the instance of hair, these cells are located at follicles and inject color as the shaft grows.
At some point, these melanocytes slow or stop their pigment production, leading to gray, colorless hair.
While the gene for gray hair seems to have been recently identified, there is no cure for the condition, outside of coloring products like those from Just For Men.
In the instance of Control GX Shampoo, exactly which ingredients does it use to deliver results—and are they clinically proven to work?
How Do Control GX's Ingredients Gradually Reduce Grey Hair?
While we didn't encounter a product label during our research, Walmart.com listed the following ingredients for Control GX Shampoo:
Water/Aqua, Disodium Lauryl Sulfosuccinate, Decyl Glucoside, Cetearyl Alcohol, Glycol Stearate, Ethanolamine, Cocamidopropyl Hydroxysultaine, Guar Hydroxypropyltrimonium Chloride, Sodium Cocoyl Isethionate, N,N-Bis (2-Hydroxyethyl)-p-Phenylenediamine Sulfate, Acetic Acid, Aloe Barbadensis Leaf Juice, Chamomilla Recutita (Matricaria) Flower Extract, 1,2,4-Trihydroxybenzene, Cetearyl Glucoside, Erythorbic Acid, Sodium Sulfite, Phenoxyethanol, Caprylyl Glycol, Stearamide AMP, Panthenol, Manganese Sulfate, p-Aminophenol, Sorbic Acid, Etidronic Acid, Fragrance/Parfum, Limonene Linalool.
Like most hair care and coloring products, authoritative websites report that the majority of Control GX's ingredients work as surfactants, emollients, emulsifiers, thickeners, pH regulators, hair dye agents (N,N-Bis (2-Hydroxyethyl)-p-Phenylenediamine Sulfate), enzymes (1,2,4-Trihydroxybenzene), and preservatives.
Just For Men tells us that Control GX's formulation also contains a patented blend of molecules that break when massaged and exposed to air, releasing small amounts of the complex and trapping it in the hair shaft every time you shampoo.
In layman's terms, Control GX is essentially hair dye in shampoo form that, instead of coloring all your hair at once, deposits molecules over time, which then build up and hide gray over the course of several weeks.
Will Control GX Shampoo Cause Any Side Effects?
Some Just For Men customers have reported chemical burns and allergies from the use of the company's products, so they mandate that you perform a preliminary 48-hour skin allergy test with Control GX, according to directions, before full-scale use.
The company also notes that Control GX shouldn't be used if you've experienced a reaction to other hair color products, if you have a rash or your face, or an irritated, sensitive, or damaged scalp.
Temporary black henna tattoos may increase your risk of allergy. In rare cases, the use of hair color has been associated with temporary and permanent skin depigmentation (lightening).
Just For Men tells us that Control GX Shampoo can be used on any shade of hair, although it's advertised as ideal for light brown to black hair. You can also use it with other hair care products, but not on hair that has been lightened, bleached, highlighted, or colored.
Pro tip: Many customer reviews we read also mentioned that—like other hair dyes—Control GX has a tendency to stain fingernails, the shower area, and towels. As a result, they recommend massaging it in using your palms, thoroughly rinsing the shower area when you're finished, and using dark towels to dry off.
How Much Does Control GX Shampoo Cost?
A 5 fluid ounce tube of Control GX Shampoo (enough to last for approximately six weeks, according to the manufacturer) is available at most retailers who carry Just For Men products for between $8 and $9.
It can also be purchased directly through the company for $8.49, with free shipping on all orders over $14.
Money-saving tip: At the time of writing, you could also obtain a $2 off coupon on the Just For Men website.
In addition to Shampoo, Control GX also offers a 2-in-1 shampoo and conditioner that contains additional agents for easier combing, softness, and manageability, for the same price.
Are customers reporting a solid return on investment at this price?
Control GX Shampoo Reviews: Are They Good?
On the Just For Men website, Control GX had an average rating of 4.5 stars based on 300+ customer reviews. Most compliments referenced good coloring results, natural appearance, and ease of use, while what few complaints there were often related to messiness and minor nail discoloration.
What it similar elsewhere online?
We also encountered nearly 50 Amazon customer reviews for Control GX, who had given the shampoo an average rating of 3.7 stars. There, most of the compliments and complaints matched those on the Just For Men website.
According to Amazon's Questions & Answers section, a couple of customers replied that they didn't recommend Control GX for super short hair (1/4 inch or less). Another reviewer mentioned that you might want to use gloves to avoid staining your fingernails.
From a company perspective, the Just For Men lineup is manufactured by Combe Incorporated based out of White Plains, NY. They had an A+ rating with the Better Business Bureau and only two complaints as of 2/14/16, which referenced product formulation and side effects.
Does all of this mean you should spend your hard-earned money on Control GX?
Are the Gradual Results Provided By Control GX Shampoo the Way to Go?
While we didn't encounter any products using the exact same formula as Control GX during our research, or those that were offered in shampoo form, HairFinder tells us that most dyes that promise to gradually reduce gray hair use metallic salts, which:
"… react with the sulfur in the protein chains of the hair to create a natural looking color in the hair over a period of repeated exposure."
Perhaps the best-known gradual metallic hair dye is Grecian Formula, although Just For Men's Touch of Grey treatment seems to deliver similar results. And both of these options are likely available locally for about the same price as Control GX.
How to decide? Just like anything else we choose to put on our body, the 'best' way of getting rid of grey hair will be based on your hair color (including level of grey), your hair cut (as well as any hair loss you've experienced), your skin type, and dozens of other personal factors.
In other words, there's no way to know without giving it a try. Fortunately, Just For Men stands behind Control GX Shampoo with a 100% satisfaction guarantee, as might the retailer you purchase it from.
This way, you might not lose much more than a little of your time (and perhaps return shipping charges if you're not near a retailer) for giving Control GX a shot and end up dissatisfied.
---
It makes me look really good, I love it, no gray hair

GX Shampoo from Just For Men is really good. I used it three times already and less than a month, and it makes me look real good. I will buy nothing else. It's about time they come out for something for men; I hate looking old.

Bottom Line: Yes, I would recommend this to a friend

---

Very good product

Lewes, DE

,

Jun 6, 2017
Verified Reviewer

I have recently (April 2017) started using Control GX. It works very well, and I have not experienced the same nail staining, towel discoloration, etc. that I've seen others comment about on various review sites. Now, I did try the Control GX with the Conditioner, and I don't think that works as well as the product without the conditioner. I used to use Grecian Formula, but considering the lead in that product, I will now stick with Control GX. It's easy to use, priced well and does what it advertises. Quite pleased!

Bottom Line: Yes, I would recommend this to a friend

---

Advertisement

---

Works great

I recently tried Control GX, and I'm totally pleased with the product that I had to express the satisfaction with Control GX. I'm 58 years old, tried it, and it really works. Anyone that says it doesn't must be doing something wrong. My hair looks natural, and the change is so subtle that nobody notices the change, which is what I wanted. Totally natural. It really works!

Bottom Line: Yes, I would recommend this to a friend

---

Great color gray hair alternative to Henna Orange and Grecian Lead Acetate and strong PPD chemicals

By GClay

,

Atlanta, GA

,

Jun 16, 2017
Verified Reviewer

I've just discovered Just for Men Control GX Grey Reducing Shampoo with Conditioner, a great solution for covering gray hair without permanent PPD color issues, or henna mud, or Grecian Formula lead acetate.

I have fine light brown hair with about 60% gray. Based on numerous comments from others (mainly girlfriends) the gray made me look ten years older.

I'm 59 and used Grecian Formula for a couple of years until my Naturopathic Doctor informs me I have a lead build up in my blood.

I tried Just for Men's 5 minute color in a light brown/blonde which worked fast, but I would get a drastic shoe polish solid brown extreme color change. I slowly developed a bad allergic reaction to PPD chemicals with swelling, itching, for days. I had to take Benadryl. The allergic reaction got worse every time I used it until I got the message.

I switched to henna light brown windigo and it looked fine indoors but would reflect sunlight and fluorescent light with an orange on the brown hair and a brassy look on the gray. People would ask me if I was Irish. What a mess that stuff has been. It would also fade over weeks to an orange and brassy look under bright lights, fluorescent and sunlight.

I finally decided to go back to Grecian Formula and just try to be more careful to not contaminate by bathroom, house, brain, and blood with lead. It wasn't good. I was a walking lead contaminator, and I knew it. I always felt dirty especially if I ran my hands through my hair, plus the sulfur smell, and it gave me a puffed up blow-dried TV minister looking hairdo I didn't like, plus I had to shower it out at night, so I don't contaminate my pillow and bed with lead.

Then I discover Just for Men Control GX Grey Reducing Shampoo and Conditioner, and I believe I've finally found an easy, quick solution. The directions say shampoo, leave it for one minute, then rinse it out. Within 2 to 3 weeks you'll find your perfect shade. Cut back on use to occasionally to maintain the color. This stuff is great. I got a perfect multi-tone natural look with just a touch of gray if you look close. No more 5-minute shoe polish brown sudden color change from the Just for Men 5 minute stuff.

I did a 48-hour pre-test on the inside of my elbow and had no reaction, which surprised me. Then I started using it in the morning and night and leave it on for a minute at a time. After one week it had a subtle difference. I read a few reviews like this one on Just for Men Control GX Grey Reducing Shampoo and Conditioner where others said leaving it just one minute isn't long enough, try 2 to 3 minutes and it works quicker.

Then I ran across a review where a guy says to try combing it into the areas you want to target on dry hair and leave it for 5 minutes then rinse it out in the shower (at your own risk and after a 48-hour skin test). Which I tried and within 2 or 3 days I have the exact look I want and couldn't be happier. In fact, I'm ecstatic to finally find a quick, easy solution without lead acetate.

I rinse it out of my hair using lukewarm water because I don't want the hot water opening all the pores on my scalp to suck up the little bit of chemicals in this stuff.

I see this as the lesser of all the bad hair color chemical ingredient evils. Especially lead acetate. I am posting to help other guys (or women) who may be looking for a better solution.

Bottom Line: Yes, I would recommend this to a friend

---

Advertisement

---

Works great

By Brent

,

Calgary, Alberta, Canada

,

Jan 14, 2018
Verified Reviewer

I tried Control GX a year ago and found it worked great, but as the grey reduced the color was too black for my natural light to medium brown. Recently I discovered Control GX for blonde to medium brown and the results are great, shiny brown with highlights probably, caused by my own percent of grey [70%] to brown ratio coloring at different rates. It does not look fake (hair dyes I have used in the past that cover too well give a helmet of the same color).

Bottom Line: Yes, I would recommend this to a friend

---

Best thing I have found. Great results with no ill effects!

By Tom Brown

,

Providence, RI

,

Apr 6, 2018
Verified Reviewer

I am a 60-year-old Caucasian man. My natural hair color was always very dark brown, appearing black. Over the last twenty years it has gone more and more grey, and in the last five, it went way too grey to get away with calling it salt and pepper. It was near white. I wear a short cut, approximately 1/4 inch over the ears progressing to 1 to 1 1/4" on top. I have a full head of hair with no balding pattern, but it is noticeably thinner in the last ten years.

I tried the Control GX product mainly because I am a performer and I could not get roles I wanted without temporary dye, which always looks like crap. This product seemed to me to be accomplishing nothing for about five weeks used every day, until I saw some people I had not seen in that time and the first words they said were "Wow, you colored your hair. It looks great!" I tried to BS my way out of it but they had photos taken in the exact place we were standing at the time, and I was wearing the same shirt! They shot identical photos under the same lighting and did a side by side and there was no getting around it; my hair was many shades darker and looked absolutely natural, and it had been so gradual that I couldn't tell on a daily basis.

Perhaps the most telling factor: I am getting the parts I want (and not just in my hair!) I used the tiniest amount of shampoo each time, perhaps a half teaspoon. I used my fingertips and did notice some very minor staining. I solved that with a clear matte polish which I use on stage anyway. I let it sit about five minutes with each use as I shaved and washed the rest of myself. Tube says one minute. You will find that the color stains the tip of the tube and if you touch that it suddenly looks like you picked up a melted Hershey bar. DON'T TOUCH THE TIP!

Oddly, the shampoo is not dark out of the tube nor sitting on your head. Apparently the "dying" effect is a result of it building up gradually on your hair. Does it ONLY dye the grey? Not bloody likely, since it stains everything else it touches, according to the package, but perhaps it only actually adheres to the grey dues to some physical difference, or perhaps is just seems that way. I couldn't care less. IT WORKS.

There is no odor to the product. No scent or perfume etc. I did not find any problem of staining towels or tiles, etc. IMHO, this is a great product. I am STILL waiting for my wife to say something. I don't know if she hasn't noticed or is "protecting my dignity" by not mentioning it. I am waiting for when she does and I can say "Wanna try it?" LOL. Buy this product!

Bottom Line: Yes, I would recommend this to a friend

---

Great product

By Wanda G.

,

Louisa, VA

,

Jun 6, 2018
Verified Reviewer

Not only does this product works for men, it works for women as well. In the past, I used female dyes, which only irritates and dries my scalp, but I used the product only twice and all I could say was "wow!" I saw the ad on TV and said "what the heck," so I bought it and was overwhelmed. I am NEVER going back to those harsh chemicals ever again.

Bottom Line: Yes, I would recommend this to a friend

---

Amazing

By Gray A.

,

Los Angeles, CA

,

Jun 7, 2018
Verified Reviewer

I have been using Control GX for about a year now. I am very pleased with this product. Right about six months or so into it, I noticed that I was losing hair. I read some reviews where others complained of same results. One day, when I was getting my haircut, I asked my girl to go easy on cutting my hair since I was losing hair by dying it. She told me that it was unlikely to lose hair from dye. She suggested it may be from medication or diet. She was absolutely correct. I had a back injury around that time and was taking prescription pain meds. When I stopped taking my meds, my hair got thicker again.

I take a shower and wash my hair daily. I use the product 2 to 4 times a week and use regular shampoo in between. I was 90% gray. Now I'm about 5 percent gray on the side only, which looks totally natural. Btw, it also works on other parts of the body, despite what the manufacturer says.

Bottom Line: Yes, I would recommend this to a friend

---

More salt than pepper

By Kevin R.

,

Toronto, Ontario, Canada

,

Oct 22, 2018
Verified Reviewer

I used it as at my step-father's house while showering there, and became interested in the product (but no noticeable results after that one use). I used it every day for 5-6 days, and my mostly salt with pepper hair went back to salt and pepper. It was gradual enough that my family (wife/kids) didn't notice this gradual change in darkness. I finally fessed up to my family, and they realized the change. My hair was previously black, and it has darkened mostly to my natural hair color, perhaps a bit more dark brown. The top of my head in particular darkened up, with the sides still having enough "salt" that it looks very natural. I've stopped after about 8-9 applications, as I want a still more natural salt and pepper - and have just changed the salt to more pepper.

Two issues: Firstly, I did notice a slight change in hue of my white hair. Due to the contrast in my black hair, the white was always very brilliant looking. It now looks more dull, or perhaps a slight blue hue that I've seen on other reviews. Definitely not a blue hair though. Also, when I was using it intensively for 5-6 days straight, it made my head itchy, so I stopped for a few days. Then I proceeded for 2-3 more treatments, and that kept my head at a more natural and gradual dye job.

I'm waiting to meet up with a close buddy I haven't seen in about a month to see if he will notice...Very natural and gradual, well within your control to see how dark you can go. My wife (who loves my white hair) has encouraged me to keep going!

Bottom Line: Yes, I would recommend this to a friend

---

Yes, it does work

By Angela S.

,

Texas

,

Dec 5, 2018
Verified Reviewer

This product does work. It takes several uses because it does the color change slowly and naturally. I wear rubber gloves when applying. I am a female and it works great on my hair, but a male friend uses it also, which is the reason I tried it.

But anyway, it works great!

Bottom Line: Yes, I would recommend this to a friend

---

This really works.

By Chris E.

,

Newtown, Powys, Wales, United Kingdom

,

Mar 12, 2019
Verified Reviewer

In England, it is said that men who have a full head of hair which is grey, ala John Kerry, although I think he wears a "syrup" (English rhyming slang, "Syrup of fig-wig"), that they look distinguished, but if they have little hair, and what they have is grey, then they look extinguished.

I have been using JFM products for just over 30 years and I am now three score years and twelve. To start with, they were a two-part mix and the results were instant, and I got some obtuse comments from some ladies alluding to whether I used hair colorants or not, and that was despite not leaving it on for long. Really messy too.

Then in more recent years, there was an oxygen activated product, a precursor to Control GX, in a small tube, which was great as being parsimonious, I could use as little or much as I wanted, when I wanted, and the rest stayed in the tube for another day. Had to measure out 50 percent of the two-parter, above to save on waste. With this, there was no mess.

Now we have Control GX. This really does work. With my years of JFM knowledge/use, I have worked out a regime, some of which has already appeared in previous reviews. What I am posting below is what I have found works for me, and except for the bit about gloves, is IN NO WAY intended to countermand JFM's instructions, and I will NOT be held responsible for the actions of others if they follow what I do!

OK, wearing gloves, I would suggest, is mandatory when using this product. When using the two parter years ago they even supplied gloves. Initially, they were good quality (latex), but in order to cut costs, they later supplied a rubbish cellophane type which went straight in the bin for me to buy my own. I have found that blue vinyl ones are better than the paler white latex ones. Apparently, one has to use palms in order to apply pressure to break down a constituent within the product for it to react with oxygen to work. Using gloved fingers allows me to exert more pressure and it allows greater accuracy of where to put pressure. These gloves can be easily purchased from a hardware shop, market stall or a motorist spare part store in boxes of 100. Although credited as "single-use," I rinse them well and use them until one falls apart. (Ever the parsimonious Capricorn!).

I squeeze product into a glass desert dish so can more easily gauge how much I am using and can instantly close the tube afterwards to prevent air/oxygen getting back into the tube. Using one of those long handled brushes as favoured by ladies hairstylists when applying hair colorant professionally, I can apply the product more easily to where I want it first. It also allows pressure to be put on the roots first. One of those brushes can probably be purchased from the pharmacy where you buy your product. Once the product has been applied all over, I can then massage the product in with gloved fingers. I have a stop watch which I start when I first apply the product. I wait for 10 minutes before I rinse off in the shower. I have found that the product continues to gradually work for many days after application, so there is no need for me to use it daily.

A couple of tips. Whilst it is not normally messy to use, it is better to stand on an old towel on the floor when applying it. One would normally do this in the bathroom above the basin, so fill it with warm water and have a cloth of some sort to hand (one of those blue/white checked "household" cloths are ideal), wet to mop up any little splashes. The gloves are going to be well and truly covered in the product, so before you climb into the shower, whilst still wearing them, rinse the gloves in the basin. The water will turn a dark purple colour with white bits mixed/floating in it. Gently pull the plug and let the water out rinsing gently as it drains. Refill basin and rinse gloved hands again and also the cloth. I use the cloth in my hand to handle everything until my hair is rinsed. Taking the cloth in the shower with me enables me wipe my face and to cleanup little splashes. They are easy to see as they will be a pale purple. Once the water is running clear, I then remove the gloves and shower as normal.

As I said, this regime works for me; it is your choice as to whether you go down my road or not.

Bottom Line: Yes, I would recommend this to a friend

---