Cop Cam Reviews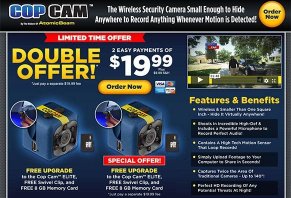 Cop Cam is a square-shaped, ultra-small wireless security camera that records high-definition footage directly to an included microSD card whenever motion is detected.
About Cop Cam
Cop Cam from Atomic Beam is a wireless security camera that's less than one square inch in size, making it ideal to hide virtually anywhere and record footage whenever motion is detected.
The website explains that the device also records footage in HD resolution, uses a powerful built-in microphone to record audio as well, and captures up to a 140° field of vision—twice that of traditional cameras.
Recordings will automatically loop once the microSD card runs out of space. And when the time comes, you can quickly view and upload footage directly to your computer.
With such a competitive price—especially compared to many other dashboard, body, action, and night cams, will Cop Cam necessarily deliver an equal level of value? Stick with us for a few minutes, and we'll help provide valuable insight—starting with the price and the manufacturer.
How Much Does Cop Cam Cost?
One Cop Cam device is priced at $39.98 (two payments of $19.99), plus $9.99 S&H. During checkout, you can order a second mini-camera for an additional $19.99 fee.
The website advertises that all orders are automatically upgraded to the Elite model, which includes six infrared LEDs for recording potential threats at night. It also comes with a swivel clip that can turn it into a dashcam, as well as allows it to attach to clothing for use as a body cam. An 8GB micro-SD card is included with each one.
Regardless of the number you order, all Cop Cams come with a 30-day refund policy, less S&H charges, as well as any fees attached to the second device. To request one, you'll need to call Bulbhead (a division of Telebrands) customer support at 855-668-1655.
What Do We Know About the Company Behind Cop Cam?
Fairfield-NJ-based Telebrands is the largest company in the As Seen on TV industry and has been in business for more than 35 years. During this time, they've released hundreds of popular products, including recent hits like Atomic Beam USA Flashlight, Red Copper Pan, Hurricane 360 Spin Mop, and Ped Egg Power.
As a company, Telebrands held a B+ rating with the Better Business Bureau, based on more than 25 customer reviews and nearly 300 closed complaints, as of 7/10/18. Most of these appeared related to less-than-stellar quality and customer support experiences, although a company representative responded with a resolution in most instances.
Are There Other Miniature Video Cameras Like Cop Cam?
Searching online at the time of writing for variations of terms like 'miniature video camera,' 'mini spycam,' and 'hidden surveillance cameras' returned a significant number of options in the same market as Cop Cam.
Many boasted similar features, like a sub-one-inch square design, HD resolution, motion detection, micro-SD card functionality with automatic looping, a built-in microphone, and a 140° field of vision.
In fact, some (such as the LXMIMI Hidden Spy Camera available on Amazon, as but one example) seemed to be designed almost identically to Cop Cam, including six LEDs for night vision, stripes on the top and bottom, and the same button placement.
While this model was priced along the same lines at about $20, we came across other functionally identical ones for less than $15, with meaningfully lower S&H charges, along with no non-refundable fees for additional units ordered.
Does this necessarily mean that one of these lower-priced options will deliver better value than Cop Cam? How can you decide which way to go? Let's address these essential questions while wrapping everything up.
Bottom Line: What to Consider When Buying Cop cam
Looking through the Cop Cam website, we were unable to locate answers to some technical questions we had as consumers that we feel may be essential details that any individual needs to know to make an empowered decision about whether or not to buy a miniature spy camera. For example:
What's the motion detection range?
After the motion sensor is triggered, for how long will it record video?
How long will the battery last? How long does it take to recharge?
What's the camera's resolution (720p or 1080p)?
What is the microphone's resolution? From how far away will it pick up sounds?
Does the lens feature auto-focus capabilities?
We are told that once the included 8 GB microSD runs out of space, it will automatically loop back to the beginning and record over the oldest footage. How much time might this deliver?
While "results will vary based on file size, resolution, compression, bit rate, content, host device, pre-loaded files and other factors," Sandisk (one popular microSD card manufacturer) reports that their 8 GB memory devices will hold up to 160 minutes (a little more than 2.5 hours) of video if recorded at 6 Mbps. However, this time drops to 40 minutes if recorded at 24 Mbps.
Again, without knowing Cop Cam's automatic recording time once motion is detected (for example, is it just a few seconds, or minutes?) or its resolution, there's no way to know precisely how much time this might deliver. But it's certainly something to keep in mind if you plan on placing the spycam in a frequently trafficked area.
Finally, although Cop Cam is wireless, remember that you'll have to regularly plug it in to keep it charged (again, no details were available from support regarding battery length or recharging times). Also, the footage is not transmitted wirelessly and requires you to manually eject the microSD card and download any footage it contains directly to a secondary device.
In the end, although Telebrands stands behind Cop Cam—like most of their other products—with a 30-day refund policy, there are a whole lot of unknowns that might impede customers from making a fully informed decision.
And considering consumers stand to lose their initial $9.99 S&H, return charges to the company, as well as the BOGO fee ($19.99, if ordered), it's certainly not a risk-free transaction from a monetary perspective.
Cop Cam

By Harlen H.

,

Missouri

,

Feb 27, 2020
Verified Reviewer

I bought 2 Cop Cams for my home and they are junk. No pictures, no video. I followed instructions and nothing. Tech support is a joke. Very sad camera, still cannot get help. They make it so good on TV, I cannot even tell if it's charged or not.

Bottom Line: No, I would not recommend this to a friend

---

Great! For eye-spying. NOT security!

By Jo B.

,

Florida

,

Oct 23, 2019
Verified Reviewer

I keep mine plugged into a portable charger which seconds as a stand, because theirs sucks. It records for 3 minutes or photos. But if you try to take a picture at night the flash WILL reflect off the glass and you end up with FLASH SHOT. So do not use picture option at night IF you're trying thru glass. Also, night videos have a purple "hue" instead of black and white, but everyone is clearly visible! Hey, I got mine at Walmart for $29.99. It's no security "SYSTEM" but it will video or take pics with surprisingly VERY clear audio. I have currently caught my neighbor trespassing twice this week and PRAYING I catch him doing what I already know he's doing ON VIDEO!

Daytime security is much better just because of the glass/flash issue. I've put it inside my truck and videoed. I've put it outside under a table. It did what I expected. Hiding it with the portable charger was the biggest challenge.

Bottom Line: Yes, I would recommend this to a friend

---

Advertisement

---

Good, so far

By Michael C.

,

Louisiana

,

Oct 17, 2019
Verified Reviewer

I bought my Cop Cam to use similar to how deer hunters use a camera trap to check if there are game in that area. I set mine every day and have recorded all sorts of animals at my hunting site, but have yet to record a cop, which is what I take the name of the product to be. Keeping my fingers crossed I'll see one soon.

Bottom Line: Yes, I would recommend this to a friend

---

Scam - sticker for on/off

By Barbara W.

,

Texas

,

Oct 1, 2019
Verified Reviewer

Purchased the special for two Cop Cams and received them but where it shows a button that says "press here" there was no button, only a sticker. In addition, when I returned it, had to go to China, they didn't reclaim and would not respond to emails. PayPal refused to refund because I didn't have proof of delivery. Three months later I received my return package back. But PayPal still wouldn't refund and no response from the company...Don't buy, it is a SCAM.

Bottom Line: No, I would not recommend this to a friend

---

Advertisement

---

Garbage

By Brian N.

,

Dayton, OH

,

Sep 26, 2019
Verified Reviewer

No video, just black screen. Terrible audio. Wasted money! I would only recommend this to someone I didn't like. I will say this...in the heat of the moment I threw it in the ground and it did not come apart. I guess that's something. I should've known better than to expect a quality product that is As Seen On TV.

Bottom Line: No, I would not recommend this to a friend

---

Very poor buy...

By William B.

,

Florence, KY

,

Jun 12, 2019
Verified Reviewer

Bought the unit at a Kroger's store. After opening the box, charged up the unit. The charge appears ok and quality of camera average. The problem I had was with the plastic items needed to use the camera. The clip used to put on a collar or body part broke immediately. A small screw did not hold the parts together and after attempts to put back together gave up. I am attempting to get the company to send me a couple of clips.

Bottom Line: No, I would not recommend this to a friend

---

Never received the item

By Chris C.

,

Santa Fe, NM

,

May 30, 2019
Verified Reviewer

I have given up on ever receiving this item (Cop Cam). I sent an email with my order number asking about the status and got no response. It has been almost two months and no sign yet or word from the company. Order # COP1102.

Thank you for your purchase!

Cop Cam Mini Security Camera, Wireless Security Camera, Dash Cam, and Action Cam As Seen On Tv × 1

8GB / 1 Pack

Subtotal

$19.99

Shipping

$9.99

Total

$29.98 USD

Bottom Line: No, I would not recommend this to a friend

---

Never received

By Kathy M.

,

Indiana

,

May 27, 2019
Verified Reviewer

Ordered in April and have never received it. I'm ready to contact my attorney and sue this company. Spent $30 and received nothing. I have the order number and will be giving it to my lawyers.

Bottom Line: No, I would not recommend this to a friend

---

The good, the bad, and the ugly

By Paul T.

,

Minnesota

,

May 27, 2019
Verified Reviewer

I ordered direct from the company and I thought I would get quick service that way. Don't expect quick service. The shipment was slower than molasses in January.

I have mixed feelings about this product. On the plus side, the picture is fantastic. I use it inside looking outside through a screened window. Everything is clear and sharp. It records my dog barking through a closed window and covers his movements back and forth. Pedestrians and vehicles on the street are clear and sharp and there would be no identification problem. And, it's easy to charge and download. I charge it through my computer and download directly from the cam into my computer - no need to remove the disk. The computer treats the loaded Cop Cam as another drive. While I'm downloading, the unit is charging. Slick. I haven't used it at night yet so no review there. The size of the unit is a winner. Easy to handle, mount and move around as needed.

On the negative side, the manual is a work of junk art. It doesn't even begin to explain things that I would like to know such as how to change the battery when the old one dies (and it most assuredly will with time). Does this mean we have to buy another unit when the battery goes south? Don't like that option especially at the price they want for it. And with Trump messing around with China, the price of a replacement is only going to go up, up, up.

If you are going to be gone for an extended period of time, say two hours or more, you will need a wall charger. I have the 32GB disk and the battery doesn't even begin to fill it before it (the battery) discharges. It seems like there is a mismatch there. So, to me, the wall charger is an essential accessory for the 32 gig card, And, of course, like everything Telebrands sells, it's extra.

The plastic accessories such as the table/wall mount stand and swivel clip are OK. They will not withstand abuse but should hold up with reasonable care.

So there you have it. I'm pleased and I'm not pleased. Would I buy another one? Probably not unless the company addresses my concerns. The battery changing and recording length of time before the battery dies are two major disqualifications. What could have been a five-star product is no better than two or three stars. Kinda disappointing...I would recommend it to a friend but only with the caveats I have specified in this review. Otherwise, no recommendation.

Bottom Line: No, I would not recommend this to a friend

---

Bought it today

By Kerry R.

,

Queensland, Australia

,

May 16, 2019
Verified Reviewer

Got this crap today from the TV shop in Cairns. Super hot when charging. Could be dangerous. No lights whatsoever to indicate to me charged or ready to go. I'll be ringing them very shortly for a refund.

Bottom Line: No, I would not recommend this to a friend

---

You get only $19.99 refunded so I lose S&H twice of $17.79

By Myra C.

,

Muscle Shoals, AL

,

Apr 23, 2019
Verified Reviewer

I saw the Cop Cam advertised on TV and really liked what I saw in the advertisement, so without reading the reviews, which I usually always do on any ordered internet merchandise, I ordered the Cop Cam 8 GB MicroSD straight from Bulbhead.com, not Amazon.

My email receipt from Bulbhead also read "my satisfaction was 100% guaranteed." I received the Cop Cam 13 days later. A notice with my order read that I had been upgraded to a Deluxe Cop Cam, meaning with a 32 GB microSD instead of an 8 GB for the same price of $19.99 now and $19.00 in 30 days.

I read the included instructions, plus watched two tube unboxing review videos on how to use the Cop Cam. The photo color was purple on those YouTube reviews and the video was poor quality.

I tried out my Cop Cam taking photos and videos in various settings inside and outside with lights on and off. When I put the MicroSD disc in my laptop to view, the photos were purple hazed looking. Same for the videos. Nothing was clear and sharp like I saw in the advertisement.

Then, I read on one of the many negative Cop Cam review's that this microSD didn't work on Windows 10 which is what my HP laptop is. This should have been made clear on the website.

An extra notice in my package told all the rules regarding the returning an item. Only the cost of the item, i.e. Cop Cam, excluding S&H would be refunded.

My credit card was charged $19.99 + $9.99 S&H + $3.50 = $35.48. Today, it cost me $7.90 Priority Mail with tracking to return the package. Their S&H $9.99 and my cost of $7.80 to return cost me a total of $17.79 for nothing.

I order online a lot and never has it cost me anything to return an item like this. I'm very disappointed.

Bottom Line: No, I would not recommend this to a friend

---