Copper Chef Black Diamond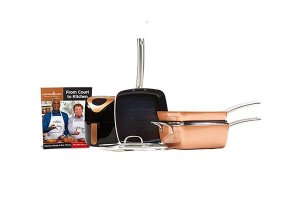 Using a diamond-infused ceramic coating and a stainless-steel base, the Copper Chef Black Diamond three-pan set claims to provide a premium non-stick cooking experience.
About Copper Chef Black Diamond
Copper Chef Black Diamond is a series of three As Seen on TV cooking pans that feature a non-stick diamond-infused cooking surface along with a stainless-steel heating plate underneath each pan.
The series of pans bear the well-known Copper Chef name and are endorsed by former NBA star Charles Oakley. The product also claims to be the #1 advertised cookware brand.
The company behind the pans is Tristar Products, a company who made a name for themselves with a robust lineup of As Seen on TV products that include other Copper Chef cookware, as well as the Power AirFryer, ClearTV antenna, AbCoaster MAX ad the Flex Steel hose.
In this review, we'll talk about what you get with your Black Diamond set, how the pans work, and how much the pans cost. We'll also cover the Copper Chef return policy and how they compare to other pans.
An Overview of Copper Chef Black Diamond Pans: What You Get and How They Work
When you purchase a Black Diamond set, you get a square grilling pan (raised cooking surface), a square griddle plan (flat cooking surface) and a deep square pan. According to the products' FAQ page, each pan is 9.5 inches across.
The pans are made of several different materials. According to the FAQ page, the cooking surface on each Black Diamond pan is composed of ceramic coating infused with diamond that's applied to an aluminum pan. The company calls this technology "CeramiTech Diamond Non-Stick Coating." The underside of the pan has a stainless-steel heating pad.
Contrary to the pans' name, they don't have any copper on them. The copper color on the outside of the pan is, the site says, is made of the same material coating the inside of the pan:
"The Copper Chef Black Diamond Pan is aluminum with copper-colored CeramiTech Diamond Non-Stick coating that will not chip or peel."
They go on to say that, because of this diamond-infused non-stick coating, the Copper Chef Black Diamond pans are significantly better than competing pans. Here are a series of facts they present on their FAQ page:
33% harder than similar pans
66% more durable than similar pans
Heat up 30% faster than similar pans
85% better at "non-stick efficiency" than similar pans
Three times more durable than "regular pans"
The company claims that the non-stick surface is so efficient that you don't need to cook with any extra "butter, grease or oil."
In addition to the three pans you get, you'll also receive two lids, one of which fits on the grilling and griddle pans.
How to Take Care of Your Nonstick Pans
One of the things we found interesting about this product is that it claims to have a longer life and better non-stick efficiency that similar pans.
The site didn't provide any research to back up the claim and our search for research regarding diamond-infused non-stick surfaces was futile, too.
Therefore, we can't say with confidence either way how well the pan's non-stick surface works compared to other pans. We do know, however, that there are specific things you can do to take care of your pans to ensure they'll last as long as possible.
According to an article from cooking site TheKitchn, the best way to clean your non-stick pans to endure longevity is to use a "paste of equal parts baking soda and water to gently scrub the pan."
When you're done, the site says you should rub a "small amount" of vegetable oil into the pan and, if there's any left, soak It up with a paper towel.
Another tip: Don't put your Copper Chef Black Diamond pans in the dishwasher.
"High heat and strong dishwashing detergents weather a pan far quicker than a bath in the sink," the site notes.
Copper Chef Black Diamond Pricing and Return Policy
The Copper Chef website sells the following sets:
(2) Black Diamond 9.5 inch Square Fry Pan: $29.98
(1) Black Diamond 9.5 Inch Square Fry Pan: $19.99
5-piece Black Diamond Pan Set: $79.99
Now, in the event that you aren't happy with your pans, you have 60 days to make a return. A few things to remember:
The 60-day deadline starts the day you make your order
You have to call (973)287-5123 to start your return
You pay the return shipping
That last point is perhaps the most important one. Because these pans have a stainless-steel base and they ship with two lids, there's a good chance your return shipping to the company's Connecticut address will be pretty high.
Here's a quick list of USPS shipping rates for a 10-pound package, which is our conservative estimate of how much your three pans and two lids would weigh:
FL to Copper Chef: $34.90
TX to Copper Chef: $47.70
CA to Copper Chef: $54.40
As you can see, the return shipping costs are so high that it may not make sense for you to send the pans back. Because of this, we'd encourage you to be certain you want to buy the pans, as a return can be quite expensive.
The Final Word: Our Thoughts on Copper Chef Black Diamond's Value
Based on everything we've read and researched about these pans, we believe that they present you with an interesting choice. There are plenty of nonstick pans on the market that you can choose from. There are even other options for diamond-infused non-stick ceramic pans: Blue Diamond is an example of one such pan we've reviewed.
While HighYa readers give the Blue Diamond an average rating of 1.8 stars, that is not indicative of how the Copper Chef Black Diamond pans would perform. Though the diamond-infused pans don't have any ratings on Amazon, other Copper Chef pans do. For the most part, the pans get good reviews from customers:
8-inch fry pan: 3.9 stars, $16.99
Round three-pan (frying) set: 4 stars, $59.99
Square three-pan (frying) set: 4.1 stars, $59.99
Based on this, we believe that, value-wise, other Copper Chef pans might be a better fit simply because those pans have hundreds of reviews on Amazon and customers seem pretty happy with them.
Plus, the three-pan square set that is very similar to the Black Diamond pans is $59.99 with Amazon Prime instead of the $79.96 you'd pay for the Black Diamond pans.
Taking into account the absence of reviews of this product, we believe those who are looking for some reassurance that the pans they're buying perform well, we suggest turning to Copper Chef's Amazon store. The pans there have hundreds of reviews and are more affordable.
Copper Chef Blue Diamond

By Allen B.

,

Walkersville, MD

,

Jan 15, 2020
Verified Reviewer

Pans worked very well at first. Although an egg would not float around as on TV, it did not stick. Now, after 6 months, even with some butter in the pan, an egg will stick. Bacon, even on low heat, sticks. Hamburgers leave parts stuck to the pan that need to be scraped with a spatula to remove. Very disappointed.

Bottom Line: No, I would not recommend this to a friend

---

Advertisement

---