Copper Chef Diamond Pan Reviews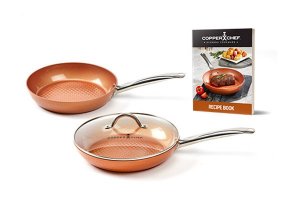 Copper Chef Diamond Pan comes with many potentially useful features at a competitive price, including a diamond-infused non-stick surface, ultra-durability, and high temperature resistance.
About Copper Chef Diamond Pan
The aluminum Copper Chef Diamond Pan features a Cerami-Tech non-stick coating infused with thousands of cultured diamond crystals, which the website advertises makes it 33 percent harder, 3X more durable, and heat resistant up to 850 degrees.
It also boasts a 3D diamond matrix cooking surface with a micro-textured pattern, which optimizes airflow by creating "micro air pockets between the pan and your food." This helps deliver 85 percent better non-stick ability, without the use of PTFE and PFOA.
On the bottom, the Diamond Pan uses a stainless steel induction plate to heat up 30 percent faster than ordinary ceramic pans, while allowing it to work on all cooktops, including gas, electric, ceramic, and induction. It conducts and distributes heat faster, as well as more evenly.
Although it's dishwasher safe, the manufacturer recommends cleaning the pan by hand using water and mild soap, as well as a nonmetallic scrubber, sponge, or bristle brush, if preferred. Like all non-stick cookware, you should only use wood, plastic, silicone, or bamboo (nonmetallic) utensils and never stack other pots and pans on top without a protective cloth.
Just what is a diamond-infused non-stick surface, anyway? Will it help you cook easier and deliver better results? And is the Copper Chef Diamond Pan necessarily your best choice?
Let's help you find some actionable answers, starting with the underlying technology.
The Basics Behind Non-Stick Ceramic Cookware Like Copper Chef Diamond Pan
Despite the thousands of different models and hundreds of manufacturers out there, in How to Buy the Best Non-Stick Cookware, we explain that there are only three materials used to create these coatings:
Fluoropolymer – A group of non-toxic plastic polymers (one of which is the brand name Teflon) that offers durable non-stick ability. Although the PFOA and PTFE in these coatings are often maligned, there's little clinical evidence indicating that ingestion of ultra-small amounts is harmful to humans.
Silicone – A baked-on coating typically only found on budget cookware that tends to wear off fairly quickly.
Sol-Gel Ceramic – More of a "ceramic-like" blend than actual ceramic, these coatings add a non-stick component using a releasing agent that doesn't require the use of PFOA or PTFE.
Related: Non-Stick Cookware 101: Is Teflon Safe?
As with most non-stick cookware, Diamond Pan's ceramic coating can help reduce adding extra butter, grease, or oil to your food. However, the website emphasizes that "for added flavor, you may season the cooking surface with natural oils such as olive, canola, or peanut oil."
What about the diamond crystals infused in the pan's ceramic coating? While customer support wasn't able to provide additional insight into Diamond Pan's specific process, writing for Geek.com, TJ Dietsch explains things from a different company's perspective (more about this soon):
"The process starts when aluminum alloy ingots are melted down. The molten metal is then robotically ladled into a mold that forms the specific shape of the pan. A machine then cuts the excess material off from around the edges before a person sands them down even further.

From there, the pans get sandblasted and torched with a plasma cannon to melt a trio of powders that make up the ceramic coating. With that in place, the non-stick applications are added including diamonds, which help prevent food from adhering to the pan. Finally, the coated pans get baked before the handle is added and they're ready for shipping."
Finally, the micro-textured pattern found on Copper Chef Diamond is a common feature in pans (whether with a non-stick coating or otherwise), which helps release food easier than completely smooth surfaces.
How Much Does Copper Chef Diamond Pan Cost?
The 10" Copper Chef Diamond Pan is priced at $29.95, plus free shipping, which includes a 10" glass lid and recipe book (an extensive list of these recipes is also available on the pan's website).
During checkout, you can add an 8" Diamond Pan to your order for an additional $9.99 fee.
All orders come with a 60-day money back guarantee, less S&H, which you can request by calling customer support at 973-287-5197.
What Do We Know About Copper Chef Diamond Pan's Manufacturer?
Copper Chef Diamond Pan is brought to us by Tristar Products, the second largest As Seen on TV company in the industry. They're also responsible for other popular products in the lineup, including the Original Pan, King, Wok, and Press & Flip Pan.
Tristar held an A rating with the Better Business Bureau, based on 22 negative customer reviews and nearly 650 complaints, as of 4/10/18. Most related to product quality a support concerns, although a company representative responded to each one with a resolution.
Copper Chef Diamond Pan vs. Swiss Diamond Non-Stick Pans
The only other diamond-infused non-stick cookware we encountered during our research was Swiss Diamond, the company TJ Dietsch was referencing in the Geek.com article cited earlier.
Like Copper Chef, this brand also offers induction plates, an improved seal between the pan and the cooking surface, a heat-tempered glass lid with an adjustable steam vent knob and an extra thick, and a cast aluminum body.
Again, customer support wasn't able to provide additional insight into Copper Chef Diamond Pan's manufacturing process (or into all of the statistics referenced on their website), so we can't know exactly how it compares. However, we can compare pricing, which is drastically different between the two:
| | | |
| --- | --- | --- |
| Brand | Model | Price |
| Copper Chef Diamond | 10" | $29.95 |
| | 8" | $9.99 (with regular pan order) |
| Swiss Diamond | 10.25" | $109.95 (Amazon) |
| | 8" | $64.94 (Amazon) |
Will you get five times the value from Swiss Diamond's 10.25" pan, since it's more than five times the price of Copper Chef Diamond?
We didn't test any of these models ourselves, but returning to our Non-Stick Cookware Buying Guide, we emphasize there are four primary factors when it comes to distinguishing one 'better' pan from another:
The coating's formula and application method – Spray-on coatings are typically more durable than those that are rolled on.
The number of non-stick layers it features – For optimum reliability, it should feature no fewer than three.
Each non-stick layer's thickness – While we didn't encounter an optimal thickness reported by authoritative online resources, you'll want to buy from companies who have a reputation for quality formulas.
The pan's metal and thickness – Hard anodized aluminum is generally preferred, and the thicker the pan's bottom is, the less likely it will be to heat up too quickly and exceed your preferred temperature.
How to choose the right option for you? Let's carry this over as we wrap things up.
Our Final Thoughts About the Copper Chef Diamond Pan
The bottom line is that while we didn't test it ourselves to provide firsthand feedback, the Copper Chef Diamond Pan comes from a manufacturer with decades in business and a mostly positive online customer reputation, and who backs their products with 60-day money back guarantees.
And based on what we learned from the website and commercial, the Diamond Pan seems to come with a lot of useful features like PFOA/PTFE-free construction, a patterned cooking surface for easier food release, and a clear lid—not to mention its much lower cost than competitors.
But, without additional details from customer support regarding important factors like the non-stick coating's formula, the application method, and the number of layers it (and the pan itself) has, it's all but impossible to know how much value it'll deliver—especially when compared to the much higher-priced competition—without placing an order and trying it out for yourself.
It's also important to point out that, whether from Copper Chef or Swiss Diamond, we didn't encounter scientific data indicating that diamond-infused coatings can provide measurably better non-stick ability than more traditional ceramic or Teflon-based options.
Finally, just remember that if you aren't satisfied with Copper Chef Diamond Pan, you'll have to pay to ship it back to the manufacturer, and you'll also lose any fees associated with the additional 8" pan.
Read next: Comparing Cookware: Cast Iron, Aluminum, Non-Stick, and Carbon Steel
Can't get the bottom to come clean

By Keron W.

,

Dilworth, MN

,

Nov 20, 2019
Verified Reviewer

The pan burns food too easily, even on the lowest temp. Almost everything sticks. (I use a Copper Chef induction cooktop.) I have soaked it and even used a soft nylon bath style scrubber on it and still can't get the crud out between the studded surface! Trying to cook eggs is a nightmare. I have a set of the regular Copper Chef and they do the same. Although, they do clean easier. But still stain around the circle area. Any suggestions? They are the only pans I own and use. They do cook meat well and are great for soups, chili, any liquid meals.

Bottom Line: Yes, I would recommend this to a friend

---

Advertisement

---