Copper Chef Grill Mat Reviews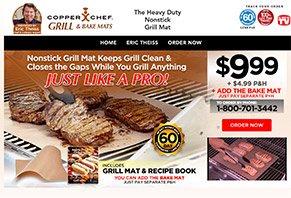 Made of a flexible material that's heat proof up to 600°, Copper Chef Grill Mat promises to help you grill anything like a pro and make cleanup a breeze.
About Copper Chef Grill Mat
According to the company, Copper Chef Grill Mat's design allows it to sit on top of your grill, cook your food perfectly—it even delivers grill marks!—and help reduce mess.
This way, the manufacturer claims Grill Mat can help prevent vegetables from falling through the grates, fish from sticking, baste from spilling off (and the resulting flare-ups), and more.
While your food is cooking, Copper Chef Grill Mat's "state of the art construction" promises to deliver even heating. And with its chef-grade nonstick coating, we're told you won't have to worry about cheese from your burgers taking an eternity to clean up.
Copper Chef Grill Mat is also heatproof up to 600 degrees and can even be reversed.
But can it realistically help you "grill anything like a pro"? At a minimum, will it at least reduce mess? That's what we're here to help you figure out about Copper Chef Grill Mat.
How Do Grill Mats Like Copper Chef Work? Are They Safe?
There are dozens (perhaps even hundreds) of grill mat options on the market in all shapes, sizes, and colors.
Despite this, according to BBQGrillMats.com, they're all "constructed of the same materials – fiberglass cloth and some version of polytetrafluoroethylene (PTFE)."
Here, several layers of PTFE (the chemical that provides nonstick ability) are sprayed or rolled onto the fiberglass, similar to painting. Then, a sintering process occurs where the mat is subjected to 780° temperatures for a few minutes.
While PTFE imparts exceptional nonstick properties to any surface to which it's applied, once the temperature exceeds 500°F, it begins to deteriorate. Then, once the temperature exceeds 662°F, it decomposes, and the resulting fumes can kill birds and cause polymer fume fever (flu-like symptoms) in humans.
With this said, Copper Chef Grill Mat is only rated up to 600 degrees, so this might not necessarily be a concern.
Copper Chef Grill Mat vs. the Competition
As we mentioned in the previous section, Copper Chef Grill Mat is up against a decent amount of competition, which you can see for yourself by typing, "grill mat" into the search engine of your choice.
In fact, we've reviewed a couple of other popular grill mat options here at HighYa, such as Miracle Grill Mat and Yoshi Grill and Bake.
In addition to these (and other) online options, grill mats are so popular that you'll almost certainly find one or two choices at local big box retailers with houseware sections.
Not only can this put one in your hands faster, but it can also save you from paying S&H charges, as well as from having to ship it back to the company if you're not satisfied.
From a price perspective, most competing grill mats seem to be priced somewhere between $5 and $15. Will you pay about the same for Copper Chef's version?
How Much Does Copper Chef Grill Mat Cost?
One Copper Chef Grill Mat is priced at $9.99, plus $4.99 S&H. You'll be able to purchase a second at checkout for an additional $4.99 fee.
Each order will also include the Grill Mat Recipe Book, although we're not provided any details about what you can expect to find inside.
Tristar Products provides a 60-day money back guarantee, less S&H, on all Copper Chef Grill Mat purchases. To request one, customer service can be reached at 973-287-5172.
Is Copper Chef Grill Mat Living Up to Customers' Expectations?
While there weren't any customer reviews yet for Copper Chef Grill Mat, the HighYa team has written about several other products within the lineup, such as the original Copper Chef Pan, Press & Flip Pan, and Grill.
Overall, these products come with 2-star average ratings from HighYa readers, largely based on complaints that their nonstick coating quickly wears off (something we also found in our firsthand testing).
Compared to these options, however, Copper Chef Grill Mat almost certainly uses PTFE to deliver nonstick performance, whereas their cookware claims to use a ceramic coating. As a result, there's no way to know if you'll experience the same.
From a company perspective, Tristar Products is the second largest name in the ASOTV industry, with hundreds of popular products and several decades in business.
They had an A rating with the BBB, based on 911 closed complaints (as of 11/16/16), most of which appeared to reference quality or performance concerns, as well as customer service experiences that left something to be desired.
Eric Theiss Claims to Use Copper Chef Grill Mat—Should You, Too?
Will Copper Chef Grill Mat help make cooking on the grill less of a hassle (such as preventing food from falling through), while reducing mess? We don't have any reason to believe it won't work as advertised.
Instead, we think it's more a question of value than of performance. Why? Primarily, because much of the competition—which differs very little from Copper Chef Grill Mat—can be found for less online. You can even shop locally to save more money on S&H fees.
What about Eric Theiss's endorsement? While Eric has an extensive background in cooking and product development, this doesn't necessarily mean that he uses the product.
Given this, if it was our money (after all, we're consumers too!), it might be difficult to justify Copper Chef Grill Mat's added cost. The good news is that if you feel like giving it a try, the manufacturer seems to stand behind the product with a 60-day money back guarantee.
0 out 1 people found this review helpful

Very bad purchase

By Terri P.

,

Kevil, KY

,

Dec 10, 2018
Verified Reviewer

I would not recommend Copper Chef Grill Mats to anyone. I have used mine in the oven about a dozen times and never over 425 degrees. Today, when I turned it on with the mats inside, immediately horrible fumes started coming out of the oven that burned my eyes, nose, and sinuses. I turned the oven off, took the mats, and let the oven cool. When I turned the oven back on without the match, there were no fumes, when I had thought maybe they were coming from my oven and not the mats. These mats are very very dangerous and could really harm someone. Do not purchase or use these mats!

Bottom Line: No, I would not recommend this to a friend

---

0 out 1 people found this review helpful

Copper Chef Grill and Bake Mats

By Sue C.

,

Ottawa, Ontario, Canada

,

Aug 11, 2018
Verified Reviewer

I got this as a gift from my sister. I had a BBQ with some guests. I tried it out for the first time. I placed the mat on the grill and right away the grill showed through slightly (like a shadow). I looked closer and saw that the "copper" was peeling away. It easily scrapped when I poked at it. I decided against cooking on it, worried about the food being exposed to the shredding mat!

I threw it away. Terrible experience. I would never try any other "Copper Chef" products. "As seen on TV" is all it should be!

Bottom Line: No, I would not recommend this to a friend

---

Advertisement

---

0 out 1 people found this review helpful

DON'T buy this product.

By Jeff B.

,

Coarsegold, CA

,

Aug 8, 2018
Verified Reviewer

I used it on BBQ setting of low heat but chicken juice burned black and was super hard to clean. I tried PAM spray the second time but it still burned. I am very disappointed and threw the mats in the trash. Junk product and a big waste of my time.

Bottom Line: No, I would not recommend this to a friend

---

16 out 17 people found this review helpful

Worked ok, cleans up terribly.

By A. Maura

,

Howell, MI

,

Jan 7, 2018
Verified Reviewer

I ordered the product and used it once. It performed well enough with the cooking. I used the mats for cooking hot dogs and hamburgers. Nothing burnt, but the mats looked like crap. I called the company, followed their instructions to clean the items, and it didn't work. Later they contacted me to see if I was satisfied. When I told them of my story and submitted to them the email chain, they told me it was over 60 days, and the warranty expired.

They claimed that I probably cooked the food at over 500 degrees and that was most likely why the mats looked burnt. Absolutely ridiculous! I have no need for this company, and all I wanted was a replacement, not a refund.

Lesson learned. I recommend Kona mats. A better product, a better price, and a better guarantee.

Bottom Line: No, I would not recommend this to a friend

---

Advertisement

---

17 out 18 people found this review helpful

Ok for burgers. Bad on clean up.

By Ann Bosche

,

Mississippi

,

Aug 22, 2017
Verified Reviewer

We grilled burgers tonight using the mats. We had to move the mat in order to achieve the charring we like. I also cleaned the mats after we ate and the burnt marks do not wash off. I may use the mats again if I do veggies, but not for steaks or burgers.

Bottom Line: No, I would not recommend this to a friend

---

21 out 22 people found this review helpful

Not so easy to clean

Grilled steaks using the Copper Grill Mat. I was impressed at how easy and evenly they cooked.

Two things: they did not leave dark grill marks. They were light marks at best. Cleaning them was not easy. I didn't clean them when they were freshly used. I cleaned them the next morning, and the charred marks remained. I even soaked it all day and couldn't get them out. I will give them a second try, but I think it will be more of the same problem. It's nice to toss vegetables on it since nothing falls through the cracks and the food was good. However, make sure to clean it wipe down immediately or be prepared to pay the price as I did.

Bottom Line: No, I would not recommend this to a friend

---

45 out 47 people found this review helpful

Not good for meat

This might be good for fish and vegetables, but meat will sit in the grease and will taste like it was sitting in the grease. It also doesn't cook the same as if made directly on the rack.

Bottom Line: No, I would not recommend this to a friend

---