Copper Chef Grill Reviews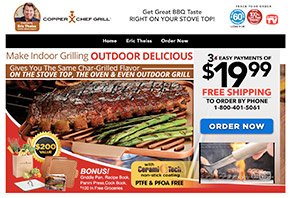 Copper Chef Grill's manufacturer claims you'll be able to create outdoor barbecue taste in your own kitchen, without worrying about sticking or messiness.
About Copper Chef Grill
Copper Chef Grill promises to deliver the same char-grill flavor as your outdoor grill, but right on your stovetop. In fact, we're told you can also use it in the oven, and even on the outdoor grill to reduce mess!
Compared to the competition, Copper Chef Grill's CeramiTech non-stick coating is PTFE and PFOA free, and the manufacturer claims its ridges are up to 5X higher to provide beautiful grill marks.
We're also told that Copper Chef Grill's extra large capacity can hold up to nine pieces of salmon, nine burgers, or nine pancakes, while its stainless steel induction plate provides rapid heat, corner to corner.
This induction plate means Copper Chef Grill can be used on electric, gas, ceramic, and induction cooktops, and when you're finished, cleanup is as easy as placing it in the dishwasher.
Sure, Copper Chef Grill sounds like it might come in handy in a variety of cooking scenarios. But is it really a miracle? Even if it's not, can you expect it to deliver the same results as your outdoor barbecue?
Let's dive right in and learn what we uncovered during our research.
How Does Copper Chef Grill Work?
There are several different benefits promoted by Copper Chef Grill's manufacturer, so let's take them one-by-one.
What Is Copper Chef Grill's CeramiTech Coating?
For many years, the only non-stick coating available for cookware was Teflon, which works great when it's in good condition.
However, as Teflon coatings are repeatedly exposed to heat over the years (or just a handful of instances of excessive heat) and subjected to normal wear and tear from cooking utensils, small Teflon particles can flake off into food.
Then, when consumed by humans and animals, the PTFE and PFOA contained in these flakes can lead to minor side effects such as flu-like symptoms, or major ones like increased cancer risks.
Over the past few years, however, many manufacturers have started using thin layers of ceramic in lieu of Teflon, which they claim provides natural non-stick ability, without the potential side effects.
What's the Deal with Induction?
With normal cookware, an energy source (such as a flame or hot coil) transfers heat to a pan, which then transfers heat to the food it contains.
Induction skips a step by using a magnet to heat the pan directly, which generally provides faster heating times and more even heating results.
However, you will need to have induction-specific cookware to use an induction cooktop, or a naturally ferrous (magnetic) material like cast iron.
Does Copper Chef Grill Deliver Magical Thawing Capabilities?
First and foremost, because bacteria thrive somewhere around room temperature, most professionals never recommend thawing food out in the open for extended periods of time.
So, if you were to use Copper Chef Grill to defrost something, it's probably too big to fit in the microwave to avoid this problem, while placing it in the fridge will vastly increase your thawing time.
In either instance, the ice cube example in the commercial is pretty cool. But from a real-world defrosting perspective, these limitations mean Copper Chef Grill might not be as handy as it's made to seem.
Are There Other Stovetop Grills Like Copper Chef Grill?
In short? Yes, Copper Chef Grill has tons of competition, which you can see for yourself by typing "stovetop grill" or "ceramic stovetop grill" into your favorite search engine. In fact, we've reviewed a meaningfully similar product named Gotham Steel Double Grill.
Perhaps the biggest difference is that the vast majority of these options feature traditional Teflon non-stick coating, while Copper Chef Grill uses a CeramiTech non-stick coating that could be better for your health.
However, you'll also find a number of cast iron stovetop grill options, which can also work as a naturally non-stick cooking material in many instances.
What about the claim that Copper Chef Grill's ridges are 5X higher than the competition? During your research, you'll find ridges in all different heights and thicknesses, although there's really no way to quantify the "5X" claim.
From a price perspective, you'll find that much of the competition ranges between about $25 and $50, although many are available locally, which could help save on S&H charges. How does Copper Chef Grill compare?
How Much Does Copper Chef Grill Cost?
Copper Chef Grill is priced at three payments of $19.99, bringing your total to $59.97. With your order, you'll also receive a bonus:
Griddle pan
Recipe book
Panini press
Ultimate Grilling Guide
$100 in free groceries (no additional details provided)
All Copper Chef Grill purchases come with a 60-day money back guarantee, less S&H, as well as a 100% lifetime guarantee if it ever chips, peels, or cracks.
In order to request a refund or process a guarantee claim, you'll need to call Tristar Products customer service at 973-287-5172.
Are Copper Chef Grill Reviews Positive or Negative?
Copper Chef Grill was newly released at the time of writing, so there wasn't any customer feedback we could use to gauge overall satisfaction levels.
Fortunately, we wrote about the immensely popular Copper Chef Pan from the same manufacturer, which also features the CeramiTech technology found in Copper Chef Grill.
We put CeramiTech to the test during our review (full video can be found here), and we ultimately came away "very impressed" after cooking several different dishes with it.
During our follow up testing, however, we found that Copper Chef Pan's non-stick coating lost a lot of its original ability, especially after a dishwasher cycle.
Obviously, Copper Chef Grill is brand new without any customer reviews, so this doesn't necessarily mean this is what you can expect.
From a company perspective, Tristar is second largest company in the ASOTV industry, with dozens of recent hits like Clear TV, Perfecter Fusion Styler, Power Pressure Cooker XL, and many more.
Among hundreds of HighYa readers, these products have an average rating of about 2 stars, with many customers complaining that they don't work as advertised or don't live up to their quality expectations.
Again though, based on our research and experience, these are some of the most common complaints among all ASOTV products, not just those from Tristar.
Will Copper Chef Grill Deliver Outdoor Barbecue Taste?
If you're looking for a ceramic non-stick stovetop grill, you'll find that Copper Chef Grill is one of only a handful of options. And among these options, it's the least expensive, which is certainly attractive if price is your number one factor.
But whether you purchase Copper Chef's version or another stovetop grill (ceramic or otherwise), the reality is that true barbecue taste is a combination of several key factors. Like what?
Spices and marinades, heat source (propane, charcoal, or wood—even different species of wood), and more, all contribute to the different flavor profiles you can achieve.
However, when cooking indoors with a product like Copper Chef Grill, you're limited to your stove's heat source. You also won't be able to achieve that unique flame-kissed glaze on the exterior.
Given this, can you technically grill indoors using the Copper Chef Grill? It appears so. But will it deliver a true char-grill flavor? Let's just say that we remain skeptical.
Did you find that Copper Chef Grill provided great outdoor barbecue taste, or did it simply get the job done? Give us the details in your review below!
Copper Chef Grill

By Henry J.

,

Pennsylvania

,

Dec 7, 2018
Verified Reviewer

I bought it, went home and washed it under hot water and dish soap. I put it on the stove top (I have a conduction glass top), grilled a nice size burger and some bacon at the same time, flavored up the burger a little, and I got grill marks and perfectly cooked bacon. No, it did not taste like outside grilling but was delicious and cooked perfectly. Clean up was a snap, fast and easy. I would recommend it to a friend or family member. Also kept any grease from the bacon drained away.

Bottom Line: Yes, I would recommend this to a friend

---

3 out 5 people found this review helpful

Copper Grill

I bough this about two months ago but used it for the first time, and when I went to clean it, the copper started peeling off. I want to return it; I am very unhappy.

I would not recommend the grill, but other products seem fine.

Bottom Line: Yes, I would recommend this to a friend

---

Advertisement

---