Copper Chef Knives Reviews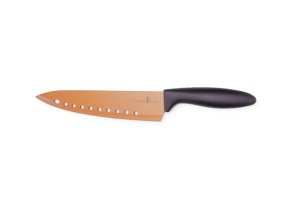 Copper Chef claims that their Cerami-Tech Ever-Sharp knives are so sharp, the edges will last a lifetime. Learn about the three knives included in the set, and how they compare to others.
About Copper Chef Knives
Copper Chef Knives claims that home cooks will be able to conquer their kitchen tasks better than ever before with the Cerami-Tech Ever-Sharp three-piece kitchen knife set, which includes a chef's knife, fillet knife, and a serrated knife.
What's Cerami-Tech? Copper Chef says that their knives are made with a one-of-a-kind material that stays so sharp, they never need sharpening. Not only does the Ever-Sharp set supposedly not require the occasional pass over a whetstone, if they don't stay sharp for life, Copper Chef states that you'll get your money back.
Finally, on top of the Cerami-Tech Ever-Sharp knives claiming to tackle even the toughest ingredients with ease, they're also stated to be ultra-easy to wield thanks to their lightweight design and ergonomic, easy-grip handles.
What's Included in the Copper Chef Cerami-Tech Ever-Sharp Knives 3-Piece Set?
Copper Chef promises that their three-piece set includes every knife you need for cooking tasks from halving a pineapple in one swipe to effortlessly filleting a fish or perfectly slicing off hunks of sourdough.
Here's what's included:
1 Pro-Chef Knife: A multi-purpose cutlery tool that can be used on everything from fruits and vegetables to proteins and cheese. It features a razor-sharp edge and unique, aerodynamic design that claims to cause less friction and no stick.
1 Serrated Knife: A non-stick blade that features tiny, inverted teeth that are perfect for creating clean slices through raw meats and fish. The serrated edge is also great for neatly cutting through crusty bread without requiring so much pressure as to collapse your loaf.
1 Fillet Knife: Another non-stick blade, the fillet knife is used specifically to slide the skin off of your cuts of fish and meat. It's pointed design and thin, flexible blade also makes it perfect for deboning.
With these three go-to kitchen cutlery tools, the Ever-Sharp promises that you'll be able to slice, dice, mince, and carve better than ever before.
How Much Does the Copper Chef Cerami-Tech Ever-Sharp 3-Piece Set Cost?
The Copper Chef Cerami-Tech Ever-Sharp three-piece set claims to be an $80 value that can be yours for a total of $21.98 (that's $14.99 for the set and $6.99 for P&H).
If you purchase the set online, you can choose to get the second set for free—just pay an additional $6.99 P&H. For two sets, your total would be $28.97.
If you're unhappy with your Copper Chef Ever-Sharp purchase, you can return the items within 60 days for your money back, minus the $6.99 packaging and handling charges. To start the return process, call 1-973-287-5131 or email customer service at info@tvcustomerinfo.com.
What of that lifetime money-back guarantee if your Ever-Sharp knives dull?
We couldn't find information on returns past the 60-day window within their fine print; however, have reached out to customer service and will update you as soon as we hear back.
About the Copper Chef Brand
Copper Chef is endorsed by celebrity chef Eric Theiss, who's credited a culinary expert, author of two pressure cooker-focused cookbooks, former chef and restaurant owner on the Ever-Sharp website.
It's true that Eric earned his chef's stripes working in high-end NYC restaurants under chef Frank Falcinelli. However, he's probably better known for his more recent collaborations with QVC, where he performs on-air culinary product sales for As Seen On TV products made by TriStar, such as the Power Pressure Cooker XL.
Why do we note TriStar as the manufacturer of the products that Eric Theiss represents?
Because Copper Chef is brought to you by Fusion Life Brands. Fusion Life Brands, in turn, is a division of TriStar Products, one of the biggest ASOTV companies in existence.
Now, we've written about five Copper Chef products here at HighYa, including the Copper Chef Square Pan and Copper Chef Grill Mat among others. While only the Square Pan has accumulated reader reviews, it's worth noting that it's rated at 2.5/ 5-stars on average by almost 300 HighYa readers.
However, we mention Copper Chef's connection with TriStar Products because, out of the many TriStar products that our readers have reviewed, few stand out as faring better than those made by Copper Chef.
In fact, they have an average 2-star rating—and that's from over 1,300 reader reviews.
To be clear, we're not saying you'll experience equally middling-to-average results with the Copper Chef Ever-Sharp three-piece knife set.
However, since common complaints from consumers tend to revolve around less-than-great customer service experiences and products that fall short of working as advertised—a common theme with As Seen On TV products as a whole—it's worth considering when making your purchasing decision.
About Ever-Sharp's Cerami-Tech Material
We mentioned that Copper Chef claims that their Cerami-Tech material is one-of-a-kind, but is that really the case?
In our three-part kitchen knife buying guide, we explore the different materials that are commonly used to make kitchen cutlery: carbon steel, stainless steel, and ceramic.
Ceramic blades made of are strong materials such as aluminum oxide or zirconium oxide, which are then heated under pressure. Since there's some variation in the materials, it's possible that Cerami-Tech has somewhat unique qualities, but the claim of one-of-a-kind appears to be a moot point.
That's because, in general, ceramic knives are harder and sharper than other materials—with a hardness of 8.2 on the Mohs scale. (Steel is 5-6, while diamonds are a 10 on the Mohs scale.)
That level of hardness allows all ceramic knives to be formed with an extremely sharp edge that's excellent at making thin, precise cuts.
Perhaps more important, no ceramic knife needs to be sharpened. In fact, because of the hardness of the material, doing so would be incredibly difficult and costly, as it requires a diamond-grit sharpener.
So, while Copper Chef's Ever-Sharp knives might have additives or alloys that make them one-of-a-kind, the qualities of never requiring sharpening are consistent with all ceramic knives.
And, so are the trade-offs. Because ceramic blades are so hard, they're very brittle and inflexible. Should you attempt to use a ceramic blade to cut bone or drop it on a hard surface, it's likely to chip or splinter.
It's these inherent qualities that make ceramic knives ideal for chopping vegetables, particularly acidic lemons and tomatoes, or switching between ingredients without transferring tastes. However, you should never use one to slice through a bone joint or chop frozen foods for risk of damaging the knife or endangering your fingers.
Are Copper Chef's Cerami-Tech Ever-Sharp Knives the Best Deal?
At $21.98 for three pieces, how does the Copper Chef Cerami-Tech Ever-Sharp knife set compare in cost to other ceramic knives?
First, it's worth noting that in The 6 Most Important Kitchen Knives You'll Ever Need & Their Uses we explore the idea that buying a knife set might put you at a disadvantage in the kitchen. That's because sets often sidle you with one or two great tools, while other kitchen tasks might better be served by a specially selected purchase.
However, sets do have the advantage of giving you more bang for your buck. With that in mind, here's a look at similar options:
Cook N Home 9-Piece Ceramic Knife Set ($19.24 Amazon). This set includes four knives, four sheaths, and one vegetable peeler.
Rihachan Ceramic Knife Set (2-Piece $14.95, 4-Piece $23.99 on Amazon). This set includes only knives, but boasts a 4/ 5-star rating averaged over 447 reviews.
Cuisinart Advantage 12-Piece Knife Set ($16.44 on Amazon). This brightly colored set includes six knives and six knife covers. It also is rated 4.6/ 5-stars as averaged over 2,929 customer reviews.
We found numerous ceramic knife sets for sale on Amazon within a similar price range, all offering a slightly different unique factor such as aesthetic or a specialized tool. But what interests us more than having more knives are those sets that offer accompanying sheaths, since that's one less purchase you'll have to make.
Bottom Line on Copper Chef's Cerami-Tech Ever-Sharp Knives
The Cerami-Tech Ever-Sharp three-piece set is similarly priced as other options. However, when eyeing the competition, we were reminded that you'd also need to purchase a holder or knife block.
Leaving your kitchen knives loose in a drawer isn't only detrimental to your blades, it's dangerous for your fingers.
Beyond the need for a separate block, our research on ceramic knives in general supports Copper Chef's claims that these knives will stay sharp for many years, if not your entire lifetime. So, if you're in need of new knives and the pieces included in this set complement your regular kitchen prep activities, the price seems right to give them a try.
1 out 1 people found this review helpful

Not as sharp as they say

By Michael S.

,

Missouri

,

Jun 19, 2019
Verified Reviewer

They don't stay as sharp as they advertise. It keeps going dull?! I have trouble cutting onions, tomatoes, just about everything. I have to sharpen it almost every day! Why do they say it stays sharp no matter what?

Bottom Line: No, I would not recommend this to a friend

---

3 out 3 people found this review helpful

Dullest I ever had

By Penny B.

,

Urbana, OH

,

Jun 25, 2018
Verified Reviewer

I bought it and the first time using, it wouldn't cut. The blade is dull. I would not recommend it. It is the dullest blade on a knife I ever had. My table knives are sharper. Their claim to be extremely sharp is false. I wouldn't waste my money on any more.

Bottom Line: No, I would not recommend this to a friend

---

Advertisement

---