Copper Chopper Reviews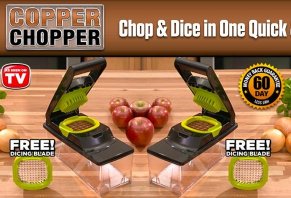 Copper Chopper is a handheld device that claims to be useful for slicing, dicing, and chopping ingredients for dishes like stir fry, salsa, and chicken salad.
What Is Copper Chopper?
Copper Chopper uses interchangeable, super strong copper titanium blades that promise to help you slice, dice, and chop many of your favorite foods in one quick and easy step, with perfectly consistent size and thickness.
In fact, the product's website indicates it's like having 24 miniature knives at once, whose blades are promised to stay razor sharp for years. This way, we're told it's great for foods like stir fry, fruit salad, party platters, salsa, french fries, and chicken salad.
As Copper Chopper works its magic, the website indicates that food falls directly into the easy serve container, which can help reduce mess. And when you're finished chopping, its parts are BPA and dishwasher safe for easy cleanup.
Sure, Copper Chopper looks like a breeze in the commercial, but can you expect the same once you have it in your kitchen? While we didn't test the device ourselves, we did perform some in-depth research, which we'll outline here.
How Much Does Copper Chopper Cost?
One Copper Chopper device is priced at $19.99 plus $7.99 S&H. During checkout, you'll be able to purchase a second device for an additional $7.99 fee.
Each unit you order will come with a free dicing blade for smaller chopping, as well as a 60-day money back guarantee, less S&H.
In order to request a refund, OnTel Products Corp's customer service department can be reached at 866-446-4069.
How does this price compare to competing chopping devices? Does Copper Chopper even have any competition?
Copper Chopper vs. Other Chopping Devices
The reality is that there's no shortage of consumer devices that promise to help make chopping fruits and vegetables faster, easier, and less messy. These include manually-cranked options, ones that you push down on with your hand, along with devices featuring built-in electric motors.
Even if you're only interested in hinge-based options with interchangeable accessories like Copper Chopper, a quick Google Shopping search for terms like "vegetable chopper" and "food chopper" returned several meaningfully similar products at the time of our research, including:
Chop Magic - $20
Homemaker Vegetable Chopper - $15
Freshware Onion, Vegetable, Fruit, and Cheese Chopper - $15 (Includes a mandoline slicer and the ability to attach larger bowls)
OXO Good Grips Vegetable Chopper - $20 (Features a curved design and easy pour opening)
Vidalia Chop Wizard - $20
Moving slightly outside of Copper Chopper's specific design, we encountered additional options like the Excalibur 9-in-1 Slicer Dicer ($22) and the WiHoo Multi Vegetable Chopper ($20-$40). In addition to chopping and dicing blades, both of these also featured other potentially useful accessories, including quarter and eighth blades, a peeler, and a planer.
Given this, how can you choose the right device for your household?
In our experience, when so many similar characteristics are present for a product, balancing price (i.e. overall value) and customer feedback can help make the most informed pre-purchase decision. How do both of these factors stack up for Copper Chopper?
At $28 including S&H, Copper Chopper was the most expensive two-blade option we encountered, although it was also the only one that implemented actual copper (a substance that has natural antimicrobial properties). Although at nearly twice the price of some of the direct competition, only you can gauge whether or not this feature alone will provide a greater level of value.
Potentially adding more value and convenience, though, Google indicated that many of these competitors were sold locally, which could help save initial shipping charges, as well as possibly making the return process as easy as hopping in your car.
Now, let's take a look at the second part of the equation; what real-world customers are saying.
What Do We Know About the Company Behind Copper Chopper?
Copper Chopper is manufactured by OnTel Products Corp, a Fairfield, NJ-based As Seen on TV company that's been in business since 1994. In that time, they've released hundreds of popular products like (chosen at random from the Products page on their website) like Big Vision Eyewear, Foot Angel, and Veggetti.
The manufacturer had a C rating with the Better Business Bureau, based on 26 reviews (96 percent negative) and more than 370 closed complaints, as of 7/15/17. Of those with details available, most seemed related to refund issues, although a company representative often quickly responded with a resolution.
How does all of this come together? Let's bring it home.
Our Final Thoughts About Copper Chopper
Although they each come from different manufacturers, since they feature such similar design approaches, we think it's worth mentioning that many of Copper Chopper's direct competitors came with mostly positive online customer feedback at the time of our research. Common compliments were that they were easy to use and helped speed up the cumbersome chopping and dicing process.
Even if you don't experience the same, the manufacturer provides a 60-day refund policy on all Copper Chopper purchases, which should be more than enough time to learn whether or not it suits your needs. Just remember that you'll lose your initial S&H fee, plus whatever it will cost to send back to the company.
Given these factors, as consumers ourselves, we think that starting your search locally could help you start on out the right foot toward achieving the most value for your money.
Scam

Ordered months ago! Never received. Phone disconnected, and website gone. No way to contact. WHERE is my product? Suggestions for contact? I need to file a complaint. Anyone else out there that has not received their order from months ago?

Bottom Line: No, I would not recommend this to a friend

---

Advertisement

---