Copper Crisper Reviews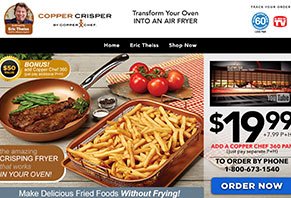 Copper Crisper features a nonstick mesh basket that sits atop a nonstick cookie sheet, giving you the ability to air fry foods without unhealthy grease or oil.
About Copper Crisper
You've probably heard of air fryers before; maybe you've thought about buying one in the past. But traditional air fryers aren't cheap—not to mention the fact they take up a ton of countertop space.
Is this no longer the case with Copper Crisper? Can you have it all? According to the manufacturer, this cookware can "transform your oven into an air fryer," which can save you time and money and help you avoid unhealthy oil and butter—whether you're cooking onion rings, roasted vegetables or chicken strips. How?
Copper Crisper is consists of two parts:
An elevated crisping tray made of nonstick mesh that allows heat to circulate, cooking all sides of your food at once, without turning or burning. This tray sits on top of the…
Ceramic nonstick cookie sheet, which catches any crumbs, grease, or drippings from the mesh basket above, helping to keep your oven clean and safe.
No bulky, expensive appliances to buy? Check. The ability to use your existing oven? Check. Make healthier—but just as delicious—food? Check. Can Copper Crisper by Copper Chef really help you "make delicious fried foods without frying," or will you just end up disappointed?
Let's answer all your questions by starting with the basics.
What Is an Air Fryer? How Does It Work?
Whether we're talking about the Cooklite Aero Fryer, Big Boss Oil-Less Fryer, AirWave Fryer, or any of the other dozens of air fryer brands, they all basically work the same: You have a bottom "cup" that holds the food. Above this, a heating element produces hot air that's circulated by a fan over every part simultaneously, quickly browning the exterior while sealing in the moisture.
Given how this process works, it seems that most customers soon learn they aren't actually "frying" their food with air fryers, which would require submersion in boiling oil. Instead, they often claim you'll just quickly heat the food. So, with the exception of french fries, air frying devices seem to be optimal for reheating frozen foods that were previously fried (remember this point, because we'll come back to it in a second).
Why are we talking about all of this, when Copper Crisper is just a mesh tray and a cookie sheet?
Can Copper Crisper Turn Your Oven Into an Air Fryer?
Copper Crisper's main claim to fame is that it can help you achieve similar results to an air fryer, but using your existing oven. Based on what we just learned though, this might not be likely. Why?
In most consumer grade air fryers, the bottom cup where the food is held is relatively small in proportion to the overall size of the device. This is because, in order to quickly warm food, a lot of heat is required, which needs to circulate at very fast speeds. As a result, manufacturers are required to limit how much food you can cook at once, while maximizing space for the heating element(s) and fan.
On the other hand, ovens tend to be comparatively cavernous spaces, where it's difficult to achieve the same air speeds as a countertop air fryer. This even applies to modern ovens with multiple convection settings.
Taking all of this into consideration, here's what we're left with: Sure, Copper Crisper might help you achieve fried-like taste without the butter or oil—but only if you have sufficient heat and air speed. The problem is the most ovens won't provide these features, so regardless of the mesh screen and cookie tray you use, it almost certainly won't provide the same results as an air fryer.
Even if you had an oven that could reach the same temperatures and move air at the same speeds, can you really expect foods to just slide right off Copper Chef's Copper Crisper?
What Makes Copper Crisper Nonstick?
The company tells us that Copper Crisper's cookie sheet is coated in ceramic, but they don't mentioned what makes the mesh crisping tray nonstick. Given the fact that the only other nonstick cookware material is Teflon (also known as PFOA and PTFE, both of which come with several health concerns), we'd say it's fairly likely this is what's used.
Regardless of the material, how well can you expect Copper Crisper to perform? There weren't any online reviews at the time of our research, so there wasn't a direct way to gauge overall customer satisfaction.
However, Copper Crisper is part of an entire As Seen on TV cookware line of copper-infused products, including Copper Chef (we'll talk more about this next), Red Copper Pan, and Red Copper Square Pan. Whether we're referencing customer reviews or our own first-person testing, one of the most common complaints is that the surface provides no nonstick benefits right from the start, or within a couple uses (often after washing).
Now, we're fully willing to admit that Copper Crisper may be the exception to the rule. However, we'd recommend keeping it at the top of your mind when placing an order.
Speaking of buying, how much will you pay for Copper Crisper?
We Put Copper Crisper to the Test
We tested the claims of the Copper Crisper. Be sure to watch the video below to see the results:
For more product reviews: Click here to subscribe to HighYa's YouTube channel.
How Much Does Copper Crisper by Copper Chef Cost?
Copper Crisper is available in two different sets:
Single Set: Includes one 13" x 11" x 1.25" Copper Crisper for $19.99 plus $7.99 S&H.
Deluxe Set: Includes three different Copper Crisper pans (small 11"x9"x1.25"; medium 13"x11"x1.25"; large 18"x12"x1.25") for $39.99 plus $9.99 S&H.
Regardless of which option you choose, you can also purchase a Copper Chef 360 frying pan for an additional $7.99 S&H during checkout. Note: Remember the Copper Chef Pan we linked to above? While they appear identical, there's no way to know how it differs from the 360 version included here.
Like most products sold through Tristar Products, Copper Crisper comes with a 60-day refund policy, less S&H. To request one, customer service can be reached at 973-287-5195.
Who Manufactures Copper Crisper? Who Is Eric Theiss?
Copper Chef's Copper Crisper is brought to you by Tristar Products based out of Fairfield, NJ, the second largest company within the ASOTV industry. They've been responsible for dozens of dozens of successes over the years, some of the most recent of which include Clear TV, Power AirFryer XL, Power Pressure Cooker XL, and many more.
Along with pretty much every other manufacturer in the industry, many of Tristar's products come with 2-star average ratings here on HighYa, with common complaints referencing failure to work as advertised, poor quality, and less-than-stellar customer service experiences. Again, we only mention this to ensure you have all the information—not to indicate you'll experience the same with Copper Crisper.
From a celebrity standpoint, Eric Theiss began cooking at the age of 6, eventually studying under acclaimed chef Frank Falcinelli and opening his own restaurant in West Chester, PA. Today, Eric is a spokesperson for several different cookware lines, and also operates a publishing company.
Pro tip: Just remember that celebrities rarely use the products they endorse. Even if they did, this doesn't necessarily mean they'll provide a solid value.
Let's carry this thought over into the final section.
Is Copper Crisper the Cooking Equivalent of Fool's Gold?
We've covered a lot of territory in this review, but it ultimately comes to this: Even if you own a state-of-the-art oven, it's unlikely it would be able to achieve the quick heat and fast air speeds necessary to mimic what you'd find with a traditional air fryer.
Considering this, we don't think Copper Crisper by Copper Chef will work quite as advertised in the real world, and probably won't provide as much value as you might expect based on the claims in the commercial. Sure, Copper Crisper might help you cook a little healthier by allowing grease and oil to drip away—but remember that you might get best results from pre-fried foods, which are cooked in unhealthy oils and loaded with preservatives.
On top of this, other ASOTV cooper cookware doesn't exactly have a reputation for ease of use or longevity. At any rate though, you can probably find something similar (or piece together your own set) using local products that don't come with the same high, non-refundable S&H charges as Copper Crisper.
Did you use Copper Crisper? Did it work as advertised? Did it last? Give us the inside scoop by writing a review below!
1 out 2 people found this review helpful

Crispers warp at 400 degrees

By Warren S.

,

Pine, CO

,

Apr 11, 2019
Verified Reviewer

I got two, each Copper Pans with wire crisper baskets and two each bacon pans with wire crisper racks. Both warped from first use at 400 degrees. The Copper Crisper even threw the wire basket out of the pan when it warped.

Bottom Line: No, I would not recommend this to a friend

---

1 out 1 people found this review helpful

Don't be put off by bad reviews

By Robin A.

,

Nashville, TN

,

Mar 18, 2019
Verified Reviewer

I read the reviews AFTER I purchased my Copper Crisper, so knowing what the complaints were, I adjusted my first go at it accordingly. For example, the review complaining about food sticking to the mesh tray. Knowing this was a potential problem I lightly coated the mesh with Pam cooking spray and cooked some frozen veggie and potato tots.

Nothing stuck, and the tots were done in the prescribed time on the bag (unlike other complaints that they experienced needing longer time). The tots were perfection! The mesh tray and the drip pan cleaned beautifully. Nothing was stuck on either component.

We are excited about trying to cook fish and frozen chicken on it next. We have no complaints about this product...additionally, people ragged on it for not having instructions. Mine had instructions for use and a little cookbook with recipes. Maybe the company that manufactures these recently added them, but they were there and were most helpful. I'd recommend this product.

Purchased it from a local CVS whose CVS card allowed me to buy it for $9.99. No shipping!

Bottom Line: Yes, I would recommend this to a friend

---

Advertisement

---

1 out 2 people found this review helpful

Did not perform as posted

By Jean B.

,

Jacksonville, FL

,

Oct 22, 2018
Verified Reviewer

I have purchased many of these Copper Chefs - some perform great, others were a big waste of lots of money. I will not be purchasing any more of their products. The crisper doesn't crisp, plus it ruined the pan where oils dripped down, just too many things to mention. The rice cooker was great and I got the broiling pan, haven't used it yet, but will know at Thanksgiving.

I even have some pictures of the damages pans.

Bottom Line: No, I would not recommend this to a friend

---

5 out 6 people found this review helpful

Terrible product

Bacon didn't cook well. Homemade french fries had to be cooked longer and did not turn out well. The tray is smaller than my cookie sheets. This product did not include usage directions or recipes. I went on the computer to try and find usage directions and recipes, but that was futile.

Bottom Line: No, I would not recommend this to a friend

---

Advertisement

---

3 out 3 people found this review helpful

This pan and rack really suck

This pan really sucks. Everything stuck to it, and the pan has black marks which I can't get off. Everything else will stick to the rack, and it is very hard to clean (I have to soak the rack up to three days). I would like to trade up or get my money back.

Bottom Line: No, I would not recommend this to a friend

---

4 out 5 people found this review helpful

Disappointed

My first attempt at using this is disappointing. I made sweet potato fries and they were OK, but the seasonings dropped into the pan and stuck, apparently forever. I cannot get it clean. Maybe I should have oiled the pan, but I didn't know.

It was a Christmas gift, and I have no idea where she got it, and I really don't want to tell her how disappointed I am.

Bottom Line: No, I would not recommend this to a friend

---

4 out 6 people found this review helpful

I give them an "F"

Ok, fry; no! Easy clean; yes!

It didn't brown, didn't fry. Ummmmm, one hour later, raw chicken! Nope, not for us. I wonder if ALL copper products work that way. Rip off! I would have bought a whole set, and am glad I didn't.

Save your money!

Bottom Line: No, I would not recommend this to a friend

---

5 out 7 people found this review helpful

No way

By V Tonon

,

Vernon, British Columbia, Canada

,

Dec 12, 2017
Verified Reviewer

I purchased the Copper Crisper and had high hopes. I have used it a few times with bland results. Not crisper than a cookie sheet. I used it last night with frozen BBQ wings, and the coating dripped onto the nonstick pan and I CANNOT remove the residue Throwing it away.

Bottom Line: No, I would not recommend this to a friend

---

3 out 9 people found this review helpful

Oven fryer/Crisper

I was so happy to receive my oven fryer/Crisper. I used it 2 days ago and was so happy to see potato be golden brown all over. I didn't have to use oil, and they tasted great. I ordered it through Daily Sale, so I got it for $18.00. What a great price. I recommend this product for everyone that wants a crispy taste without the greasy taste.

Bottom Line: Yes, I would recommend this to a friend

---

8 out 9 people found this review helpful

Damaged after two uses

First time I cooked frozen lobster patties and fries. Patties were fine. Fries were pale, soft and bland. The second time I tried floured chicken wings. They did not crisp nor brown, AND the pan didn't hold up. It has a large burn mark on the inside and a scorch mark on the outside.

Bottom Line: No, I would not recommend this to a friend

---

7 out 8 people found this review helpful

Disappointed

By Judy Hawes

,

Cedar Rapids, IA

,

Sep 14, 2017
Verified Reviewer

The first thing we tried was bacon. It cooked pretty well, but we were disappointed that there were stains on the pan, which I still haven't been able to remove.

Then I tried fried green tomatoes. They were OK, but some of the flour fell into the lower pan and started to burn. I had to add water to the pan to stop the smoke and burning smell.

Bottom Line: No, I would not recommend this to a friend

---