Copper Fit Advanced Back Pro Reviews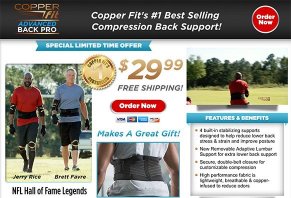 The Copper Fit Advanced Back Pro is a compression back support that claims to be able to help relieve stress and strain on the lower back while also improving your posture.
About Copper Fit Advanced Back Pro
Claiming to be Copper Fit's number one selling compression back support, the Advanced Back Pro promises to help you improve your overall posture and reduce the amount of lower back stress and strain in the process.
In the product's commercial, we're shown it being used by professional athletes Brett Favre and Jerry Rice, who both appear to endorse the device for its supportive functionality, and who seem to be moving around the field with ease while wearing it.
In the ad, we're shown that four stabilizing supports found on either side of the device are included to help achieve the results described above. In addition, there's also a removable adaptive lumbar support insert for extra lower back assistance when needed.
Regarding the compression itself, the product features a customizable double-belt closure enabling you to loosen or tighten it around your waist as you see fit. The makers of the device claim that the high-performance fabric used in its construction is lightweight, breathable, and copper-infused to reduce unwanted odors.
For anyone dealing with stress, strain, or general pain in their lower back, this may seem like an attractive option at first glance. Before delving deeper into how compression devices like the Advanced Back Pro work, however, let's briefly explore what causes these lower back issues in the first place, as well as what can be done about it.
What Causes Lower Back Pain?
For millions of people all over the world, low back pain is simply a part of life. Speaking with WebMD, Ronald J. Wisneski, MD, an orthopedic surgeon, specialist in spinal disorders and spine surgery, and associate in the Department of Orthopedic Surgery at Geisinger Medical Center in Danville, PA says that 80 percent of the population of the United States will experience back pain like the kind the Advanced Back Pro claims to treat at some point in their lives.
In the article linked above, Gunnar Andersson, MD, Ph.D., professor and chairman emeritus of the Department of Orthopedic Surgery at Rush University Medical Center in Chicago says that "Generally speaking, the lower back is subject to a lot of mechanical stress and strain. The reason is the weight of the upper body, which always puts loads on the lower back."
The spine actually bears the brunt of this load, made up of more than 30 smaller bones referred to as vertebrae. These bones are stacked atop one another, with soft cartilage "disks" sitting in between them and acting as a shock absorber of sorts, preventing the main bones from grinding against each other.
Unfortunately, as we age, these disks are worn down, causing them to shrink and become less effective at their crucial task. This is commonly known as degenerative disc disease, and it can lead to undue pressure being put on the center of these vulnerable spots, culminating in a "slipped" or ruptured disk.
Common treatments include hot and cold packs, strengthening exercises, physical therapy programs, certain medications, and lifestyle changes.
These are helpful, but what about compression wear products like the Copper Fit Advanced Back Pro? Can these also be expected to provide real relief? We'll take a closer look at them in below.
The Basics of Compression Wear: Can They Reduce Back Pain?
According to an analysis of 28 different studies published in the September 2016 issue of the Annals of Physical Rehabilitation Medicine journal, a simple back-bracing compression device can indeed provide short-term relief for those dealing with pain in this region.
Christopher Cousins, a physical therapist based in the District of Columbia says that "Lumbar support devices provide enough compression and support for the lower back to allow healing to occur. The compression on the abdomen means there's less pressure on your lower back discs, ligaments, muscles, and spine."
Although this is promising, it looks as though there are several potential downsides to wearing a brace like the Advanced Back Pro for an extended period of time, including skin lesions, muscle wasting, gastrointestinal disorders, higher blood pressure and higher heart rates. Because of this, it's best to use products like this only when you need them most to avoid your body becoming too accustomed to their support.
Harmon Myers, D.O., a member of the faculty of the Arizona Center for Integrative Medicine, said in an interview on drweil.com that a back brace "by its very nature limits the motion of certain muscles, which over a long-term weakens an area. Postural problems usually require exercises and evaluation of the patient's workplace by an occupational therapist."
So while one of the other primary claims made by the makers of the Advanced Back Pro is that it can help improve your posture, it seems as though experts warn against using products like this for positioning over the long-term, stating that they may actually weaken your muscles instead.
Copper Fit Advanced Back Pro Pricing & Return Policy
As of this writing, the Copper Fit Advanced Back Pro was available exclusively from the manufacturer on the product's primary website. It is sold in two different sizes, small/medium and large, though both cost the same at $19.99.
Here is the breakdown in terms of actual sizing:
Small/Medium - 28" – 39" waist
Large - 39" – 50" waist
Regardless of how many items you order, there is a flat $5.99 charge for shipping.
As for the return policy, the website terms state that each order includes a 30-day money back guarantee, less P&H fees. In order to initiate a return, you'll need to reach out to customer service at 844-764-4363. You'll be responsible for paying any other fees associated with getting the Advanced Back Pro to the manufacturer.
Copper Fit Advanced Back Pro vs. Other Back Compression Products
As we mentioned earlier, there is a massive amount of compression products out there on the market today in a large variety of forms, but what about back compression devices similar to the Copper Fit Advanced Back Pro?
As it turns out, there are a number of products competing for many of the same customers, including several popular options sold on mega-marketplaces like Amazon.com. Of these, the three most popular (and similar to the Copper Fit product) we encountered were the Copper Compression Recovery back brace, the BraceUP Stabilizing Lumbar brace, and the Venom Lumbar back brace.
While we didn't come across any verifiable customer reviews online for the Copper Fit product during our research, these third-party devices all featured numerous first-hand accounts of their effectiveness, including the BraceUP product which included over 1,900 entries as of this writing, 68 percent of which were five stars.
All of the devices mentioned above featured adjustable tension bands, built-in stabilization functions, additional lumbar support, and materials designed to be light and breathable, but not all of them included the copper-infusion found in the product at hand. The purpose of the copper is to reduce odors in this case, so if that isn't overly important for you, it may not significantly impact your buying decision, but it's still something to take into account when searching for the ideal product.
It's also important to consider your size when trying to determine which option is right for you. While most of the products we encountered were either at or below the max waist size of 50" on the Advanced Back Pro, some, like the highly-reviewed BraceUP, go all the way to 53".
Finally, with regard to pricing, most of the devices we saw fell within the same neighborhood of the Copper Fit brace, ranging from $23 to $33 and up at the time of our research. Ultimately, the ideal product for you will likely come down to which one features the size closest to your own, for the lowest price (though as we already covered, price doesn't seem to be a large component, as all of the popular options we encountered were in the same general range).
You'll also need to factor in features that you may deem important, such as copper-infusions if you are concerned about odors, or removable lumbar support for added flexibility in instances where you need it, such as when performing exercises that require you to bend the body such as yoga, or many action sports. Of course, being able to remove it may complicate the situation a bit, forcing you to keep track of where this piece is in addition to the main device.
The Bottom Line: Is Copper Fit Advanced Back Pro for You?
Bringing everything we've learned into focus, can you reasonably expect the Copper Fit Advanced Back Pro to deliver on its primary claims of improving posture and reducing low back stress and strain?
As we reported earlier, there, is in fact, some evidence for bracing compression products and their ability to reduce low back pain when used in the short-term. They won't treat the root causes, of course, but they can take some of the tension and pressure off as you explore more permanent solutions.
When it comes to being able to improve posture, however, we discovered that some physicians and experts warn against relying on braces for this purpose, as they may actually weaken your muscles, further complicating poor posture habits.
At the end of the day, you'll probably need to actually try a product to see how it feels to you in practice. Just be sure to keep in mind all of the advice above, and don't go into a potential purchase thinking you are buying the solution to all of your back pain problems. If you'd like to give the Advanced Back Pro a shot, keep in mind that you'll have 30 days to return the product for a refund, should you decide it doesn't live up to your expectations.
Beyond this, we'd recommend paying a visit to your physician to discuss possible long-term solutions directly. This way, you can be sure that you're on the path toward a solution that actually treats the issue itself.
Refused to honor free shipping orders over $19.99 on their website and credit me back

By David O.

,

Colorado

,

Jan 8, 2020
Verified Reviewer

I ordered a Deluxe Copper Fit back brace yesterday for $29.29, $5.99 Shipping & Handling, and $2.66 Tax. Upon entering the order, saw on their website that orders over $19.99 have free shipping. (Order number 29405923.)

I emailed immediately (within the hour) and included a screen-capture that I did to prove this, asking them to resolve this, credit me back for the $5.99 shipping, nobody got back.

Next, today at 10:16 AM MST, I called the customer service number 866.533.1182 and reiterated the request to credit me for the shipping or I'd cancel the order in a pleasant discussion with a representative who said: 1. It had not been shipped 2. They'd escalate to a supervisor.

By 2:18 PM MST today, 1/2/20, they did not call back so I called them where their representative said he saw the same Free Shipping offer on the website - had me hold to get this fixed and came back saying supervisor would not credit me for the shipping - also that it had gone out and I'd have to pay for returned shipping.

Their own representative shared that they have horrible customer service and he was sorry he had nothing to offer and the supervisor would not comply with the promotional free shipping. I shared I'd be happy to go to the press, offer this to the BBB, the State AG - he said "I don't blame you and good luck".

Bottom Line: No, I would not recommend this to a friend

---

Size does not fit as listed, just another scam to get money

By Brian S.

,

Pinellas Park, FL

,

Aug 9, 2019
Verified Reviewer

Yes, you can return but it costs more to return than it is worth, and you pay postage. I called and they could care less that the size that was supposed to fit does not fit. Never could try because it does not fit as listed.

Bottom Line: No, I would not recommend this to a friend

---

Advertisement

---

Love Copper Fit

By Ken V.

,

Florida

,

Jul 22, 2019
Verified Reviewer

I have the older Copper Fit back support and it works great but it's getting very old and in bad shape so I just ordered the new back pro deluxe and can't wait for it to show up. Yes, when you order from Copper Fit it takes a very long time to receive the product and that's just crazy nowadays. I'm sure it will be worth the wait, people complaining about how long it is taking to get their Copper Fit products should have read it on the Copper Fit site, they are very slow. I make it a habit to check eBay first before ordering anything but no one on eBay has this brace, just the older version, so I ordered from Copper Fit and I'll just keep using the old one until the new one arrives.

Bottom Line: Yes, I would recommend this to a friend

---

Helped tremendously

By Dustin G.

,

Utah

,

Jul 16, 2019
Verified Reviewer

I am 6' 4" and at the time of this review I am 300 lbs. I was in the United States Army in a Combat Arms position for 6 years. I have always been fairly active in physical fitness. I am the stereotypical big guy everyone always wants to help them move or pick stuff up, haha, you know what I'm talking about. As you can imagine as I age I'm starting to feel the toll of my active life. Long story made short, I feel like I hear the 60-year-old guys talk about at 32.

My mother threw the Copper Fit Advanced Back Pro at me as I walked into her house about 6 months ago. She said, "Stop being stubborn and use this at your work when you need to lift heavy stuff!" So I listened to my mother.

I've learned two things since that day.

1) The Copper Fit Advanced Back Pro actually works. Now I'm not saying it will turn back the clock and you'll be able to lift like you were 20 years old again. (We all lifted stupidly at that age anyway because we thought we were Superman. News flash, we weren't.) It does help stabilize everything and stop your lower back from moving incorrectly. As long as you actually use it properly. Anyone who says it doesn't work is either a) using it incorrectly or b) should not be lifting heavy things at all because their back is too far gone.

2) You're mother still knows what she's talking about. So stop thinking you're old enough to stop listening.

This product works as advertised.

Bottom Line: Yes, I would recommend this to a friend

---

Advertisement

---

Still no product, misleading tracking info.

By Peter V.

,

Montevallo, AL

,

May 1, 2019
Verified Reviewer

I ordered on April 13th, still have not received product, and both DLH and USPS show misleading tracking info. After reading the fine print on their "shipping policy", it states it will be shipped within THIRTY DAYS of ordering. Who in the world takes that long in this day and age? At least I paid by PayPal and can get my money back. We'll see if I ever get the product. If I had read the 30-day ship policy I would have NEVER ordered this from the website.

Bottom Line: No, I would not recommend this to a friend

---

Misleading product description

By John M.

,

Baton Rouge, LA

,

Dec 4, 2018
Verified Reviewer

The Product description says: "double belt," with adjustability, and which would indeed be a great improvement over the previous belt, which I own, whose single belt (also with two ends) becomes permanently wrinkled and offers no adjustment.

This belt is actually just two ends, as if of one "belt." A true double belt config would allow custom tension, top to bottom, which is not provided but is needed.

However, my older non-advanced "Back Pro" helped my stenosis symptoms of hamstring pain/weakness and radiated neck pain for year and more than did P.T., so I'll probably buy this if I can't find a true two belt one.

Bottom Line: Yes, I would recommend this to a friend

---

Rip off!

By John W.

,

Blue Springs, MO

,

Nov 10, 2018
Verified Reviewer

I ordered this near the end of October 2018 and still have not received the back brace. Today is November the 6th and it has not shipped yet. I cannot believe Brett Farve is a spokesman for a company that rips off a disabled veteran. But then again, money is money, right Brett, to hell with the truth.

Bottom Line: No, I would not recommend this to a friend

---

Very pleased

By Al J.

,

Bismarck, ND

,

Aug 10, 2018
Verified Reviewer

I have been using the Copper Fit for about a month. I have a couple of bulged discs, and this has helped with my back problems. I walk about 8-10 miles a day, and since I have started wearing this brace, I have not had to take any pain medications. The brace is very comfortable and does not restrict movement. I am hoping that by wearing this brace that it will keep me from taking pain medications.

Bottom Line: Yes, I would recommend this to a friend

---