Copper Fit Energy Socks Reviews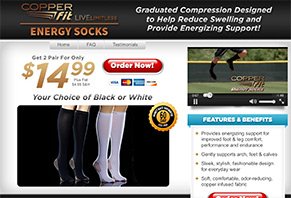 Using graduated compression, as well as a fashionable and comfortable design, Copper Fit Energy Socks promise to relieve your swelling and discomfort.
About Copper Fit Energy Socks
Each and every day, millions of people suffer from swollen, uncomfortable legs or feet and poor circulation. Are you one of them?
If so, Copper Fit Energy Socks promise to deliver graduated compression that gently supports arches, feet, and calves, while reducing swelling and discomfort from "from prolonged sitting or standing." As a result, the company claims Energy Socks can improve foot and leg comfort, performance, and endurance.
Despite their effectiveness, Copper Fit tells us their Energy Socks feature a sleek, stylish, and fashionable design that's soft and comfortable. Their copper-infused fabric is also supposed to be effective for reducing unwanted odors.
If your swelling and discomfort have reached the point where you're thinking about purchasing a pair of compression socks, you know you should speak with your doctor ASAP. In the mean time though, are Copper Fit Energy Socks worth considering, or are there better values to be had? We'll help you find some answers here.
What Causes Painful, Swollen Feet & Legs?
As you might imagine, there can be dozens (perhaps even hundreds) of different causes of leg and feet swelling and pain, including water retention (usually the result of standing or sitting for too long), an allergic reaction, certain medications (some severe), as well as many medical conditions. Regardless of what causes it though, leg and arm swelling is a condition known as peripheral edema.
With this information in mind, can you expect products like Energy Socks to deliver real-world results?
Exactly What Are Copper Fit Energy Socks? Will They Work?
The Basics of Compression Wear
Regardless whether they're designed to be placed on your feet, legs, hands, arms, or anywhere else, compression garments are "generally made of a flexible yet firm, spandex-type material that [are] meant to fit closely to your body, support your muscles, and improve oxygen flow." Exactly how does this work?
Without going into excessive detail, compression socks like Energy Socks gently squeeze your legs, which moves blood upward toward your heart, thereby preventing swelling. Some garments provide a single level of compression, while others (like Energy Socks) claim to provide graduated compression—which means the compression is greatest around your ankles and decreases at it moves up the leg.
In general, there are two types of compression garments available; medical and consumer grade. The difference? Medical grade products are available only through a prescription from your doctor and offer greater compression levels (measured in millimeters of mercury, or mmHg). On the other hand, consumer grade products generally offer less compression at unknown (and sometimes fluctuating) levels.
Now, the important question is: do compression garments like Energy Socks really work?
Is There Clinical Evidence for Compression Wear?
In short, yes; there is enough clinical evidence to say that medical grade compression products might be able to help improve blood flow, thereby decreasing swelling and even improving wound recovery.
Does this mean your discomfort will be reduced? As your doctor will certainly tell you, this largely depends on what's causing your discomfort in the first place. For example, as we outlined in the first section, are your ankles swollen to the point of being painful? If so, compression socks like Energy Socks might be able to help.
Or, is your ankle discomfort caused by something like a previous injury, or a joint condition like arthritis? In instances like these, it's unlikely that Energy Socks (or any other compression footwear, for that matter) would deliver meaningful results.
What about improving your performance and endurance? Compression garments have been shown to decrease the buildup of lactic acid, as well as post-workout recovery times, so this could feasibly provide a very mild endurance improvement. However, there doesn't seem to be enough clinical evidence showing they can meaningfully and consistently improve performance in any manner.
Pro tip: Also, remember that the copper-infused fabric found in Copper Fit Energy Socks will only reduce the buildup of odor-causing bacteria, and won't provide any pain relief or performance benefits.
Given the potential benefits of compression garments, do Copper Fit's Energy Socks have any competition?
Copper Fit Energy Socks vs. the Competition
Pretty much anywhere you look—whether online, at your local sporting goods store, or at a big box retailer—you'll find compression garments in all different sizes and colors, claiming all kinds of different benefits, and at just about every imaginable price point (more about this next).
To see for yourself, try typing "compression socks" into any search engine and you'll literally be met with thousands of different results, including Tommie Copper, Copper Wear, RejuvaHealth, and many more. Comparatively, how do Energy Socks stack up?
On one side of the coin, it's positive that Copper Fit included graduated compression in Energy Socks, since this it what could provide the greatest relief from your swelling.
How Much Do Copper Fit Energy Socks Cost?
A pair of Copper Fit Socks are priced at $19.99 per pair, plus $3.99 shipping and handling, and you'll be able to specify the size of the socks. Each pair comes in either Small/Medium or Large/X-large sizes. At this time, they're only available in black color.
Comparatively, compression socks from other brands can vary a great deal, ranging anywhere from $10 to $50+.
Copper Fit Socks come with a 30-day money back guarantee, less S&H charges. In order to initiate the refund process, you'll need to contact customer service at 866-304-4199 or email ideavillage@customerstatus.com.
Do Energy Socks customers seem happy with their purchases?
Are There Any Online Customer Reviews for Energy Socks?
Like many of the ASOTV products featured here on HighYa, we reviewed Energy Socks as soon as they were released, so the product hadn't enough time to gather any feedback at the time of our research.
However, we've reviewed many popular products within the Copper Fit lineup over the years, including Back, Step FX, Tough Knees, and more. What can we learn from these reviews?
In general, Copper Fit's products seem to come with a middle-of-the-road overall rating of about 2.5 stars. Some customers claim they worked as advertised and provided relief, while the most common complaints appeared to reference failure to provide results (generally, ineffective levels of support) and poor quality (e.g. seams come apart quickly, zippers stop working, etc). Many also complained of less-than-stellar business practices, like ultra-high S&H charges and very long shipping times.
Will you experience any of the same with Energy Socks? We'll just have to wait and see until the reviews start rolling in. Until then, we think it's certainly something worth keeping at the top of your mind.
From a company perspective, Idea Village has released a string of big hits over the past several years, with products like Yes! by Finishing, which has the same middle-of-the-road customer reputation as the Copper Fit line (although slightly higher than the average rating for other products in the ASOTV marketplace).
Taking everything we've discussed here together, what's the bottom line about Copper Fit Energy Socks?
Will Copper Fit Energy Socks Allow You to "Live Limitless"?
Now that you understand the meaningful differences between medical grade compression products prescribed by your doctor and consumer grade ones like Energy Socks, it's easy to see that they might provide some relief from your leg and feet swelling—but probably only very mild. It also makes sense that, if your "heavy" legs are making you feel tired and sluggish, this improved circulation could provide you with a natural increase in energy.
However, based on the available clinical evidence, there's certainly no guarantee that Energy Socks will make everyone "feel more energized, feel more active, and just feel better." To accomplish this as quickly as possible, our recommendation might be to speak with your doctor.
When it comes down to it, the HighYa team might be experts at reviewing ASOTV products (and many others) like Energy Socks, but we're also consumers. And if it was a question of where to spend our own money, these socks don't seem to provide any benefits that you wouldn't find from products available at local retailers—which could also help you avoid Energy Socks' steep, non-refundable S&H charges.
---
Best compression socks

By Patricia B.

,

Melbourne, FL

,

Jul 30, 2019
Verified Reviewer

I bought a pair of Copper Fit Energy Socks, Easy On Easy Off Technology, and I absolutely love them!

They really are much easier to put on and take off than Copper Fit's earlier compression socks which have a brown toe and heel. I wear size 8 shoes and the Small/Medium fit perfectly. These socks give me excellent support on my shins, I suffer from chronic shin splints, have comfortable arch support, and feel just wonderful on my feet and lower legs. The price is reasonable and worth every penny for the comfort and support they provide. I found them at Walgreens and am so glad that I bought them. I do that wish Copper Fit would make them in pretty colors, that would be great! I highly recommend these socks.

Bottom Line: Yes, I would recommend this to a friend

---

They're working out great for me!

By Gail F.

,

Santa Rosa, CA

,

Aug 31, 2019
Verified Reviewer

Greetings! I bought a pair of L/XL black Copper Fit compression socks yesterday at my local Big 5 Sporting Goods store. All I can say is hallelujah! I've never worn any before and I'm 69 years old and I have swollen legs, especially my right leg where I have a knee that needs to be replaced. But they feel so good. I am sad to take them off to go to sleep, but I know it's better to. My legs are feeling better then they have in years and I am being genuinely honest about this. I am not connected with the company in any way. I would like to know how many mg or hg they are though. I messaged them about it yesterday and I'm waiting for an answer. Bottom line? Yes, absolutely I recommend them.

Bottom Line: Yes, I would recommend this to a friend

---

Advertisement

---

Love these, I'm buying some more...

By Debra T.

,

North Carolina

,

Mar 1, 2020
Verified Reviewer

I am 70 years old. I've been having a problem with circulation in my legs and feet...and my feet stayed cold a lot. I saw these in a store, and thought...they have everything listed on the box that I have going on, why not give it a try. So I bought a pair and I've been wearing them for about 2 weeks. My legs and feet feel wonderful...no more circulation problem and no more cold feet. My legs feel energized and wonderful. I am going to buy some more...and I have told all my friends about them. Love these socks.

Bottom Line: Yes, I would recommend this to a friend

---

Not a good product

By Tom G.

,

Philadelphia, PA

,

Jan 7, 2020
Verified Reviewer

I placed my order for Copper Fit compression socks on 12/4. Good thing I wasn't giving them as a Christmas gift because they didn't arrive until 12/31. I would think during the holiday season they would ship sooner to fill orders for Christmas? Not like they have to make them before shipping. They arrived with a 7-step instruction card on how to put on socks? Really? I am 6'0", 170lbs, average foot size 10 and 1/2. First off, they are so tight it's a challenge to get them on and off. After about an hour wearing them they are so tight they feel like they are cutting off the circulation. The best I felt was when I took them off, what a relief. I walk a lot for a living and thought they may help with tired legs. Not for me. My legs felt great after removing them, lol. Seems like quality material, just not for me.

Bottom Line: No, I would not recommend this to a friend

---

Advertisement

---

Slow delivery

By Les M.

,

Texas

,

Aug 21, 2019
Verified Reviewer

My experience involves a ripoff company "getenergysocks.com" who took my payment but has NO communication to where my order is. It has been 3 weeks and no socks. I would suggest Amazon or another reliable source for getting your products to avoid ripoff companies.

Bottom Line: No, I would not recommend this to a friend

---

Not for swollen feet

By David S.

,

309 Chadwyck Circle

,

Oct 10, 2019
Verified Reviewer

These socks are so small they cannot be used for swollen feet, a real scam as they offer no warranty. Could not return so I lost $20.00. Better to spend your money on medical compression socks.

Bottom Line: No, I would not recommend this to a friend

---

No easy slip on

By Jim W.

,

Mobile, AL

,

Dec 31, 2019
Verified Reviewer

I purchased two pairs of Copper Fit compression socks after seeing their ads for the easy on, easy off feature. I find these socks to be every bit as difficult to put on as well as take off as compared to the other major brand Futura. The compression function is the same as others but the claim of being easy to put on and take off I find to be false.

Bottom Line: No, I would not recommend this to a friend

---

Customer service

By Jerry C.

,

Allentown, PA

,

Jan 7, 2020
Verified Reviewer

I ordered two pairs of socks on a Friday early in December 2019. I wanted to cancel the order on Saturday but they're closed and I had to wait until Monday, at which time they said they were shipped! They said I could return the product as long as it was not opened and I would write REFUSED on the package and they would credit me. The way their product is sent is through FedEx other than through the Post Office! What a system! It gets better...they sent me two different packages, a week or so apart, because they said they were out of stock. I contacted customer support and they have not received anything back from me so it could be the end of January or possibly February 2020 that I receive credit for the product. The best advice I can give is NEVER order anything from Copper Fit.

Bottom Line: No, I would not recommend this to a friend

---

Disappointment with order for Copper Fit Energy Socks

By Joseph M.

,

Selden, NY

,

Jan 27, 2020
Verified Reviewer

I'd ordered the Copper Fit Energy socks on 1/6/20, in hopes of utilizing them for my upcoming airline flight.

My trip is coming up very soon, and I'm still awaiting receipt of my socks. Three weeks is much too long to have to wait for my order, considering there was no mention of backorder or waitlist. I'm very disappointed with this situation, and wish that I'd consulted the reviews, prior to ordering them. Go elsewhere to obtain your compression socks!

Bottom Line: No, I would not recommend this to a friend

---