Copper Fit Rapid Release Wraps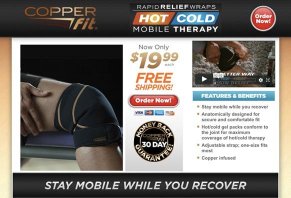 The Copper Fit Rapid Relief Wrap is a knee wrap designed to help ease pain and discomfort while also keeping you mobile during recovery.
Copper Fit Rapid Release Wraps Review
If you've ever experienced persistent knee pain, then you're likely familiar with how debilitating it can be, especially to an on-the-go lifestyle. The Copper Fit Rapid Relief Wrap claims to be able to provide consistent pain relief using hot/cold therapy while on the run, thanks in large part to the product's portable, lightweight design.
The makers of the product state that it has been anatomically designed for a secure, comfortable fit, allowing you to wear the wrap when out and about.
In order to paint a clearer picture of how you might use the Rapid Relief wrap, let's briefly take a closer look at how it is meant to work.
How Copper Fit Rapid Relief Wraps Claim to Work
The Copper Fit Rapid Relief Wrap is designed to help ease knee pain and aid in recovery, even when you're on-the-go. According to the manufacturer, the key element behind the product's effectiveness is the specially designed gel-pack insert that can both frozen and heated, depending upon your needs.
The claim is that this hot/cold therapy helps to soothe joints and can speed recovery from injuries. The product also features the Copper Fit line's signature copper infusion, though the makers of the Rapid Relief Wraps make no specific claims about how this might affect the pain-alleviating benefits it has
So, can you truly expect the hot/cold pack and the wrap itself to help relieve your pain and speed recovery? Let's take a science-based look at this central question in the section below.
Is Hot/Cold Therapy Proven to Relieve Pain?
Heating and cooling are established methods for managing pain of many types in various parts of the body.
According to sources like Healthline, this can be a simple and effective method for treating a variety of symptoms. The trick is to know which sensation to use for a given injury.
As a general rule, Healthline suggests using cooling for acute injuries, swelling, and inflammation. In turn, they recommend heat for muscle pain and stiffness.
WebMD mentions that individuals living with arthritis, in particular, may find that both heat and cold treatments can help to reduce pain and stiffness in areas like the knees and other joints.
This is largely due to the fact that heat enhances circulation to the area in question, helping to bring vital nutrients to joints and muscles when needed, Arthritis.org points out. Cold, by contrast, restricts blood flow, reducing circulation. This reduces swelling, and in many cases numbs nerves endings, which can commonly reduce pain.
Of course, the bulk of these sources are describing using heat and cold therapy while in a state of rest. Can you expect the same benefits from the Copper Fit Rapid Relief Wraps, even when on-the-go?
Rest is a vital aspect of recovery, fitness site The Active Times wrote, so it stands to reason that the beneficial effects of heat and cold therapy might be most noticeable when not actively engaging the affected areas.
All the same, we've established based on the sources above that both heating and cooling have been proven to be effective at relieving pain and stiffness in various situations. At its core, this is the primary claim made by the makers of the Copper Fit Rapid Recovery Wrap.
» Related: Common Sports Injuries: Your Guide to How They Happen & Best Ways to Prevent Them
Customer Reviews of the Copper Fit Rapid Relief Wrap
At the time of publishing, there were a limited number of reviews of this product from Amazon users. Of the eight reviews the product received, seven were five stars and one was three stars.
Multiple customers noted they bought the wrap for someone else and the recipient loved it. The one complaint we read said that the wrap kept sliding down the reviewer's leg.
Copper Fit Rapid Relief Wrap Pricing and Return Information
As of this writing, the Copper Fit Rapid Relief Wrap was available from the manufacturer either online or by phone, and through online merchants like Amazon. The product itself will run you $19.99 per wrap, and shipping is listed as being free online.
According to the terms and conditions listed on the website, each order includes a 30-day money back guarantee, less shipping and handling. This means that you'll be required to pay any return shipping costs out of pocket.
You can initiate a return by contacting the manufacturer directly at 877-206-6764. Through Amazon, you can begin the standard return process by contacting customer service or using the returns function in your account dashboard.
The Bottom Line: Are Copper Fit Rapid Relief Wraps Worth the Asking Price?
So, where does all of this leave us? Based on the information gleaned from our sources above, we've found that both hot and cold therapy are proven, effective methods for relieving inflammation, aiding muscle recovery, and reducing pain.
It makes sense, then, that the Copper Fit Rapid Relief Wraps could potentially live up to their central claim of helping you stay mobile while recovering. We could also see the wrap providing some relief if you're active or working and need a brace that can provide hot or cold therapy while you're moving.
That being said, we've established rest as a central component of recovery. It's important to consider this when gauging your expectations for what the product will do for you. It may well help you maintain mobility while dealing with injury or pain, but in our opinion, you'll likely still need dedicated rest time to fully recover.
Taking this all into consideration, if you decide that you'd like to try the Rapid Relief Wraps for yourself, remember that you can return them within 30 days if you determine that they aren't right for you.
If you are concerned about severe or debilitating chronic pain, you may want to talk to a medical professional before opting for any specific product. This way, you can trust that you will be given a treatment plan relevant to your specific needs.