CopperTech PressurePro Reviews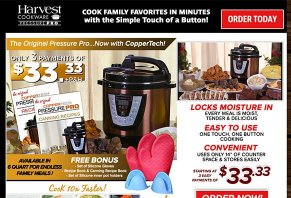 The CopperTech PressurePro pressure cooker from Harvest Direct uses Smart Steam Technology and one-touch functionality to deliver quality meals in less time.
About CopperTech PressurePro
Available with a capacity of up to 10 quarts, CopperTech PressurePro is a touch-and-go pressure cooker that allows you to cook family favorites in just minutes, with the simple press of a button.
Like other pressure cookers, the device uses pressurized steam to cook food, while locking in moisture, seasonings, and other natural flavors. But PressurePro adds its 10-in-1 Smart Steam Technology, which the website reports makes the process as easy as one, two, three:
Load ingredients, fresh or frozen
Touch the button to select your setting
The digital brain calculates temperature, the quantity inside, whether it's fresh or frozen, and then automatically adjusts pressure and temperature
In the end, we're told PressurePro will leave you with moist, tender, delicious, and perfectly cooked food every time, and up to 10X faster than traditional cooking methods. And when you're finished, the inner pot is dishwasher safe for easy cleanup.
By replacing your oven, smoker, rice steamer, microwave, toaster oven, and even your slow cooker, and by only using 14" of counter space, it can also help you save space.
Bottom line: You're here because you want to know if CopperTech PressurePro really can help you get more out of your meals and make dinnertime pressure a thing of the past. We'll help you find some answers, starting with the fundamentals.
How Do Pressure Cookers Work?
Regardless of whether we're talking about CopperTech's model or another third-party version, all pressure cookers work fundamentally the same: steam is generated inside a sealed vessel, which creates a high amount of pressure. In turn, this helps food cook faster, while locking in moisture and flavor (since there's literally nowhere for it to go).
Here's how TheKitchn's Faith Durand explains it: "When cooking something wet, like a stew or steamed vegetables, the heat of your cooking is limited to the boiling point of water (212°F). But with the steam's pressure, now the boiling point can get as high as 250°F. This higher heat helps the food to cook faster."
She goes on to explain that "the high pressure also helps force liquid and moisture into the food quickly, which helps it cook faster and also helps certain foods, like tough meat, get very tender very quickly."
This is meaningfully different than a slow cooker, which doesn't create a seal or increase pressure, but instead cooks food at lower temperatures for longer periods of time.
During your research, you may have noticed that the CopperTech website and commercial frequently referenced a previous PressurePro model. What's different about this more recent version?
CopperTech vs. the Original Pressure Pro: Taking a Closer Look at Functionality
Comparing their features side-by-side, the original Pressure Pro and the updated CopperTech version seem to share far more similarities than they do differences.
For example, they both utilize 10-in-1 Smart Steam and flavor infusion technology, flavor infusion, a stainless steel safe lock lid, digital brain display panel, multi-function capability (high pressure/low pressure/rice cooker), a slow cooker option, delay timer, automatic 'keep warm' mode, and a dishwasher-safe inner pot.
Like CopperTech, the original version also includes one-touch pre-programmed buttons with the following presets:
Rice/Risotto (with three sub-settings for White Rice, Brown Rice, and Wild Rice) – 30 min
Canning/Preserving – 30 min
Soup/Stew – 25 min
Beans/Lentils – 30 min
Chicken/Meat – 25 min
Fish/Vegetables – 5 min
You can also manually adjust any preset timing by pressing the 1-min button.
However, other than minor design and color differences, the CopperTech version adds a '99it' setting, which cooks under pressure for 99 minutes, and is intended for use with "very large roasts and tough meat for a "fall of the bone" effect."
As its name implies, the more recent model also includes a copper-colored nonstick, FDA grade inner pot that's said to allow "you to brown, sear, and sauté without sticking or damaging the inner pot." And whereas the original was only available in a six-quart model, CopperTech is also sold in eight and 10-quart capacities (more next).
We reached out to customer support, who let us know that the inner pot is constructed from an aluminum alloy, although they didn't have additional details available about the ingredients in the non-stick coating.

Finally, the newer version features a one-button pressure release valve that promises to make this part of the process safer and easier. Next, let's see how the price compares.
How Much Does CopperTech PressurePro Cost?
The CopperTech PressurePro version is available in the following models, along with $29.95 S&H:
4 Quart: 3 payments of $19.99
6 Quart (Red, Black, or Copper): 3 payments of $33.33
10 Quart: 3 payments of $53.33
Note: According to the charts listed on PressurePro's ordering page, it appears that (other than capacity) the biggest difference between these models is that the 4 Quart version can't cook frozen foods.
During checkout, you'll also be able to purchase the following bonuses for a separate $9.99 fee:
Set of silicone gloves
Recipe book and canning recipe book
Set of silicone inner pot holders
All CopperTech models come with a 60-day satisfaction guarantee, less S&H, along with a 60-day warranty against manufacturer defects.
According to the representative we spoke with, this is automatically upgraded to a one-year warranty during checkout if you decide to pay in one installment. Otherwise, an additional year can be purchased for $14.97.

Just keep in mind that per the site's FAQ, "if warranty service is necessary, the original purchaser must pack the product securely and send it postage paid with a description of the defect, proof of purchase, and a check or money order for $30.00 to cover return postage and handling to" the manufacturer.
Related: Comparing Cookware Materials: Cast Iron, Aluminum and Non-Stick
In order to request a refund or file a warranty claim, you'll need to reach out to Harvest Direct's customer support department at 844-538-9599 or customerservice@harvestdirect.com.
What Do We Know About CopperTech PressurePro's Manufacturer?
Harvest Direct is based out of Norwell, MA and has been in business since 1990. In that time, they've created a number of popular products, including recent options like the Original Pressure Pro.
From a company perspective, they held an A+ Better Business Bureau rating, based on five closed complaints, as of 12/5/17. Most of these appeared to revolve around difficulty obtaining repairs or replacements under warranty, although a company representative responded in each instance with a solution.
Are There Other Pressure Cookers Competing With CopperTech PressurePro?
A simple online search will quickly reveal that there are perhaps hundreds of different pressure cookers available, all with different capacities, functionalities, and price points (most ranged between $50 and $120 at the time of our research). Given all these choices, how can you narrow down which options are best for you?
In Your All-In-One Buying Guide to Pressure Cookers, we discuss that electric pressure cookers like CopperTech (versus stovetop models) can be ideal for those looking for simple operation, a one-pot solution that can replace other appliances like rice steamers, and with limited counter space.
At the same time, they can be bulky and difficult to store, generally only come in six- or- eight-quart capacities, and often feature interior pots without handles, which could be tricky when pouring out hot, steaming liquid.
When starting out, though, we emphasize that size is the most important consideration, "not just for how many mouths your pressure cooked meal can feed, but because you must never fill a pressure cooker more than two-thirds of the way (lines indicate the maximum level), which limits the available space for ingredients." As a result, if in question, it might be a good idea to opt for the bigger size.
During our research for the article, we also learned that you'll want to focus on models that provide features like:
Float valves – This pressure regulating technology works without a high-pitched squeal, clinging or clanging, or using a lot of energy.
Stainless steel – Aluminum can react with acidic ingredients and change the flavor of your food.
Avoid non-stick coatings – Why? Because they can easily become scratched or otherwise damaged by utensils, some foods (especially bones), or even accessories like steamer baskets.
Two pressure settings – Pressure cookers should have at least two settings (high and low), depending on the foods you're looking to cook.
Finally, pay close attention to the manufacturer for any models you're considering? Have they been in business for a long time? Do customers give their products mostly positive feedback? Do they stand behind their products with at least 30-day refund policies and one-year warranties?
Let's bring everything together and find out how this lines up for the CopperTech PressurePro.
Our Final Thoughts About the CopperTech PressurePro
While we didn't test the CopperTech PressurePro ourselves to provide firsthand feedback, it does seem to tick a lot of the boxes we discussed.
It features a stainless steel safe lock lid, multi-function capability (high pressure/low pressure/rice cooker), and one-touch functionality, is available in several capacities, and comes from a company with nearly three decades in business, and many of their other products come with positive feedback.
And although its inner pot is made from stainless steel, it's coated in a non-stick material, so you likely won't have to worry about it reacting with acidic foods and changing the taste of your recipes.
However, without knowing exactly what the non-stick lining in PressurePro's inner pot is made from, we can't know how easily the material might become damaged and potentially flake off in your food.
But if you feel like giving the pressure cooker a try, Harvest Direct stands behind it with a 60-day refund policy, although you'll lose a decent chunk of change in S&H charges should you decide to process a return, plus whatever it will cost to send back to the company.
Best gift ever!

By Joi G.

,

Deland, FL

,

May 22, 2019
Verified Reviewer

I got my pressure cooker as a gift in 2017 for Christmas. I have used it at least 5 times a week, since then. The only thing I've had to replace was a small rubber valve on the inside because mine accidentally came loose from the soap while washing it and fell down the drain. Went on Amazon, bought a pack of 6 for $10. I have used every option, except for "Canning", which I plan to use very soon. Also in the process of buying another, so I can meal prep freezer meals, to make the process a little faster. It's a little confusing at first if you've never used one before. Once you get the hang of it, it's life changing! Every meat prepared is super tender and moist. Cuts most cooking time in half.

Bottom Line: Yes, I would recommend this to a friend

---

5 out 5 people found this review helpful

Don't waste your money

Got PressurePro for Christmas. The first time using it the "add minute" button wouldn't work. The place it was purchase from didn't have any more, so I called the company and yes, they could fix it or give me a new one for $35.00. I kept it, figuring I could work around the minute button, but now 30 days into owning it, the whole pressure valve flies out of the lid and the manual pressure release is jammed. I can't even use it any more. A waste of a lot of money for a company that doesn't back their product. Wish me luck on trying to get replacement parts.

Bottom Line: No, I would not recommend this to a friend

---

Advertisement

---