Core Max Reviews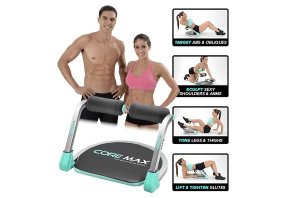 The Core Max is an As Seen On TV exercise machine that promises to provide a variety of different workouts thanks to an adaptable, variable resistance design.
What Is Core Max?
Claiming to be a way to get sexy abs in just 8 minutes a day, the Core Max is an As Seen On TV exercise assistant designed primarily for workouts focusing on abdominal and core muscle groups.
The Core Max claims to be able to specifically target abs and obliques, but also promises to help you sculpt your shoulders, arms, legs ,thighs, and even your glutes thanks to an adaptable and versatile design.
The product itself features a base with a metal ring that supports the two main arms, allowing you to utilize the machine however you see fit. The product's explainer video shows users in various positions, from a traditional crunch position to other, more specific positions that target muscle groups in your legs, arms, shoulders, and neck.
The manufacturer states that the device is lightweight and portable, and that it can be folded down for storage or transport. We reached out to customer support who told us that the total weight of the product is 11 pounds.
While that is decently light as far as these products go, it stands to reason that some individuals (perhaps those who are elderly or those with physical disabilities) might have an issue getting the Core Max around from place to place, so this is important to keep in mind.
Now that we know a bit more about the Core Max in general, let's take a look at how the device is supposed to work.
How Core Max Works in Practice
The makers of Core Max claim that the product provides superior performance to regular crunches, thanks to its dual-direction resistance design, which provides resistance both on the way down and on the way up. With a regular crunch, there is no support on the way back down from the middle of the movement.
WIth that said, we do wonder if this would truly provide any extra benefit, as one could argue that the spring-loaded design would provide some assistance on the way back up, negating any additional benefits to your muscles as a result.
Of course, this could be countered if the additional support allowed you to do more reps than you normally would be able to, and the emotional impact this support might have could potentially enable you to feel more confident in your workout, which might make the device worthwhile for some for this reason alone.
The makers of Core Max claim that the device features three different resistance levels, depending upon your preference and fitness level, and these can be changed at any time by using the metal pegs on the side of the machine to slot in the desired resistance.
However, based on the short explainer video provided, it would appear that all this would do is change the height of the two arms, not change the amount of force required to move the springs themselves.
Once you've found the right level for you, you can then use the included exercise guide or the fitness DVD to get started with your workout. You can use the machine in any fashion you'd like, but the guides give you instructions for eight exercises; sit up, bicep curl, bridge, pushup, scissor kick, tricep extension, cycling, and pectoral extension.
After you finish for the day, you can use the peg system to fold the arms all the way down for storage or transport.
At this point, you might be thinking, "this sounds great!" If the Core Max was truly able to provide all of this, and make it easier on you while doing so, it would be a truly beneficial product for those looking to tone up their core and take their fitness to the next level.
In the following section, let's take a look at what the experts tell us about achieving the rock-solid abs that you're looking for.
What It Really Takes to Tone Your Abs
Taking a look at your core from a scientific perspective, toning your abs and getting that ever-enticing six-pack might take a bit more than just a killer workout regimen.
You've probably heard this phrase before, but as cliche as it might be, abs are made in the kitchen. That's right; according to various sources like Bodybuilding.com and WebMD, you can workout for months and still not have a visible 6-pack if you don't reign in your body fat.
Specifically, the Doctors Health Press source above states that getting your body fat down to around 10% to 15% is what you need to do in order to really have visible, impressive abs.
That's not to say that the actual exercise isn't important. The two need to be given equal weight in order to maximize your results; one helps to build the muscle itself, and the other gets rid of the fat layers that are hiding all of your hard work.
So, what can we take away from all of this? The core concept is simple: while exercise machines like the Core Max might indeed help you build your muscle groups up, you'll still need to incorporate a healthy diet to truly reap the visual rewards of your efforts.
In fact, the makers of Core Max even say so during the explainer video for the product, stating that sculpting and shaping your muscles requires both a low calorie diet and regular exercise beyond just eight minutes a day.
Next up, let's take a look at how much it will cost you to get your hands on your own Core Max device.
Core Max Pricing
Core Max is currently available directly from the manufacturer, as well as from online retail giant Amazon. On the main website for the product, you have two options for purchasing the Core Max; a 30-day in-home trial for $4.99 + $14.99 S&P, and a one-time payment of $59.60 + $14.99 S&P.
If you opt for the trial route, you can return the product before the 30-day period is up by calling 888-275-0883 and sending it back, thus refunding the $4.99 fee. The $14.99 S&P fee, however, is not refundable. That being said, the manufacturer does state that they will pay return postage for shipping the trial back.
If you do not return the product, the terms state that you will be charged two monthly payments of $29.95 for a total of $79.84. This is slightly more expensive than the single payment option at $59.60, so it's important to keep this in mind going into a potential purchase.
Additionally, the single payment option comes with a fitness tracker that allows you to time your workouts, showing estimated calories burned along the way.
If you prefer to do your shopping on Amazon, the product is available for $59.90 and may qualify for Amazon Prime 2-day shipping. Regardless of which source you purchase the product from, you'll also receive a bonus 23-minute workout DVD led by Adriana Martin, a fitness trainer and certified nutritionist, as well as a fast results chart and a nutritional guide.
The fitness guide is said to be filled with "calorie-cutting" foods that can help you get on track towards a healthier diet, which as we've established above should be a crucial component of your workout regimen. Depending upon the quality of the information in this guide, it could potentially be a valuable first step towards shedding fat and revealing your six-pack abs.
Core Max Return Policy
Core Max offers a 30-day satisfaction guarantee on the Core Max, granting a full refund (minus any shipping and handling costs) on all orders made through the manufacturer's website. As for Amazon, the company also offers a 30-day return policy, and it is handled directly through the company's customer support service.
To reach Core Max support directly, you'll need to call 888-275-0883. For Amazon, you can submit a ticket through your account on the main website.
What Customers Are Saying About Core Max
As of the time of this writing, the Amazon store page for the Core Max included 48 customer reviews, 52 percent of which were 5-stars.
Customers liked how easy the product was to use, and many noted that they felt the construction quality was sturdy and supportive. Additionally, many said that they enjoyed the ability to switch the position of the arms depending on what exercise was being done on the machine, as well as the ability to perform regular exercises with greater comfort overall.
It wasn't all positive feedback, however. Some users noted that the highest level of resistance wasn't enough for their needs, stating that they wished it provided additional options for more advanced users. Also, a few reviewers found that the product wasn't as effective in general as they'd wished, though they did not provide specific feedback or elaborate further than that.
Finally, some reviewers lamented the fact that the spring's resistance itself could not be changed, and noted that this was possible on other, popular alternatives.
Now that we know a bit more about what customers think about the Core Max, you might be asking yourself if there are any other options out there to compare the product to. In the next section, we'll look around online to try and answer this question.
Core Max vs. Other Alternatives for Core Exercise
"As Seen On TV" workout products have been a staple in the industry for many years now, and it isn't hard to see this on clear display online.
One simple Google search is all it takes to reveal that there are literally dozens of different workout aids out there, many of which feature very similar designs and functionalities to the Core Max.
Of these products, the Wonder Core seems to be the most popular on Amazon, with well over 700 reviews as of this writing, 69% of which are 5-stars. The product features 2 twisting resistance knobs, giving you more control over the resistance provided during your workout.
If having more precise control over the resistance level is important, perhaps on option like this will be ideal for you. Having said that, many of these products are more expensive, with the Wonder Core itself costing nearly $100 through the manufacturer and available on Amazon for around $80.
Additionally, the Wonder Core weighs 18 pounds according to the product's customer service department, making it 7 pounds heavier than the Core Max. If weight is an issue for you, this is another factor to consider.
The Bottom Line: Is The Core Max an Ideal Solution for You?
One thing is for certain; if you've made it this far, you're looking for a way to take your fitness to the next level. At this point, you're probably wondering if the Core Max is the right device to get you where you want to be with your fitness and health goals.
As we've learned above thanks to sources like Bodybuilding.com and WebMD, it takes more than just eight minutes a day on an exercise machine to get toned, sculpted abs (though to be fair, the manufacturer does state this in the fine print on their website). You need to couple this with the proper diet, as well as diligent and regular general exercise in order to achieve remarkable results.
See Also: 18 Best Exercises for Seniors
This, along with the fact that a few popular competitors exist, including some that include greater control over the resistance levels, and your decision will probably be made even more difficult. When trying to make your choice, consider the following:
Based on the overall design of the product, as well as the reviews described above, the Core Max might be ideal for those just starting out with a workout regimen who are trying to develop a sense of consistency with their exercise efforts.
It may also be ideal for those with mobility issues, either stemming from obesity or some other form of disability. The spring-loaded design might make it easier to get into the rhythm of performing these sorts of exercises, or as mentioned above, it might provide the emotional confidence needed to establish a healthy habit.
Of course, if you are more advanced, fitness wise, or would simply prefer to have greater control over the actual resistance provided, a product with this sort of functionality may work better for you in the long run.
If you do decide to purchase the Wonder Core, keep in mind that you have 30 days to evaluate the product and return it for a refund, if you decide that it isn't for you.
I love it

By Kimberly C.

,

Tempe, AZ

,

Mar 11, 2020
Verified Reviewer

I love this workout machine, you can actually feel it working! Works the whole body, which is perfect and in the half of what you would without it! Would definitely recommend to anyone who is looking for a whole-body workout machine, very easy to handle and to change the setting!

Bottom Line: Yes, I would recommend this to a friend

---

Cancellation

I have called several of time to cancel my order since I was in the 30-day free cancellation. I had emailed, call several times at different times, and received no response. Where is the customer service department?

Cancel my order!

Bottom Line: No, I would not recommend this to a friend

---

Advertisement

---