CoSo CBD Relief Wraps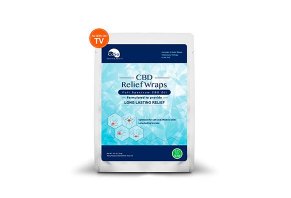 Our analysis of CoSo CBD Applied Relief Wraps reveals that, while the company claims their patches can help relieve pain, the prevailing research indicates there isn't much proof that CBD and other ingredients in the wraps can relieve pain through topical application.
CoSo CBD Relief Wraps Review: Do They Really Work?
CoSo CBD Applied Relief Wraps are pain-relieving wraps that include ingredients the company claims can soothe aches and pains resulting from chronic issues or weekend activities.
The wraps are an interesting product because they're simple to use and can, according to Coso, provide targeted relief.
"The CDB Applied Relief Wrap … is a revolutionary topical wrap you apply directly to where it hurts for targeted relief," the product's commercial says.
In our review of this product, we will show you how these wraps work, the ingredients the company claims will relieve your pain and what science says about what those ingredients can and can't do. We'll do a quick overview of the product's pricing and return policy, then provide you a comparison of CDB Applied Relief Wraps to similar products.
At the end of our review, we'll give you our thoughts about the product's pros and cons.
How CoSo CBD Applied Relief Wraps Work
The wraps come in packs of two. The product's website doesn't give measurements for how big they are. However, photos on the site indicate the pads are rectangular, have a whole in the middle and can fit across the small of your back, wrap around your knee like a brace and lay across your collarbone, shoulder and shoulder blade.
CoSo recommends putting your pads in the refrigerator overnight before using them. Based on the information we have, we do not believe the pads are meant to be used during physical activity. Rather, they're meant to help you heal while you stay stationary, whether that means sitting or laying down.
According to testimonials included in the product's promo video, the wraps impart a cold sensation, then a warm one.
"It feels cool when you first put it on but then you can feel it warming up. It's a totally unique sensation," a woman says in the video.
In reality, the change from cold to hot is a common sensation in topical (on the skin) pain-relieving pads, gels and ointments. In most cases, these products contain an ingredient like menthol, which creates this sensation.
The wraps' mix of ingredients work together to provide you pain relief, the company claims.
"Thoughtfully made from high-quality ingredients, our CBD Relief Wraps are THC-free, vegan and deliver soothing results quickly. CBD paired with powerful botanicals fight irritation and discomfort caused by inflammation," the company website says
We'll discuss those ingredients in the next section. For now, we want to point out that these wraps are meant to be used once.
CDB Applied Relief Wraps' Ingredients
Each wrap you get will include the following ingredients, all of which, CoSo claims, are TCH-free, vegan and not tested on animals:
CBD
Centella asiatica extract (gotu kola)
Menthol
Rosemary oil
Resveratrol
Black licorice extract
CoSo claims CBD relaxes muscles and eases inflammation, gotu kola is good for circulation and collagen production, menthol provides a cooling sensation, rosemary oil increases circulation, resveratrol protects your skin from sun damage and licorice extract controls inflammation.
We wanted to vet these claims, so we went to ConsumerLab.com, an independent research company that analyzes health products and common health-product ingredients.
We sourced the information below from ConsumerLab.com unless otherwise noted.
While many products claim to help relieve pain through the use of CBD, there isn't much evidence in clinical studies that support this conclusion, according to ConsumerLab.
"To date, clinical studies have not provided convincing evidence of a benefit with topical CBD," one of their CBD articles said.
Studies have shown that topical cream CBD did not help with post-workout muscle soreness, nor did it provide muTch relief for knee osteoarthritis via CBD-infused topical gel.
Centella asiatica extract is also known as "gotu kola." This ingredient has shown effectiveness for treating varicose veins, venous inefficiency and anxiety. However, there is no significant evidence that it can help with the aches and pains that CoSo claims its CBD wraps provide.
It's widely known that menthol produces a cooling sensation on the skin, so we believe this claim is valid.
Rosemary oil has some backing in Germany as a way to relieve joint pain. The country has an FDA-like organization devoted solely to regulating herbal treatments. However, there are no double-blind, placebo-controlled studies to support this function, ConsumerLab points out.
This is key because these studies are considered the gold standard of research and the only reliable way to understand if an ingredient or treatment works in a legitimate, repeatable way.
As for resveratrol, the existing research indicates the ingredient may help in preventing cancer and heart disease. However, there isn't a lot of evidence that placing resveratrol on the skin can help ease aches and pains.
The final ingredient on the list, black licorice extract, has a variety of uses for which it is, "possibly effective," according to WebMD. One of those uses is for itchy or inflamed skin.
"There is some evidence that applying licorice to the skin can improve symptoms of eczema. Applying a gel containing licorice three times daily for 2 weeks seems to reduce redness, swelling, and itching," WebMD notes.
Based on this information, we believe there is sufficient evidence to prove that CBD Relief Wraps' menthol and black licorice extract will provide the benefits CoSo claims. However, we believe there is little evidence to supports its claims of being a pain reliever.
Side Effects
Based on our research we believe the major concern about these wraps' side effects is the rosemary oil component. Rosemary could be toxic for embryos, so pregnant women should avoid it, according to ConsumerLab.
CBD Applied Relief Wraps Pricing and Return Policy
Like many online supplements and pain relievers, CBD Applied Relief Wraps are cheaper when you buy more. Here is the product's pricing structure at the time of publishing:
4 wraps (two packs): $14.99 plus $5.95 for shipping
8 wraps (four packs): $29.96
12 wraps (six packs): $40.47
16 wraps (eight packs): $47.97
The CoSo website didn't reveal any details about their return policy. Their fine print says that you can email them at hello@cosobeauty.com to get a full refund. However, they give no deadline by which you have to contact them, nor do they say what their parameters are for accepting a return.
How CoSo CBD Applied Relief Wraps Compare to Similar Products
When we compare products, we like to give you an idea of how customers feel about the product and other products similar to it. At the time of publishing, we could not find any user reviews of CBD Applied Relief Wraps.
Amazon was devoid of CBD pain patches, too. However, we found pain relief patches that use proven ingredients like lidocaine, a numbing agent that can numb the area where you feel pain and, therefore, provide relief.
A five-pack of Aspercreme lidocaine patches were $7.88 on Amazon and had a 3.5-star rating from 450 reviews. The patches have adhesive that allows you to stick them to your body and be active, which is a big differentiator.
Recent reviews of the product were mixed, with some people saying the patches were excellent and others saying they either didn't stick to their skin or the pain relief was minimal.
We think the Aspercreme's product provides several advantages over CDB Applied Relief Wraps. They are cheaper, they stick to your skin so you can remain active while using them and they include an ingredient that's proven to provide pain relief.
The Final Word: Are CoSo CBD Relief Wraps Worth It?
Based on our research, we believe the CoSo CBD Applied Relief Wraps' best strength is that they are part of a small group of pain-killing products that come in wrap form. Most products come in jar or tube form, which means they'll create more of a mess than wraps.
The downside to the wraps is that we weren't able to find any conclusive research that says the CBD and other ingredients will provide the pain relief that CoSo says their product will provide.
That being said, the menthol and black licorice extract in the pads are proven to help cool and relieve skin. However, because CoSo doesn't list how much menthol or extract is mixed into each pad, it's hard to say exactly how effective those ingredients will be.
If you're looking for a mess-free patch to help relieve pain, we suggest researching cheaper alternatives like the Aspercreme patches we mentioned earlier. There's a good chance you'll find patches with proven pain-relief ingredients at a cheaper price point.