Counsyl Reviews
Claimed This company has claimed this profile, is getting alerted on any new customer reviews entering this page, and may engage in dialogue with its customers to address their matters.

Companies cannot pay money or provide goods in order to remove or alter customer reviews.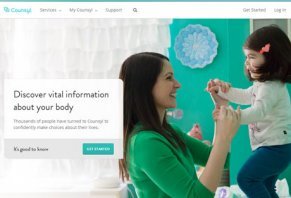 Counsyl is a genetic testing company that can screen you and your spouse for more than 100 genetic diseases, and determine what the chances are of these affecting your children.
About Counsyl
In business since 2008, Counsyl is a genetic testing company who can screen you and your spouse for 100+ genetic diseases that could be passed on to your children. The company compares their services to "an ultrasound for your genes," and claims that their goal is "to make the human genome practically useful for life-altering decisions."
Counsyl was founded in 2007, and has been featured in TechCrunch, the Wall Street Journal, the New York Times, Newsweek, and more. The company holds an A rating with the Better Business Bureau, and just three closed complaints over the past 36 months. Regarding their services specifically, online reviews appeared to be mostly positive, with the most common complaint that the costs were not covered by insurance.
How Counsyl Works
According to the Counsyl website, the vast majority of us are carriers of one genetic defect or another. This typically isn't a big deal though, since we need two sets of the same defective gene (one from each of our parents) in order to experience any negative symptoms. However, when we decide to have children of our own, we need to be mindful of any genetic defects that our partner may have that could be passed on.
» For Further Reading: Pros and Cons of an At-Home Genetic Test
Because most parents of children who are suffering from genetic diseases have no family history of that disease, Counsyl can screen you and your spouse for more than 100 genetic disorders, including Cystic Fibrosis, Fragile X Syndrome, some types of epilepsy, and much more. While there are thousands of genetic diseases, Counsyl claims they focus on the 100 that are most "actionable," meaning that, regardless of the symptoms they exhibit, they can help you "plan for a healthy family."
Having your genes tested through Counsyl is a simple three-step process:
Have one tube of blood drawn, place your order, and your genes are then analyzed.
Your physician is provided with the results of your analysis, and with their permission, they're released to you.
Counsyl's genetic counselors can guide you through the results at no additional charge. In addition, the company also offers clinical support.
Overall, Counsyl claims that less than 1% of their clients are carriers of the same genetic disease. However, for those who are, this translates into a 25% chance that your children will be affected with symptoms of that disease.
Counsyl Pricing
If you have health insurance, Counsyl claims you will typically pay no more than $99 to have your test performed. Without insurance, the same test will cost you $599.
If you pay for Counsyl's testing service using a credit card (versus going through insurance), you'll be eligible for a full refund if you contact support@counsyl.com and cancel your order prior to shipment. Once it's been shipped, it can be returned unopened, but you'll be subject to a $50 processing fee.
Pros:
Using just one vial of blood, claims to be able to screen for more than 100 genetic diseases.
Simple three-step process.
Genetic counselors available to discuss your results at no additional charge.
Primarily positive online reviews.
Cons:
Counsyl's test is not universal – there are thousands of genetic diseases (not just 100).
Expensive, and may not be covered by all insurance plans.
Editor's Note: This article was published on Feb 7, 2014 based on publicly available information at the time of the research. Information is subject to change, please visit www.counsyl.com for the latest details.
COMPLETE AND UTTER SCAM

By Alina M.

,

Alexandria, VA

,

Nov 24, 2019
Verified Reviewer

Charging my insurance company $2000 after estimating that the test would be $200 without having these tests covered under insurance is a COMPLETE SCAM. TOTALLY UNETHICAL COMPANY. THIS TEST IS NOT WORTH IT!

They also provided false information to my OB exclaiming that the test would be only around $200 if your insurance doesn't cover it and generally $0 if your insurance does cover it. FALSE FALSE FALSE. If you are offered this test, I highly recommend you deny it.

Bottom Line: No, I would not recommend this to a friend

---

Not transparent about pricing

By Emma B.

,

Chicago, IL

,

Oct 12, 2019
Verified Reviewer

This is the worst experience that I have ever had with billing from any healthcare company or lab company.

When the test was ordered at my doctor's office, I was told by my physician that the price should be a couple of hundred dollars. Additional online research shows that many people pay around $350 for the lab test that I had.

First, the bill went through my insurance. I was sent an invoice of over $1,300. I was incredibly confused as to why my insurance was billed so much more than the cash price of the test. No where on the company website or at my physician office did it indicate that I could be required to pay over $1,300 for the test. I would not have ordered it if I had known.

Second, I called and asked why I was charged significantly more than the cash price just because I had insurance. I was told that they could bring my bill down to $700. Again, this is significantly more than I thought the test would cost. I would not have ordered the test at this price.

They refused to work with me any further. Why can't the company just offer one clear and fair price? I would never use this company again or recommend to anyone. Please stay away from this company.

Bottom Line: No, I would not recommend this to a friend

---

Advertisement

---

They are total liars

By Ye Eun P.

,

Washington DC

,

Aug 6, 2019
Verified Reviewer

I was told that it would be at most in the $300 range out of pocket. They never provide the estimate. They said they provide the estimate before the test, but they DON'T.

Then, they charged $2000 to my insurance bill.

So if I have no insurance, I would pay in $300 range, but if I have insurance, I have to pay $2000? Why didn't they explain that before getting the test done which they only provide like 3 results?

It just doesn't make sense. I am so upset right now with them and my doctor's office who uses this kind of service.

If your doctor's office uses them, please deny!

Bottom Line: No, I would not recommend this to a friend

Aug 7, 2019

Hello Ye,

My name is Destanee, and I am a member of the client services team at Myriad Women's Health. We sincerely apologize for the experience that you have had thus far, and we would be happy to speak with you to address your concerns and take a closer look at your billing/order details.

Please feel free to send us an email at prenatalsupport@myriad.com with the title "HighYa Review" and your contact information at your earliest convenience, and we'd be happy to have a member of our senior client services team reach out to you.

---

Billing issues/ malicious tactic to take advantage of their customers.

By Olga D.

,

Vermont

,

Jun 19, 2019
Verified Reviewer

My feedback is similar to other complains related to unethical model that Counsyl Inc uses to take advantage of its customers.

Patient OBGYN recommended Prelude test and advised that it will cost a couple of hundred dollars. Patient was advised that this company after they collect blood sample will contact a patient to provide an estimate or will try to bill directly to the insurance carrier prior to performing the analysis to get an estimate.

However, after waiting for several months Counsyl Inc never provided any type of communication to the patient regarding of estimated cost of the analysis. The only information the patient received was a link to create an empty account with basic information excluding any billing portion or option to decline a test.

After a call with the billing representative from Counsyl, Inc according to a representative, they sent a patient a mail with the estimated cost which is valid only for 45 days and expired without the patient even knowing it. Again, patient NEVER RECEIVED any mail from the Counsyl Inc., nor email, nor posted estimated bill online and never provided an authorization to run a test. Perhaps mail was never sent since it was not certified and not traceable. As a result, several months later Counsyl is trying to charge $2000 my insurance company instead of estimated couple hundreds since self-pay option already got expired without even patient's knowledge. Patient would never consent to the testing knowing that it costs $2000 and patients should not be liable for charges they were not made aware of.

Counsyl Inc was nicely asked to retract insurance claim since customer never received any type of communication regarding cost except verbal "estimated couple hundreds" or provided authorization to run the test and that request was rejected.

Obviously, this company is using a malicious tactic to take advantage of their customers and make them pay higher bills.

Please BE AWARE AND STAY AWAY from Counsyl Inc.

Bottom Line: No, I would not recommend this to a friend

Jun 20, 2019

Hello Olga,

My name is Attiana, and I am a member of the client services team at Counsyl. We sincerely apologize for the experience that you have had thus far, and we would be happy to speak with you to address your concerns and take a closer look at your billing/order details.

Please feel free to send us an email at prenatalsupport@myriad.com with the title "HighYa Review" and your contact information at your earliest convenience, and we'd be happy to have a member of our management team reach out to you.

---

Advertisement

---

TERRIBLE!

By Jana S.

,

Texas

,

Apr 8, 2019
Verified Reviewer

I was told I would be paying my part of $349 for this test. That was expected, so when I get on my computer to look at my insurance that should have been billed for the remaining $2000.00, they tell me Counsyl did not get authorization from my provider for this test and they cannot cover the $2000 without it. Therefore I am having to go through an appeal now all because of something on their end. When I try and call this company, it says all agents are in a company-wide meeting (bull!), and when I try to fill out a complaint online, it also says no agents are available. This is the BIGGEST waste of time and money I have spent and now I am learning this test is by FAR accurate, give false positives that create nothing but worry to parents, and also tells the wrong gender altogether. DON'T DO IT!

Bottom Line: No, I would not recommend this to a friend

Apr 9, 2019

Hi Jana,

My name is Destanee, and I am a member of the client services team at Counsyl. We sincerely apologize for the experience that you have had thus far, and we would be happy to connect you with one of our client services managers to address your concerns.

Please feel free to send us an email at prenatalsupport@myriad.com with the title "HighYa Review" and your contact information at your earliest convenience, and we'd be happy to have a member of our management team reach out to you.

---

Total lack of transparency with costs

My wife was ordered two tests by my doctor. When we initially looked at the cost on the website, Counsyl was suggesting that the cost of the test would be $349. Counsyl will charge you only $349 during ordering of the tests, which would lead many to believe that the cost of the tests is just $349. However, the actual cost of two tests is $700 and this was nowhere seen when we were initially ordering the tests. Counsyl will charge another $349 after 2-3 months automatically on your credit card. They can do this automatically because when you make the payment the first time, you acknowledge that the credit card can be used for the second test automatically.

Be very careful dealing with Counsyl as they are really shady with their cost estimates.

Bottom Line: No, I would not recommend this to a friend

Feb 21, 2019

My name is Destanee, and I am a member of the client services team at Counsyl. We sincerely apologize for the experience that you have had thus far, and we would be happy to speak with you to address your concerns regarding your wife's billing situation.

Please feel free to send us an email at prenatalsupport@myriad.com with the title "HighYa Review" and your contact information at your earliest convenience, and we'd be happy to have a member of our management team reach out to you.

---

Lack of transparency in cost

By Jessica B.

,

Charlotte, NC

,

Jan 23, 2019
Verified Reviewer

I'm writing a review due to the lack of transparency on cost given to me after a foresight carrier screening. My doctor assured me that I would be able to cancel the screening if the estimated cost was too much. The test estimate was sent to me on December 24th and by December 27th they had processed my test. Within that time I sent two cancellation requests, but Counsyl says they never received these requests.

After receiving another billing statement from them on December 28th, I sent another request the same day to cancel the test, this time I received an email back stating that the test was already processed and I no longer had the ability to request a cancellation. This left me with two options: pay $950 if my insurance would not cover it. My second option was to pay $350 within 45 days. It is now day 40 and Counsyl still has not sent a claim to my insurance. I do not know if my insurance will cover this cost; most likely it will not.

There has been an EXTREME lack of transparency and communication during this process. Be careful with using their website as well. If you submit a cancellation request, make sure you receive an email confirmation.

Bottom Line: No, I would not recommend this to a friend

Jan 24, 2019

Hello Jessica,

My name is Attiana, and I am a member of the client services team at Counsyl. We sincerely apologize for the experience that you have had thus far, and we would be happy to speak with you to address your concerns and take a closer look at your billing details.

Please feel free to send us an email at prenatalsupport@myriad.com with the title "HighYa Review" and your contact information at your earliest convenience, and we'd be happy to have a member of our management team reach out to you.

---

Don't bother

By Robert K.

,

Massachusetts

,

Jan 21, 2019
Verified Reviewer

Various medical organizations recommend making these tests "available" to patients, but these organizations do not recommend the tests. Our test came back positive for a high risk of a genetic condition, but then the company could show no studies with even one case of a family having a baby with the disease. The sample sizes were small, the people explaining the tests dimwitted, and the average physician ordering the test utterly clueless about its correct interpretation.

This test creates needless confusion and wastes valuable time and money. If you research these tests further (even the ones suggested by doctors), you'll find they often produce false positives that have lead to abortions for no reason and false negatives that show the test was all but worthless. It's not FDA approved, but your doctor won't tell you this when he tells you it's "highly recommended."

If you are at a high risk of a genetic disease, see a real genetic counselor, not a paid employee of a testing company who has no reason or incentive to advocate for you as a patient. I do not yet know what I will be billed, but I assume if the report and people interpreting the report reek of stupidity and deceptions, I imagine the billing situation will be even worse.

My guess is OBGYNs use this service because it gets them extra visits and the company gets to sell its marginally useful test that isn't FDA approved. They scratch each other's backs, while you the patient pay for something no reputable medical society even recommends for families without a history of genetic disorders or who are not in a known risk category. I have no doubt that proper genetic screening with FDA approved testing is important for couples, but this is a second rate speculative science pushed by gullible physicians who will push anything they are told to push.

If your doctor suggests this test to you, ask him to give you the name of a medical organization that actually recommends it for couples with your family history and risk profile. Ask him if this is real genetic counseling or something provided by an employee of the testing company who could risk losing his or her job by discrediting the test results? Ask if the test has been FDA approved and proven to be more valuable than a medical history or some other test that costs less or is more well established? Ask if this is likely to lead to unnecessary invasive tests or lead to needless anxiety and confusion? Ask if he will confirm the actual cost of this exam and check if its covered by insurance (and at what rate) before ordering the test? You will find that this whole operation is complete nonsense once you start cross-examining your doctor. He'll drop it and say this probably isn't for you. And when this happens, switch doctors since you now know your doctor is for sale and lacking a moral compass.

Again, genetic counseling and testing is a good thing, but only if the tests are ordered by a qualified genetic counselor; not a dimwitted doctor who didn't even bother asking if it is FDA approved. Shame on the medical community for embracing this kind of stupidity.

I'll be taking them to small claims court upon receiving my bill, simply because I know they won't show up. You should do the same if you are scammed by these predators.

Bottom Line: No, I would not recommend this to a friend

Jan 22, 2019

Hello Robert,

My name is Attiana, and I am a member of the client services team at Counsyl. We sincerely apologize for the experience that you have had thus far, and we would be happy to connect you with one of our board-certified genetic counselors to address your concerns.

Please feel free to send us an email at support@counsyl.com with the title "HighYa Review" and your contact information at your earliest convenience, and we'd be happy to have a member of our management team reach out to you.

---

Money maker scam

By Luciana D.

,

Orlando, FL

,

Jan 14, 2019
Verified Reviewer

We were told at the doctor's office that if our insurance covered the test that we would not have to pay and/or Counsyl would contact us if any charges were due prior to proceeding with the test. After a few weeks and no call or email about any charges, we received a bill for $250.00 on top of what they are billing our insurance in over $1,000.00, while I was told by their own insurance companies and still charging patients?

In essence, a patient without any insurance would end up paying Customer Service that a patient without insurance would have to pay $300.00 for exactly the same testing (promotional price).

Definitely a scam, money maker taking $1000+ money from the $300.0 and a patient with insurance $250.00 (plus the thousands extra they are pocketing from the insurance company). Very unfair and dishonest, to say the least! This company deserves a class action lawsuit.

Do you still trust this company?

Bottom Line: No, I would not recommend this to a friend

Jan 15, 2019

Hello Luciana,

My name is Attiana, and I am a member of the client services team at Counsyl. We sincerely apologize for the experience that you have had thus far, and we would be happy to speak with you to address your concerns and take a closer look at your billing details.

Please feel free to send us an email at support@counsyl.com with the title "HighYa Review" and your contact information at your earliest convenience, and we'd be happy to have a member of our management team reach out to you.

---

Poor service

By Sokha C.

,

Tacoma, WA

,

Jan 6, 2019
Verified Reviewer

I was told that being at the age 35, my insurance would cover for the testing, that's the only reason why I went through with it. And then the email Counsyl sent me told me it was not a bill but if I pay the $349 they wouldn't bill me the $1599, what the heck does that mean! If I was notified first hand that I was going to gets billed, I wouldn't even waste my time doing it. Counsyl is wrong for what they're doing to everyone, sooner or later they're going to get sued for false claim. Good luck trying to get money out of me, better go get it from the insurance.

Bottom Line: No, I would not recommend this to a friend

Jan 7, 2019

Hello Sokha,

My name is Destanee, and I am a member of the client services team at Counsyl. We sincerely apologize for the experience that you have had thus far, and we would be happy to speak with you to address your concerns and take a closer look at your billing details.

Please feel free to send us an email at support@counsyl.com with the title "HighYa Review" and your contact information at your earliest convenience, and we'd be happy to have a member of our management team reach out to you.

---

Same issues with awful, shady pricing scam. BEWARE!

By Megan H.

,

California

,

Nov 5, 2018
Verified Reviewer

I've had the same issues with lack of transparency and deception as the majority of these other reviewers. I was initially told by customer service that the price of the test was $350 out of pocket, or $2000 if they bill insurance. Then, I was told that the $350 due was for my co-insurance portion, billed by my insurance. When insurance dropped my co-insurance payment down to $40, Counsyl still attempted to squeeze $350 out of me, despite my insurance covering the rest. I have all transcripts of conversations recorded and available upon request. This is really horrid and warrants legal action on behalf of all of these misled consumers.

Bottom Line: No, I would not recommend this to a friend

Nov 6, 2018

Hello Megan,

My name is Attiana, and I am a member of the client services team at Counsyl. We sincerely apologize for the experience that you have had thus far, and we would be happy to speak with you to address your concerns and take a closer look at your billing details.

Please feel free to send us an email at support@counsyl.com with the title "HighYa Review" and your contact information at your earliest convenience, and we'd be happy to have a member of our management team reach out to you.

---