Cove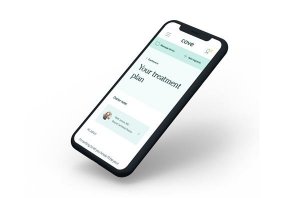 Cove is a company that provides personalized treatment and ongoing care to help migraine sufferers take control.
Cove Review: Will This Migraine Treatment Really Help?
A migraine is described as a headache of varying intensity that typically lasts 4 to 72 hours, and different migraine sufferers are challenged with a wide range of symptoms that can make day-to-day living painful at best.
According to the Mayo Clinic, a migraine can cause severe throbbing pain or a pulsing sensation, usually on just one side of the head, and it's typically accompanied by nausea, vomiting, and extreme sensitivity to light and sound. And for some sufferers, migraine attacks can cause significant pain for hours to days – and can sometimes be so severe that the pain is debilitating.
Enter Cove, a company that's "on a mission to make migraines less of a headache." This article takes a look at Cove, which involves migraine experts that provide personalized treatment and ongoing care to help migraine sufferers take control.
It's important to keep in mind that this information is not intended as medical advice. Before you decide to give Cove a try, talk to your medical professional, first.
What Is Cove?
Launched in December of 2018, Cove offers affordable FDA-approved migraine treatments – both acute pain relief and preventative – as well as ongoing support and education to help migraine sufferers get the personalized care that they need, according to Steven Gutentag, co-founder and CEO.
"Cove empowers migraine sufferers by providing them direct access to high-quality, affordable migraine care, personalized to each person and their specific needs," he said. "That includes migraine expertise from leading doctors in the field, ongoing support and on-demand care, centralized migraine management, customer education, and affordability."
Safety and Effectiveness of Cove
If you're wondering if Cove is safe, Gutentag said "we hold ourselves to the highest standards."
"We only offer FDA-approved treatments, and they're always prescribed by our knowledgeable physicians who thoroughly review your consultation to ensure you're getting the right plan for your needs," he noted.
As far as overall effectiveness is concerned, "we have worked closely with headache experts and healthcare lawyers to create an experience that is safe, legal, and seamless for our users," Gutentag said.
How Does Cove Work?
You begin by submitting a full online diagnostic consultation.
This rigorous consult is designed to evaluate the types of things a headache specialist would ask and look for during an in-person consultation, including migraine history and treatment history, medical history, lifestyle, and even a neurological baseline test, Gutentag explained.
"You are then paired with a licensed physician who, within 24 hours, will review your consultation and make a personalized diagnosis and treatment plan recommendation with specific FDA-approved medications – acute and/or preventative treatments," he said. "We then ask you to review their treatment plan recommendation and work with your doctor to make any adjustments if necessary."
From there, treatments are shipped out monthly, so you're never without the medications you need.
"We also encourage you to have an active online dialogue with your doctor and to take advantage of our migraine tracking tool, which allows you to report migraine incidents, triggers, and treatments in real-time," Gutentag advised. "This information is sent directly to your doctor and added to your record, allowing you to follow up with check-ins or to adjust treatment plans if necessary."
Medications
Depending on a customer's personalized treatment plan, Cove offers both immediate pain relief (acute) and preventative medications, which can be prescribed individually or together. The following information, provided by Cove, explains what these medications are and how they work:
Acute medications will include:
Naproxen (NSAIDs): NSAIDs are commonly-used pain relievers that help ease migraines as soon as they start. These anti-inflammatory drugs relieve pain and support healthy blood flow.

Sumatriptan or Rizatriptan (Triptans): Triptans increase serotonin levels in your brain, reduce inflammation, and constrict blood vessels to provide immediate relief during a migraine attack.

Metoclopramide (Anti-nausea): Anti-nausea drugs reduce nausea and vomiting that can accompany severe migraines. They are usually taken along with a pain reliever, as they do not reduce migraine pain on their own.
Preventative medications will include:
Propranolol + Metoprolol (Beta Blockers): Beta blockers decrease the effects of stress hormones on your heart and blood vessels, helping reduce both frequency and intensity of migraines. While typically prescribed for high blood pressure, research shows they're also effective for migraines.

Amitriptyline (Antidepressant): During a migraine, serotonin levels plummet. Antidepressants help prevent migraines from happening as frequently by maintaining a healthy serotonin level.

Topiramate (Anticonvulsant): Anticonvulsants help alleviate migraine symptoms by calming overactive nerves in your brain. While typically used to prevent seizures caused by epilepsy and other conditions, they've also been proven effective for treating migraines.
Ideal Candidates for Cove
Cove is for men and women over the age of 18 who experience migraines.
"Migraines are a serious and highly personalized chronic health condition," Gutentag emphasized. "That's why Cove pairs each person directly with a licensed doctor who reviews their information in order to identify and prescribe the best treatment plan for their specific needs."
He further noted that not all head pain is a migraine and that's why it's important to discuss your symptoms with a licensed doctor to make sure you're getting the right diagnosis.
"If there are any concerns, they'll recommend next steps," Gutentag said. "And, while they're generally well tolerated, the acute and preventative drugs we prescribe and sell do have occasional side effects. Feeling off? Concerned? We always recommend you speak to your doctor immediately."
How Does Cove Compare to the Competition?
Migraines impact 1 in 7 people worldwide, making it the third most common disease globally.
"Despite this, it's still surprisingly difficult for migraine sufferers to get the personalized treatment and support they deserve," Gutentag said. "In fact, less than 50% of migraine sufferers ever see a clinician for help."
Cove stands apart as the first end-to-end platform focused on bringing all components of healthcare together to give both migraine sufferers and doctors a holistic view of and control over migraine care, he emphasized.
"In combining diagnosis, treatment, and ongoing access to care in a single place, Cove is able to expand access to high-quality care, reduce the costs of that care, and create a stronger feedback loop between patients and their doctors to help them find the right treatment for them," Gutentag said.
The Cost of Cove and Where to Buy
Pricing ranges from $25 to $65 per month – depending on the treatment plan and the medications in it – with most customers likely falling in the $25 to $45 range.
Customers can go through a consultation and purchase a prescription through Cove's website.
All purchases of Cove treatments are final. According to the company, this is because their products are medications, so once they are packaged for a customer, their pharmacy legally cannot use the products for another patient.
"Our pharmacy's regulations prohibit the return of prescription medications for reimbursement," according to the company. "This means that we are unable to accept returns of treatment for refunds, even if it is unused."
Regarding exchanges, Cove will replace items if they are damaged or defective.
As far as using insurance to pay for Cove is concerned, "we are an entirely self-pay service and insurance is not accepted for the medical consultations or the products," the company states on its website. "Our prices are typically much less than the cost of what you'd pay at your local pharmacy, and Cove provides both medical and customer care services. We recommend that you ask your benefits provider if you have any additional questions."
Cove's Educational Resources
Those who log into the Cove website will also find a wealth of educational information under the "Learn" tab, which can help customers along the way.
Topics addressed include everything you need to know about triptans, NSAIDs, anticonvulsants, beta blockers and antidepressants for migraine treatment, as well as migraine symptoms, the different types of migraines, and the difference between a migraine and other headaches. There's also a section about what to do when your migraine treatment's not working.
Exciting Innovation in Healthcare
According to Dr. Emil Avanes of Adventist Health Glendale, Cove seems to be one of the new medical phenomenon that he's seeing everywhere: "targeted evaluation and management solutions to common medical problems."
While Dr. Avanes is not associated with Cove, he looked into it for the purpose of providing his expertise for this article.
"I'm not sure what the treatments rendered by Cove are, but my guess is that patients can use their app to indicate they have symptoms, and then receive immediate relief via reminder on control protocols – plus strong migraine medications to pharmacy," Dr. Avanes said.
He noted at his practice, Harmony Health MD, "we treat migraines with IV Infusions within minutes of arrival."
This helps his patients avoid urgent cares and emergency departments, where they have to wait longer and may burden the healthcare system with something that can easily be treated in the outpatient setting.
"We further educate patients about the importance of avoiding triggers," Dr. Avanes said.
"Finally, we get everyone started on preventive measures, which include certain vitamin combinations," he said. "Perhaps Cove has implemented some variant to these treatments? I'm not sure where the interest for this particular outlet draws from, but it's likely related to all the exciting innovation that's happening across healthcare in general these days."
Final Thoughts
Cove seems like a valid option when it comes to helping people with migraines – especially because of the app, which enables users to track their progress, as well as direct access to doctors through the secure online patient portal.
When you think about how much time and money it takes to visit a doctor's office – or the time consideration if you have follow-up questions for your doctor – Cove offers a more simple streamlined process in which doctors are available anytime you need.
As far as the products are concerned, they are backed by scientific research and FDA-approved, which is always a positive sign. It's also great that the products are matched to your exact condition, which can potentially lead to great results.
But with any lifestyle change for the better, it's important to remember to have patience as this process can take time.
As Gutentag stated: "Cove consumers should keep in mind that progress is a process."
"Patience and commitment are key to finding migraine relief, and it often takes a little bit of experimentation to find the right plan for each person," he said. "Working closely with your doctor and using our migraine tracking tool ensures an active dialogue and real-time feedback loop with your caregiver to ensure you're getting the support and treatment you need."
---
Best choice I've made for myself

By Nancy J N.

,

Coram, NY

,

Jun 8, 2019
Verified Reviewer

Overall Experience:

Being a severe migraine sufferer since I was 17 (I'm now 57), never having time to go for numerous Doctor appts, MRIs, cat scans, blood test, etc., and then follow-ups every few weeks or monthly never fit into my busy Paramedic schedule.

Suffering through horrible shifts with migraine days off in bed and numerous trips to the ER to get a headache to break.

Finding Cove by far was the easiest quickest most efficient choice I've ever made for myself. The staff was attentive, the Doctor fast to act on prescribing my treatment plan and getting it shipped to me fast. The tools on the webpage have also shown a pattern in my headaches. The Doctor has made adjustments to my program effortless and now my frequency has actually reduced because I now have consistent correct treatment.

Anyone like me should take full advantage of this program. Migraine treatment shouldn't be a luxury, it should be a must-have in your life!

Bottom Line: Yes, I would recommend this to a friend

---

Very pleased

By Annie H.

,

North Carolina

,

Jun 19, 2019
Verified Reviewer

Overall Experience:

I see a reviewer had trouble uploading a video for their physician consultation - I did as well and contacted customer service. They helped me work out the kinks. I can understand being upset if you were charged and did not receive the service. I am in no way trying to discount the trouble that person went through.

However, I can say I'm very happy with Cove to date. I SO appreciate not having to go sit in a doctor's office. The physician I have consulted with has answered every message I sent. When the medicine I was prescribed wasn't working, he readily increased my dosage. A Cove customer service person contacted me to see if I wanted my new prescription to go ahead and ship or if I wanted to wait on it.

I don't normally post reviews but I want my fellow migraine sufferers to know this company seems to be on the up and up. I truly appreciate the service.

Bottom Line: Yes, I would recommend this to a friend

---

So very pleased!

By Corina B.

,

Massachusetts

,

Jul 31, 2019
Verified Reviewer

Overall Experience:

I just wanted to share my love for Cove! My doctor was very attentive and well qualified and he helped cut my headaches down significantly. When one treatment didn't work he quickly worked with me to find the right one. My migraines have more than halved in frequency and I couldn't be happier!

Thank you Cove!

Bottom Line: Yes, I would recommend this to a friend

---

Cove allows me to live my life!

By Marcie J.

,

Illinois

,

Aug 6, 2019
Verified Reviewer

Overall Experience:

I have lived my life headache to headache - wondering, if I make plans, will I be able to follow through with them. When I have a migraine, I am not able to do anything. My kids ask me, "do you have a headache, mommy?" when I am not able to take them places or play with them.

Since I started with Cove, I have not had to worry about missing out on life with my kiddos or friends. I still get migraines, but now I have the medicine I need to help me move past them.

I really love that everything is done online. It is super convenient - no finding a babysitter and waiting months for an opening. It's so affordable and easy.

They provide an easy website that allows me to keep track of my headaches, symptoms, duration, and possible triggers.

I am so glad I signed up with Cove. It has changed the way I live my life.

Bottom Line: Yes, I would recommend this to a friend

---

Advertisement

---

Game changer

By Melissa M.

,

Warner Robins, GA

,

Aug 6, 2019
Verified Reviewer

Overall Experience:

I've suffered with migraines for most of my adult life. These would rank from 9-10 on the pain scale and would often be accompanied with unstoppable nausea and vomiting (not fun). This would end up in pricey med stop visits for shots, days off of work, or days spent at work feeling miserable. If I was "lucky" it would happen on a weekend or holiday so it would only ruin my personal time. My migraines are hormonal and I've been able to identify a few other triggers, but they bound to happen at least once a month even when I'm watching what I eat, drink, and do. General practitioners were helpful, but they're not experts and I dreaded the idea of going to a neurologist when I felt like my condition should be manageable.

It was easy to get in touch with a doctor at Cove. He looked at the preventative medication I was currently taking and suggested doubling it. He gave me something for nausea as well. I still get migraines, but I can go months without them and they are much less intense. I rate the pain of a typical migraine now at a 5. I was skeptical of online migraine treatment at first, but direct access to a professional invested in your case as well as a built-in migraine journal have been invaluable tools to help me manage my migraines and not be at the mercy of pain.

Bottom Line: Yes, I would recommend this to a friend

---

Super easy migraine relief

Overall Experience:

I've had headaches and migraines for as long as I can remember. I've always hated going into the doctor's office and dealing with the long waits, going to the pharmacy, trying out different medications, going BACK to the doctor when the medicine wasn't working, etc.

When I saw the ad for Cove I was intrigued. Sure enough, it was super simple! I went to their site, filled out my information and a real doctor reviewed it and made his recommendation. I even messaged him back because I had some questions and he got right back to me.

I'm now taking a daily medication that has greatly improved my quality of life. I won't lie and say I'm headache and migraine-free, but they have significantly decreased! I really like that I can go onto my account and send a message to the doctor - ask questions, change up the meds if needed, and so on. I'm a working mom with two young kids. I don't have the time to go into a doctor's office every time I have a question or if I get a bad headache. I wish all my medications were as easy to deal with as they are with Cove! I was actually just telling my friends about it today at our kids' park playdate!

Bottom Line: Yes, I would recommend this to a friend

---

Cove was the best decision I ever made

By Chelsea T.

,

Allegany, NY

,

Aug 6, 2019
Verified Reviewer

Overall Experience:

I was getting migraines at least 3x a month, sometimes way more frequently. I found Cove, and once I connected with a doctor and got my prescription, my migraine frequency dropped drastically. It gets delivered monthly, with no hassle, the customer service and the physician teams are phenomenal, and it's easy to understand. Cove really cared about those it helps. I'll never go back!

Bottom Line: Yes, I would recommend this to a friend

---

The best decision I have made in a while

By Hope A.

,

Bryson City, NC

,

Aug 6, 2019
Verified Reviewer

Overall Experience:

I have had migraines for more than 20 years. I have been to general practitioners, neurologists, specialist, homeopathic doctors, I have taken all kinds of medications, vitamins, and herbs to try to help, but nothing helped. I saw the Cove online and my doctor also mentioned it to me. I won't lie, I was hesitant at first, but I am so glad I looked it up and contacted them. Always so nice, fast, willing to help, and so easy to talk to dr. Once I approved my meds, I get them each month without having to remember to call in refills or any of that. If something is not working, I contact my doctor and we work something out. Cove is simply the best decision I have made in a while! My migraines are tolerable and when I have one that isn't I take my acute meds and it helps me dramatically.

Bottom Line: Yes, I would recommend this to a friend

---

Very thankful for this service!

By Megan O.

,

Roanoke, TX

,

Aug 6, 2019
Verified Reviewer

Overall Experience:

I'm so thankful for Cove! I've had several concussions in my life and struggle with chronic migraines because of them. Since I lost health insurance I couldn't afford my medication to prevent me from getting them and to treat them whenever I get one. I jumped at the chance to try this when I saw it. I wasn't disappointed at all. I find it to be affordable and super convenient. My doctor has always quickly responded to any questions or concerns I have. I would definitely recommend this service to anyone who suffers from migraines!

Bottom Line: Yes, I would recommend this to a friend

---

The most valuable thing...

By Heather D.

,

Union, MO

,

Aug 6, 2019
Verified Reviewer

Overall Experience:

Time...it's the one thing I never have enough of; between family, work and battling migraines.

One would think getting in the car, driving across town and seeing the doctor is easy enough. But when your suffering from a migraine the last thing you want to do is just that; the thought of the sun glaring in your eyes, sitting in the waiting room, then driving to the pharmacy. It just makes my head hurt worse.

For years I put it off, just letting myself suffer. Because I didn't have the time or energy to get to the doctor to get a simple exam for a refill.

One day while working online, I came across an ad for Cove, and figured I would check it out. Within a few hours of filling out a form, a local doctor reached out to me and had a few suggestions on how they could help. I never even had to leave the house! The very next day my new Cove doctor had my prescription ready and set me up with a monthly plan, or cheaper than my insurance would have charged in co-pays. Not only did I get something for in the moment, but my doctor also found something that I take daily that has reduced the number of attacks I have a month!

Each month, my doctor checks in on me and sends me my refill. Taking all of the work out of suffering, give me more migraine-free days.

Adding time back into my life.

Bottom Line: Yes, I would recommend this to a friend

---

A true life saver

By Erica T.

,

Pennsylvania

,

Aug 7, 2019
Verified Reviewer

Overall Experience:

I have been having migraines for 17 years now. Cove has changed everything! I was unable to go see a doctor for my pills and couldn't afford the visit costs. With Cove, I have been able to get my life back. No more missing work, special events or time with my children. I cannot say thank you enough. I know why it's like to suffer and now I know what it's like to live free of pain and the stress having migraines brings. Thank you so much from the bottom of my heart!

Bottom Line: Yes, I would recommend this to a friend

---