CoverHound Reviews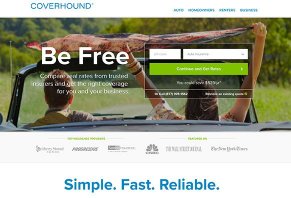 With a stable of more than 25 personal lines and business insurance carriers, CoverHound's online agency claims to help you obtain accurate quotes in minutes.
About CoverHound
Instead of obtaining quotes from every insurer yourself, CoverHound's shopping platform allows you to instantly compare accurate auto, motorcycle, homeowners, renters, and small business rates from more than 25 trusted companies.
In fact, according to the online insurance agency's data, not only can their website help you find the right coverage in a matter of minutes, but they could also save you an average of $539 per year in the process.
And compared to software-only insurance sites, if you need help at any point, you can pick up the phone and speak with one of CoverHound's trusted, licensed advisors. They'll be able to offer objective recommendations to help you find the best policy, as well as ensure that you're receiving all eligible discounts.
Either way, the company emphasizes that your information is always safe, so you won't have to worry about getting emails or cold calls from multiple carriers. There are no brokerage fees involved, and you'll be able to obtain free comparison rates at any time if you decide to purchase a policy.
Everyone's looking for the simplicity and reliability CoverHound promises to deliver, especially within personal lines insurance. But has the company breathed new life into the industry, as claimed on their website? Even then, are they necessarily the best option for you?
Online vs. Brick & Mortar Insurance Agencies
Quick basics: Insurance agents are licensed to sell policies from insurers. These policies, in turn, provide coverage to a client in the event of a loss.
Within the personal lines industry (auto, home, excess liability, etc.), there are two main types of insurance agents: captive and active. Captive agents are appointed to work for only one company (Allstate is a popular example of this), while independent agents can be appointed with as many insurers as their agencies can support.
Of these two, with more than 25 insurer appointments, CoverHound is classified as an independent agent.
But, the reality is that most brick-and-mortar agencies have already leveraged the Internet's power to reach out to new customers, improve communication with existing ones, and even help policyholders learn more about their coverage. Given this, is there anything offered by CoverHound's online system that you can't find with brick and mortar agencies?
One Way That FinTech Is Changing the Insurance Industry
Despite all of the technological changes that have occurred over the past several years, one key tool has remained accessible only to licensed insurance professionals: specialized software called a comparative rater.
Here, all the necessary details are entered based on policy type, and the program automatically matches the customer with the most appropriate insurer and displays a price. If the customer is ready to buy, all of their data can be effortlessly transferred over to the insurer's system and a policy can be put in place, without starting from scratch.
However, recent developments in financial technology (FinTech) have started moving these comparative raters online, where any consumer looking to obtain the most accurate, relevant insurance quotes can do so—in the least amount of time, and without having to involve an agent.
Let's find out how this plays out in the instance of CoverHound.
How Does the CoverHound Quoting Process Work?
The insurers represented by CoverHound offer many different types of policies. Taken from their website, these include:
Personal Insurance Offerings: Auto, Home, Condo, Renters, Motorcycle, Umbrella, Landlord, Mobile Home, Personal Articles Coverage (e.g., jewelry, collectibles), Specialty Lines (e.g., RV, Boat), Flood, Earthquake
Business Insurance Offerings: General Liability, Business Owners Policy, Professional Liability (Errors & Omissions), Workers Compensation, Commercial Auto, Cyber , Directors & Officers , Property, Inland Marine, Crime/Fidelity
Of these, we chose to test out CoverHound's auto quoting system, which we found to work like most other insurance comparison websites we've investigated in the past.
On the home page, you'll start by entering your zip code and choosing the type of policy you're interested in.
Compared to many of the other insurance comparison/agency websites we've written about, though, one unique feature is that CoverHound—only with your permission, of course—can automatically pull your vehicle's information (year, make, model, VIN, and lien holder) directly from the DMV and populate the relevant fields.
Whether or not you choose this option, you'll still need to enter vehicle details like ownership, use, miles driven per year, if it's used as part of a ride-share program, along with driver details like name and DOB.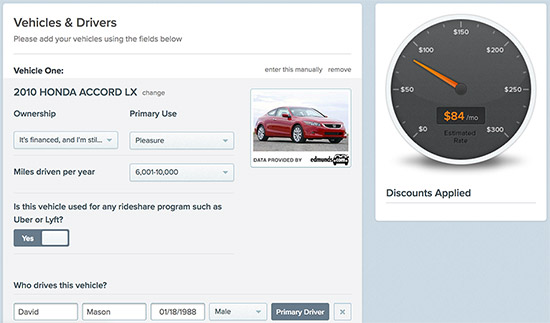 Another thing we enjoyed during the quoting process was that a price gauge (similar to a speedometer) on the right-hand side of CoverHound's site moved up or down, based on our input. Image credit: CoverHound, Inc.
Further, the driver discounts section requires information such as career status, occupation, highest level of education completed, marital status, age first licensed, and licensing status. You'll need to indicate any activity (accidents or violations), if you own a home, and your current insurer's name.
Afterward, CoverHound displays their best matches, which are categorized by coverage levels and price.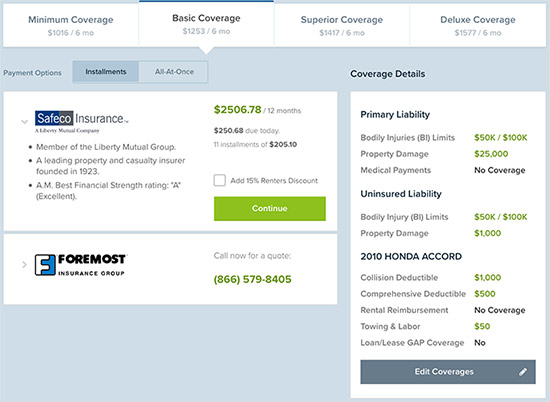 In just a few minutes, we obtained an auto quote through CoverHound, which displayed options based on carrier, coverage level, and whether we wanted to pay in installments or all at once. Image credit: CoverHound, Inc.
If any of these rates are appealing, you can click "Continue." Since we used fictitious information in our quote, we then received a notice that the insurer we chose was "unable to retrieve all household information." As a result, we were advised there may be some follow-up details needed after purchase.
Note: If we were willing to pay all at once, one additional insurer opened up, which might be something worth remembering when obtaining your quote.
Last, we verified the policy effective/expiration dates, VIN, lien holder information, alarms and other discount verification, as well as driver's license and social security numbers. If you choose to proceed, you'll finalize the premium, which CoverHound reports are "real, actual rates obtained directly from the insurance carriers we represent."
Speaking of which…
CoverHound Pricing, Carrier Selection, & Eligibility Criteria
As an independent insurance agency, CoverHound tells us their primary source of income is commission from insurance carriers, related to sales and renewals; nothing is charged to the consumer.
They sell personal lines policies in all states except AK, HI, RI, and MA, as well as business insurance in every state, except for MA, although rates and overall coverage available will vary considerably. For more about this topic from an auto perspective, be sure to read about how much your auto insurance rates might go up as a result of a ticket or accident.
CoverHound's FAQ indicates policyholders will pay about $20-$25 for SR-22 filing fees.
Their current carrier lineup includes:
Personal Lines: 21st Century, Acuity, ASI, CAIC, Century National, CSE, Dairyland, Foremost, The General, Good2Go, Infinity, Kemper, Liberty Mutual, MAPFRE, Mercury, National General , Pacific Specialty, Plymouth Rock, Progressive, QBE, Safeco, State Auto, Stillwater, Universal NA , UPC, Workmen's
Commercial Lines: Acuity, Berkshire Hathaway Homestate Companies, biBerk, Chubb, Employers, The Hanover, Hiscox, Kemper, Liberty Mutual, Markel, Mercury, Nationwide, Progressive, State Auto
Cyber Carriers: Aspen, BCS, Beazley, Chubb, Hiscox
When running a quote through one or more of these insurers, the company emphasizes that, while "individual carriers will access your credit score to make a quote, they make what's called a 'soft inquiry,' or soft pull. These have no impact on your FICO or credit score since they're not related to applying for financing."
If you have questions about finding the policy, you can reach out to CoverHound at (866) 278-7881.
CoverHound Customers Reviews: What Can We Learn?
Although the online feedback we encountered for CoverHound during our research was limited, it also seemed primarily positive.
For example, on Yelp, the company had 10 customer reviews and an average rating of four stars. There, common compliments related to helpful advisors and ease of use, while the only complaints referenced cancellation charges and higher rates than expected.
From a company perspective, CoverHound, Inc. (DBA: CoverHound Insurance Solutions) is based out of San Francisco, CA and has been in business since 2010. They held an A+ rating with the Better Business Bureau and had three closed complaints as of 9/14/17. No details were available.
CoverHound was founded by Rory Joyce (who now works as Director of Product Management for Credit Karma), Basil Enan (also founder and CEO of Discors), and Joel Hayhurst (now a software engineer at Hired, Inc.).
How Can You Choose the Right Online Insurance Agency?
Earlier, we took a brief dive into online insurance agencies, along with the technology that's driving what could soon represent the industry's next evolution.
But, you know what? Once technology is removed from the equation, the basics regarding what to look for in an agency largely ring true, whether you're considering an online or brick and mortar one. According to the National Association of Insurance Commissioners, these include:
Look for referrals from several sources (friends, colleagues, online, trade associations, etc.)
Once you've narrowed down your options, make sure the agent's credentials and licenses are up to date.
Search for online policyholder reviews and see if you can identify any common compliments or complaints.
Finally, hop on a call or meet them in person. Does their personality agree with yours? Are they open to questions and provide insightful answers? Do they listen to your needs and respond in kind?
Our Final Thoughts About CoverHound
There are only three types of insurance comparison sites: Lead generators that sell your information to others, company sponsored sites that might not provide a wide selection, and online insurance agencies.
Of these options, we've learned through research and interviews with professionals that agencies often offer the most bang for your buck. Why? Because they can often provide online convenience when you want, and personal attention when you need.
But if you're looking to obtain accurate, almost instant personal lines and business insurance quotes from many of the country's top carriers—and immediately purchase a policy if the rate's to your liking—we're not currently aware of another option like CoverHound.
In the end, their services are completely free and there's zero obligation, so you might not have much more to lose than a few minutes of your time by obtaining a quote. And if you're the average customer, CoverHound might be able to save you somewhere around $539 in the process.
Read next: How Does Credit Score Affect Your Car Insurance Rate?
Uninformed car insurance cancellation

By Rosalie C.

,

Louisiana

,

Oct 1, 2019
Verified Reviewer

I had a very bad experience with my first car insurance here in the US with CoverHound as insurance agent to Kemper. The CoverHound insurance agent was so persuasive and helpful in the beginning only, after I agreed to get the 6 months insurance policy. They have emailed and called me about garage address so as the insurance rate will not increase and so I responded. But I didn't know I have an insurance form unsigned yet, even though I got already my policy for 6 months in the email only (but I did not received any hard copy at all). In good faith, I thought I have 6 months car insurance. Unfortunately, I was not even informed and no CoverHound staff was diligent enough to call, email or mail me amidst of various communication options. Until the DMV mailed me about the uninsured vehicle after almost 2months of cancellation, so my 6-month policy was cut down to 4 months only, that I did not know.

When I called them they advised to rewrite the policy, it means starting the policy from the time it was cancelled and pay again. For a graduate student like me with a limited budget, it's not that simple to just pay or double pay considering the insurance here is not cheap. I pleaded for reconsideration with a lot of calls, emails, and follow-up for other solution but frustratingly with no avail. But what I got from them is..."We cannot do anything but give your insurance history with its cancellation and have a good day." It ends up to squeeze my budget to pay the DMV for 2 months lapse, because to appeal would go to the Commissioner on Insurance. I hope the CoverHound staff will be diligent enough and prudent so as not to do the same communication lapses with other clients...I hope CoverHound will value the trust and be really concern to their clients.

Bottom Line: No, I would not recommend this to a friend

---

Advertisement

---