Cramp 911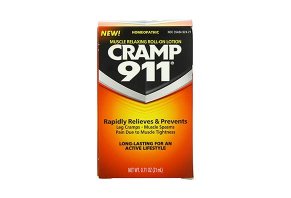 Cramp 911 is a clear, magnesium-based muscle relaxing lotion that claims to provide rapid relief from sudden muscle cramps, charley horses, stiffness, and more.
About Cramp 911
Cramp 911 is a magnesium-based muscle-relaxing lotion specifically formulated to purportedly relieve and prevent leg cramps, muscle spasms, and pain related to tight muscles. The makers claim that Cramp 911 can work in as little as 2 minutes and provide up to 8 hours of relief.
After all, whether you take your sports very seriously or just play for fun and relaxation, a sudden muscle cramp can prevent you from performing your best, and in a worst-case scenario could take you out of the game altogether. With this in mind, let's take a look at how Cramp 911 works and whether or not it's an effective tool to relieve sudden pain.
How Does Cramp 911 Claim to Work?
Cramp 911 claims to have been created by a pharmacist who specifically formulated the product to penetrate skin quickly and to stop cramps in their tracks. In fact, Cramp 911 also claims to be effective for preventing cramps from occurring in the first place, along with other types of pain related to knots, stiffness, and charley horses.
Cramp 911 is claimed to be effective on any part of the body, including toes, feet, and hands, and may even work to relieve menstrual cramps. In order to achieve this, the manufacturer claims that you only need to apply 2 swipes of Cramp 911 directly to the muscle cramp or spasm zone, or spread it out over the entire muscle. The clear magnesium-based lotion will then go right to work, which can allow you to continue leading an active lifestyle, to keep playing sports at your highest level, and even to get a better night's sleep without cramping.
With this in mind, Cramp 911 claims to consist of just 2 active ingredients:
Magnesium Sulfate
Cuprum Metallicum
Cramp 911 claims that the small bottle size means that it can go with you wherever you are, and that its proven ingredients will work for athletes of all ages, and are safe to use with virtually no odor.
Cramp 911 Pricing & Where to Buy
At this time, Cramp 911 is sold exclusively online on Walgreens for $11.99 and on Walmart.com for prices ranging between $10 through $80 (depending on size and quantity needed). Additionally, This product is available on Amazon for $19.99.
The prices range due to the different sizes Cramp 911 comes in.
Is Cramp 911 Worth the Money?
When it comes down to it, if you're an athlete who frequently experiences cramping, can Cramp 911 help stop them in their tracks? And if so, is the price you'll pay in line with the benefits you'll experience? Perhaps, but consider the following:
The Benefits of Magnesium
Magnesium is thought to help cramping by relaxing muscles and stopping them from contracting. However, if you experience frequent cramping, especially when playing sports due to sweating/mineral depletion, keep in mind that this may be related to a magnesium deficiency, which could be effectively addressed by taking a magnesium supplement.
However, it's important to note that WebMD claims that according to clinical studies, magnesium supplementation may be useful pre-eclampsia or eclampsia during pregnancy, but there is insufficient evidence showing that it's helpful in reducing/preventing muscle cramps.
Cuprum Metallicum & Homeopathy
Next, cuprum metallicum (active ingredient is copper) is considered a homeopathic remedy, and has very little scientific evidence behind it showing that it can prevent or relieve muscle cramps. In fact, one of the side effects of having too much copper in your system is actually muscle cramps.
List of Ingredients
It's also important to note that other than magnesium sulfate and cuprum metallicum, there are no ingredients listed on the Cramp 911 website, or the amount of each ingredient that each "swipe" contains. Not only is this something you'll be absorbing into your body and you deserve to know exactly what's in it, but taking more than 350mg of magnesium or more than 10,000mcg of copper per day could cause some unwanted side effects.
Because of this, if you're taking any other magnesium or copper supplementation, you'll definitely want to speak with your physician prior to using Cramp 911.
Customer Reviews
Despite the above concerns, Cramp 911 appears to have a very positive online customer reputation, with the majority claiming that it provided fast relief from muscle cramps.
However, some of the most common complaints referenced skin reactions (rashes and burns), while many others complained of the high price (e.g. works as well as any other roll on pain reliever, but costs much more and runs out quickly).
Bottom line:
If you suffer from frequent muscle cramps, you'll probably do whatever it takes to make them stop, and Cramp 911 appears to be an effective solution for most of the consumers who use it. However, keep in mind that it's high price and tendency to run our quickly might make not make it a price-conscious solution.
1 out 1 people found this review helpful

It does work

By Mimi R.

,

New Jersey

,

Oct 18, 2018
Verified Reviewer

I suffer from occasional leg cramps at night. I usually have to get up for 30 minutes to 1 hour. I decided to use Cramp 911 even though it costs so much. I used it the next week. I was shocked the cramp went away in 5 minutes or so. I recommend it. The problem is it is difficult to find at a store. I have found it at CVS sometimes.

Bottom Line: Yes, I would recommend this to a friend

---

1 out 1 people found this review helpful

It works

By Trisha E.

,

Culver City, CA

,

Aug 16, 2018
Verified Reviewer

The first time I saw Cramp 911 was in a health food store in a sample box. I purchased it and put it away. A few weeks later I was getting muscle cramps every day, all day, and I remembered it, crawled to it, and put it on and away went the cramps. I use it as needed. After I use it, I hear some noise in the muscle area, and the muscle tends to loosen up and feels much better, but the relief is instant.

Bottom Line: Yes, I would recommend this to a friend

---

Advertisement

---