Cratejoy Reviews
Claimed This company has claimed this profile, is getting alerted on any new customer reviews entering this page, and may engage in dialogue with its customers to address their matters.

Companies cannot pay money or provide goods in order to remove or alter customer reviews.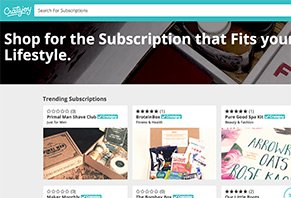 Cratejoy specializes in helping customers find the right subscription service for them, while helping other discovery commerce businesses get off the ground.
About Cratejoy
From music to prayer, dinner to dinosaurs, Cratejoy is "the world's first subscription box marketplace" where you can learn about the newest subscriptions services that fit every lifestyle. Just log on to their home page, browse subscriptions, choose a category (e.g. Art & Culture, Just for Women, Summer Favorites, etc.), or search for a specific keyword.
Cratejoy constantly curates new subscription services, so you'll always have up-to-date access to the latest additions, while their customer reviews can help you choose the right one to suit your needs. Like HighYa, Cratejoy also manually moderates and approves everything on their site to prevent fake reviews, spam, and other types of abuse.
Cratejoy will even subscribe to some of these services themselves. If they find one that is high quality, safe to use, and easy to cancel, they'll brand it as "Cratejoy Powered," which means you can trust it.
Finally, if you have an idea for a subscription service but don't know where to begin, Cratejoy can help you get your business off the ground through their ecommerce platform (more about this in a moment)!
But should you spend time browsing Cratejoy's extensive subscription service listings? Is their business program a good way to ensure success? Are there better options out there?
Let's find answers to your most important questions.
What is a Subscription Service?
A subscription service (also known as discovery commerce or subscription commerce) is "an ecommerce activity by which consumers subscribe to periodically receive a box with new products or samples. Discovery commerce activities are mainly found in beauty, apparels and food sectors."
Sign up for something that interests you (each company has their own niche), and you'll receive a monthly shipment containing a variety of items. Many subscription services will change themes each month (e.g. "Dreaming of Paris" for a foodie subscription; "The Days of Analog" for a technology service) so you'll rarely receive the same items in any given month.
Subscription commerce has become immensely popular over the past several years, and includes popular options such as Birchbox and Flaviar, and many others. Birchbox alone has more than 400,000 subscribers and is worth an estimated $485 million!
The bottom line? There are hundreds of subscription companies out there, and it seems like Cratejoy can help you sort through them, learn about other customers' experiences, and find one that's right for you. And outside of independent blogs and HelloSubscription.com, there doesn't appear to be anything else remotely like them.
Ok, so Cratejoy seems useful from this aspect. But what about their business program?
How Can Cratejoy Help You Start a Subscription Business?
Sure, Cratejoy's reviews could be helpful if you're thinking about signing up for a service. But Cratejoy's biggest emphasis—by far—is on their all-in-one subscription ecommerce platform.
Here, you'll be able to create your own subscription store, customize your storefront using their website builder and template selections, and grow your recurring customer base. You won't even need an internet host, since your website will be hosted directly on Cratejoy's servers.
Speaking of customers, each of yours will have access to their own user account, where they can manage addresses, billing information, preferences, and more.
Regardless of your subscriber numbers, Cratejoy claims you'll have everything you need to build, run, and scale your business, including referral programs and analytics. There are literally hundreds of features for Cratejoy stores, so be sure to check out their Features page, as well as their free tools and guides and Subscription School for educational material.
Cratejoy's blog also features a variety of articles spotlighting different merchants, the success they've achieved, and how they accomplished it, as well as tips to grow your subscription business.
Sounds useful, but how much will it cost you?
Cratejoy's Business Pricing
Searching for subscription plans on Cratejoy is free, although it doesn't appear that you can sign up for a free account, save you selections, and so forth.
If you need a business account, Cratejoy's All Access Plan will cost you $39 per month, along with a 1.25% + $0.10 per-transaction fee. There are no contracts, and you'll be billed monthly.
Example: If each of your subscriptions cost $30 per month, you'll pay Cratejoy about $0.48 per subscription. In addition to the $39 monthly fee.
If you're not a Cratejoy merchant but would still like to have your service included in their Marketplace, you can get listed by contacting the company. The service is currently free, but they may eventually begin charging for each referral you receive.
If you need design services, Cratejoy offers a variety of Premier packages ranging between $2,500 and $8K. A la carte design "tweaks and help" are priced at $150/hr, with a minimum of 2 hours.
Important note: If you want to try out Cratejoy's business service without a commitment, you can also take advantage of their 14-day trial—no credit card required. They even claim you'll be able to get set up in just 5 minutes. Once your trial expires, it will roll over to $39/mo subscription.
Are other subscription companies finding this price reasonable?
Cratejoy's Online Reputation
Cratejoy—founded by Amir Elaguizy and Alex Morse and based out of Austin, TX—had been in business for less than a year at the time of our research, and there wasn't a lot of customer feedback for the company.
They had been discussed in a variety of popular publications, such as NPR, VentureBeat, WIRED, and more. Most of these were short writeups that focused more on the company than on user experience, and were published soon after the company was launched.
However, even after Cratejoy first entered the market in October 2014, WIRED claimed that the company already had 200 business subscribers, with another 3,500 on the waiting list.
Even though they're popular, does this mean Cratejoy's right for you?
The Bottom Line about Cratejoy
Cratejoy genuinely seems committed to providing a valuable service for anyone interested in learning more about subscription services, and for helping subscription businesses get off the ground.
However, just because they might provide all the platforms you need to run your subscription business, it's still up to you to develop your boxes and source your products.
In layman's terms? Cratejoy is simply a platform where you can sell your subscription boxes; not where you'll find an A to Z "business in a box."
What's you experience with Cratejoy? Write your very own review below!
---
I lost $80.00 on Cratejoy

By Mathew K.

,

New Jersey

,

Oct 12, 2019
Verified Reviewer

Overall Experience:

I paid $78.95 for 2 subscription boxes from Rawbox that arrive every 2 months. I sent an enquiring after not receiving the first. It took 3 tries to get an answer that Rawbox was being bought and sorry for the delay. After waiting a long time I enquired again. Again it took 3 requests and was told everything would be finalized by 09/01/2019. A third enquiring told me they were still going through the finances. The new owners of Rawbox did not have my payment and suggested I dispute it with the bank. At this point, I asked Cratejoy to please intervene. A nice gentleman said he would try to contact the seller but would also put through a manual refund. The Cratejoy support person never reported he was able to contact Rawbox and he could not refund me because it was past a 120-day cutoff for refunds. This after everyone dragged their heals answering me. This gentleman also suggested I dispute it with the bank. The bank has a 60-day cutoff. I can understand the bank's policy and why should the bank be in the middle of what I consider theft if not fraud. It's been several weeks and no word from anyone. I have lost $80.00 dealing through Cratejoy. The last insult to me is Rawbox is still on Cratejoy.

Bottom Line: No, I would not recommend this to a friend

---

Seller refusing to send rest of my paid yearly subscription

Overall Experience:

I purchased a monthly seed subscription and paid for a year upfront. I decided to cancel the renewal, which would be in December. The seller has only sent five months of seeds and emailed saying that they "were confused because I canceled, do I want to renew." It is not rocket science. I paid a for a subscription for a full year and only received five months out of twelve months. Send me my items or refund me. Not confusing. Frustrated, and I do not recommend Cratejoy or Urban Organic Gardener Seeds through here.

Bottom Line: No, I would not recommend this to a friend

---

Advertisement

---

INCREDIBLY LAME

By Tammy I.

,

Boise, ID

,

Jun 4, 2019
Verified Reviewer

Overall Experience:

I've had two subscriptions with them, both subscriptions arrived at the beginning of the following month, meaning, if I order a mailbox I'm sure to get it in June, the June box comes in July, it's a lot of money and you have to wait a long time. I don't like that, I feel like it's a rip-off somehow. It's not worth the money for the items ever.

Bottom Line: No, I would not recommend this to a friend

---

They are a scam and over charged my card

By Katie N.

,

California

,

Apr 22, 2019
Verified Reviewer

Overall Experience:

They have misleading options and charge your card multiple times. I would never buy anything through this website, they are a complete sham.

Bottom Line: No, I would not recommend this to a friend

---

Advertisement

---

Absolutely horrible for sellers, zero stars!

By Macy D.

,

Seattle, WA

,

Mar 17, 2019
Verified Reviewer

Overall Experience:

You have NO control over your clients, your money or your business. Any semblance of this is just that...a mirage, a facade, or feigned.

Worst experience with any platform, ever. I can't see any platform ever topping this, either. I'm not trying to be mean. This is utterly ridiculous to the point of being borderline insane. I, personally, have never felt so trapped in my life and I have been in situations of domestic violence.

There is literally zero protection for sellers. ZERO. To say I'm flabbergasted at the lack of support would be a DRASTIC understatement.

The frustration with this is beyond anything I've ever experienced and I have been in sales my whole life (over 20 years), owned my own sales offices with over 100 incredibly different and quirky employees, over 250,000 customers and have been selling online specifically for over 6 years on multiple platforms. Never, EVER, has there ever been an absolutely PTSD inducing experience such as the one we've had with Cratejoy. The support system and system as a whole is absolutely reprehensible. There honestly is not a word in the English language to describe it.

Other issues:

1. Customer service reps are not educated on policies, or they are just instructed to bend them as they please. They are also essentially their own "manager" as there is no-one to monitor performance or any "checks and balances" system. If a rep does not "like" you, be prepared for your business to suffer. There is absolutely no professionalism or accountability taken on Cratejoy's part. Period.

2. Customers seem to be encouraged to leave negative feedback.

3. Subscription School is a Cratejoy owned Facebook page that is supposed to be for helping out sellers but bans sellers and deletes comments/threads who mention anything bad about Cratejoy or its employees. There is literally a pinned post on the top warning sellers not to mention problems or anything bad or you will be banned. (The fact that it even had to mentioned at all signals a problem in itself and should tell you something.)

4. If you try to get support and mention something Cratejoy views as "bad" and you will be punished for it. Whether it be with contacting subscribers, lack of support, no response reviews or all of the above.

5. Absolutely NO responsibility taken for errors on Cratejoys part, better to just blame it on the sellers (NOT a good business model, nor is that sustainable).

6. Sellers are essentially "trapped" on Cratejoy platform if they offer multiple months subscriptions.

7. Fees are outrageous, and when you don't offer customer support (the SELLER is their customer btw, I think they are totally unaware of this though) then things can go a little sour. The fees on top of the monthly are so high that once you break it all down with the cost of the box you are losing money even on a $50 subscription. The longer you stay with Cratejoy the more truthful this will become for you as you start slowly hemorrhaging money.

8. Cratejoy is only supposed to force refund in extreme circumstances, yet they will actually refund any time they want, without notice or reason, and then will blame it on the seller, once again because they take zero responsibility for anything they do.

9. Cratejoy takes recognition and profit for sales they did not generate. This is, in my opinion, theft! You put in the work to generate the lead, they take the credit. It costs you 10% of the sale on TOP of their fees. They even take fees on shipping. Fees on top of fees on top of fees on top of fees. It is not hard to see where a click to a site came from, they are fully aware these are not their leads.

10. Does not "offer" phone support. (This is for a REASON. Open your eyes!)

11. Almost impossible to move platforms and retain YOUR subscribers. Without moving to another platform, re-branding and starting all over, there is really no escape.

12. Review system is incredibly flawed.

13. Support also only responds to what they feel like. It if is bad, don't expect a response at all, EVER. (Not kidding, not even a little bit)

14. Customers can charge back MONTHS after receiving all of their packages.

15. Zero follow through on promises.

I should have read Cratejoy's own reviews other sellers have already left regarding this before ever signing up for this.

We have held back on even reviewing the company for fear the box will be "punished" for the review.

Maybe if the review system wasn't so flawed and allowed subscribers to leave multiple reviews in a row (which is against their own policy) that take days if not weeks to get a response on to get them removed and before the box was even marked shipped or was scheduled to ship this would be about 1/4 as terrible. The review window opens immediately, also non-verified purchases can leave multiple reviews (i.e., a subscriber can tell all their friends to leave reviews too and nothing will be done). This is more like an escalating day long back and forth between you and the customer than it is a review system at all. All you get is "we're working on a solution to the problem." Great. Thanks. In the meantime, all the hours we've put in (not to mention the money) will just continue to swirl down the toilet.

Remember this: YOU are putting in the work, you are purchasing the product, you are packaging it, maintaining customer care, you are essentially running your own business and all the time spent on this is YOURS and yours alone. Cratejoy is only the medium. You are paying them for a "service" every month and a certain level of care is to be expected because of this. Cratejoy is well below the bar in all aspects and should not be considered under any circumstance when looking for a subscription platform.

You also have to write in and wait days to post a response to a review, too. In the meantime customers are reading these, just thinking nobody cares to respond. Then come the charge-backs from others who get scared, then come the reviews referencing the first reviews that shouldn't have been allowed there in the first place. On what planet does that seem functional? What a joke. We've really tried everything possible to make it work and really held back on leaving this review for quite some time because we wanted to give the benefit of the doubt even though all the flags were there, but ultimately decided due to actions and repeated problems that others DO need to be warned.

All in all, I give this 0 stars. Zero. Because of lack of support and the way the marketplace is set up, I do not see this ever improving. Dastardly. Contemptible. Vile. Underhanded. Despicable. Cowardly. These are all words I would use to describe Cratejoy.

All in all, if you are considering it, DON'T. If I can help anyone see what I didn't beforehand, then this review will have not been in vain.

Bottom Line: No, I would not recommend this to a friend

---

Bad business

By Vicki D.

,

Holmen, WI

,

Feb 17, 2019
Verified Reviewer

Overall Experience:

We had ordered a 3-month subscription to Rox Boxes through Cratejoy. We received one box. One. Kept waiting, then contacted them about not receiving any more for two months. We received an email back, from what I believe is an automatic reply to pacify customers. Logged onto Cratejoy's website, only to find Roc Boxes is no longer selling through them. They still haven't told us that little piece of information. Run around is all we got. We called our credit card company and they have reimbursed us. I will never do business with them or Rox Boxes again.

Bottom Line: No, I would not recommend this to a friend

---

Buyer beware!

By Triona W.

,

Oregon

,

Feb 2, 2019
Verified Reviewer

Overall Experience:

I purchased five subscription boxes on 12/15/18 as Christmas gifts for my daughter.

Three were delivered with no problem. The remaining two (Unicorn Dream, and Inspire Me Korea) were not delivered, and have now been double charged. After contacting both the seller and Cratejoy - one Unicorn Dream box was sent out, a month late (4 charges, 1 box).

The duplicate charges have essentially been ignored. I have been attempting to resolve this via the sellers, and Cratejoy for well over a week, with only one response, and no resolution. I have repeatedly emailed and will transcribe copies below. No response, and at this point, I will have to seek resolution through my bank.

Potential subscribers - AVOID AT ALL COST. There are other options. You run a high likelihood of "scam," and it will be a time consuming, and fruitless task to attempt to recover your boxes or funds. Buyer beware.

Transcribed emails:

#1: "Hello, I purchased subscriptions to both "Inspire me Korea" and "Unicorn Dream" boxes on the 12/15/18, and was charged 12/15/18. I was again charged on 1/2/19 for both boxes. Neither have arrived. I tried to contact both sellers. The Unicorn Dream box did respond with a vague "you missed the cutoff for December, the January box will be arriving soon." But, failed to explain why there are TWO charges, and only one promised box. They have not responded to a request for clarification.

The "Inspire me Korea" box has not responded. There are two charges, but no box. No explanation.

My daughter was gifted boxes for Christmas, this is what she wanted. I'm frustrated that I've been charged multiple times for what if starting to feel like a scam by these sellers. (The other boxes ordered have arrived with no problem.)

I'm now in a position of trying to track packages down, and explanations for double charges - without a receipt of good in any form. Or, cancelling subscriptions to boxes that will never arrive, and eating the multiple charges. Then explaining to my child why she won't be receiving these gifts, & then paying for new ones. (Even though I've already paid for each box 2x now.) Neither are acceptable options.

Please help to facilitate an equitable solution - without my resorting to cancellation, and charge backs with the help of my credit card company.

Thank you,

Triona"

#2: "Hello, thank you for your response.

The January Unicorn box has arrived, and Inspire me Korea has indeed reached out, inclusive of shipping information - but, as I previously noted there have been four(4) charges total, with only promises of two(2) boxes.

Neither Unicorn Dream, nor Inspire me Korea have addressed the double charges (a charge on December 14th, and January 2nd) even with the arrival of both boxes, there are still two(2) charges unaccounted for.

(December charge(x2) = 0 boxes, January charge(x2) = 2 boxes. 2+2 should equal 4, but it seems to be that 2+2=2 in this case.)

Korea did offer to cancel the subscription, with no additional shipments. This means again, two(2) charges, and only promises of one yet to be received (1) box.

This is becoming quite frustrating, and as a customer - I really shouldn't have to chase down errant charges, and missing boxes. I don't mean to be a grump, but I'm an insanely busy single mom, & spending my miniscule amount of spare time doing this definitely sours the experience.

Thank you,

Triona"

#3: "Hello, I was charged for two months (two different subscriptions) with only one box sent/promised each. This seems to have happened, as I ordered several weeks before Christmas, and was charged for December - but no boxes were sent out. Then charged again in January.

After contacting the sellers, and going through Cratejoy customer service - the January boxes have finally been sent, with only one (of the two boxes sent) received.

I have asked repeatedly (multiple times to sellers, and Cratejoy customer service) as to the status of the additional charges (will I be charged in February? Will I receive additional boxes? Will I be reimbursed? Will I need to file a claim with my credit card company?)

As I have reached out multiple times, with no clear resolution, or reliable response to communication - this is the last attempt that I will make prior to pursuing a charge back through my credit card company.

This situation has gone on too long, and reflects poorly on Cratejoy. Please help me resolve this in an amicable manner, and allow me to be a quiet, happy customer. I hate being put in the position of playing the "bad guy," and forced to waste my time repeatedly chasing this down.

I'm at a loss as to the appropriate channels to pursue, and would very much like to avoid the need to submit applicable reviews, and complaints to the BBB due to a lack of action/communication.

Thank you,

Triona"

#4: "To whom it may concern.

This is my official last communication (sans response from Cratejoy) prior to proceeding with alternate avenues of resolution.

I have repeatedly tried to resolve this within your organization to no avail, and with minimal response. This is the only form or communication available to customers, and you have not responded in an adequate manner. All documentation of communication has been saved for future needs

I will wait until 1/28/19 COB PST for possible resolution via Cratejoy. I sincerely hope that this is possible, as no customer should have to resort to seeking outside resolution assistance.

I am disappointed, frustrated, and at this point hoping to prevent other customers from going through this. Future customers should be wholly aware of the state of service within your organization - that double, inaccurate, and misleading charges DO occur, and WILL NOT be resolved. That the customer will be solely responsible, and forced to seek to recover funds through their personal financial institutions.

(Let's be honest here - this is absolutely ridiculous, I'm flabbergasted that this is still going on, and that Cratejoy has not responded adequately to extremely valid concerns, and issues in a timely manner. Simply put - "wow.")

I look forward to resolving this WITH YOU, as opposed to pursuing other avenues.

Thank you,

Triona W"

Bottom Line: No, I would not recommend this to a friend

---

Horrible sales experience

By Sarai C.

,

New York, NY

,

Jan 21, 2019
Verified Reviewer

Overall Experience:

Lots of fees. Customer support is a joke. Allows bad reviews unfounded. Doesn't verify if items are received by the customer prior to issuing refunds. Confusing billing for buyers. Automatic billing errors. Nightmare! A customer can receive merchandise and claim they didn't to be issued refunds and keep your products. Never again.

Bottom Line: No, I would not recommend this to a friend

---

Overall Experience:

Unfortunately, I too have had nothing but bad experiences as a seller on this platform. First of all, they take way too much of a cut of sales. It would not be possible for most businesses to profit using this platform. Second, they do not protect their sellers from bad buyers, i.e., reviews are everything. If any shopper decides to leave a bad review, it will absolutely ruin you. And they won't help you. I was negatively reviewed by someone who was lying about her experience. I have no idea why. Cratejoy would not help me. Shoppers are actually incentivized to leave a negative review - it will only benefit them. Cratejoy does not require that it's truthful. Cratejoy does not require that they contact you first. They allow anyone to post anything they want.

Bottom Line: No, I would not recommend this to a friend

---

Buyer beware

By Renee Malone

,

Boca Raton, FL

,

Feb 24, 2018
Verified Reviewer

Overall Experience:

What looks like a fun way to browse subscription boxes is really what I consider to be a scam. What you have here is great online advertising. What you really get is crap boxes that are nowhere near worth the price that you are charged.

The seller for the subscription that I tried once, has zero business knowledge, zero customer service, and zero sense of urgency. Stay away from Creative Mercantile Subscription, and be sure to take a look at the reviews before you order. I waited three weeks for my shipment, was lied to about when it was shipped, was given an excuse "we are very busy," and was mailed an envelope (no box) of clearance bin items that were below standard and for a child.

I reached the seller and got her to give me a full refund. She then promised to send me the February 2018 box for free "for my trouble." Well folks, here it is February 22nd and no box! I've emailed the seller several times. She doesn't respond. Just an awful experience all the way around. Save your money. I don't trust Cratejoy now.

Bottom Line: No, I would not recommend this to a friend

---

Best place to find subscription boxes

By Amanda

,

Los Angeles, CA

,

Feb 9, 2018
Verified Reviewer

Overall Experience:

I've purchased around 12 subscription boxes from Cratejoy, and while not everyone has been my favorite, I've found a few that are perfect for my husband and I and our two kids. We currently receive an Italian meat/cheese box, a kids book box, and a baking box, and they constantly deliver excellent products that we couldn't get anywhere else. My husband has tried a few of the alcohol boxes where they send you a few new cocktails every month. Those are great if you entertain frequently or are trying to become more knowledgeable about mixology.

I don't know of anywhere else to find so many different types of subscriptions? The customer reviews on Cratejoy are helpful in making an informed decision, and sometimes I even take a chance on a brand new box with no reviews to test it out (the kids book box is a new one we're testing and seems good so far).

Bottom Line: Yes, I would recommend this to a friend

---