Credibility Capital Reviews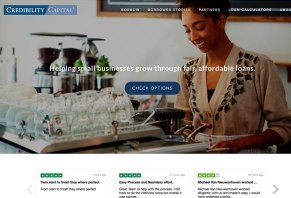 Credibility Capital offers term loans, invoice financing and merchant cash advances to small business owners through a simple application process that takes about five minutes.
What Is Credibility Capital?
Credibility Capital is a small business lender who provides loans of up to $350,000 to business who meet a specific set of income and credit-score criteria.
The company is one of hundreds of "non-bank lenders" who either offer loans from a pool of cash they raised from investors or who connect you with loans from regional banks or credit unions.
These lenders became popular after the Great Recession because public sentiment for banks was at a historic low. Companies like Credibility Capital came along to not only provide an alternative to banks but to also give borrowers an application process that's much quicker than what a bank could provide – days instead of weeks.
According to Credibility Capital's Crunchbase page, Mark Rambler and Brett G. Baris founded the company in 2013. Rambler is a Princeton and Duke graduate and Baris is an alumnus of Tufts University and has a master's degree from Columbia.
The company is based in New York and, at the time of publishing, Baris was the CEO and Rambler was the COO.
If you're interested in using Credibility Capital to get funding for your small business, then we think you'll enjoy what we're going to cover in this review:
The loans Credibility Capital offers
Who can apply
Rates and fees
Reviews from other sites
We'll finish up this review with an overview of the company's pros and cons, and then we'll give you an idea of the kind of business owner who might be a good fit for Credibility Capital's loan products.
Credibility Capital Loans
The loans you see with Credibility Capital are pretty standard in the small-business lending world. Each has its own nuances:
Credibility Capital Term Loans
"Term loan" refers to a loan that has a fixed repayment period: in this case, 1, 2 or 3 years. The APR is fixed, so it won't change over the life of the loan. The interest is fully amortized, which means you pay interest and principal in each payment.
Term loans tend to be the simplest solution from a math perspective: Your monthly payments are the same and calculating the APR is as simple as looking at your final terms sheet.
Credibility Capital's term loans are disbursed in amounts up to $350,000. They require a personal guarantee, which is a legally binding promise in which you say you'll take responsibility for the loan if the business isn't able to pay it back.
In other words, you don't escape the loan if your business falters; it's on you.
Credibility Capital Invoice Financing
As you probably know, money doesn't magically show up in your business account the day you send out a customer's invoice. In many cases, it will take them at least a month to pay.
To get around this, companies like Credibility Capital offer you invoice financing. Basically, they take a look at the unpaid invoices you have and lend you money to cover those invoices.
When payments are made, they go directly to Credibility Capital.
Credibility Capital's Merchant Cash Advance
Another form of financing for small businesses is what's known as a merchant cash advance.
Let's say you're in a jam and you need quick cash and you want an easy, guaranteed way of paying back what you owe.
Lenders created merchant cash advances to meet this need. Credibility Capital will lend you a certain amount of money and, instead of making you pay your loan back monthly or twice a month via your bank account, they'll actually take a certain percentage of your daily credit card sales.
The advantage here is that you don't have to cross your fingers hoping there's enough money in the bank to pay your loan but this same point reveals a disadvantage. It can be hard to budget properly when sales fluctuate and thus change your payments from week to week.
Other Loans From Credibility Capital
Credibility says that they can connect you with other lenders if you don't fit into their criteria for borrowers.
What are those criteria? That's what we'll cover in the next section.
Who Can Apply for Credibility Capital's Loans and Financing?
Like many other lenders who hand out small business loans, Credibility Capital is looking for borrowers who can meet minimum requirements for time in business, credit scores and annual revenue.
According to a conversation we had with a Credibility Capital phone representative, the company is looking for borrowers who have at least $250,000 in yearly revenue, credit scores of at least 650 and have been in business for 18 months.
If you don't meet these requirements, then Credibility Capital will do one of three things with your application:
Reject it
Accept it because you have a lot of revenue and lengthy business history
Connect you with other lenders
You won't know which option you'll get until you've submitted your application, which you can do through the Credibility Capital website.
According to their site, if you don't qualify for their loans, the lenders they send you to aren't predatory or of disrepute.
"For businesses that do not qualify for our term loan, we provide access to a network of trusted, vetted partners who offer complementary funding products," their FAQ page says.
If your application is accepted, be prepared to submit additional paperwork that may be necessary to round out your application.
The Credibility Capital Application Process
After reading through Credibility Capital's FAQ page, we've got a good sense of what their application process is like.
To start, you'll need your company's tax ID number, revenue numbers for the past 12 months and your social security number.
You'll use that information in an online application that takes about 5 minutes to fill out, but before you get to that point you'll need to do an eligibility check.
We did a test run of the eligibility checker and were notified we could get a Credibility Capital term loan.
Once you finish your application, approval and the funds deposit can take place, in some cases, in three days, the site says.
Credibility Capitals Rates and Fees
Any loan or line of credit you get will come with fees and interest rates. Unlike other sites we've reviewed, Credibility Capital doesn't post all of their APRs on their site.
Here's what we do know, though – they charge origination fees of 3-5%. These are basically fees for getting the loan, like a premium charged for their services. Origination fees are common across the board in small business lending as well as in other areas like mortgages.
As for interest rates and weekly merchant cash advance fees, we had to go to Credibility Capital's loan calculators to get examples. Here's what we learned:
Term Loan Rates and Fees
We used the suggested amounts already in the loan calculator:
Loan amount: $20K
Interest rate: 10%
Fees: $500
Loan Term: 5 years
Monthly fee: $10
The results we were given showed a 12.12% APR, which is pretty good for term loans. Total cost of financing at the end of five years, the calculator said, would be around $6,600.
According to the term-loan calculator page, APRs start out at 7.99%.
Invoice Factoring Fees
We used the suggested amounts already in the loan calculator:
Invoice amount: $1,000
Advance amount: $850
What you get paid: $970
Due date: 30 days
As you can see, what you're advanced usually isn't the full amount of your invoice but it's enough of a percentage to help you until the end of the month. When the end of the month comes – 30 days from the date of the loan, it's assumed – you'll get $970.
This final number is $30 less than the invoice amount because you're charged a $30 fee for the advance.
Now, you can look at that $30 as a one-time fee or you can look at it as a $30 interest payment that, when taken out over the course of 12 months, amounts to an APR of 36%.
Merchant Cash Advance Rates and Fees
We used the suggested amounts already in the loan calculator:
Advance amount: $20K
Payback amount: $24K
% of card sales: 15
Projected monthly card sales: $20K
With these numbers, the loan calculator estimated that the cash advance would be paid back in 240 days at a total financing cost of $4,000.
In this case, the daily payment would be $100 and would include an interest payment based on a daily APR of about 0.15%, or 57% when played out over a year.
As you can see, the merchant cash advance is the costliest loan of the three.
Reviews of Credibility Capital
Business-focused site Merchant Maverick gave Credibility Capital a 4-star rating, saying the site has a good reputation, low fees and quality customer service. NerdWallet also had positive things to say about the company.
Credibility Capital has an A+ rating with the Better Business Bureau and, of the 14 customer reviews the company has with the BBB, 13 are positive.
Our Closing Thoughts About Credibility Capital
Credibility Capital offers loans very similar to what we see from fellow small-business lenders BlueVine and Credibly.
Exactly which loan you decide to get from Credibility Capital depends on your unique situation. If you want the best rates, then our preliminary research indicates a term loan is the way to go.
Pros of Credibility Capital
The site's strength is its trio of loan and financing offerings, as well as the fact that they can link you to other lenders if you don't qualify for Credibility's in-house money. Also, like many other small business lenders, applying for a loan won't affect your credit.
Cons of Credibility Capital
Those who have subprime credit scores may have a hard time getting funding from Credibility Capital.
Who Credibility Capital Is Good For
We'd say the ideal Credibility Capital borrower is someone with credit scores above 650 (700+ would be better), has been in business for at least a couple of years and easily clears $250,000 in revenue each year.
Exceeding these minimum requirements ensures that you get better overall rates and terms for your loan.
The Final Word: A Solid Choice, But Shop Around
There are no specific red flags that we found during our research of Credibility Capital, but we believe it's always a good idea to shop around and get multiple quotes on amounts and types of loans so you feel comfortable choosing the loan that best fits your situation.
Call and talk with Credibility Capital to get a sense of how they treat you – our phone call was pleasant. Do the same for other companies, too. You just might find Credibility is the best fit for you or you may be partial to a different lender.
If you're thinking that you may want to check out business credit cards as an option.