Credibly Reviews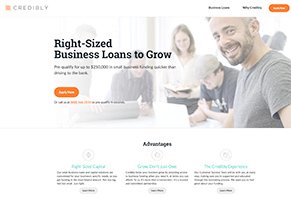 Credibly is a small business lending company that started in 2015 and offers business owners merchant cash advances and two types of business loans.
About Credibly
Are you considering Credible as your lender? Take a moment & read our review of who the company is, what they offer and their reputation among business owners.
Small businesses can live and die by their funding.
If your company finds itself in this position, lending website Credibly claims they can get you business loans for up to $250,000 within, in some cases, 48 hours. Their only requirements? That your business has been around for at least six months and you're receiving at least $10,000 in revenue every month.
Credibly's main goal is to provide funding to small business for whom banks really don't have much time, and they use their own unique scoring system, they say, to figure out if they want to loan money to a business.
But before you sign up for a loan with a company – Credibly or otherwise – you need to know who is running the show, what the company offers and what other people are saying about Credibly. Once you're clear on these facts, the decision as to whether or not you want to go to a lender becomes much easier.
We're going to take the next few minutes to provide you clear answers to each of these questions. Then, we'll end with our final thoughts on Credibly's services.
Who is Credibly?
Credibly is based in Troy, Mich. It's CEO, Glenn Goldman, used to run the show at CAN Capital, a company that offered "alternative lending", which is an industry term that describes a company who doesn't use traditional methods of risk assessment (credit scores, mostly) to figure out if they want to give you money.
Ryan Rosset, the founder and CRO, has a background in development and real estate while COO Egan King was chairman of Franklin Security Bank and co-founder of Franklin Mortgage Funding. According to their website, the company has 130 employees in four states, and, to date, has funded more than 300 million dollars in loans.
Where does all that money come from? Great question. Web Bank, based in Salt Lake City, provides loans for Credibly. The bank is FDIC-insured and gets a 3.5-star rating from 120 consumers on Credit Karma.
During a 2015 interview with Bankless Times, Goldman said that his company exists because he saw a gap in the way banks lent money to businesses. They usually lend to people with really good credit (low risk) and really bad credit (more fees/higher rates).
Business owners with a credit history in between those with really good and really bad credit were missing out on business loans. Credibly comes along and uses their "alternative credit" model to extend loans to those business owners.
What types of business loans does Credibly offer?
The company has three types of financial help that business owners can apply for: working capital, business expansion and merchant cash advances. Their website only reveals the latter two.
Working Capital Loans
These loans are between 4 and 17 months in length and are designed to help businesses run their day-to-day operations: paying contractors, wages and other daily bills.
The loans are up to $250,000 and come with a 2.5% "origination fee", which is industry talk for the cost of processing the loan.
These loans are paid back on a daily basis. Withdrawals are taken from your bank account based on fixed payments quoted by Credibly. These fixed payments are calculated with what's known as factoring.
If you're borrowing $10,000 at a factor of 1.2, you're paying a total of $12,000 for the loan ($10K x 1.2).
The origination fee we mentioned earlier is taken out of your approved loan amount. If you're offered $20,000, your origination fee is $500 and your take-home on the loan is $19,500.
Business Expansion Loans
These loans are intended for business asking for more money over a longer period of time. That's why these loans have a repayment term of 18-24 months.
These loans aren't factored; you're charged an APR between 7.4% and 36%. The payments are made weekly instead of daily and, like the working capital loans, are fixed amounts.
Your APR is multiplied by your loan amount and your loan amount is divided by length, in weeks, of your loan. The resulting number is your weekly payment.
The loan is amortized, which means you'll be paying more interest in the first half of the loan and less in the second half.
Merchant Cash Advances
These cash advances are given to companies who process payments through debit or credit cards. Once your cash advance amount and factor rate are approved, you make your payments through a percentage of the sales you bring in through your credit or debit payments.
We weren't quoted factoring rates on these advances, but based on our experience with credit card cash advances, we're guessing the factor rate is higher than what you'd get on a working capital loan.
This article from Entrepreneur confirms our suspicion, and shows how a merchant cash advance could help a small business.
Credibly's cash advances have repayment periods of 3 to 17 months. The shorter your repayment plan, the higher your APR's will be (more on that in our conclusion section).
Who Qualifies for Credibly and How?
As we mentioned earlier, your business needs have been in operation for at least six months and brings in revenue of $10,000 or more each month.
We talked with a Credibly rep about the way they calculate rates. We were told that Credibly analyzes a variety of factors through algorithms. Later, though, we were told that the main factors in how much you get for how long and for which rate mainly has to do with you company's daily balance and your FICO score.
In order to finalize your loan, you'll have to provide your business lease/mortgage, a government ID, your most recent tax return and your three most recent bank statements.
Late Fees and Charges
When we asked about late fees, the rep couldn't give us a straight answer. If you're a good customer, he or she told us, Credibly would work with you to come up with a solution, whether it's postponing your payment for a week or two, or even restructuring your loan.
When we pressed the representative to send us documentation, he or she said he wasn't able to send us anything that wasn't already on the website.
Credibly is a legitimate business, but they don't provide the details on late payments and penalties upon request. Based on our experience, we think this is a red flag.
Before you sign any kind of a loan with Credibly, be sure to ask for a rundown of fees. Our guess is that, once you have a loan approved, they'll be more willing to reveal what happens when you pay late.
What Are Other People Saying About Credibly?
We found four different sites with reviews of Credibly:
Our own experience with Credibly proved to be good and bad. We started our interaction with Naddia, an online chat representative that pops up on the Credibly website.
We peppered her with questions several times, but her answers were limited because she was part of a third-party chat service hired by Credibly, she said. Any information she did give was word-for-word repetitions of content already on the website.
However, when we called Credibly and spoke with a representative, we found our experience was very positive. The rep took the time to answer all our questions, was very patient and didn't mind walking us through their payment and financing practices.
The only time we met any resistance was with our request for specific information about late fees.
Our Final Thoughts: Is Credibly the Right Choice for You?
Credibly's three financing options – one cash advance and two loans – provide several avenues for funding for small businesses, but not without a cost.
Origination fees and factor rates can end up costing you a significant amount of money on your loan – Merchant Maverick estimates the APR equivalent of Credibly's factor rates can range from 15% to 142%. It works like this:
Your factor rate on a $10,000 loan or cash advance is 1.5, for a total of $15,000
Your repayment period is 6 months.
In six months, you pay $5,000 in fees, which would be $10,000 over one year, or 100% APR on the original amount.
Keep this in mind as you ponder the factor rate you get from Credibly. According to the rep we spoke with, Web Bank decides your factor rate. If you don't like your factor rate, you can ask Credibly to help you lower your rate.
Now, while the numbers we just presented can seem intimidating, it's important to know that many of the companies in the small business lending world operate off factor rates instead of APR. What Credibly is doing isn't out of the ordinary.
That being said, as a business owner, it's important for you to be fully aware of the cost of your decision. Factor rates can seem less intimidating; "1.5" seems a lot better than 100% APR. Be ready to convert your factor rate into APR.
While Credibly's customer service is, according to numerous consumers and our experience, amazing, it's your job to look beyond that and know the numbers. Ask yourself if you're willing to pay the price to get the money, and then go from there.
If you don't think Credibly is a good fit for you, there are plenty of other small business lenders out there. Fundbox and Fundera are two of the more popular ones, and we've written reviews about both of them. Just like we did in this article, we talk about who each company is, what they offer and what consumers are saying about them.