Credit Karma Tax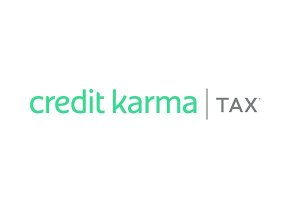 Summary
Credit Karma Tax lets you file state and federal taxes for free without any extra charges for audit support or amendments. This review outlines the features and details of the service.
Pros
Completely free
Audit defense is included
Efficient search engine for tax articles
Cons
No live chat or phone support
No access to CPA's or tax professionals
Doesn't support expat tax filing
Credit Karma Tax Review: Is It Right for You?
Credit Karma Tax is a completely free tax software that supports nearly every tax situation and free state tax returns for 40 states and Washington D.C.
The software's main advantage is that it's a truly free platform. At no time during your tax return will the software require you to upgrade to a paid version. This is an excellent perk, especially if you're used to using tax sites that surprise you with upgrade requirements.
In this sense, Credit Karma Tax removes one of the most significant pain points during tax season: cost. But just because the software is free doesn't guarantee it's the right software for you.
Use our review of Credit Karma Tax the help you understand what it offers and why it may or may not be the best choice and what its pros and cons are.
Features and User Experience
Credit Karma Tax software is very easy to use. I filed my taxes with it this past year and found the experience to be a relief because of how intuitive it was.
The software begins by asking you about your marital status and if you have dependents (kids or adults living with you) and then gives you an income page that lets you choose various options for how you earned your income.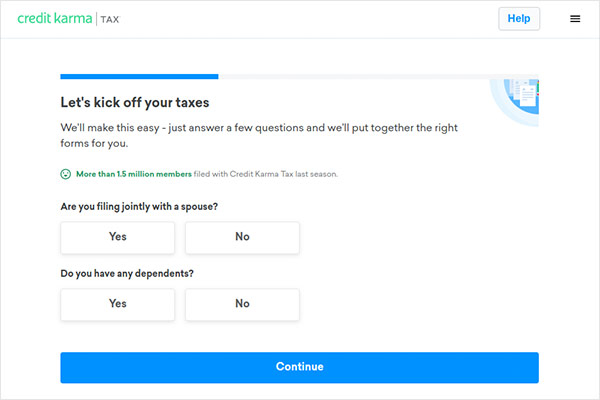 Then, the software will then present you with a variety of circumstances you select that will influence the deductions you can claim.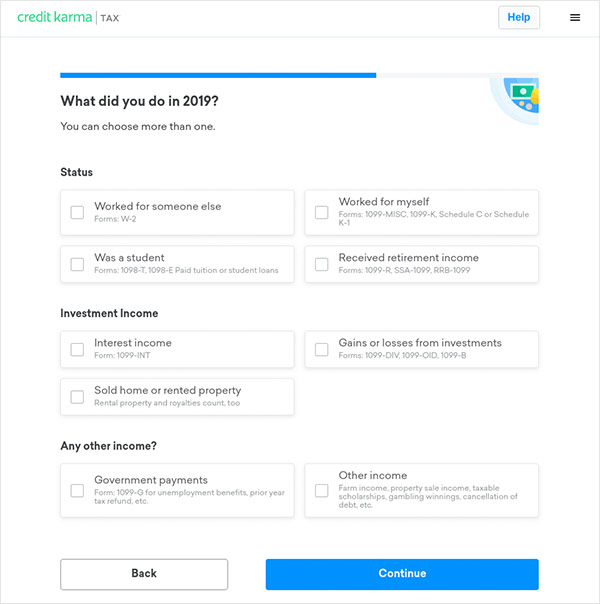 The income and deduction pages will help the software know which questions to ask you. As it gathers information, the software fills out all the necessary forms the IRS requires from your tax return.
When you're done with the return, Credit Karma Tax will verify your information is correct, then will ask you to sign your return electronically and submit it to the IRS.
If you have a tax refund coming, you can check its status on the IRS Where's My Refund site. If you owe taxes, you can contact the IRS to resolve the situation.
At any time during the return, you can navigate back and forth between your income and expenses to add or remove information.
Customer Support
The software has a robust education section with an intuitive search bar. What this means is that you can ask a task question and there's a very good chance the search results will be exactly what you're looking for.
This is an excellent benefit if you tend to have questions when you file or your taxes this year are different than last year's and require a new series of questions for the software.
While the education section of the software is good, the customer support is not. The only way you can reach customer service is through an email. There is no live chat and there is no phone support. The lack of these two support channels is the software's biggest flaw.
If you have a complex tax return that includes investments, a mortgage, children, retirement accounts, and uncommon deductions and income, the lack of personal service may hinder you if you run into problems.
While the help articles the software provides are good, it won't meet your needs if you prefer to get your answers from a real person.
Audit Defense
Filing with Credit Karma Tax entitles you to free audit defense. This perk usually comes in three forms: advice only, letter-writing or representation.
The audit defense you get with this software provides all three forms of audit assistance. If the IRS audits you, inform Credit Karma Tax. They will assign you an expert who will:
Advise you about why the IRS audited you and what they'll ask for
Write letters and emails to the IRS on your behalf
Represent you in hearings with the IRS
The IRS audits less than 1% of tax returns. However, if an audit concerns you, this software's audit defense is a good value.
However, there are specific situations in which you won't get audit support:
You have a pre-existing audit
You aren't a resident of the U.S.
You lie on your tax return
You have a return under criminal investigation
Audit pertains to foreign earned income or S-Corp income
Maximum Refund and Accuracy Guarantees
If you amend a return via another tax software site and get a higher refund amount or owe fewer taxes, Credit Karma Tax will give you up to $100 in the form of a gift card.
If the software makes a calculation error that results in you paying IRS penalties or interest, Credit Karma Tax will give you up to $1,000 in gift cards.
However, you'll only get this reimbursement if the error was due to the software and not your information input. Also, you have to file your original and amended return through Credit Karma.
This benefit's drawback is that Credit Karma Tax limits the amount of money you can get back. You will lose any money above $1,000 that you pay the IRS.
Supported Tax Forms
The software supports nearly every tax form and schedule you'd need to file with the IRS. Therefore, the software is a great fit for simple returns, families, homeowners, investors, freelancers and business owners.
All the forms you'd need to file in the situations we mentioned are supported, including:
1040 and 140X
Schedules A, B, C, D, E, F, H, K-1, R, SE, EIC, and 8812
Forms 1098 C, E, and T
Forms 1099 DIV, G, INT, OID, R, A, B, C, K, MISC, Q, and SA
Who Shouldn't Use Credit Karma Tax
Though the software covers all major tax scenarios, there's a small chance you may not be able to file with Credit Karma Tax.
Unsupported Situations
You live in more than one state during the tax year
You are a nonresident (Form 1040NR)
You are married filing separately in: AZ, CA, ID, LA, NM, TX or WI
Self-employed and you live in Puerto Rico
You're a member of the clergy
You earned income in a foreign country
Unsupported Forms
Schedule J (farming and fishing income)
Schedule K-1 if you're claiming trust or estate income
Form 1116: Foreign Tax Credit
Form 2555: Foreign Earned Income
Form 2210: Underpayment of estimated taxes
Form 8332: Release Claim to Exemption for Child by Custodial Parent
Form 8615: Tax for children who have an unearned income of less than $2,100 a year
Form 8864: Biodiesel and renewable diesel fuel credit
Form 888: Health coverage tax credit
8903: Domestic production activities
Form 8915A: Qualified 2016 disaster retirement plan distributions and repayments
Form 8915B: Same as above but for 2017
Credit Karma Tax vs. Turbo Tax
| | Credit Karma Tax | TurboTax |
| --- | --- | --- |
| Free filing | Yes | Yes |
| Homeowner filing cost | Free | $40 |
| Investor filing cost | Free | $90 |
| Self Employed filing cost | Free | $120 |
| State filing cost | Free | $0 for free filing, $40-50 to for paid version |
| On-demand CPA/ EA/ Tax expert access | No | Yes ($80 to $200) |
| Support options | Email | Video, phone, chat, email |
| Educational resources | Extensive | Extensive |
| Paid access to CPAs and EAs | No | Yes |
| Audit services | Will give you advice, correspond on your behalf and represent you in IRS audit meetings (free) | Will correspond on your behalf and represent you in IRS audit meetings ($39.99) |
CPAs
TurboTax's CPA packages ($80 to $200) are, in most cases, cheaper than what you'd pay a CPA to do your taxes.
If you typically use a CPA but want to try DIYing your taxes, TurboTax is the better fit because it allows you to consult a CPA if you run into any troubles. Also, one of their CPA's will look over your return before you send it to the IRS.
Audits
Credit Karma Tax is the better choice for audit representation because their audit professionals give you the same level of service TurboTax does but without the $39.99 fee.
Support
TurboTax provides better overall support because they have an excellent combination of community forums where members are eager to answer questions, as well as a substantial education section.
Credit Karma Tax's educational materials are substantial, too, but their community forums don't match what Turbo Tax can offer.
Therefore, TurboTax is the better choice if you rely on articles and forums to answer your questions.
User Experience
Both products use an interview-style format that's user-friendly. Their pages are intuitive and it's easy to access help articles from any tax return page you're on. In this area, TurboTax and Credit Karma Tax are very similar.
Living Abroad
TurboTax allows expats to file because they accept the forms associated with overseas living (116 and 2555. Credit Karma Tax does not support these forms.
Pros and Coms
The Bottom Line
Credit Karma Tax is an impressive tax software because it accepts nearly every tax situation and includes free audit defense.
The software's extensive learning section is easy to navigate and your questions, in most cases, will get the exact answer you're looking for.
This combination of features and educational articles makes Credit Karma Tax one of the best free or paid tax software you can use.
Customer Reviews
Posted on Feb 15, 2020
Excellent for non-itemizers
I have for the past four years used a paid tax service to file my Federal 1040 form without itemizations and state return. If I had known I could do it for free as I did today with Credit Karma I would have saved myself not only a bunch of money but hours of time. I checked another site for an estimate just to be sure and it was spot on. Will never go back to the other site.
Bottom Line: Yes, I would recommend this to a friend
Posted on Feb 13, 2019
Will not file with Credit Karma next year!
Although Credit Karma was very easy to input all of my info to file my taxes, if I had a question about something there's no way to physically talk to somebody from Credit Karma on the phone. I tried emailing Credit Karma for my questions and received the reply back the next day that was not helpful at all.
Bottom Line: No, I would not recommend this to a friend
Posted on Feb 4, 2019
Credit Karma Tax
I've JUST filed with them and it was absolutely free including state, but yes they do offer audit defense. It tells you before you file and after that they "have your back if you get audited," and it doesn't cost extra. Just thought I'd let you know that yes they offer audit defense.
Bottom Line: Yes, I would recommend this to a friend
Our Promise to You
In order to safeguard you and ensure helpfulness and relevance, our compliance team manually assess every customer review before it goes live.
We have a zero-tolerance policy for fake reviews, and companies cannot control or alter any reviews at any time.