Credit Repair Reviews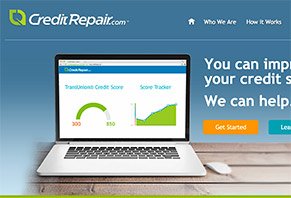 CreditRepair.com claims to help improve your credit score by identifying inaccuracies on your credit report, contacting reporting agencies, and removing them.
About Credit Repair
Credit Repair claims to offer a proven online system that can help you improve your score by verifying that the information contained in your credit report is accurate. Because of this, Credit Repair claims to help "you develop a healthier relationship with your credit" and to be the "fastest, most effective approach to credit repair."
In fact, according to the CreditRepair.com website, the company claims to be so effective that previous members' TransUnion credit scores increased an average of 40 points over the course of 4 months of membership, along with an average removal of 11.6 negative items, averaging 7%. Granted, Credit Repair is the first to admit that how long it will take to repair your credit depends on your specific circumstances.
So, is signing up for Credit Repair a good use of your money? We'll answer all your important questions in a moment, but first, let's take a look at how Credit Repair's process works.
How Does Credit Repair Work?
According to the CreditRepair.com website, the company actively works to verify that all information reported about you to credit bureaus is fair, accurate, relevant, and substantiated, which occurs over 3 steps:
Pull credit reports and identify items that need to be changed or challenged. It's at this point that a personalized game plan will be created in order to meet your specific needs.
Credit Repair uses their "industry leading technology" to engage with creditors and credit bureaus to make sure these changes are reflected accurately.
Finally, you'll be given the tools you need to monitor your progress and keep track of your score, including a personal online dashboard, score tracker and analysis, text and email alerts, and mobile apps (iDevice and Android apps).
Will Credit Repair's Services Actually Work?
As with most things in life, the answer to this question is: it depends, specifically based on your definition of "work."
In other words, legitimate credit repair companies like CreditRepair.com don't claim to help you erase bad debt (such as chargeoffs or bankruptcies), to help you take on a new credit identity, or to negotiate with your creditors (known as debt settlement) to reduce your overall debt load, which can have a significantly negative impact on your score.
Instead, they simply review your credit reports for inaccurate (e.g. debt incorrectly assigned to you, when it was actually a family member) or unverifiable information (e.g. debt/chargeoffs for companies that are no longer in business), and then help get this information removed. As a result, your credit score can be increased.
According to the CreditRepair.com website, they accomplish this using "industry leading technology," although there's no clarification as to precisely what this is referencing. However, based on many online customer reviews for Credit Repair (more about this in a moment), it appears they might simply send repeated form letters to your creditors.
What Kind of Results Can You Expect with Credit Repair?
As stated in the CreditRepair.com FAQ:
A 2013 study using previous CreditRepair.com clients saw that the average result was 11.6 removals across their three reports. A study of score improvement shows that past CreditRepair.com members have seen an average TU [TransUnion] credit score improvement of 70 points after one year. However, some members did not see those results and CreditRepair.com makes no guarantee that you will receive those average results.
With this in mind, just how well Credit Repair's process will work depends primarily on two factors: 1) The amount of inaccurate information found in your credit report, and 2) the severity of this information.
For example, let's say you have a $10K charge-off listed in your credit report from 5 years ago. After Credit Repair does some digging, they find out the company who reported this charge-off is now bankrupt and cannot verify the debt. In an instance like this (although it's purposely oversimplified), the debt would need to be removed from your report, which would almost certainly increase your score a great deal.
On the other hand, if the information in your credit report is found to be mostly accurate, and/or the incorrect information has less of an impact on your score, then having it removed will increase your score much less than the previous example.
Can You Repair Your Own Credit?
Yes. According to the Federal Trade Commission, you can inform credit reporting companies about any inaccuracies in your reports and have them removed.
Certainly, this will be more labor intensive than using a service such as Credit Repair, although you'll likely be able to save a good chunk of change in the process.
Are Customers Pleased with Credit Repair's Services?
With such a generic company name, we only found one website featuring reviews for CreditRepair.com at the time of our research.
On TrustPilot, Credit Repair had 54 customer reviews with an average rating of 7.1 stars. There, some of the most common compliments appeared to cite that the company was effective at removing small collections and some inquiries, and that they improved customers' credit scores (some claimed that their score increased more than 100 points).
On the other hand, some of the most common complaints appeared to reference that updates can take a long time to be reflected in reports, high price, failure to provide any results (or minimal results after months of paying for the service), and long hold times to speak with customer service.
From a company perspective, CreditRepair.com, Inc. is based out of Salt Lake City, UT. They were accredited with the Better Business Bureau, but didn't have a rating or any closed customer reviews listed at the time of our research.
Creditrepair.com Pricing & Refund Policy
Credit Repair's services are priced at $89.95 per month, plus tax, as well as a one-time $12.99 credit report processing fee. Keep in mind that you can also receive a $50 discount if you refer a friend or family member.
For this price, you'll receive access to a personal online dashboard, a dedicated CreditReport.com advisor, a monthly online credit score analysis, identity theft insurance, updated monthly credit reports, and an updated credit score every 90 days.
Since CreditRepair.com is essentially a membership service, you can cancel your enrollment at any time, and your account will remain active throughout the remaining period. However, based on the company's Terms of Use, refunds do not appear to be available.
In order to speak with a Credit Repair representative, you can contact customer service at 855-255-0263.
Are Credit Repair's Services Worth the Money?
Chopping to the point: If you're especially busy or simply don't know where to begin, legitimate companies such as Credit Repair can help improve your credit score by correcting inaccuracies in your report. However, if you have just a little time and can quickly learn the process, much of this can be completed on your own, for free.
Because of this, we might recommend first searching for "how to dispute credit report errors" through your favorite search engine, and learning just how simple and straightforward the process can be. This way, you can make absolutely sure that Credit Repair's services will be worth about $90 of your hard-earned money each month.
Absolutely terrible experience, AVOID!

By Lauren L.

,

Cranberry Township, PA

,

Dec 11, 2019
Verified Reviewer

Avoid at all costs! Do not use them, use one of their competitors. Any of their competitors, frankly. From the get-go, everything took forever to on-board. It took them two months to set up my account, even after badgering them about it (daily) for a month, via chat. In the 6 months that I used them, they removed but a single negative remark off of my credit. 1 out of the 20 (across the three major credit bureaus). Terrible execution on their part, from their membership correspondence to their ambiguously phrased chat responses. "We're sorry, we really are..." or "Bare with us, we are trying hard for you..." Blah, blah, blah, blah, blah...They removed ONE SINGLE NEGATIVE REMARK IN 6 MONTHS! I spent over $1K using them and they did virtually nothing for me. Save your money and go elsewhere or call the credit bureaus yourself, as ALL THEY DO is challenge negative remarks. Their service is pointless and costly. I'm absolutely positive you'll get some bureaucratic, bull crap answer from them below my review, but know this. THEY DON'T DO THEIR JOB AND THEY MAKE UP EXCUSES and their software barely functions. I complained to their IT department 10+ times and they still didn't fix it on the 6th month of service. Just rubbish!

Bottom Line: No, I would not recommend this to a friend

---

1 out 1 people found this review helpful

Worst company ever

By Rosa B.

,

Florida

,

Oct 30, 2019
Verified Reviewer

They lie about their rating on the BBB, they have an F. They charge an initiation fee, but it's against the Credit Repair Organization Act to charge in advance for work not yet done. They won't start your work until you pay this fee, so there is no way of avoiding paying ahead for services not yet rendered. They rush through my contract, I had no idea about an ending balance. They will charge a month's fee at the end to cancel services. Beware of this company, for the services they do, the cost is not worth it. If you ask them to remove your payment method they will say no and offer no guarantee of no future charges. The customer service will curse at you on the phone if you get upset about the circumstances or just hang up. I wish I could get my money back.

Bottom Line: No, I would not recommend this to a friend

---

Advertisement

---

2 out 2 people found this review helpful

Worst experience ever

By Tammy T.

,

Nevada

,

Aug 29, 2019
Verified Reviewer

If you are considering Credit Repair for your woes, here are a few facts you need to consider.

1) You can do exactly what these people do if you take the time to understand FCRA and the basic laws that govern these repair places.

2) With the internet, you can download a printable version of a dispute letter to be mailed off. You don't need to spend $100 a month to wait for someone to do this for you.

3) Realistic expectations, if you choose to challenge the credit reporting agencies, know that they do not care about your credit and no matter what, they won't take your side. They will do barely minimal amount of work. If they get an affirmative answer even if you can verify it's wrong they will not adjust it because they work for the other side. File a dispute letter with the FTC (Federal Trade Commission).

4) You can do this yourself and save tons of headache wondering if you have to pay another $100 next mo. Be proactive keep and eye on your credit.

Bottom Line: No, I would not recommend this to a friend

---

4 out 4 people found this review helpful

TERRIBLE execution, nothing but lies, awful communication!

By Sasha v.

,

Pittsburgh, PA

,

Aug 8, 2019
Verified Reviewer

I signed up with the expectation that they had given me, that all of my issues would be handled within 60 days. That was a total lie from their sales team. Then they processed my information decent enough and it sat and sat and sat to the point that they weren't executing on the work and they had no idea what was going on internally. I must have chatted over, literally, 50 times before I started getting their attention. Supervisors failed to call me back and then they decide to kick me off of the platform the day I paid them for additional work. What a scam and a joke!

Don't use this group, they will cheat you and lie to you!

Bottom Line: No, I would not recommend this to a friend

---

Advertisement

---

2 out 2 people found this review helpful

Scammers

By Ryan H.

,

Richmond, VA

,

Jul 12, 2019
Verified Reviewer

They signed me up, over-promised, and under-delivered on their word and nobody will answer my phone call or call me back. The live chat log guy talked to me for 18 minutes and wouldn't take no for an answer before finally saying he was unable to cancel my subscription and I can only do it by phone or letter. Ironically enough, they don't answer the phone. Only leaving me one avenue to cancel the subscription. Rats.

Bottom Line: No, I would not recommend this to a friend

---

7 out 8 people found this review helpful

CreditRepair.com is a rip off!

By Rob H.

,

North Carolina

,

Dec 22, 2018
Verified Reviewer

Have you noticed many sites will not let you put in a negative review on this company? So if you're upset or not satisfied with their service, how can someone leave a negative review? I am kind of curious if the articles that are written on here and aaacreditguide.com are fake and supported by CreditRepair.com? Must be for you cannot leave a negative review on CreditRepair.com on these sites that give great reviews! That is how I selected this company and found out how fake these reviews are! This is what consumers use to decide who to go with and not be conned by fake reviews! But hey, at least I can leave a reply here so maybe will include it on the review.

CreditRepair.com milks clients of their money of $99 a month and only disputes 2-3 items every 45-60 days. Not to mention that they will dispute the SAME items for at least 4-6 times. So in 6 months, the company will have disputed the same 2-3 items three times and not work on anything new. Not to mention that CreditRepair.com signs dispute letters on your behalf without no Power of Attorney or agreement saying they can sign documents on your behalf. How do I know this? Especially when you ask CreditRepair.com for copies of dispute letters that they sent to dispute items, they will tell you they do not provide the letters to you nor show proof the item is being disputed.

I tell you how I found this out! I got three returned letters to the same company they were disputing and all of them were SIGNED by not me! Who signed it? I asked and they denied they signed it. But yet it shows on the envelope the post office it was sent from and I know I DO NOT live there, but CreditRepair.com is located in that city and state! Not to mention you would think that they would send it to the correct address so it does not get returned to me.

Now here is one thing I also noticed in responses from creditors responses is that CreditRepair.com sent them a letter stating that the account was fraudulent and should not be reported. I never said the account was not mine, just needed late payment removed. But instead, you dispute it with it being a fraudulent account? Creditor sent me an affidavit to fill out stating that I agree it was a fraudulent account and I contacted the creditor and was told I sent them a letter stating it was. I had them for years!

Ok, so you also pay a $15 fee for them to pull your credit report and then a $99 a month service fee for services supposedly rendered. Tell you if you want to cancel that you need to notify them ahead of time. Well, how about I did notify them but they continued to charge my account and did not issue a refund.

When you call them and ask them what is the progress after 4-5 months, you are only told it is in dispute and responses can take up to 60 days to hear back, which is a lie. Any legal credit repair company uses FCRA to protect consumers and creditors/credit bureaus/collection agencies only have up to 30 days to respond! So does it take you 30 days in the mail? What sense does that make? So as I say it should be NO LONGER than 45 days max!

In 6 months of service, they have stated they removed one account, and they did not remove it. For it AGED OFF the credit report and wanted to take credit for it. I had called her out on it and she was like well, it was on there when we started on your credit. LOL, too funny. And also wanted to mention my scores went up. Yes, they went up because I opened up two new revolving trade lines to help my credit scores while they supposedly working on removing any negative items. I can go on and on and on about this company!

If you want to have a legitimate company to help you with your credit, make sure reviews are not fake. It is a company that hides nothing from you and even will give you copies of letters they send if you request it. But also a company that will help you rebuild your credit or educate you about your credit. For yes, if something gets deleted, it helps your scores one time, but it does not help your credit on a monthly basis. This is what you have to understand, and companies like this do not want to help build up your scores. Longer scores are in the dirt and the more money they will make on dragging your services out! So, in short, DO NOT WASTE your money with them. And you're better off disputing items yourself than wasting your money with this company!

DO NOT trust sites that say great reviews and where you cannot leave a bad review. I am guessing CreditRepair.com pays for them to advertise their services and say how great they are! Also, check out their rating with the Better Business Bureau, and I wish I knew that before I started with them!

P.S. They do not even deserve 1 star, but that was the only way to leave a review!

Sincerely,

A ripped off customer.

Bottom Line: No, I would not recommend this to a friend

---

10 out 12 people found this review helpful

International disaster

By Pat C.

,

Houston, TX

,

Jun 14, 2018
Verified Reviewer

The worse company you can sign up with to fix your credit. Numerous calls and they never answer. In eight months, not one issue is fixed on my credit.

Hell, my credit has dropped 40 points for no reason.

Bottom Line: Yes, I would recommend this to a friend

---

8 out 8 people found this review helpful

Blood suckers

By Winner O.

,

Charlotte, NC

,

May 31, 2018
Verified Reviewer

My credit score went up 40 points, I won't lie. However, it's really hard to get a hold of them. I called their customer service to ask a couple of questions, but they'll have you on hold for HOURS. Now I just want to cancel. Plus, $99.95 is a pretty penny. These are procedures you can do for yourself for less money. Don't do it LOL, please.

Bottom Line: No, I would not recommend this to a friend

---

10 out 10 people found this review helpful

Heck no!

They are expensive for what they do, and it's not worth your money. All of it was a waste of $300. When you call customer service and ask for a supervisor, they never have one. At one call they even told me she could not take calls that can stress her! So I am still waiting for a supervisor call after two days. And yes they will not refund anything, even if you cancel the services because they still have charges pending (of which you don't even know what they are for). Please save your money and don't throw it on this company.

Bottom Line: No, I would not recommend this to a friend

---

13 out 13 people found this review helpful

Crooks

By Brad

,

Alabama

,

Sep 27, 2017
Verified Reviewer

So they start out by wanting you to pay $14 for your credit score (online for free), and then they tell you about a $99 fee every month to do what you yourself can do for cheap. When I realized it was a scam, I canceled my services.

The lady said I still owed $58 for the work they did. I told her the guy on the phone (Paul) never said anything about paying for labor, he just said the $99 a month was for that. Then I told them I would call and pay (although I didn't think it was right) later. I told them not to take it out of my card they had on file. Well, they did, and my card got charged with a bunch of overdraft fees after I clearly told them I didn't authorize the use of my card.

They royal screwed me over for temporary work. I still have to pay off my debts, and my score only went up a couple of points. Not worth the $200 they got from me to do stuff I can do myself. Crooks! And they got my personal info, which scares me. There is no such thing as legit people anymore I guess.

Bottom Line: No, I would not recommend this to a friend

---

11 out 13 people found this review helpful

You've been warned

Louisiana

,

Feb 15, 2017
Verified Reviewer

Don't pay them anything because it's a scam. My credit from them was fair, and I checked again, and it's now poor. Forget them; I'm canceling today.

I would not recommend them to anybody, period. They are full of crap, for one, and a waste of time. Goodbye creditrepair.com.

Bottom Line: No, I would not recommend this to a friend

---