Cruise Control Diet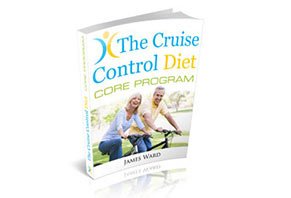 The Cruise Control Diet is an eating strategy designed to boost your metabolism and help you lose weight without feeling deprived of the foods you crave.
What is the Cruise Control Diet?
The Cruise Control Diet is an eating plan designed to help you lose weight for good, no matter how many times you've tried before. According to the company website, this diet is a "whole-foods approach to weight loss and general health." If you follow its guidelines, the plan promises you will shed unwanted weight without depriving yourself or feeling hungry.
This eating strategy was designed by James Ward, a self-proclaimed yo-yo dieter who struggled to maintain a healthy weight for much of his adult life. Once he finally found success, Ward designed the Cruise Control Diet as a sustainable eating plan that could be followed for the long term because it didn't deprive him of his favorite foods. The plan's official website launched in 2011, and has been available as a digital download and physical book since.
But can it deliver, and is it worth the cost? We'll share what we found about the Cruise Control Diet so that you can make a better decision.
How Does the Cruise Control Diet Work?
Per the company website, anyone who needs to lose weight and has struggled with traditional programs can benefit from the Cruise Control Diet. The plan is also meant for anyone who wants a long-term way to improve their health, though it mandates some meat consumption, which makes it a poor option for vegans and vegetarians.
From what we learned on the company website, the Cruise Control Diet follows four general rules for weight loss and overall health.
Eat natural, whole foods designed to help you burn fat
Avoid processed foods that cause your body to store fat
Prevent yourself from feeling restricted by occasionally indulging in guilty pleasure foods
Let your body's natural hunger instinct guide when and how much you eat, not calories, points, or other forms of portion control.
While these first three rules are standard for most healthy eating approaches, the Cruise Control Diet separates itself from the crowd with rule four.
According to its logic, the reasons that most people struggle to maintain their weight loss is that they fatigue from following the rules and restrictions in plans that require you to count your calories or otherwise meticulously monitor your progress. Eventually, it claims, you'll slack and return to previous habits, regaining weight in the process.
By forgoing these forms of measurement and instead relying on your body's natural instincts, the Cruise Control Diet claims to go beyond forced willpower so that you can maintain your progress and keep the weight off.
But beyond weight loss, the plan also claims it can boost your energy levels and reset your metabolism. It also promises to improve your general health markers like blood pressure, cholesterol levels, and glucose.
Saying that, the plan doesn't promise that you will experience instant results. According to the website, the speed of your weight loss depends on how much weight you have to lose and your willingness to commit to other health improvement measures like regular exercise. Even so, the Cruise Control Diet promises that you will experience speedy progress if you follow its perimeters.
How Do You Follow the Cruise Control Diet?
If you're interested in starting the Cruise Control Diet, you will need to purchase the plan and look through the complementary digital download or physical book that will be shipped to you a few days later.
We messaged the company but weren't able to gain access to a copy of this digital download at the time of publication, which means our comments about the program are limited to what we found within the diet's promotional material.
With that disclaimer out of the way, here's what we found. The plan is split into three distinct phases:
Metabolic Reset Phase: this two-week phase focuses on regulating your blood sugar.
Cruise Control Phase: as the main part of the program, this phase focusing on building meals based on whole foods with extra treats once or twice a week.
Rapid Fat Burning Phase: this final phase builds on the foundation you've established to boost your ability to burn fat fast.
This eating plan also included a broad list of forbidden and favored foods. In a nutshell, you are meant to fill up on raw or minimally processed fruits and vegetables as well as lean meats, whole grains such as brown rice, oats, quinoa, and rye, and healthy seeds and nuts.
Foods to avoid are sugary drinks (including fruit juice), chips and crackers, fried foods, highly processed meat like salami, pre-made frozen foods, and anything with artificial flavors and colors.
The plan includes example shopping lists, recipes, and meal plans to guide your progress in the grocery store.
What Does the Cruise Control Diet Cost?
At the time of writing, the Cruise Control Diet is only available on the company website. You'll pay $39.99 for the full plan, as well as $9.99 for shipping and handling (and an additional $14.99 for orders outside the United States).
Once you place an order, you are given immediate access to the full plan through a digital download that includes the following.
The Cruise Control Diet Core Program: This simple plan walks you through the three phases of the diet plan to help you make smarter food choices.
The Cook Book: You'll receive more than 70 plan-approved recipes to help you learn a new way to approach food for long-lasting success.
The Jumpstart Guide: This brief guide will walk you through the basics of meal planning and grocery shopping for your first few weeks. It's meant to be used as a "cheat sheet" to acclimate you to the core ideas and concepts of the plan.
The Weekly Recipe Guide: You'll receive 60 days' worth of plan-approved meals that can act as your playbook for planning out your weeks. While you aren't restricted to these meals, the guide is designed to give you guidelines for starting out.
Each purchase qualifies for the Cruise Control Diet's 60-day, 100-percent money back guarantee (minus shipping and handling) if you decide you aren't satisfied for any reason.
You can take up concerns with the company by contacting them at support@cruisecontroldiet.com or by phone at (617) 674-2008.
What Do Customer Reviews of the Cruise Control Diet Say?
In order to see what people are saying about the Cruise Control Diet, we chose to look at reviews on the brand's website, Facebook page, and other review sites such as Consumer Compare.
From these reviews, we found that a number of Cruise Control dieters have lost weight following the plan.
We read numerous comments from people who reported that they were down twenty or more pounds since starting and that they don't feel like they are depriving themselves when following the plan. Others commented that they lost their sugar cravings and felt like they could appreciate the taste of healthy food better.
We also read less positive reviews. Some people thought that the information offered in the plan was too simplistic and readily available online for free. Others took offense to the Diet's promotional strategy and thought that the intro videos on the official website had an overtly "salesy" feel to them.
Notably, we didn't notice many comments from people who claimed to follow the diet as written but didn't lose weight. This seems to show that the people who take the plan seriously enough to give it a try tend to lose weight while following it.
Our View: Should You Try the Cruise Control Diet?
Pulling this information together, do we think there's enough reason to consider the Cruise Control Plan? We didn't get a chance to look through what paid customers receive, and that limits our ability to comment on its overall value.
But even so, we think that the general premise of this eating strategy makes sense. Sustainable weight loss won't come from a short-term diet, so we appreciate that this diet strives to change your outlook towards food for the long term. Likewise, it's a good idea from a health perspective to eat more whole foods and limit your intake of processed products.
From what we found, there's nothing all that radical about the Cruise Control Diet that makes it stand out from other plans. Eating strategies like the Ornish Diet, Nutritarian Diet, and TLC Diet also advocate for more vegetables and less sugar, and it's possible to learn the specifics for most of them for less than the $50 purchase fee for Cruise Control.
That's why we can say that the program is one good option out of many and that you're likely to get out of it what you put in. If you're willing to take its instructions seriously and make the recommended changes to your relationship with food, there's a solid chance you'll end up healthier and lighter for your effort.
Easy, long term eating plan

By Greg G.

,

Reading, PA

,

Jun 24, 2019
Verified Reviewer

I've been on the Cruise Control Diet over 2 years and I think it's a great plan. I was age 60 and couldn't exercise much due to several medical issues (all coming from excess weight). I've lost a total of 50 lbs. Almost 40 the first year when I was following the plan religiously. The second year I lost another 10 lbs while eating more cheat meals for holidays, vacations, etc. For example, I went on several week-long fishing trips where the menu was planned. It was a decent healthy menu but also included a lot of beer (ouch). After the week I'd come back 8 lbs heavier but after 5 days back on the Cruise Control Diet, I was back down to where I was. So I've been able to maintain my weight even after extra cheat meals.

The plan is easy to follow. Basically no sugar, simple carbs except for your cheat meals and a good probiotic to keep replenishing your good gut bacteria. After the first week on this plan, the good gut bacteria truly do stop your brain from calling for those sweets and breads...and beer!

Bottom Line: Yes, I would recommend this to a friend

---

Acts like a SCAM

By Pete L.

,

Florida

,

Feb 6, 2019
Verified Reviewer

I listened to the outrageously, lengthy sales pitch and since it was cheap enough decided, oh well, why not.

The pitch kept promising some answers but never did reveal any, not a good indicator.

The bonus was, it promised a relatively regular diet, which is always a plus. Anyone can avoid a few foods.

The whole experience started to go sour after I paid, when I tried to log onto the members' area with the password that I was emailed and the resulting screen said:

"ERROR: The username or password you entered is incorrect. Lost your password?"

So I clicked on the "Lost your password" link and it brought me to this page:

"Please enter your username or email address. You will receive a link to create a new password via email."

I enter my email address and clicked on the "Get new password" button and got this:

"ERROR: There is no user registered with that email address."

Keep in mind they emailed me the password, LOL

This clearly takes you around in circles getting nowhere. I have run into this scheme online before, definitely shady.

So bottom line, I cannot download the digital course that was promised in the video. Who knows if anything will arrive by mail, time will tell.

It's a good thing I took screenshots of everything starting with the order page. I have a feeling I will be dealing with the credit card company for a reversal of funds.

I have tried to contact them with their in house messaging system, and it said they would get back within one day. I can't wait.

Bottom Line: No, I would not recommend this to a friend

---

Advertisement

---

Great results

By Carolyn L.

,

Kingsport, TN

,

Sep 18, 2018
Verified Reviewer

I have been on the Cruise Control plan for a few months, I don't call it a diet, because, it's really not to me. I get plenty of delicious foods that I like. I am never hungry. The foods that you eat are good for you health. I did see a video about the Cruise Control plan. It was interesting to me, but I do like to read health articles. I know that I couldn't found information on good foods online, but the thing I really liked, is that they keep up with you, and give you support. I have lost 52 lbs, and it was easy. I don't need to lose any more, but I still follow it, because it's good for the body. I do eat a little more now, but I do maintain my same weight.

Bottom Line: Yes, I would recommend this to a friend

---

Nothing new, long and boring

By Clarine

,

West Hollywood, CA

,

Jan 6, 2018
Verified Reviewer

The guy speaks on and on and on about his personal weight issues while keeping you listening by repeatedly promising to reveal his secret to success in a minute. Also claims it's not necessary to visit a gym or work out. This, of course, is bad advice. It should be titled "100 ways to repeat yourself" or "Redundancy and nausea." Bottom line, nothing new; don't eat processed foods, eat fresh produce and healthy proteins.

Bottom Line: No, I would not recommend this to a friend

---

Advertisement

---

Want to start again

By Ann West

,

East Ellijay, GA

,

Jan 2, 2018
Verified Reviewer

I have been a member of Cruise for I can't remember how long and it was a wonderful experience. Easiest weight loss diet ever. I would like to begin again, but can't remember my old info. I've had some health issues and have gained some weight back. I thought there was no time limit on the membership? Could you please respond to my question? Thank you so much.

Bottom Line: Yes, I would recommend this to a friend

---

It's not a scam

By Carol F.

,

Chandler, Arizona

,

Aug 9, 2017
Verified Reviewer

There are some things to know about the Cruise Control Diet. It's not a scam. The link lets you buy probiotics that help you get healthy. Also, the hard copy of the program is nice to have because you can read it anytime and anywhere. I keep it in my kitchen, so it's handy.

You may be able to get healthy eating ideas online, but you won't get support in your email almost daily. That information helps keep you on track. With all of the tips and recipes, you can't possibly not lose the weight. I started this program not only to lose weight, but to get healthy. I'm 62 and have never been very much overweight until about two years ago. I've always tried to eat good, or what I thought was good. Until this program, I didn't know that I wasn't eating to be healthy.

I've been on the program for almost two months. I've lost 11 pounds and a complete pant size. I feel good and I'm never angry anymore because the foods that you eat also control your mood. It's worth every penny and more.

Bottom Line: Yes, I would recommend this to a friend

---

Cruise Control Diet works

By Linda

,

Long Island, NY

,

Feb 27, 2017
Verified Reviewer

I started this diet because I had gained 25 lbs from the time I was 40 to the time I was 50, and I was tired of blaming it on pre-menopause and hormones. I am 5'0" tall, and my clothes were getting tight yet again, and I said I could not go up another clothing size. I weighed in at 145 lbs and felt unfit, out of shape, tired, and disgusted with myself for letting things get out of control.

The Cruise Control Diet is similar to the current fad diets that you pay a lot of money on and it's basically the same concept and identically the same chemical theory of what is happening with your insulin, your thyroid, your fat stores, and your body. This is a lifestyle change, and if you have reached your breaking point, it WILL work! Be patient, stick to the plan, and you will see life changing results.

In one week I lost 5 lbs, in two weeks 8 lbs, in three weeks 10 lbs (and by now you are a believer!), in four weeks 13 lbs, in five weeks 15 lbs, and in six weeks 18 lbs. I was surprised at how low-calorie amounts I was eating in a day and how my plate was filled with healthy, low proteins and vegetable carbs, with protein and veggies, and good fruits, yet I was not hungry in between meals. And when I was, I ate some more protein or veggies to hold me over. You nee to keep a daily food and calorie log to keep you on track and weigh-in daily to see those results. Food packaging and marketing is a corrupt industry, and you realize how deceiving they are. Every processed food, even the ones deemed low fat, low sugar, low calorie, contain some type of sugar, fat, or carbs, which will eventually throw your body and your metabolism into a tailspin and metabolism, and your endocrine system into shutdown mode and full-fat store mode.

This program works! My metabolism continues to work properly, and I have lost a total of 33 lbs, which puts me at a comfortable 112-115 lbs. I am approaching my one-year anniversary to healthy living, and my body looks great and feels amazing. I also sleep well and am rarely tired. It's a lifestyle change and gets you back to the basics of healthy eating. My cholesterol and glucose marker HBA1C values have dropped considerably, and where I was destined for cholesterol meds and prediabetic meds (which have nasty side effects of their own), my doctor is amazed at my progress and my results. I have recommended this program to many friends, and all have seen great results.

Be strong and stick to it for three weeks before throwing in the towel. You can do anything for 14 days. And I promise if you are doing it correctly, you will see great results and continue on the road to weight loss and healthy living.

Bottom Line: Yes, I would recommend this to a friend

---

Worked for me!

By Sherri Gray

,

Oklahoma City, OK

,

Feb 3, 2017
Verified Reviewer

I am a 5'6" woman who weighed in at the most I have ever weighed, which is 150 lbs. I was fatigued and felt like a slug. I ordered this program and followed it closely. In ten weeks I had met my goal of 130 lbs.

Since it was summer, I decided to drop a little more, and six weeks later I was at 120 lbs. I decided that was too thin for my build, so I allowed just a few more carbs each day and leveled off at 125 lbs. I never felt hungry and had a lot of energy. I just feel so much healthier now.

The program worked for me!

Bottom Line: Yes, I would recommend this to a friend

---

This diet plan worked for me

By Scott

,

Mesa, AZ

,

Jan 9, 2017
Verified Reviewer

My goal was to get to my pre-quit smoking weight of 195 pounds from 230 pounds in 3 months.

I attained this in 10 weeks. My weight loss was so obvious that some of my friends were asking if I was sick. My blue jeans went from a 36" waist to 33".

In the book they tell you there is no need to become a "gym rat", however, I started working out 3-4 times per week. I am at 203 pounds today, and that is from increased beer consumption over several months. As soon as this holiday season ends, I'm back at it full again, and I should be back down in no time. Good luck and happy dieting!

Bottom Line: Yes, I would recommend this to a friend

---