Crypterium Reviews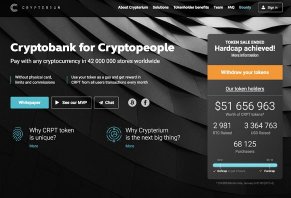 Crypterium is a cryptocurrency banking app for Bitcoin and Ether customers that enables crypto owners to use their currency to pay for things wherever contactless payments are accepted.
What Is Crypterium?
Crypterium is a cryptocurrency "bank" whose Android app lets you pay for things with your Bitcoin or Ether just like you would with cash.
The company solves a problem many crypto owners face: using their crypto to buy stuff. You see, most retailers only accept cash via actual money, debit cards or credit cards. You can't walk into your local Papa Johns and swipe your Bitcoin card to pay for stuff.
Exactly how Crypterium helps you make purchases with your crypto is something we'll get into in a few minutes.
The company's team of founders include Vladimir Gorbunov, Gleb Markov, Austin Kimm and Steven Polyak. Between the four of them, the founders have backgrounds in a variety of industries including lending, mobile payment technology, peer-to-peer selling apps and payment services.
Now, with all this being said, we know that cryptocurrency is still kind of a new idea for most American consumers.
According to a Dec. 2017 Yahoo Finance article, about 5% of Americans buy and sell bitcoin frequently. This stat doesn't represent all crypto owners because there are many different currencies out there and those who own them aren't all traders.
Either way, there are not that many people who've taken the time to understand crypto outside of what the headlines say. So, as we discuss what Crypterium offers, we'll sprinkle in some explanations about cryptocurrency.
Another note: We spoke with Austin Kimm, one of Crypterium's founders, to get a clear understanding of exactly what Crypertium does, what goes on behind the scenes when you're making purchases and the fees you'll be charged.
Pro tip: The company's app can only be used at stores that accept contactless payment.
What Crypterium Does
As we mentioned in the beginning of the article, Crypterium is a "bank." The reason we put "bank" in quotes is that it's not a bank that you'd go to and make deposits and talk with someone about getting a loan for a car. Nor is it like an online bank you can use to pay bills and make direct deposits.
What Crypterium offers is an online wallet for your Bitcoin or Ether, two of the most popular types of cryptocurrency. Wallets are individual accounts where you can buy, sell and store your cryptocurrency. Each transaction is encrypted by virtually unbreakable keys that are specific to your crypto buys.
Your wallet is, in a general sense, like a checking account at a bank because the cryptocurrency in your wallet can be used to make purchases. The difference, of course, is that you've got crypto in your wallet and not cash.
Most retailers aren't set up to accept cryptocurrency for payment. If they did, there's a good chance that payments would take a long time to clear and you'd pay some hefty fees for using Bitcoin, for example.
So, Kimm told us, Crypterium found a way around that by taking advantage of the way that cash payments are processed.
How Does Crypterium Process Crypto Payments?
This question is the most important one because it's what makes Crypterium a useful tool for people who are moving away from fiat currency (paper money/change) and toward cryptocurrency.
We're going to explain how transactions work and how the company is using the current system to process crypto.
So, when you head to Apple to buy an iPhone case, Kimm said, you swipe your card or insert your chip to make a payment. From there, the company who runs the card reader sends the information to your bank, at which point the bank checks your account to see if you have enough money.
When your bank verifies that there's enough money to pay for the case, it clears the transaction and sends the money to the retailer. What most people don't know is that the payment actually makes it into the retailer's pockets up to a full two days after you swiped your card.
Crypterium integrated their payment processing into this existing system.
When you go to the Apple Store and buy a $30 case for your iPhone, instead of the transaction info going to a bank, it goes to Crypterium.
They check your crypto wallet to make sure you've got money in there and, when they verify you do, they clear the transaction and send the money to your retailer.
This step is the crucial one because it's where the magic happens. You see, your wallet has crypto but Crypterium is paying the transaction with cash. How do they do that?
Well, according to Kimm, Crypterium pays with cash for whatever it is you bought. At the same time, they withdraw the USD equivalent of the cryptocurrency you've chosen to use for payments.
So, Apple gets the $30 from Crypterium and Crypterium withdraws $30 worth of Bitcoin or Ether from your wallet.
Need to return that case? No problem, Kimm said. Since Apple sees the transaction as cash, you'll get cash for your return.
Also, you can choose which crypto you want Crypterium to use to make payments.
Crypterium's Rates and Fees: How Does Crypterium Make Money?
The general idea of how Crypterium works is pretty simple even if you're new to cryptocurrency. Things get more complicated, though, when you get into how Crypterium makes money.
The first and most basic way they earn cash is by charging you 0.5% for every transaction you make. If you walk into Best Buy and purchase a $1,000 TV, you'll pay a $5 fee. A $100 monitor will cost you $0.50.
This 0.5% fee is the only real fee that you'll be charged. However, that doesn't mean that Crypterium transactions won't cost you anything else.
Remember how we said that Crypterium buys your crypto in amounts equivalent to the dollar amounts you spend? Well, that little transaction is basically a currency exchange, kind of like how you go to an exchange booth to convert dollars into a foreign currency.
And, like currency exchange booths, you aren't going to get the best rate for your crypto. Here's how all this works:
There are dozens of cryptocurrency exchanges that assign a dollar value to a particular cryptocurrency. One cryptocurrency – Ether, for example – will have slightly different values depending on the exchange you check.
Kimm said they consult multiple exchanges to calculate the average value of your coin which, in most cases, will be lower than what Crypterium could sell it for. This, Kimm said, is another way that they make money.
Based on what he told us, there shouldn't be a huge difference in price. Since Crypterium is processing thousands of transactions each week, even the slightest profit on the sale of one Bitcoin or Ether is multiplied many times over.
Public Opinion About Crypterium
The app has a 4.9-star rating from 229 reviews in the Google Play store at the time of publishing. Of those 229 reviews, 220 were five-star reviews. Here's a sampling of what the most recent reviews said:
"Fast, smooth, easy to use and secure."
"Simple to use."
"Very user-friendly."
"Everything is very transparent and client support is awesome."
Our Final Thoughts: Crypterium Pros and Cons
The most obvious advantage of Crypterium is that you can use your crypto to pay for groceries, gas and other things you purchase on a daily or weekly basis. But, aside from this clear advantage, you also have other beneficial ways to use Crypterium.
Say you wanted to sell off some of your cryptocurrency but fees on most of the exchanges make it an expensive proposition. Crypterium provides a way to sell off that crypto through everyday purchases.
The downsides to the app are that your wallet is limited to Bitcoin and Ether and that you have to pay a fee every time you buy something.
Keep in mind, though, that those fees are only a bad thing if they're more expensive than what it would cost to convert your crypto into cash via an exchange site like Coinbase.
If, however, you're going to pay higher fees to turn your crypto into cash, then what Crypterium charges for transactions is probably a bargain.
Another downside is that the app is only available for Android phones.
We also believe that the app is hampered by the fact that conctactless payment isn't quite universal yet in the U.S. Many big retailers feature POS systems that require swiping or inserting a card.
Is Crypterium a good fit for you? If you're someone who owns Bitcoin or Ethereum and you're looking for a secure way to make purchases with your crypto, then Crypterium definitely offers an interesting option.
If you don't own any crypto but you're interested in learning what it is and how it works, take a few minutes to read through our guide to cryptocurrency. We talk about when and why Bitcoin started, how crypto and transaction security and the safety of the various exchanges where you go to buy, sell and trade crypto.
4 out 4 people found this review helpful

Just got 919 Crypterium stolen from their own wallet

By Jorge P.

,

Orlando, FL

,

Oct 22, 2019
Verified Reviewer

Just got all my 919 Crypterium coins stolen from their own Crypterium wallet! To access the Crypterium app you must enter your phone, password, and a 4 digits pin! How can somebody else know all that? In my opinion, Crypterium themselves have created a mirror Facebook page and a mirror app so after the coins are stolen they can blame scammers! I think these people are not doing well and are taking every holder's coins before closing and running away. BE AWARE, YOU ARE WARNED. I am an online marketing expert, if they don't recover my coins because I sent them the pictures that also show to which account they were transferred, I will invest the next two months WARNING THE WORLD!

Bottom Line: No, I would not recommend this to a friend

---

5 out 6 people found this review helpful

Crypterium con artists and thieves

By Rocket C.

,

Portland, OR

,

Sep 27, 2019
Verified Reviewer

Well, several family and friends "invested" into the much-hyped ICO for this SCAM company and here we are over a year and a half later, and we still do not have the CRPT (FAKE) tokens that WE PAID FOR!

I have sent over 20 requests to their "support" to deliver the CRPT TOKENS that we PAID FOR, and the only responses I get from these clowns is they cannot locate them. What?! This is allegedly a "Blockchain" company right?! Isn't blockchain technology one that is supposed to be able to track everything?!

Yes, it is true, LEGITIMATE Blockchain companies can track EVERY SINGLE token in their system. Which leads to the conclusion that this company and its CRIMINAL founders. (Do some searches on the web about the backgrounds of the founders: Steven Polyak, Austin Kimm, Vladimir Gorbunov, and Gleb Markov.)

We should have checked their history of running scams and corruption activities in Eastern Europe before putting a penny into their FAKE CRPT Token sale.

We are in the process of gathering plaintiffs who have been RIPPED OFF by this Crypterium SCAM to file a Class Action Lawsuit against them and their tiny little garage they operate from in Estonia: Crypterium OU of Harju Maakond, Tallinn, Kesklinna Linnaosa, A. Lauteri tn 5, 10114, registration number 14352837, Estonia.

Never mind the FAKE CEO (Steven Parker) they bribed to be the face of their SCAM. He doesn't do anything and takes no responsibility for anything - he's just a paid puppet.

Bottom Line: No, I would not recommend this to a friend

---

Advertisement

---

6 out 7 people found this review helpful

It's a SCAM

By Mary W.

,

North Carolina

,

Jul 29, 2019
Verified Reviewer

These people want too much personal information. After multiple attempts to get verified with various documents, the only thing they claim they will accept is a scanned copy of a credit card bill or utility bill. Guess what, that puts you at risk. If a court document return address and my address isn't enough, too bad. Stay far away from these people.

Bottom Line: No, I would not recommend this to a friend

---