Current Reviews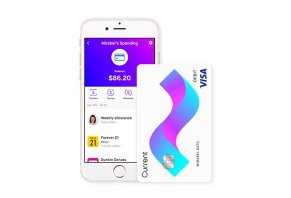 Current combines the power of a chores-assigning app with a pre-paid debit card designed for parents who want a simple way to pay their children for chore and provide a weekly or monthly allowance.
About Current App and Debit Card
Current is an app and a pre-paid debit card allowance system that allows parents to assign chores to their kids, verify that the chores are done and then disburse payment to the debit card based on how much the chore was worth.
This interesting financial tool is the brainchild of Stuart Sopp, an accomplished former trader and trading boss at Morgan Stanley, Citi, Deutsche Bank and BNY Mellon (London).
The app launched in 2015 and is now one of the several new apps that help parents come up with an efficient way to send money to their children for chores, gifts, and allowances. These apps often have an overall mission of helping parents educate their kids about money – how to earn it, how to save it and how to spend it responsibly.
Current's website features the basic flow of the app, which hits on some of the things we mentioned:
Sign up in minutes
Receive your teen's debit card
Automate chores and allowances
Get notifications on their spend
Teach them the value of money
In this review, we're going to give you a brief overview of how to sign up for it, how the app works, how it compares to similar apps and what actual users are saying about their Current experience.
How to Sign Up for Current
The app is available for Android and iOS devices. We gave Current a test run on an Android phone.
You start the sign-up by providing your name, email address, and password. Social security number, date of birth and mailing address are next. What surprised us about this step is how quickly it showed up. You go from entering basic information to giving your social – it's for verification purposes – but we were still surprised.
As a side note, Current uses SSL 256-bit encryption, which is bank-level protection for the information stored on the app.
The identity check takes just a few seconds. When it's done, you're directed to enter your child's name, date of birth and the name they call you.
The next page was another surprise for us – it told us that our child's debit card was being printed and would arrive at our home in 7-10 business days.
Current's onboarding process is very fast, requires your social security number and automatically sends out a debit card. For those who aren't comfortable with that kind of speed, keep this in mind when you consider Current.
We do dozens of reviews of apps and financial products and even we were surprised at how quickly the information you provide is converted into action.
In two screens, you're asked to add money to the debit card by linking to your bank.
At this point, we stopped the sign-up process because the app was asking for too much information too quickly, in our opinion, particularly for someone who is just trying it out.
Here's the catch, though. We logged back into the app and were able to skip over the debit card deposit page and check out the app's features.
Setting Up Chores
Basically, your main tool is going to be the Wallet function, through which you can set up your child's chores in the Spending subsection by selecting:
Type of chore
Payment for chore
Frequency of chore
We chose "Clean Your Room" with a $10 payment on a weekly basis. The app doesn't automatically make the payment on the day the chore is due, though. You get to release the payment by tapping the "Approve" button.
Through the Wallet, you can also set up allowances that pay a dollar amount of your choosing at a frequency of your choosing.
The Wallet is also where you access your child's Savings and Giving funds. The Savings fund gives you the option of adding round-up deposits to the account. The app rounds-up the purchases your child makes on their debit card and deposits the difference into their savings account.
The final option in the Wallet section is Giving. This feature allows your child to donate money to a variety of charities. The app generates a list of local charities based on the phone's location as well as organizations from around the country and world.
At this point, you've pretty much got everything set up. You send your child a link to the app so they can download it, too. Your child will be able to see their account balances and upcoming chores, arguably the two most important features on their end.
Based on our research, your child does not have the ability to add money to any of their accounts without a parent's approval.
Current's Fees
When you sign up for Current, you'll come to a screen that shows you the fees you pay to use the app. Current gives new users 30 days to try the app for free.
After that, Current costs $3 a month for one child, $4 a month for two children and $1 for every additional child after that.
If your child uses their debit card to buy something while they're in a foreign country, they'll be charged a 3% foreign transaction fee.
If they lose their card, it costs $5 to get a new one.
Current's Security
The app gives you several different layers of security to ensure that your information isn't stolen and that crooks don't use your child's debit card to make fraudulent purchases.
We've already mentioned the 256-bit encryption, a security measure we've seen in similar apps. Aside from the app's security infrastructure, you also have a couple of practical measures you can take to ensure security.
First, you can use a fingerprint lock to protect access to your iOS or Android Current app. Second, you'll get instant notifications anytime there's activity on the debit card. Third, Current allows you to pause your account in the event that your card goes missing and you want to prevent crooks from using the card.
How Current Compares to BusyKid
Based on our research of similar apps, we think that BusyKid is the closest competitor to Current. What's interesting is that BusyKid provides nearly identical features as Current.
You can create chores in the app, set a price on them, approve them when they're done and then the app sends the money to a BusyKid debit card that kids can use for whatever they'd like. You also have the option of putting money into a Save and Share account, which are equivalent to the Save and Giving accounts in Current.
The main difference between BusyKid and Current is that BusyKid gives your child an Invest option, through which they can link to another app we've reviewed, Stockpile, and choose stocks in which they'd like to invest.
The BusyKid app costs $14.95 per year and $5 for every debit card.
Another app that's somewhat similar to Current is Greenlight, which gives parents the ability to deposit money on their child's Greenlight prepaid card and then control which stores the card can be used at.
Public Opinion About Current
At the time of publishing, Current had 78 reviews in the Google Play store. Of those 78 reviews, 57 were 5-star and 11 were 1-star.
Many of the recent positive reviews indicated that users were happy with how the app worked and appreciated how easy it made setting up chores and paying their children.
Negative reviews tended to focus on glitches in the app. One reviewer said she and her husband set up accounts, but only the husband was able to approve their children's chores. One other user said she wasn't able to connect her bank account.
Our Final Thoughts About Current
As we mentioned in the introduction to this review, Current is one of the several new apps focused on parents, kids and money management. We think this new genre of financial apps is awesome – the earlier you can teach kids about money, the better.
As far as how Current functions, we didn't have a chance to actually approve chores and load money, but, from our experience, the app is really easy to use and can be learned within a matter of minutes.
Fee-wise, we believe that Current's yearly fee doesn't quite measure up to the value you get out of BusyKid, which is, for a family of four, $23 cheaper per year than Current.
Based on all of this information, we think that Current could be an excellent solution for parents who want a fluid, intuitive way to pay their children for chores and/or set up an easy way to give their kids allowances.
Take your money and never send you a card

By Kim S.

,

Ketchikan, AK

,

Sep 21, 2019
Verified Reviewer

I live on a rural route and do not get mail there, and you cannot set this card up with a PO Box, so I followed the instructions, and set it up with my physical address, but I immediately submitted a utility bill showing the physical and the actual mailing address, with the mailing address circled in heavy marker, and I wrote: Mailing Address. This was per the instructions from Current. I then called the customer service to make sure that they changed the mailing address to the PO Box. The rep had me send the utility bill to her via email, even though I had already submitted it, and she changed the address while I was on the phone to the PO Box. I then called the next week to double-check where the cards had shipped, because she had told me that they might have not gone to the PO Box. I was told by the new rep that they actually went to my physical address. The rep then ordered new ones to my PO Box. Two weeks went by and I never got them. I called back another week later and found that they actually shipped to my physical address AGAIN. Once again I was shipped new ones, which once again have never shown up. I just got an email from Current telling me that my address does not have a mail receptacle, so the cards could not be delivered. I have no clue which of the three sets they are talking about.

So far it has been two months since I started this process. I am quite concerned that I will never get back my fees or the money I predeposited for my two teens. This company is a mess.

Bottom Line: No, I would not recommend this to a friend

---

4 out 5 people found this review helpful

Terrible

By Donna L.

,

Augusta, GA

,

Mar 21, 2019
Verified Reviewer

They locked account down for no reason and one month later still can't give an explanation and will not give access to funds or refund money back. As of now, they stole my kid's money.

Bottom Line: No, I would not recommend this to a friend

---

Advertisement

---

4 out 6 people found this review helpful

Stay away from this card!

By Michael M.

,

Virginia

,

Mar 12, 2019
Verified Reviewer

I ordered a card more than a month ago, for my son. As of today, I have called Customer Service SEVEN times in reference to not receiving the card. They have charged me a $36.00 annual fee for a card we have no access to. Then they told me the fee was for having access to the mobile app for 30 days. When I called late in the evening (after work), the CSR informed me what I needed was "above her skillset" and I needed to speak with a Manager. When I called back to speak with a Manager, the CSR told me (after leaving me on hold what felt like FOREVER), the Manager said to give it a few more DAYS...after more than a month of calling and emailing back and forth. This company needs to be put out of business. They are just taking people's money. With no intention on sending a card. I wish it was possible to give NEGATIVE STARS.

Bottom Line: No, I would not recommend this to a friend

---

2 out 2 people found this review helpful

Integral part of teens financial freedom

By Mike S.

,

New Jersey

,

Feb 1, 2019
Verified Reviewer

When I was a kid, I had my own bank account, that eventually added checking and a bank card when I was a teenager. I was surprised that I couldn't find a bank to offer these services to my kids until they turn 18.

We found the Current app as a way to give them financial independence. It took some time to get all of the deposits in, cards registered, etc. The cost for two kids is about $3 a month.

We have all been very happy with the app. Before I had Current, I would always forget to pay the kids' allowance. So I always owed them money...they would just buy whatever they wanted and tell me to pay for it, "you owe me allowance anyway."

Now the allowances are paid automatically, and when the money is gone for the week, it is gone. This had really had a meaningful impact on their financial awareness. They are more careful about spending choices, and have seen what can happen if they spend below their weekly allowance. I have used the app to set incentives for extra work, or even for academic accomplishments.

It is so easy to move the money around, and there are never hidden fees behind using the card. They carry their pin-protected card in their phone case and have developed real responsibility. The fact that I see every transaction has opened up conversations about money as well.

So, after about 18 months of use, I can say this has been a great tool. It is much better than giving them their own accounts as I intended, as this is a better balance or independence and parental oversight!

Bottom Line: Yes, I would recommend this to a friend

---

Advertisement

---

4 out 7 people found this review helpful

Horrible help with app

By Shereda J.

,

Georgia

,

Dec 9, 2018
Verified Reviewer

My son and I got new phones and tried logging back into the app but was not able to. I sent several requests for help but did not get a response. Basically, we can't manage the account or see how much monies are there. I've tried several times to reach out to them, but they seem like crooks. I would not recommend this card to anyone because my child is not benefiting from what he cannot see to manage. We've had the card over a year and have not had access in over 6 months. Shameful and bad business, does not teach your kids anything but that crooks will STEAL FROM ANYBODY (even kids).

Bottom Line: No, I would not recommend this to a friend

---

4 out 6 people found this review helpful

Do not use this service

By Toni S.

,

Oakland, CA

,

Nov 10, 2018
Verified Reviewer

I ordered this service for my daughter. I thought I was charged the $36.00 and deposited another $75.00 into the "account." I never received the debit card. I have requested replacement cards three times never to have received them. And they have never sent me correspondence or a new card, so I am basically out of $111.00 for nothing. I can not get ahold of customer service. Don't waste your time or money!

Bottom Line: No, I would not recommend this to a friend

---

8 out 11 people found this review helpful

Terrible customer service

By Melissa C.

,

Illinois

,

Oct 19, 2018
Verified Reviewer

So, I was watching TV one night and I saw a commercial for Current, the debit card for teens. I thought it was a great idea, especially since my teen son has been pestering me for a debit card. I sign up my son and daughter only to find out I will be charged $32 each for both cards, plus monthly fees. So I decide to cancel it right away. I delete the app, and when the cards come I do not activate them and shred them.

I think nothing of it until today when I was charged for both cards. At first, I had no idea what the charge was for. When I realized it was Current, I called to ask why I was charged. Basically, when you sign up, it doesn't matter if you emailed to cancel or not, even activated the cards, you are on the hook. I was told that I agreed to the terms and it was my fault that I didn't read them more carefully.

Now, some of the reviews had stated that the customer service was poor, but I thought it was an over embellishment. No, it really is poor. Now, if I had used the card, I mean I never even activated it, I could see them being hesitant to refund my money. The woman I talked to literally sighed and said you obviously didn't read the terms. So no, I guess I didn't, so shame on me. Please do not give them your checking account number because you will never see that money again.

Bottom Line: No, I would not recommend this to a friend

---

4 out 6 people found this review helpful

Terrible customer service - startup with no customer service

By Gennie J.

,

New York, NY

,

Oct 4, 2018
Verified Reviewer

I ordered cards for my kids. It took long to get the cards, and when I received cards, the activation process was not as instructed. Finally I got a hold of customer service and cards activated. One of my children lost their card...I ordered a new one. It has been a month and I have not received it. I tried getting a customer service rep on the phone - impossible. I tried emails - no response. This is a good idea with no customer service and I am skeptical, this is going to end badly. Don't use it!

Bottom Line: Yes, I would recommend this to a friend

---

7 out 9 people found this review helpful

Don't order your kids this card!

By Teyona A.

,

New Jersey

,

Sep 5, 2018
Verified Reviewer

They have very bad customer service. Their annual fee is completely ridiculous when I applied it clearly said $3 per month. They claim you have a 30-day free trial, but as soon as I activated the card their company snatched $36 out of my account. When I called to complain about it I was greeted by two very rude representatives who then refused to let me speak to a supervisor. It supposed to make a parents job easier, but it has been nothing but inconvenience since I activated this card!

Bottom Line: No, I would not recommend this to a friend

---