Cuvva Auto Insurance Reviews
Claimed This company has claimed this profile, is getting alerted on any new customer reviews entering this page, and may engage in dialogue with its customers to address their matters.

Companies cannot pay money or provide goods in order to remove or alter customer reviews.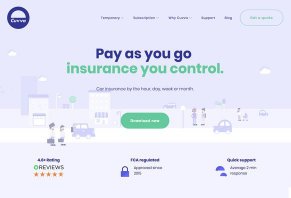 Cuvva Auto Insurance provides policyholders with usage-based coverage for as little as one hour at a time, with transparent, upfront pricing and no hidden fees.
About Cuvva Auto Insurance
Compared to traditional coverage, Cuvva Auto Insurance offers customers simple, straightforward, fully comprehensive on-demand policies that make the once difficult process quick and easy, they claim. How?
Combined with an iOS and Android app, Cuvva offers four different policy types:
Car insurance – Per-hour temporary insurance, ideal for borrowing a friend's vehicle from one hour up to 28 days. Simply select the amount of time you need, with the option to extend if necessary.

Commercial insurance - Similar to the Car product, this option provides fully-comprehensive, instant short-term insurance on vans and other commercial vehicles.

Private hire taxi insurance - Again, short-term temporary cover for taxi drivers as and when they need it.

Learner insurance - For those with a UK provisional license looking to get some extra hours of driving time before their test.
Either way, Cuvva tells us this allows you to fully control your policy and only pay for what you use so that you can say goodbye to one-size-fits-all policies.
Additionally, you'll experience transparent and upfront pricing, and 24/7 dedicated in-app support with, they claim, a 2-minute response time.
You're here because you live in the UK and don't drive a whole lot. As a result, you're wondering if a) Cuvva Auto Insurance can help you save money and b) if they provide quality coverage and service for what you pay.
Here, we'll discuss what we learned during our research to help you find some answers—starting with Cuvva's policy types.
Cuvva Short-Term Insurance
Cuvva's short-term policies provide comprehensive per-hour temporary insurance anywhere from one hour to 28 days.
Using the iOS or Android app, Cuvva tells us you can have coverage in place in a matter of minutes, without phone calls, paperwork, or waiting. Then, once your details have been entered, it's easy to get coverage on any eligible car.
Because it's a completely separate policy, Cuvva claims the vehicle owner's no-claims bonus won't be affected if you're involved in an accident.
How Does the Cuvva Auto Insurance App Provide Hourly Car Insurance on Demand?
Cuvva's app seemed easy to navigate. The initial page has icons to update your profile or open the dedicated one-to-one chat, or the option to enter a vehicle reg for an instant quote.
On the Profile page, you can update your personal details and payment method, refer a friend for a discount, access the Help Center, and contact support.
If you enter the reg for a quote, you are taken to a new screen and asked whether you want short-term or subscription, but the subscription option is currently unavailable as improvements are being made. Selecting short-term takes you to a carousel of options. You can choose how many hours you want to be insured for, pay, and drive away!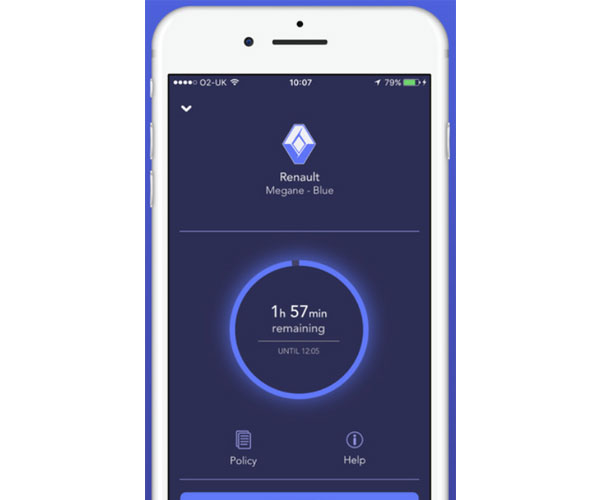 Scroll through the carousel to select the cover you want. After you've paid for Cuvva auto insurance, the iOS and Android app will show you how much time you have remaining. Image credit: Cuvva
Who Underwrites Cuvva's Auto Insurance Policies and What Are Their Eligibility Guidelines?
As the Financial Times wrote regarding the recent boom of insurance-related financial technology:
"Analysts say that the capital requirements, regulatory burden and complexity required, combined with the desire of investors for short-term returns, means that very few of [these new insurance start-ups] underwrite their own policies. The result is that for most start-ups, partnerships with existing insurers are critical. Without them, many would struggle to make the business model work."
They're authorized and regulated by the UK Financial Conduct Authority, with their auto insurance policies underwritten by Mulsanne Insurance Company Limited.
Cuvva's Underwriting Criteria for Drivers
While neither the Cuvva nor Mulsanne websites divulged all their underwriting criteria, based on what we pieced together, drivers looking to obtain a policy need to:
Be between the ages of 19 and 75 for the for the short-term product, having held your license for at least a year with no at-fault claims if you're between 19 and 21. For the provisional product, the age range is 17-45 years old.

Hold a Great Britain driving license. Cuvva uses this to query the DVLA (the UK driving license issuer)

Be a resident of the UK (coverage is currently not available in Northern Ireland)

Some restrictions in place for number and severity of convictions
What Kinds of Vehicles Can Cuvva Insure?
From a vehicle perspective, it can't:
Have any modifications or feature more than seven seats
Be valued at more than £40,000
Be older than 20 years
Be garaged outside the UK
In summary, Cuvva is ideal for stuff like borrowing a car, running errands, sharing long journeys, and weekend trips. It is also great for learner drivers looking to practice, and taxi drivers who only want to pay for the cover they need. On the other hand, Cuvva Auto Insurance isn't your cup of tea if you're looking for coverage for a rental car, getting road tax, or racetrack days.
Still have eligibility concerns? Cuvva recommends downloading the app and giving it a go. This can be done in less than 60 seconds.
How Much Does Cuvva Auto Insurance Cost?
Like any auto insurance provider, who can base their rates on thousands of different factors, only starting prices are listed on the Cuvva website.
However, they do offer guidelines on their website for the highest and lowest cost you are likely to pay within a given location. For instance, if we lived in London, aged 25 and drove a Kia Picanto, we're told Cuvva would cost us £7.92 for one hour's cover. If we were 22 driving a Mercedes CLK 63 in London, Cuvva claims the cost would be £37.48 for one hour's cover. The average cost for cover in London is listed as £10.23 for one hour's cover.
Once your policy is active, a copy will be emailed to you, but you can also view a copy at any time your inside the app. The app is linked to your credit/debit card and can only be used to obtain coverage for you.
What Are Cuvva's Cancelation and Refund Details?
According to the support documents on Cuvva's website, "there is no circumstance in which we can offer a refund." In other words, you need to make sure you need insurance before you decide to buy.
What Can We Learn from Cuvva Auto Insurance Reviews?
London-based Cuvva was founded in 2014 by CEO Freddy Macnamara and co-founded by CTO James Billingham. In 2016, Freddy told CNBC that his inspiration behind the company was, "Why can't I just jump into a friend's car, drive it and not go to jail? It's difficult."
Earlier that year, Freddy and his team were among 11 other companies in the Barclays Accelerator London.
Cuvva Auto Insurance has since earned 422 customer reviews on Review.co.uk, delivering an average rating of 4.72 Stars.
Most compliments related to short-term insurance that's competitively priced, easy to use, fast to set up, and with a solid customer service base. Of the few complaints, most referenced high price.
On iTunes, there are 217 ratings, with an average of 4.1 stars, with the feedback echoing that discussed above. There are nearly 300 reviews and a 3-star average rating on Google Play, where most praises claimed it was quick, easy to use, and inexpensive. Common complaints referenced bugginess and eligibility criteria.
As far as Mulsanne Insurance Company, they've been in business since 2010. Per their About Us page, they specialize "in the high premium sector of the UK motor insurance market."
Cuvva vs. Other Usage-Based Auto Insurance Providers
With traditional auto policies, you're required to purchase large chunks of insurance at a time. On top of this, those who drive very little are largely charged the same rates as someone else who drives tens of thousands of miles each year.
However, as technology has advanced, usage-based auto policies have quickly increased in popularity over the last several years. Many industry experts expect the trend only to increase.
At their most basic, these pay-as-you-drive (PAYD) companies base a good chunk of their rates on the amount of time you spend behind the wheel. In other words, all else being equal, the more you drive the more you'll pay.
In many instances, the amount you drive is monitored by a dongle that plugs into the OBD-II diagnostic port on your car.
In the U.S., perhaps the most well known usage-based insurance provider is Metromile, who offers a $35/mo subscription fee, plus $0.05 per mile.
However, Metromile doesn't operate in the UK, so Cuvva's only direct competitor includes the soon-to-be-released Just Miles, along with more traditional options like Tempcover and DayInsure.
Just Miles
You'll find that the majority of these temporary auto insurance policies—Cuvva's included—can be purchased for between one and 28 days, offer comprehensive coverage, competitive pricing, quick setup, the ability to insure those between 17 and 75 (give or take a few years), along with the capability to insure most UK registered vehicles.
Comparatively, the biggest difference is that Cuvva offers four different by-the-hour insurance plans, along with an easy-to-use app. Neither of which you'll currently find together in the UK.
However, Just Miles is another PAYD insurance provider set to launch sometime in mid-2017 according to their press release.
Subscription fees are expected to begin at £12 per month and customers will only be charged for miles driven. Similar to Metromile, this per-mile rate can depend on many factors.
Tempcover
Like Cuvva, Tempcover offers car, van and learner insurance, although they also add motorbike and impounded car insurance. And although Cuvva's website seemed to indicate they're sensitive to those with activity, Tempcover claims, "We can cover those with penalty points and those who have had a previous disqualification or conviction."
Tempcover's minimum vehicle value is £500, while the maximum claim for a vehicle is capped at between £40,000 and £65,000, depending on the insurer chosen.
As far as price, Tempcover bases their rates on factors such as age, location, and type of vehicle being used, although they admit they may seem more expensive than an annual policy per website.
No vehicle modifications are allowed and all their policies are underwritten by Ageas, Eridge, Granite Underwriting, Haven, KGM, Mulsanne, and Southern Rock Insurance.
DayInsure
One of DayInsure's standout features is that they can insure not only those with UK licenses, but also full EU, EEA, Australian, New Zealand, South African, and Swiss drivers licenses (as long as they've been licensed for at least 6 months, or three months, if aged over 25).
Policies are underwritten by Aviva, RAC, and Allianz.
Can You Really Save With a Cuvva Auto Insurance Policy?
What you'll pay for a Cuvva policy could depend on a number of variables. This certainly seems realistic if you drive very little and have a traditional auto policy in place.
On top of potential money savings, Cuvva is currently the only carrier providing temporary, per-hour auto insurance in the UK, although they'll soon have some (meaningfully different) competition when Just Miles releases in mid-2017.
Just keep in mind that, according to Cuvva's FAQ, it's extraordinarily important that you have coverage when you get behind the wheel. Otherwise, "you can be fined up to £5,000, you will have 6 penalty points endorsed on your license, the vehicle may be seized and destroyed and you have unlimited liability for any damage to persons or possessions."
Speaking of coverage, while Cuvva has increased their offering to four policy types, and aim to reduce restrictions as time goes on, if you're looking for a highly customizable policy they might not be the company for you.
But if you're looking for per-hour insurance coverage at competitive prices with solid customer feedback, it appears you can't go wrong with Cuvva.
Cheap, fast insurance app

By Adrian P.

,

Lincolnshire, England

,

Oct 18, 2019
Verified Reviewer

Good company which lets you insure your car for a few hours, a day, week, or month. You simply take a picture of your registration plate, front and back, pay and you are insured. Takes like five minutes to do. Great for people who borrow a car from a friend and only want insurance for an hour or a few hours, but also a week is a good option.

Very flexible, reliable and easy to use.

Bottom Line: Yes, I would recommend this to a friend

---

Did not allow me to modify or get a refund

By Ryan D.

,

Coventry, England

,

Jul 15, 2019
Verified Reviewer

The company would not allow me to get a refund or to modify my insurance. Just based on this reason I would not recommend to a friend. To be clear, other insurance companies allow refunds and modifications, which is why I am writing a review. I would advise going with another company just to be sure because you never know you may have to cut the insurance short and it will be a waste of money.

Bottom Line: No, I would not recommend this to a friend

---

Advertisement

---

Disgrace and daylight robbers

By Christian C.

,

Dorset, England

,

Mar 2, 2019
Verified Reviewer

So I needed insurance for three days and bought through Cuvva...cost me 78 pounds in total.

I got one hour away from home and told it had been cancelled due to modifications.

So, guys, I had a damaged bonnet so bought another for repair, this one is a different colour, did you know this was classed as a modification?

Oh.

And I have a few jap stickers on it as my friend who died put them there.

Because the stickers make the car superfast and it's a modification, they stole and refused to give back 78 pounds or even 50 pounds. I was left stranded a 3 hour walk home and 200 in recovery fees because they said my car was modified as it had stickers a different colour bonnet. Soon, as I argued this, they then said it was lowered and the spoiler on the back some standard either...the spoiler is standard and the car had never not seen a official replacement part in its life...

You are a disgrace and unacceptable and hope this appears on your website too. You're liars and make stuff up when you know your wrong...

I hope this goes on your website with the 5-star reviews you select for attention. I would give negative 5 stars.

DISGRACEFUL.

Bottom Line: No, I would not recommend this to a friend

---

Cheap and easy to insure

By C T.

,

Manchester, England

,

Jan 21, 2019
Verified Reviewer

I used these when buying a car and needed to get it home. I found them really cheap and easy to use. I would recommend to family and friends.

Bottom Line: Yes, I would recommend this to a friend

---

Advertisement

---

Amazing company

By Vanessa J.

,

London, England

,

Nov 5, 2018
Verified Reviewer

I used Cuvva yesterday on my friend's car and it was an easy process. A small hiccup when I didn't declare a recent incident I had after I made my Cuvva account, but taking to customer support through their app for 5 minutes sorted everything and I was driving in no time!

Bottom Line: Yes, I would recommend this to a friend

---

Fast and cheap insurance when needed quickly, especially for young drivers!

By John S.

,

Essex, England

,

Oct 29, 2018
Verified Reviewer

I am a young driver and this provides quick insurance when I need it. Really fast and great. £10 off your first policy on Cuvva.

Bottom Line: Yes, I would recommend this to a friend

---

Cuvva temp car insurance

By Mo J.

,

Birmingham, United Kingdom

,

Oct 29, 2018
Verified Reviewer

Very good company easy to deal with via the app. All you have do is provide car and license number and upload some pics of the car to 24-hour helpline if you experience any problems.

Bottom Line: Yes, I would recommend this to a friend

---

Really easy and quick temp car insurance

By Anthony S.

,

Merseyside, England

,

Sep 25, 2018
Verified Reviewer

Really quick and easy to purchase, certificate sent in seconds. Great customer service too. Highly recommend.

Bottom Line: Yes, I would recommend this to a friend

---

Discount code available

By Sam S.

,

Buckingham, England

,

Jun 27, 2018
Verified Reviewer

I bought one-day insurance through the Cuvva App. It was really easy to use and very clear. All you needed to do was type in the vehicle reg number, take a picture of your licenses (or use one from your photos if you've got a picture of it) and then take a picture of the front of the car! After that you pay and you are insured! By the way, it was really affordable, and with the discount code you also get £10 off! I did not check to see if the insurance came up on MID (Motor Insurance Database), but I was not get stopped by the police so I believe it was fine!

Bottom Line: Yes, I would recommend this to a friend

---

Amazing for temp cover

By Thomas F.

,

Scotland

,

Jun 3, 2018
Verified Reviewer

It's probably the best temp insurance ever. The interface is very easy and quick to use. Insurance is cheap - £96 for two days for a 21-year-old with three points on an Audi A4 3.2L which nowhere else would even touch. Highly recommended.

Bottom Line: Yes, I would recommend this to a friend

---

Useful app

By Alex Silva

,

Milton Keynes, Buckinghamshire, UK

,

Nov 14, 2017
Verified Reviewer

This is a fantastic little app that allows you to quickly get coverage on a new car you just bought or if you have a car that is SORN and needs driving to the MOT station for that yearly test. You can insure for an hour or two for under a tenner, that's a very convenient feature. I highly recommend it.

Bottom Line: Yes, I would recommend this to a friend

---