Cuvva Auto Insurance Reviews
Cuvva Auto Insurance provides policyholders with usage-based coverage for as little as one hour at a time, with transparent, upfront pricing and no hidden fees.
About Cuvva Auto Insurance
Compared to traditional coverage, Cuvva Auto Insurance offers customers simple, straightforward, fully comprehensive usage-based policies that could save UK residents up to 70%. How?
Combined with an iOS and Android app, Cuvva offers two different policy types:
Car Sharing – Per-hour temporary insurance, ideal for borrowing a friend's vehicle. Turn it on when it's time and off when you're done.
Subscription – Ongoing insurance that provides coverage for an owned vehicle, but one that's not regularly driven. Pay a low monthly subscription when it's parked and "top up" via the app just for the hours you're driving.
Either way, Cuvva tells us this allows you to fully control your policy and only pay for what you use so that you can say goodbye to one-size-fits-all policies.
Additionally, you'll experience transparent and upfront pricing, along with the ability to cancel at any time, without a penalty or sneaky fees.
You're here because you live in the UK and don't drive a whole lot. As a result, you're wondering if a) Cuvva Auto Insurance can help you save money and b) if they provide quality coverage and service for what you pay.
Here, we'll discuss what we learned during our research to help you find some answers—starting with Cuvva's policy types.
What Types of Coverage Are Available with Cuvva Auto Insurance?
Cuvva Car Sharing
Cuvva's Car Sharing policy provides comprehensive per-hour temporary insurance on any car, anywhere from one hour to 28 days, even if it's not owned.
Using the iOS or Android app, Cuvva tells us you can have coverage in place in a matter of minutes, without phone calls, paperwork, or waiting. Then, once your details have been entered, it's easy to switch coverage to any car.
Because it's a completely separate policy, Cuvva claims the vehicle owner's no-claims bonus won't be affected if you're involved in an accident.
Cuvva Subscription (Previously Known as Flexi)
With a beta version that just launched March 16, 2017, Cuvva's Subscription policy features the same per-hour coverage as the Car Sharing policy, but adds underlying coverage (accidental damage, vandalism, fire, and theft, according to the website) for your car while it's parked and unattended.
In exchange for this, you'll pay a low recurring monthly premium.
Then, when you need to drive, you can purchase insurance through the app for anywhere between one hour and three days. As soon as it's purchased, the coverage runs continuously until finished and cannot be paused.
Worried that you'll forget to purchase insurance when it comes time to get behind the wheel?
Your Cuvva Subscription policy comes with a Bluetooth beacon called a Co-pilot. It plugs into the 12v socket of your car and pings your phone with a reminder to buy as soon as you turn on your engine.
How Does the Cuvva Auto Insurance App Provide Hourly Car Insurance on Demand?
Along with their Subscription policy, Cuvva's iOS and Android apps were in beta at the time of our research.
We were able to download the iOS version, although, without a UK driver's license or plate number, we weren't able to do much more than scroll through different screens. In fact, we never received the SMS verification code, which we could attribute to the fact that we didn't have a UK phone number.
With this in mind, Cuvva's app seemed easy to navigate. You'll find four main screens, including Get Covva'd (enter vehicle information and obtain coverage), Garage (previous vehicles you've driven), Subscription details, and Profile.
On the Profile page, you can also view your policy history, apply a discount code, access the Help Center, and contact support.
Then, once you're set up, you can choose how many hours you want to be insured for, pay, and drive away!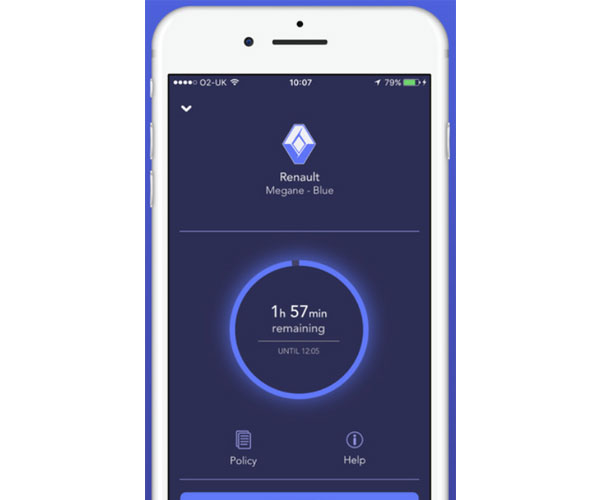 After you've paid for Cuvva auto insurance, the iOS and Android app will show you how much time you have remaining. Image credit: Apple Corporation
Outside of being located in the UK, are there any other eligibility criteria when it comes to Cuvva Auto Insurance?
Who Underwrites Cuvva's Auto Insurance Policies & What Are Their Eligibility Guidelines?
As the Financial Times wrote regarding the recent boom of insurance-related financial technology:
"Analysts say that the capital requirements, regulatory burden and complexity required, combined with the desire of investors for short-term returns, means that very few of [these new insurance start-ups] underwrite their own policies. The result is that for most start-ups, partnerships with existing insurers are critical. Without them, many would struggle to make the business model work."
Although they're authorized and regulated by the UK Financial Conduct Authority, this means Cuvva's auto insurance policies are underwritten by Mulsanne Insurance Company Limited.
Cuvva's Underwriting Criteria for Drivers
While neither the Cuvva nor Mulsanne websites divulged all their underwriting criteria, based on what we pieced together, drivers looking to obtain a policy need to:
Be at least 19 years of age or older (17 or older for learners). The company tells us the majority of their customers normally fall between 19 and 65, or 17-45 for learners.
Hold a Great Britain driving license. Cuvva uses this to query the DVLA (the U.K. driving license issuer)
Be a resident of the UK (coverage is currently not available in Northern Ireland)
Some restrictions in place for number and severity of convictions
What Kinds of Vehicles Can Cuvva Insure?
From a vehicle perspective, it can't:
Have any modifications, feature more than seven seats, or be used to carry passengers for hire or reward
Be valued at more than £40,000
Be older than 15 years
Classify as high performance
Be garaged outside the UK
In summary, Cuvva is ideal for stuff like borrowing a car, running errands, sharing long journeys, and weekend trips. On the other hand, Cuvva Auto Insurance isn't your cup of tea if you need coverage for a taxi service, releasing a car from the pound, getting road tax, or racetrack days.
Still have eligibility concerns? The Cuvva website recommends, "If you want to get covered, just give it a go, and we'll let you know if we can insure you." This can be done in less than 60 seconds.
Now, you're probably wondering, "How much can I save with a Cuvva auto policy?"
How Much Does Cuvva Auto Insurance Cost?
Like any auto insurance provider, who can base their rates on thousands of different factors, no specific prices were listed on the Cuvva website.
However, they did offer an Insurance Calculator that allowed us to change parameters like car size, postcode, age, hours per month driven, no-claim bonus, and current annual insurance premium.
If we lived in postcode W12, were 28 years old, drove eight hours per month, and had a no-claims bonus of three years, we're told Cuvva would cost us about £501.92 annually, or £41.83 per month.
Interestingly, the larger the car, the more the premium went down. Everything else being equal, a medium car was £467.36, and large £414.56. Even a sports car was £361.76!
Playing around with different factors in this calculator, it seemed that hours driven per month was the biggest factor impacting annual cost. For example, if all factors remained the same and we increased the numbers of hours driven to 32 per month, the premium doubled (it doubled at as little as 18 hours for the sports car).
Once your policy is active, a paper copy will be mailed to you, but you can also view a copy at any time your inside the app. The app is linked to your credit/debit card and can only be used to obtain coverage for you.
The Co-pilot Bluetooth beacon is completely free, and Cuvva will send it out to you right away. Just be sure to plug it in within seven days of purchasing your subscription.
How Cuvva Auto Insurance Policies Are Billed
Compared to a traditional policy, Cuvva Auto Insurance policies work a little differently, so it's worthwhile to quickly cover the basics.
In a nutshell, Cuvva issues short-term auto policies that last no longer than 28 days. So, instead of having a single 12-month (for example) traditional policy, you'll be issued thirteen 28-day Cuvva policies over the course of a yearlong subscription.
During this time, your premium will be fixed. Then, once your annual subscription renews, it will be recalculated, at which point it might increase or decrease.
During your subscription, the minimum time available for purchase is one hour, and the maximum is three days. While this is likely more convenient than with your current coverage, keep in mind that if you only want to drive for 20 minutes, you'll still need to purchase an hour.
What Are Cuvva's Cancelation & Refund Details?
As far as their per-hour coverage, according to the support documents on Cuvva's website, "there is no circumstance in which we can offer a refund." In other words, you need to make sure you need insurance before you decide to buy.
Subscriptions can be canceled immediately, or you can choose to turn off the recurring option inside the app and let your policy lapse (remember, it renews every 28 days). Either way, Cuvva won't charge you anything extra.
What Can We Learn From Cuvva Auto Insurance Reviews?
London-based Cuvva was founded in 2014 by CEO Freddy Macnamara and co-founded by CTO James Billingham, although their subscription service wasn't launched until January 2017.
In 2016, Freddy told CNBC that his inspiration behind the company was, "Why can't I just jump into a friend's car, drive it and not go to jail? It's difficult."
Earlier that year, Freddy and his team were among 11 other companies in the Barclays Accelerator London.
Since then, Cuvva Auto Insurance had earned 168 customer reviews on Review.co.uk at the time of our research, delivering an average rating of 4.86 Stars.
Most compliments related to short-term insurance that's competitively priced, easy to use, fast to set up, and with a solid customer service base. Of the few complaints, most referenced high price.
On iTunes, there was only one 5-star review, who called it "amazing" and a "lifesaver." There were nearly 40 reviews and a 4-star average rating on Google Play, however, where most praises claimed it was quick, easy to use, and inexpensive. Common complaints referenced bugginess and eligibility criteria (typically, that a vehicle was too old).
As far as Mulsanne Insurance Company, they've been in business since 2010. Per their About Us page, they specialize "in the high premium sector of the UK motor insurance market."
Cuvva vs. Other Usage-Based Auto Insurance Providers
With traditional auto policies, you're required to purchase large chunks of insurance at a time. On top of this, those who drive very little are largely charged the same rates as someone else who drives tens of thousands of miles each year.
However, as technology has advanced, usage-based auto policies have quickly increased in popularity over the last several years. Many industry experts expect the trend only to increase.
At their most basic, these pay-as-you-drive (PAYD) companies base a good chunk of their rates on the amount of time you spend behind the wheel. In other words, all else being equal, the more you drive the more you'll pay.
In many instances, the amount you drive is monitored by a dongle that plugs into the OBD-II diagnostic port on your car. While Cuvva's Co-pilot does the same, their website claims it's only there to send a smartphone alert as soon as your engine comes to life.
In the U.S., perhaps the most well known usage-based insurance provider is Metromile, who offers a $35/mo subscription fee, plus $0.05 per mile.
However, Metromile doesn't operate in the UK, so Cuvva's only direct competitor includes the soon-to-be-released Just Miles, along with more traditional options like Tempcover and DayInsure.
Just Miles
You'll find that the majority of these temporary auto insurance policies—Cuvva's included—can be purchased for between one and 28 days, offer comprehensive coverage, competitive pricing, quick setup, the ability to insure those between 17 and 75 (give or take a few years), along with the capability to insure most UK registered vehicles.
Comparatively, the biggest difference is that Cuvva offers two different by-the-hour insurance plans, along with an easy-to-use app. Neither of which you'll currently find together in the UK.
However, Just Miles is another PAYD insurance provider set to launch sometime in mid-2017 according to their press release.
Subscription fees are expected to begin at £12 per month and customers will only be charged for miles driven. Similar to Metromile, this per-mile rate can depend on many factors.
Tempcover
Like Cuvva, Tempcover offers car and learner insurance, although they also add van, motorbike, and impounded car insurance. And although Cuvva's website seemed to indicate they're sensitive to those with activity, Tempcover claims, "We can cover those with penalty points and those who have had a previous disqualification or conviction."
Tempcover's minimum vehicle value is £500, while the maximum claim for a vehicle is capped at between £40,000 and £65,000, depending on the insurer chosen.
As far as price, Tempcover bases their rates on factors such as age, location, and type of vehicle being used, although they admit they may seem more expensive than an annual policy per website.
No vehicle modifications are allowed and all their policies are underwritten by Ageas, Eridge, Granite Underwriting, Haven, KGM, Mulsanne, and Southern Rock Insurance.
DayInsure
One of DayInsure's standout features is that they can insure not only those with UK licenses, but also full EU, EEA, Australian, New Zealand, South African, and Swiss drivers licenses (as long as they've been licensed for at least 6 months, or three months, if aged over 25).
Policies are underwritten by Aviva, RAC, and Allianz.
Can You Really Save Up to 70% With a Cuvva Auto Insurance Policy?
While we mentioned that what you'll pay for a Cuvva policy could depend on a number of variables, after playing around with the Insurance Calculator on their site, this 70% number certainly seems realistic if you drive very little and have a traditional auto policy in place.
On top of potential money savings, Cuvva is currently the only carrier providing temporary, per-hour auto insurance in the UK, although they'll soon have some (meaningfully different) competition when Just Miles releases in mid-2017.
Just keep in mind that, according to Cuvva's FAQ, it's extraordinarily important that you have coverage when you get behind the wheel. Otherwise:
"You can be fined up to £5,000, you will have 6 penalty points endorsed on your license, the vehicle may be seized and destroyed and you have unlimited liability for any damage to persons or possessions."
Speaking of coverage, there are only two Cuvva policy types. As a result, it doesn't appear that you can adjust coverage based on your specific needs. So, if you're looking for a highly customizable policy, they might not be your first choice.
But if you're looking for per-hour insurance coverage at competitive prices with solid customer feedback, it appears you can't go wrong with Cuvva.
Amazing for temp cover

By

Thomas F.

,

Scotland

,

Jun 3, 2018
Verified Reviewer

It's probably the best temp insurance ever. The interface is very easy and quick to use. Insurance is cheap - £96 for two days for a 21-year-old with three points on an Audi A4 3.2L which nowhere else would even touch. Highly recommended.

Bottom Line: Yes, I would recommend this to a friend

---

1 out 1 people found this review helpful

Useful app

By

Alex Silva

,

Milton Keynes, Buckinghamshire, UK

,

Nov 14, 2017
Verified Reviewer

This is a fantastic little app that allows you to quickly get coverage on a new car you just bought or if you have a car that is SORN and needs driving to the MOT station for that yearly test. You can insure for an hour or two for under a tenner, that's a very convenient feature. I highly recommend it.

Bottom Line: Yes, I would recommend this to a friend

---

Advertisement

---

4 out 6 people found this review helpful

Doesn't update Motor Insurance Database (MID)

By

Ben Chapman

,

Norwich, United Kingdom

,

Oct 25, 2017
Verified Reviewer

Stopped four times in the space of 6 hours because my vehicle shows as not insured by the police ANPR system. Yes, I'm legal, but its a pain being stopped, especially when Cuvva has a bold statement of "We pride our selves with updating MID every hour." Well, obviously not as I've now had it 17 hours and still it's not showing as insured regardless of being legal.

The app is fantastic and the idea of this is great, but the huge let down is updating MID. So bare in mind, you're likely to get pulled over a lot and have your time wasted on the side of the road.

What aggravates me even more is they blame MID. I had a traders policy with TradeWise where I log in online and add my cars reg, and within half an hour my cars would show. Cuvva are making false statements, and until this is rectified, I will not change this review.

Bottom Line: No, I would not recommend this to a friend

---