Cyclone Rake Reviews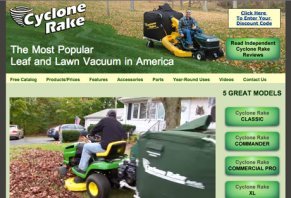 The Cyclone Rake is a tow-behind lawn and leaf vacuum that is claimed to help you clear your property of leaves and other debris with minimal time and effort.
About Cyclone Rake
Manufactured by Woodland Power Products, Inc. based out of West Haven, CT, the Cyclone Rake is a tow-behind lawn vacuum system that is claimed to easily attach to any riding mower (even zero-turn mowers) and transform it into a high-capacity, super-powerful outdoor cleanup machine. And by using premium, commercial-grade engines and patented impellers with up to 10X more lifting power than most riding mowers, the Cyclone Rake is claimed to help you save time and effort and to give you a healthier lawn with fewer chemicals.
With fall just around the corner and the daylight hours waning, you're sure to have leaves and other debris sitting in your yard very soon. And if you're used to raking or blowing your property, you understand what a time-consuming and backbreaking process it can be.
With this in mind, can the Cyclone Rake lawn vacuum and leaf mulcher really help you finish your fall yard chores in much less time than with traditional methods? And if so, is it worth the steep price? Let's find out.
How the Cyclone Rake Claims to Work
Billing itself as the "most popular leaf and lawn vacuum in America," the Cyclone Rake is a tow-behind lawn and leaf vacuum that claims to attach to virtually any riding mower with a right-side discharge in less than 4 minutes, without any tools, and to feature a huge load capacity that allows you to spend more time picking up debris—both wet and dry—and less time emptying the bin. In fact, the manufacturer claims that the Cyclone Rake can even be used effectively while it's raining.
When compared to the competition, the Cyclone Rake features a unique JetPath vacuum system, which has a shorter overall length, larger tube diameter, and straight run from your mower to the mulcher, thereby improving power and reducing the chances of clogs. On top of this, the Cyclone Rake's patented Miracle Impeller is strong yet flexible, allowing large objects to pass, and then to return to its original shape. Finally, the Cyclone Rake is claimed to never jackknife, whether you're making tight turns or going in reverse, making cleaning up tight areas a breeze (see more about this in the Customer Reviews section).
Once you're finished using your Cyclone Rake, the manufacturer claims that it can be easily detached (again, using no tools) and then folded flat for storage. In fact, at just 6 inches thick, the Cyclone Rake is light enough to be hung on the wall.
Cyclone Rake Models
According to the company's website, the top 3 Cyclone Rake models feature the largest debris capacity available, and some models include the EasyFlow unloading system that works similar to a dump truck. However, all models come with premium Briggs & Stratton® Vanguard engines that may cost more, but are claimed to provide you with better dependability and longer life.
With this said, the right Cyclone Rake model for you will depend largely on what size property are you maintaining, how much debris will be collected, and what size mower you'll be using. For a side-by-side comparison of different Cyclone Rake models, be sure to take a look at the comparison chart.
However, here is a brief overview of the 5 different Cyclone Rake models:
Classic – 7-inch diameter JetPath Vacuum System, a 5.5 HP Vanguard Engine w/8.5 foot-pounds of torque, and a 200 gallon capacity.
Commander – 8-inch diameter JetPath Vacuum System, a 6.5 HP Vanguard Engine w/9.1 foot-pounds of torque, and a 285 gallon capacity.
Commercial Pro – 8-inch diameter JetPath Vacuum System, a 6.5 HP Vanguard Engine w/9.1 foot-pounds of torque, and a 415 gallon capacity.
XL – 8-inch diameter JetPath Vacuum System, an 8 HP Vanguard Engine w/13.4 foot-pounds of torque, and a 415 gallon capacity.
Z-10 – 10-inch diameter JetPath Vacuum System, a 10 HP Vanguard Engine w/14.4 foot-pounds of torque, and a 415 gallon capacity.
According to the manufacturer, your Cyclone Rake will come with everything you need to begin using it, unless you don't have a usable mower deck boot or have one of the small number of mowers that requires a custom hitch. Most customers agree than the Cyclone Rake's assembly instructions are clear and all parts are well-labeled.
Cyclone Rake Pricing & Refund Policy
The Cyclone Rake is only sold directly through the factory, and is priced as follows:
Classic: $1,095
Commander: $1,345
Commercial Pro: $1,545
XL: $1,745
Z-10: $1,945
In addition to the primary machine, Cyclone Rake also has a large selection of replacement parts and accessories available, from upgraded wheels to roof rack carriers.
Shipping costs for your Cyclone Rake can vary depending on the area of the country in which you live, although due to its large size, it can be as high as a couple hundred dollars.
All Cyclone Rake models come with a 12-month risk free trial, including S&H both ways, a 3-year warranty for residential use, and 1-year warranty for commercial use.
If you have questions about Cyclone Rake or need to process a return, you'll need to contact the factory trained service and sales team at 888-531-7253. Alternately, you can visit their showroom, order an information kit, or use their referral service to talk to someone near you who already owns a Cyclone Rake.
What Do Other Consumers Have to Say About the Cyclone Rake?
Overall, it appears that the Cyclone Rake has an overwhelmingly positive online customer reputation, with some even claiming that it's the best yard investment they've ever made. Common compliments include that the Cyclone Rake is very effective at lifting almost any material from the lawn, including acorns, and that customer service is very helpful and responds quickly to any inquiries.
In fact, it was difficult finding any real Cyclone Rake complaints, other than minor fitment issues. However, some common concerns included that steering may suffer once you near load capacity, especially for zero-turn mowers (note: your zero-turn mower will no longer be zero-turn once attached). Additional concerns include that it arrives unassembled and may take you several hours to do so, and that the motor is powerful enough to suck up rocks, which could potentially damage the rear housing.
Bottom Line: Is Cyclone Rake Something that Can Make Yard Cleanup Easy?
Based on the number of positive reviews regarding the Cyclone Rake, it appears that you'd be hard-pressed to find a device that makes cleaning up leaves and other yard debris easier, all throughout the year. Admittedly, the Cyclone Rake does come with a high price, but it also has the potential to save you a lot of time and backbreaking work. And the larger your yard, the more helpful it might be.
Changing impellers

By Earle B.

,

Arlington, TN

,

Dec 19, 2019
Verified Reviewer

I ordered a new impeller for my 15-year cyclone rake. It showed up in about four days. The instructions were written in plain English and very precise. It came with new hardware and some specific tools that were needed. The whole process went off without a hitch. It is a pleasure to deal with a company that takes pride in their products and takes care of their customers.

Bottom Line: Yes, I would recommend this to a friend

---

Fantastic product! Great R.O.I.!

By David C.

,

Boston, MA

,

Nov 13, 2019
Verified Reviewer

My wife let me buy the XL model new in 2008 after a year or so lusting after one, and we are so glad I did ever since! This was the 2nd best investment, after buying a garden tractor in 2001!

Our property is about one acre of land surrounded by leafy trees on 3 sides, so some years the leaves have been rediculous and I was losing all my entire weekends to yard care, even with 3-bin bagger on tractor.

I believe I paid $1,750+/- back then, and after 11 solid years of enjoyable use, that makes my return on investment excellent at approx. $150/year+/-. If you factor in time and aggrevation savings, it is a zero cost!

I do break-it down each year, and do complete maintenance, so there is time spent on that. But the B&S Vanguard engine starts right up every time, is very strong and makes it pleasureable to use.

I also highly recommend a heavy duty garden tractor for this and all other yard care for so many reasons.

Bottom Line: Yes, I would recommend this to a friend

---

Advertisement

---

Real timesaver, still runs and works great at 13 years old!

By Stephen K.

,

Morristown, NJ

,

Nov 9, 2019
Verified Reviewer

I bought a used 2006 Cyclone Rake Classic 3 years ago. When I bought it, it was already 10 years old and started on the first pull. I only had my first issue with it this year. It would idle slow and almost die. I called customer service and within 5 minutes we had the problem diagnosed and fixed, no parts needed! It was just a bolt on the "pressure plate" that worked itself loose over 13 years so the throttle lever would slip down. Tightened up the bolt and it's back to running like a top.

As far as picking up leaves, this thing is an animal. It picks up most of the pine cones from my one white pine and a good amount of the needles. The only complaint I have is sometimes if the leaves are wet, it will be difficult to unload and I will have to reach in and pull some of the debris out prior to dumping. I get around it by dumping when it's only 3/4 full if it's wet out.

Bottom Line: Yes, I would recommend this to a friend

---

Awesome

By Norm M.

,

Spring Green, WI

,

Nov 9, 2019
Verified Reviewer

This is my 3rd season with the Cyclone Commander. I absolutely love it, what used to take days only takes a few hours. I am the envy of my neighborhood!

This product is everything as advertised, words can't describe the amount of labor this product saves me.

I also use it during the mowing season if the grass is too long.

Cheers.

Bottom Line: Yes, I would recommend this to a friend

---

Advertisement

---

The best thing I've bought in 20 years

By Bill M.

,

Ohio

,

Oct 26, 2019
Verified Reviewer

Hey everyone, I'm just another family guy with a big yard lined with trees. I was skeptical and waited a year to buy my Cy Rake. Well, let me say wow. It used to take me and my wife 8 hours to clean the yard, it now takes me 1 hour and 30 minutes. I can't wipe the smile off my face. Yes, it does break down in 10 minutes and that is taking my time very well engineered. Again 1.75 acres in 1 and a half hours. Thank you Cyclone Rake, great product I recommend buying it, 100 percent.

Bottom Line: Yes, I would recommend this to a friend

---

This thing is ridiculous!

By Babak A.

,

Massachusetts

,

Oct 24, 2019
Verified Reviewer

I live in a leafy Boston neighborhood, I mean leaves galore. After looking at it online for 3 years I broke down and bought it a week ago. After first use, I was sold! Looks like someone "licked" your lawn clean! An outstanding product! I bought the Commander, with upgraded blue diamond liner with dual wheels. The thing is a BEAST! It was love at first use!

Bottom Line: Yes, I would recommend this to a friend

---

Another leaf season is just around the corner

By Ken R.

,

Ottawa, Canada

,

Sep 30, 2019
Verified Reviewer

Another leaf season is just around the corner, and I can't wait to break out the Cyclone Rake. Had this device for 20 years now and it runs flawlessly, every year. Total quality! Can't think of any negative aspects to this machine, and I am an engineer, so I am usually very critical of products. Well done to this company!

Bottom Line: Yes, I would recommend this to a friend

---

Arizona high country

By Lem G.

,

Flagstaff, AZ

,

Jan 7, 2019
Verified Reviewer

I was needing a heavy duty piece of equipment for cleaning up ponderosa pine needles. Up here in the high county I don't have a green grass lawn with pretty maple tree leaves falling. Ponderosa pine has 9-11 inch pine needles and pine cones the size of my hand. I needed something heavy duty to help clean this up and not some weekend Tonka toy. I checked all different brands of lawn vacuums and selected the Cyclone Z-10. I wanted all the extras options such as electric start, 10" hose, pick up and discharge hose. I didn't want to have to buy options later. I don't have a large place to clean up, only 5 acres, but very heavily wooded.

In the past years, it was taking me and my wife 3-4 weeks of raking plus 8-10 6 yard dump trailer loads of debris to dispose of. My new Cyclone cut clean-up time to 2-3 days. This machine is a real beast. Naturally I have to pick-up brush that is finger size or larger, and baseball size rock.

Use common sense with the machine or you can turn a great piece of equipment into scrap parts quite quickly. There is no machine that I am aware of that can clean-up rock or brush. If there was, I would own one. I use a mulcher blade on my mower and the Cyclone mulches everything up again as it goes into the trailer bag. Then I spread it out using cyclones loading hose. It then mulches things a little bit finer. The debris is fine enough, I use it as compost in my pasture. It has taken a lot of research with trial and error but, I grow red top clover and alfalfa using the mulch made from my Cyclone.

You may have noticed I only gave Cyclone three stars. There are things that could stand some improvement. If the bag is too full, it is too heavy to pick up to dump. The tail swing is 12' and the bagger trailer hits trees trying to turn. The Cyclone is very dusty, make sure you are wearing a full face respirator. Cyclone advertises the Cyclone can be stowed under a bench or hung on a wall. This claim I believe is being stretched somewhat, but I've never tried hanging a 10 HP engine on a wall.

Is there room for improvement, yes. Is the Cyclone well built, yes. Do I personally like or recommend the Cyclone, yes. Do I recommend the purchase of a Cyclone, yes, depending on the purpose and use.

Bottom Line: Yes, I would recommend this to a friend

---

Overdue review

By Mike M.

,

Hartsville, SC

,

Dec 20, 2018
Verified Reviewer

I purchased my Cyclone Rake II in November of 1998. The current cost is close to the same as I paid back then.

Of course, it is useful during the fall, but I also use it whenever we have high winds that cause debris to be blown out of the trees.

Today I replaced the impeller for the second time. The first time the impeller was replaced was in 2007.

The bag (improved) was replaced in 2012 and is in great shape today.

The engine, which still runs just fine, is the original engine.

Good instructions are furnished with replacement parts.

Some new bolts and certain tools are sent in the repair kits.

Mine has been pulled by a mower with a 12 HP motor all this time, so it has not over-loaded my equipment. Go ahead and get one!

Bottom Line: Yes, I would recommend this to a friend

---

Awesome product

By David D.

,

Wallingford, CT

,

Nov 7, 2018
Verified Reviewer

My wife purchased me a Cyclone Rake classic back in approximately 2003. I use this to do my Wallingford home and my vacation home in New Hampshire. I normally use it in early spring to clean up my yard and a few times in the fall to do the leaves for both properties. I have NEVER had any problems.

The best part is when it's not being used I fold it up, hang it on my wall, and roll the engine under my workbench. Best present I ever got, worth every cent!

Bottom Line: Yes, I would recommend this to a friend

---

Not for yards with turns or corners

By John L.

,

Pickett, WI

,

Nov 4, 2018
Verified Reviewer

I purchased the Cyclone Rake because it knocked down. That part is great. However, if you have a yard with a fence with corners or other similar areas that require turns, DO NOT buy the Cyclone! It is like trying to turn a semi-tractor in your yard. The Cyclone drastically extends the length of your mower. Then two years later I purchased a new mower. So you need a new deck attachment. The one I bought with the Cyclone package was $79. If you need a new one, THE PRICE SKYROCKETS! $178. Total rip off, since it is made with recycled plastic. We use the same material on some of our parts, and it is dirt cheap. Overall the product works great, if you have an open yard with no turns and you never buy a new mower tractor.

Bottom Line: No, I would not recommend this to a friend

---