DealRay Reviews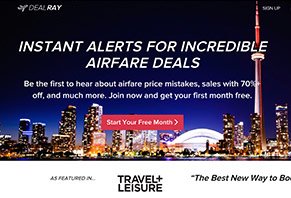 DealRay offers impulsive adventurers a shot at snatching up airfare made cheap by airline mistakes. However, alerts aren't free and many require flexibility.
What Is DealRay?
Imagine texts that immediately alert you to the most incredible airline deals—that's the idea behind DealRay. Founded by a couple of travel-happy bargain hunters, the DealRay team understands that the only thing worse than paying through the nose for airfare is doing so right after a great travel deal has expired.
Their solution? Signing up for DealRay's service means you'll get instant text alerts with the cheapest airfare deals and price glitches—straight to your phone.
Of course, DealRay isn't the first platform to promise sky-high savings to travelers. Can this travel alert app really make picking your ticket faster, easier, and cheaper? We'll take a look.
DealRay's Promise
DealRay promises to send you alerts to great travel deals that amount to huge savings. While primarily airfare, alerts will occasionally feature deals on other aspects of travel, such as deals on hotels or vacation packages, if they're good enough.
Also, DealRay promises they won't spam your phone, only sending a text every day or two—but since they often send deals that may expire in a matter of hours, you won't mind hearing from them.
How Does DealRay Work?
DealRay is a "fare alert" service—by combining their proprietary algorithms with manual research, they promise to search for online price decreases and too-low-to-be-true deals caused by errors (human or otherwise). Note that, unlike Travelocity or Kayak, DealRay isn't offering the deals, only finding them and sharing with members.
Compared to the competing fare alert services, DealRay gives you the ability to receive notifications based on a specific departure region, while they tell us that DealRay's staff verifies all alerts as bookable.
How Much Does It Cost to Be a DealRay Member
Here's the catch—the first month on DealRay is free, and then the service will cost you $9.99 a month. This can certainly add up! However, according to the site, members save an average of $428 per deal.
Before you go thinking that a fee-based deal finding app is bad news, note that DealRay charges so that they aren't forced to promote not-so-great deals, and can instead focus on sharing only opportunities that offer members real savings. This also limits how frequently DealRay sends out alerts, which is seen as a bonus for many who are tired of being inundated with too many messages and emails each day.
Some examples of DealRay's past savings include:
$144 for Philadelphia to Copenhagen from May through January
$99 One-way flight from Boston to Reykjavik
$188 From NYC to Abu Dhabi
$399 Per person New York to Milan on Emirates(must book 2+ tickets)
Signing up for your free month does require a credit card. However, memberships can be canceled at any time.
Additionally, DealRay encourages members to spread the word by offering unlimited free months. Each time a friend accepts your invite to join DealRay, their first free month is free for you, too.
Is DealRay Really a Deal?
The folks at Travel and Leisure signed up for DealRay and found the following:
Over the course of three months with DealRay, they received ten deals
Each deal was exclusive and included step-by-step instructions on how to complete the bookings
Four of these deals were cause by airline mistakes (including deeply discounted rates)
After trying out the service for three months, Travel and Leisure called DealRay "The best new way to book your flights."
However, there are a few caveats. First, it's important to act fast, since these discounted fares can last only hours. Also, your departure options could be limited.
The Trip Sherpa at Upgrd, who was also positively pleased with his DealRay experience, suggested that members have a couple hundred tucked away for great flights as they come up—as membership is pointless if you don't jump on deals.
Another caveat: The Department of Transportaiton allows airlines to cancel reservations made for mistake fares at their discretion.
Finally, DealRay is currently only focused on alerting travelers to deals on flights originating in the USA—meaning that those of us outside the border won't have much luck.
Bottom line on DealRay
Unlike sites like Airfarewatchdog, which allows you to monitor specific destinations for deals, DealRay works best if you're open to taking a trip anywhere in the world, as long as the price is right.
This means that DealRay can lead to some great adventures! But, the for-a-fee service appears best for impulsive travelers that don't have specific regions or dates in mind.
If you like the idea of getting airfare alerts, but don't want to pay, Flight Fishing and The Flight Deal also offer similar services that can help you plan your next trip on the cheap.
Read next: Find the Cheapest Flights and Buy Your Next Ticket Like a Pro
Never had a problem

By Brian K.

,

Norfolk, VA

,

Jul 30, 2018
Verified Reviewer

I've used DealRay for a while. I've traveled to Iceland, California and Las Vegas. All three round trips from the east coast cost me around $400 for airfare. I traveled to Sacramento from Virginia for $88 using United. You can't beat that. Las Vegas from Virginia for around $125. This site isn't for everyone but if you're able to travel on a whim, check it out.

Bottom Line: Yes, I would recommend this to a friend

---

Total scam

By Sam

,

Wisconsin

,

Dec 30, 2017
Verified Reviewer

I downloaded the DealRay app and within 24 hours decided I did not want to keep it. Upon making this decision, I emailed DealRay Customer Support who after a few back-and-forth emails assured me my account had been canceled and I would not be charged for their service/app.

Fast forward four months and I noticed my credit card was being charged when I wasn't using it. When I looked into this, I realized it was because DealRay continued charging me $9.99 a month for their app. When I realized what was happening, I emailed customer support again who responded until they understood my complaint. They have not returned my emails or phone calls since. I had to file a complaint with my credit card company to stop payments, and I assume I'll never see those month charges returned.

Bottom Line: No, I would not recommend this to a friend

---

Advertisement

---

WORST company

By Jillian

,

San Francisco, CA

,

Dec 4, 2016
Verified Reviewer

Deplorable customer service, unable to use service, access, or cancel account outside of US.

I signed up for Dealray in May, 2016 and immediately discovered I was only able to use the services via my US mobile number. I was going to be outside the US for another six months so I immediately moved to cancel my account but couldn't access it without my mobile number. I sent an email to their customer service department to please cancel my account which went unanswered.

After they began charging my account, I emailed them to cancel and refund and did so repeatedly while abroad. All went unanswered. After finally arriving back in the US, I was able to get into my account, cancel it, and report the fraudulent charges to my bank who could only refund me half of what Dealray charged me over the six months I was gone.

Even though I'm back in the US and am able to access their services, I wouldn't use them to support this company.

Bottom Line: No, I would not recommend this to a friend

---

Not worth it.

By Jac

,

California

,

Jun 19, 2016
Verified Reviewer

This service is not helpful. These deals can be found elsewhere, and the alerts come far too infrequently for the monthly fee. I regret paying for this.

Bottom Line: No, I would not recommend this to a friend

---

Advertisement

---

Scam

By SVallee

,

May 17, 2016
Verified Reviewer

Unstoppable fees. The service itself is not worth the subscription.

Bottom Line: No, I would not recommend this to a friend

---

Unstoppable Fees

By Harry Aaron

,

Atlanta, GA

,

Feb 25, 2016
Verified Reviewer

I canceled my DealRay subscription after the first month, when none of the deals sent to me were actually available or applicable from my home airport. Suddenly three months later, DealRay charged my bank account a subscription fee, without the website even being accessed in over 60 days. When I try and get the charges stopped, the DealRay site simply reiterates that I've canceled my account, and refuses to acknowledge the additional charges. Avoid this site.

Bottom Line: No, I would not recommend this to a friend

---

Advertisement

---