DealStock Reviews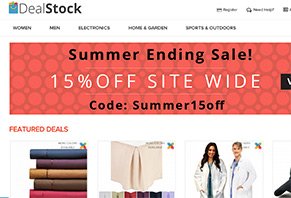 Compared to the competition, DealStock claims to offer the best online deals for men's, women's, home & garden, sports & outdoors, and electronics products.
About DealStock
Want more cash in your pocket? DealStock helps their customers save money by providing the best online deals for men's, women's, home & garden, and sports & outdoors products—including electronics.
DealStock even claims they've helped their customers save more than $10 million since the company was founded!
On top of their low prices, DealStock's values—what they call the "Value Triangle"—are at the center of their business model. This includes making sure customers come first, offering exceptional service, and providing more unique bargains than the competition.
If you just finished browsing DealStock.com, you probably have a good handle on what they offer. What you might not know is the kind of quality you can expect, and whether you'll receive a good value.
Here, we'll answer all your questions. Just what is DealStock, anyway?
What Is an Online Reseller?
The technical definition of a reseller is "an individual or company proactively selling a product or service owned or provided by another company for a profit or commission." You'll notice that there's little difference between a reseller (also known as a value-added reseller) and a retailer.
For those looking to earn extra money online, reselling is one of the easiest ways to accomplish this, since it often takes very little capital compared to other business opportunities, you can get set up fairly quickly, and manufacturers can drop ship their products so you don't have to keep inventory (or if you do, it's often minimal). In fact, DealStock started in the founders' living room!
There are even whole companies that offer easy access to reseller products, such as Etsy.
What Kinds of Products Can You Find on DealStock.com?
The products featured on DealStock.com change frequently (there's no set time, but presumably once they sell out).
From a men's and women's clothing perspective, most of the products on DealStock entail casual wears such as t-shirts, hats, socks, and underwear. There were, however, some more formal items (high-heeled shoes, for example) in the women's section.
DealStock's electronics seemed to be focused more on small, inexpensive gadgets like headphones, cables, flashlights, phone accessories, portable speakers, etc. Not anything over about $50 (we'll talk more about price shortly).
The very small Home section on DealStock seemed to consist mostly of bedding, while Sports & Outdoors was an assortment of hundreds of tactical knives.
We're not told where DealStock sources their products, but based on what was available during our research, they seem to be no-name brands from China (or another inexpensive source of labor). Despite this, many customers seemed to be pleased with the overall quality.
DealStock's Online Customer Reputation
DealStock is based out of Stafford, TX and wasn't listed with the Better Business Bureau at the time of our research.
There was one 5-star review for DealStock on ResellerRatings.com, where the customer referenced their low prices, good quality products, quick shipping, and great support team.
There was also one customer review on TrustPilot.com, where DealStock earned a 7-star rating. This customer noted the company's lower prices than the competition and quick response from customer service.
DealStock also operates eBay and Amazon stores, where most of their products seem to have between 4 and 5-star reviews.
Speaking of DealStock's stores, how much do their products cost?
DealStock Product Pricing
On DealStock.com, most prices fall between about $5 and $55, with men's wear falling on the lower end of this spectrum, and electronics on the upper.
To reduce costs even further, you can receive exclusive deals and coupons by signing up for DealStock's mailing list.
Regardless of how much you spend on DealStock, all orders shipped to the US come with free shipping and a 30-day refund policy. Note: To be eligible for a refund, products must be unused and in the same condition that you received them, including the original packaging.
There wasn't a customer service phone number listed for DealStock, so the only way to contact the company is by sending an email to support@dealstock.com.
Is DealStock.com Your New Online Shopping Destination?
If you're looking for a specific type of product at the lowest possible price, DealStock.com might be the reseller site for you.
They key word here is "specific." What's this mean? Unlike some of the biggest resellers (Amazon, for example), you won't need to browse DealStock.com very long until you've viewed all of their products. And not only is the number of products limited, but so is their selection.
For example, the only products available in the Home & Garden section of the DealStock website were bedding sets. In Sports & Outdoors, it was only tactical knives.
Men's and women's? Mostly different colors of the same shirts, hats, underwear, and socks. Electronics consisted primarily of inexpensive items like smartphone cables and headphones.
Where does all of this leave you? If you're interested in a narrow selection of generic, inexpensive goods, then DealStock might be right up your alley. But if you're looking for a wide selection of the latest fashions or high-end electronics, you'll probably want to search elsewhere.
2 out 2 people found this review helpful

Scam

By Melody Jones

,

Houston Texas

,

May 23, 2016
Verified Reviewer

It never arrived. Every time I try to contact them, there's only some robot message.

Bottom Line: No, I would not recommend this to a friend

---

2 out 2 people found this review helpful

Scammer site

By Samantha

,

Houston, TX

,

May 19, 2016
Verified Reviewer

I ordered products from them and they emailed me that it was shipped and in a few days later I went to track it and said that it was delivered at my mailbox. However, one of the other packages was too big to be put in the mailbox so I contacted them and they said that my package is delivered and they would not do anything else about it. I requested a refund but with no luck. They have a automated thing that responds back to anything you send. Also, the automated system says the same exact response every time.

Bottom Line: No, I would not recommend this to a friend

---

Advertisement

---