DermaBellix Reviews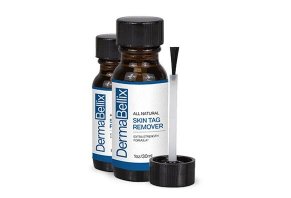 Billing itself as an all-natural alternative to surgeries and other removal processes, DermaBellix is a skin tag remover that claims to provide relief in as little as 8 hours.
What Is DermaBellix?
DermaBellix bills itself as an all-natural skin tag remover that works on all skin types with a fast-acting liquid-based solution. The manufacturers of the product claim that it is able to reliably remove not only skin tags, but moles as well, in as little as 8 hours from the time of application.
They also claim that DermaBellix's formula removes skin tags from any area of the body, including the eyelids, neck, armpits, groin folds, and under breasts. The formula comes with a fresh pine scent and is said to be incredibly easy to apply in just moments to the affected area.
Thousands of us deal with skin blemishes like skin tags and moles each and every year, and for many of us affected, a product that could reliably remove these blemishes and restore our skin to its natural glory without resorting to surgery or other removal methods would be a pretty enticing proposition indeed.
All of that said, is DermaBellix really the magic fix you've been looking for to get rid of skin tags once and for all? Or is it another product that promises the world, but can't deliver in the end? In order to answer these questions, we'll need to take a closer look at how the product works, as well as what ingredients can be found inside its "all-natural" formula. Before that, though, some of you might be wondering….what are skin tags? Let's take a look.
What Exactly Are Skin Tags?
Skin tags are naturally occurring growths of skin that just about everyone experiences at some point in their lives. According to WebMD, they are completely benign and harmless, and are no cause for concern.
Many individuals who deal with skin tags in multiple places around their body tend to visit a dermatologist at some point in the hopes of ridding themselves of the annoying blemishes once and for all. Several different procedures exist that allow you to forcibly remove skin tags and moles, such as surgical removal via scissors, cryosurgery, and burning. While each of these operations has their individual quirks, they all tend to be minimally invasive nowadays and require next to no recovery time in most cases.
Now that we've learned a bit about the traditional removal methods for blemishes like skin tags, let's take a closer look at how DermaBellix claims to work, making note of how it contrasts these other options for removal.
How DermaBellix Claims to Remove Skin Tags
DermaBellix claims to work by drying up skin tags directly on the skin, causing them to wither and fall away in the process. As mentioned above, the manufacturer mentions that this process can be completed in as little as 8 hours, but they go on to state that these results are not typical and might well vary from person to person.
As for the application process itself, the manufacturer claims that it has an easy, 3-step procedure. First, you'll need to clean the area around the skin tag or mole thoroughly. From there, you can go ahead and apply DermaBellix, saturating the area well with the product's formula using a cosmetic pad or an applicator. Finally, you'll need to wait 6-8 hours and observe the results. If needed, they recommend reapplying and following the steps all over again until the blemish is completely gone from the skin.
Now, this sounds simple enough, but what exactly causes this reaction to take place? Are the ingredients used in DermaBellix truly effective?
What Ingredients Are Found in DermaBellix's Formula?
Somewhat surprisingly, we aren't told directly what is inside the all-natural formula used in DermaBellix, only that it contains "pure essential oils". We tried to reach out to customer service to see if we could obtain an ingredient list, but we weren't able to get through to a real human to clarify, unfortunately.
Here at HighYa, we've reviewed a multitude of different skin care products in the past, and based on our experience, we feel that not including the ingredients inside a product upfront is a bit of a red flag that all might not be as it first appears on the outside. That being said, we aren't saying that DermaBellix won't be worth your time entirely. We're simply questioning why the company would elect to not make their ingredients known to potential customers, especially with the prevalence of various allergies and skin conditions that many are faced with.
DermaBellix Pricing & Return Policy
Currently, it looks as though DermaBellix is only available via the company's main website. There are several different options for purchasing the product, but it all boils down to how much you'd like to order at a time. The following options are available directly from the makers of DermaBellix:
Single bottle: $56.00 each (free shipping and $40 gift card included)
Two bottles: $44.97 each ($89.94 total, free shipping and $40 gift card included)
Three bottles: $36.65 each ($109.95 total, free shipping and $40 gift card included)
Five bottles: $25.99 each ($129.95 total, free shipping and $40 gift card included)
In addition to these initial quantities, you also have the option to enroll in the company's autoship program. If you elect to do so, this means that at the end of your initial supply, you'll be billed for a single bottle each month afterward for $69.95. At HighYa, we've covered dozens of products that utilize autoship programs, and we can say with experience that many of these programs do not even give you the choice to elect to join, instead defaulting you into the program with your first purchase, and sometimes without your knowledge.
We feel very strongly about educating and informing our readers about these types of potential issues before they have a chance to cause distress to anyone looking to purchase a product that utilizes this sort of program. If you'd like to know more about what to lookout for with autoship programs, you can read our in-depth guide right here.
As for the return policy for DermaBellix, it looks as though the company offers a 30-day money back guarantee. In order to exercise this policy, you'll need to contact customer support at 888-666-0984 or info@dermabellix.com to request an RMA number. The company states that you must do this within 30 calendar days of your initial purchase. It looks as though you'll be responsible for paying the shipping and handling to get the product back to the manufacturer, and you'll also be due for a $9.99 restocking fee.
Finally, let's bring everything that we've learned together in order to decide whether DermaBellix is truly right for you.
The Bottom Line: Does DermaBellix Really Work?
Skincare is a complicated topic, because everyone is a bit different, and what works wonders for some might be completely ineffective for others based on a variety of different factors. When it comes to DermaBellix, a few main things concern us. The first and most obvious, of course, is that we don't know what exactly is inside the product. Here at HighYa, we aren't doctors, but in general, we tend not to advocate using skincare products without knowing what you're actually putting onto your skin.
There's also the matter of the price, which is generally very important to our readers. Based on the reasons above, as well as our own experience with reviewing products similar to DermaBellix in the past, we feel honestly that any value you might receive from DermaBellix might be overshadowed by the fairly high price of admission. We also feel that those funds might be better spent consulting with a certified dermatologist in order to come up with a skincare solution that's right for you and your specific needs.
Have you used DermaBellix before? Leave a review and share your experience with others!
16 out 16 people found this review helpful

DermaBellix

By David N.

,

Rome, GA

,

Oct 13, 2018
Verified Reviewer

Do not order, it does not work, and they auto ship and bill forever! Sham! Worthless, do not use. Do not order ever! Never use, never order!

Bottom Line: No, I would not recommend this to a friend

---

21 out 21 people found this review helpful

Ditto! I should have looked up the product instead.

By Eric G.

,

New York, NY

,

Oct 9, 2018
Verified Reviewer

Ditto! I should have looked up the product instead. Plus the company has sent a shipment of something called Levira! It does not work either.

I applied the product on my neck at bed-time and in the morning for two weeks! Then every day at night. NOTHING changed! Why? Now, I cannot get my money back. I anticipate that they are going to argue with my request to stop the order of both products. Next stop, the BBB. And Dun and Bradstreet. However, this is America, capitalism, greed, separatism, violence and racism. We are ruined!

Bottom Line: No, I would not recommend this to a friend

---

Advertisement

---

19 out 19 people found this review helpful

Worthless

By George F.

,

Lenoir City, TN

,

Oct 8, 2018
Verified Reviewer

I wish I did not order. I used it for a couple of weeks and it did nothing to remove skin tags. I tried again to be sure of applying correctly. No tags removed. I gave up, but by then it was too late to return. The product is completely worthless.

Bottom Line: No, I would not recommend this to a friend

---

20 out 21 people found this review helpful

Don't waste your money

By Pat C.

,

Eugene, OR

,

Sep 19, 2018
Verified Reviewer

This is just natural oils. No way this is going to do anything. I hoped that I could treat my moles and skin tabs by myself and save a trip to the dermatologist.

I wish they had given me a money-back guarantee as I have just thrown away my money and as a senior citizen, it was money I didn't have to spare.

Bottom Line: No, I would not recommend this to a friend

---

Advertisement

---

23 out 23 people found this review helpful

Review of DermaBellix skin tag remover

By Gerry T.

,

Phoenix, AZ

,

Sep 15, 2018
Verified Reviewer

I ordered and paid for two bottles of the skin tag remover. After using both bottles as per their directions, I noticed no changes at all. I gave the product more than a fair shake. It did nothing. It did make me reek of cedar oil though. You don't know you're on the autoship list unless you read halfway through the terms and policy statement (conveniently tucked away). I emailed them and called three times to get taken off that list. I still got billed for another bottle. The bottle that was shipped wasn't even the skin tag remover. It was something called Levir (WHAT!!).

When talking to their customer service person, I told him the product did nothing and was garbage, he told me to move past it. I ultimately canceled my credit card and filed fraud charges against them. With that being said, stay away from this company, it is nothing more than a SCAM.

Bottom Line: No, I would not recommend this to a friend

---

19 out 19 people found this review helpful

Does absolutely nothing

By Michael H.

,

Dayton, OH

,

Sep 4, 2018
Verified Reviewer

I have gone through an entire bottle of DermaBellix skin tag remover and I can confirm, as a matter of fact, it has made no difference at all on the two skin tags and three moles I have used in on. This stuff is a waste of money. Do not waste your time. I would also not even start, because getting them to stop billing your credit card is a nightmare.

Bottom Line: No, I would not recommend this to a friend

---

21 out 21 people found this review helpful

Dissatisfied

By Thelma H.

,

Doral, FL

,

Aug 14, 2018
Verified Reviewer

I'm using the product and I don't see any difference. Sadly, I paid $100 for two bottles. The odor is very strong and I believe is tea tree oil that you can get for $12. It is a scam.

Bottom Line: No, I would not recommend this to a friend

---

41 out 42 people found this review helpful

Do not order this product, it does not work

By Feria S.

,

Virginia

,

Jul 18, 2018
Verified Reviewer

I ordered this product and paid $199.95, used it for one month and it did not work. I tried several times to call to return but could not speak with anyone. Since they only work from 9 am to 5 pm (when I am at work and cannot sit on the phone for hours for customer service to pick up), I left two messages for them to return my call, but receive no call. Finally, after I could get someone on the line, he told me it is past the 30 days, and he cannot refund me. That is how they make the money?

Bottom Line: No, I would not recommend this to a friend

---

41 out 41 people found this review helpful

Total scam

By Cindy S.

,

Arizona

,

Jul 10, 2018
Verified Reviewer

I thought I was ordering one bottle for $56.00. Instead, I got three bottles and was charged $140.00. I waited too long to try to return them and kept hoping it would actually work. Total ripoff!

Do not buy this product.

Bottom Line: No, I would not recommend this to a friend

---

42 out 43 people found this review helpful

Buyer beware

By Dawn B.

,

Hawaii

,

Jul 2, 2018
Verified Reviewer

Be very cautious when ordering from this company. The merchandise did not arrive as promised and was returned as refused via the USPS, however, the company insists on charging a $9.95 "re-stocking fee" even though I never got the product! This could be a scam! Be very careful.

Bottom Line: No, I would not recommend this to a friend

---

57 out 57 people found this review helpful

Scam, does not work.

By Robert O.

,

Gulf Shores, AL

,

Jun 26, 2018
Verified Reviewer

I ordered and received it. A month later I got another bottle. I thought I ordered twice. A month later, I got another bottle.

I called after having a hard time finding a phone number. The lady said I did not cancel the order. How many does one need? I think this is a scam, what do you think?

Thanks.

Bottom Line: No, I would not recommend this to a friend

---