DermaSet Skin Care Reviews
Claimed This company has claimed this profile, is getting alerted on any new customer reviews entering this page, and may engage in dialogue with its customers to address their matters.

Companies cannot pay money or provide goods in order to remove or alter customer reviews.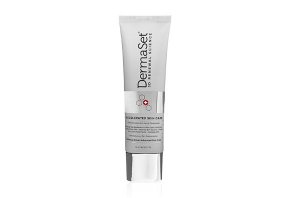 The DermaSet Skincare is an anti-aging set that claims to help even skin tone, diminish wrinkles, and hydrate skin. Learn what customers are saying about this product.
---
This company is actively collecting reviews from its customers. All reviews submitted are subject to moderation and approval to ensure they meet our

Review Guidelines

.

Best investment ever

By Ilene A.

,

Sanger, CA

,

Oct 22, 2019
Verified Reviewer

Overall Experience:

Been using for a few days and I'm speechless. I can already see improvement. My husband and children are so excited for me. I've thought of botox but why when I have DermaSet. I've never been so excited to wake up in the morning and go to bed just to wash my face and see my lines and dropping go away. Thank you so much DermaSet!

Bottom Line: Yes, I would recommend this to a friend

---

Great product

By Margaret A.

,

Alabama

,

May 29, 2019
Verified Reviewer

Overall Experience:

I love using this under my makeup. It produces a flawless finish and just "sets" everything smooth and uplifted. I signed up for auto ship for savings, but it was very easy to cancel when I needed to take a break from auto ship. It is expensive so I don't use it daily. But they did set me up for a discount when I reorder. I don't wear make daily so I've just been using it sparingly. I am going to try it daily and see what happens even on off makeup days. I do recommend you try this and see what you think. I have been experimenting with various products lately and I definitely want to keep this on hand if not for daily use I will use it for special occasions because of the way it makes my skin look!

Bottom Line: Yes, I would recommend this to a friend

---

Advertisement

---

Best cream ever!

By Julia J.

,

Hollywood, FL

,

Nov 2, 2018
Verified Reviewer

Overall Experience:

I started using DermaSet back in April this year and I haven't stopped using it ever since. I already see so much improvements since April, and I had smile lines, but really deep ones, and this cream is the only one that helped me erase them. I am 58 and this product is the best one I've used so far!

Bottom Line: Yes, I would recommend this to a friend

---

Recommending DermaSet

By Rali K.

,

Miami, FL

,

Oct 31, 2018
Verified Reviewer

Overall Experience:

I have ordered the 30-day trial for my mom and she started using it. After 20-25 days she was so happy how her face felt and how moisturized it was that now she is a long client purchasing the product every month! My mom is 49, and everyone tells her she's looking 10 years younger! After hearing the compliments, my dad started using it as well!

Bottom Line: Yes, I would recommend this to a friend

---

A quality skin care product that works!

By Tracey F.

,

Braselton, GA

,

Oct 1, 2018
Verified Reviewer

Overall Experience:

I have tried a number of skin products for my face as I have aged. DermaSet is the first product that I was able to see improvement upon the very first use. I have combination skin, dry around the eyes and oily everywhere else. High cheekbones and under eye bags are the most telling tale of my age.

I have never been able to use a skin cream before applying makeup. It causes excess oiliness and makeup settles into creases on my face. DermaSet goes on smooth and has a matte finish, allowing me to use before applying makeup, absorbing quickly. It delays the oily outbreak during the day, and the skin under my eyes appears softer, more supple. This immediately decreased the appearance of the under eye bags upon the first use.

I took a photo of my skin prior to the first use. I wanted to make sure it was worth the price. A photo taken one month later showed subtle improvement in the texture of skin under my eyes, improvement in the creases around my mouth, and the one age spot on my face had decreased in size. It is so nice having one cream to work on all my problem areas.

I am 59 years old and learned long ago that there are no miracle creams. DermaSet is made of quality ingredients and has made my skin look younger and healthier.

Bottom Line: Yes, I would recommend this to a friend

---

Great product

By Tama H.

,

Kirtland, NM

,

Sep 11, 2018
Verified Reviewer

Overall Experience:

I really loved this product, but I found it too expensive to continue using it. If it were more affordable I would have continued with the automatic reorder program. It's really a shame that quality skin care products are not priced so that the average working woman can afford to use them every day.

Bottom Line: Yes, I would recommend this to a friend

---

I was amazed!

By Rex A.

,

Orange, CA

,

Sep 9, 2018
Verified Reviewer

Overall Experience:

I am a 76-year-old man and I thought their advertisement was a bunch of baloney, until I tried it! I was totally surprised! I looked like I was in my 50s! I have tried everything to look younger, even sliced cucumbers, and this stuff works!

I'll be glad to advertise for them anytime, at least they have a real product!

Thanks.

Bottom Line: Yes, I would recommend this to a friend

---

Advertisement

---

DermaSet Skin Care is the best

By Margaret P.

,

Fort Collins, CO

,

Sep 8, 2018
Verified Reviewer

Overall Experience:

DermaSet Skin Care anti-aging cream is great! It was very easy to start the 30-day trial offer. After using DermaSet facial cream for 60 days, I was happy with the results. I opted to continue receiving the product. The second, 60-day supply was sent in a timely manner. The product is definitely worth trying. I found it to be a nice, creamy facial lotion. It helps to smooth wrinkles and gives a nice soft texture to my skin. After continued use, my skin does seem to be showing anti-aging improvement overall. I will continue to use DermaSet anti-aging cream and would recommend this product to others.

Bottom Line: Yes, I would recommend this to a friend

---

Good but pricy

By Weldon S.

,

Abilene, TX

,

Sep 7, 2018
Verified Reviewer

Overall Experience:

Not sure if it worked or not, but it has a nice color which blends well with your skin. I returned mine before the auto-draft started. It is pricey. If I had gotten to use it longer, I may have seen better results.

Bottom Line: Yes, I would recommend this to a friend

---

Overall Experience:

I've been using for four months. It has been helping my skin on the face and neck, letting it become more smooth, and it's helping with wrinkles. About my dark spots, I didn't feel so much difference. In general, I'm very happy with the result and I'll be continuing to use it.

Bottom Line: Yes, I would recommend this to a friend

---

I'm 74 years old and still care about looks

By Sherran F.

,

Spring, TX

,

Sep 7, 2018
Verified Reviewer

Overall Experience:

I am 74 years old, so of course, I have wrinkles. I don't usually get involved with this kind of thing, but decided I would give this one a whirl. I have been using DermaSet for a few months now and feel like I am noticing a change in my skin. The lines are a little thinner and my skin seems to be smoother. Yes, l would recommend DermaSet.

Bottom Line: Yes, I would recommend this to a friend

---

It works

By Jeffrey K.

,

Florida

,

Sep 7, 2018
Verified Reviewer

Overall Experience:

I use the product as directed morning and night and feel that my face and neck are firmer and feel fresher. I like the fact that I don't have to use very much product, so the initial cost is reasonable and not expensive like I originally thought. Not all the wrinkles under my eyes are eliminated, however, they are smaller. Fortunately, I never had a double chin, but the Dermaset has also firmed that area up slightly. All in all, I do recommend this as an efficient face and neck treatment and will continue to use it.

Bottom Line: Yes, I would recommend this to a friend

---

Advertisement

---

Loved product just couldn't afford

By Robin C.

,

Arizona

,

Sep 7, 2018
Verified Reviewer

Overall Experience:

DermaSet customer service was so gracious to me regarding trial face skin care. I didn't understand the trial agreement and they were so quick to respond to my issue and made the transaction smooth, were very professional and kind, it's so appreciated. The skin care product was quality, you don't need to apply much. I loved the package design, sheek yet practical. I was very impressed with the whole experience. Thank you.

Bottom Line: Yes, I would recommend this to a friend

---

Made a huge improvement

By Lisa T.

,

Frisco, TX

,

Sep 7, 2018
Verified Reviewer

Overall Experience:

At first, I wasn't sure about mail order skin care since I'm so skeptical.

I'm into my skin care! When your skin looks good, you feel good! It helped even out my skin and texture and my fine lines and wrinkles. My skin looked flawless, and I didn't need a primer for foundation. I'm 57 and the product works great!

Bottom Line: Yes, I would recommend this to a friend

---

DermaSet Skin Care works

By Sue M.

,

Lafayette, LA

,

Aug 29, 2018
Verified Reviewer

Overall Experience:

I used DermaSet and was shocked at how well it works. It made me not only look younger, but I felt younger as well.

As much as I enjoyed the look, I couldn't continue to use because of the cost. I do recommend for those that can afford.

Bottom Line: Yes, I would recommend this to a friend

---

Great product!

By Brenda D.

,

Gonzales, LA

,

Aug 23, 2018
Verified Reviewer

Overall Experience:

When I first got this product I was skeptical about any results, but I was wrong. I started to immediately notice my under eye circles diminish, my skin was soft, and my face was brighter and more youthful. My skin tone was starting to even out and my skin was very soft. I use this product every morning before I put my make up on. It is not greasy and absorbs into my skin really fast. It does not clog my pores, and I've even noticed my pores have gotten smaller since I've been using it. I used to have problems with acne so I was concerned it would be too heavy for my skin.

I have also noticed that my skin is not as red as it used to be. I can go shopping or anywhere out of the house with just put a touch of makeup on. I feel good about how I look. Thankfully this is a very light cream, and I don't feel like I have anything on after a minute or two. I would definitely recommend this product to anyone who wants a high-quality anti-aging cream for their skin. It is definitely worth trying because you will love it.

Bottom Line: Yes, I would recommend this to a friend

---

Best skin care product EVER!

By Bethany B.

,

Casselberry, FL

,

Aug 22, 2018
Verified Reviewer

Overall Experience:

I love this product! It works like no other I've ever used. I spend hundreds of dollars a year, and the promises of renewed skin are as empty as my bank account after a trip to Sephora.

DermaSet does everything they claim it does. Very satisfied with the results.

Bottom Line: Yes, I would recommend this to a friend

---

Advertisement

---

Overall Experience:

I began using this product about two months ago. I have noticed some benefit in the reduction of fine lines on my neck. I plan to continue to use the product hoping to see more prominent necklines reduced.

Bottom Line: Yes, I would recommend this to a friend

Aug 14, 2018

Thank you for the nice words Irvilene! We appreciate your feedback!

---

DermaSet

By Brenda C.

,

Flushing, NY

,

Aug 10, 2018
Verified Reviewer

Overall Experience:

I have to say, this is one of the best antiaging creams I have ever used. I say this because after I wash my face at night, whatever is in the cream stays, and my skin is soft, smooth and the moisture is locked in, it still keeps that healthy glow when I first put it on, hiding all my imperfections, and the lines around my cheeks and jaws are tightened.

Usually with other creams, after I wash my face, the imperfections are back, and the lines around my cheeks are jaws appear again, my skin is without glow, until I use the cream again. Using DermaSet once, it actually stays, and each day it improves.

I only wish I could afford this, it is quite costly for me, but if you can afford, it is well worth it.

Undergoing any skin procedure, it would cost much more and the side effects may be detrimental. It is something to think about.

Bottom Line: Yes, I would recommend this to a friend

Aug 14, 2018

Thank you, Brenda! Your feedback means a lot!

---

Approved

By Owen N.

,

Craig, MO

,

Aug 9, 2018
Verified Reviewer

Overall Experience:

I like it because it's light and not heavy. It takes a small amount and goes on smoothly. It has a pleasant fragrance and makes the skin feel very soft. I have mentioned this product several times to my church friends and told them how much I like it. Thank you!

Bottom Line: Yes, I would recommend this to a friend

---

DermaSet is AMAZING!

By Bonnie N.

,

Danbury, CT

,

Aug 6, 2018
Verified Reviewer

Overall Experience:

I bought DermaSet for my husband, and it started working almost immediately. He was looking younger and healthier within a few days of using the product. I would definitely recommend this product!

Bottom Line: Yes, I would recommend this to a friend

Aug 14, 2018

Thank you, Bonnie! We appreciate your comment!

---

Great product

By Kathleen M.

,

Maryland

,

Aug 5, 2018
Verified Reviewer

Overall Experience:

This is an amazing product! I noticed great results in just a few short weeks. I highly recommend this product to anyone looking to see real results! I was skeptical at first but read great reviews. This product proved to do exactly what it claims.

Bottom Line: Yes, I would recommend this to a friend

---

Advertisement

---

Great product

By Carolyn Z.

,

Flushing, MI

,

Aug 5, 2018
Verified Reviewer

Overall Experience:

After using the product completely until gone, I do find that it did very little for me. Because I'm 75 years old I think a product needs to be a little bit stronger to help a woman's skin in this age group.

Most companies do not do much for women over 70. All the models in the magazines and on TV "older women" are usually not much past 50 years old...and have been professionally made up to look great. It does not really truly represent the average 70 and over aged women.

Bottom Line: No, I would not recommend this to a friend

Aug 14, 2018

Thank you for your feedback, Carolyn! We will take your comment into consideration and work further to produce marketing materials that will better fit different age groups.

---

DermaSet

By Carol G.

,

Rye, NH

,

Aug 4, 2018
Verified Reviewer

Overall Experience:

I used the product for about a month, and I can honestly say that I noticed a difference. I would recommend this product for others to try; I think they would see a difference. It is a bit pricey but if one can afford it, go for it.

Bottom Line: Yes, I would recommend this to a friend

Aug 14, 2018

Thank you Carol! Don't forget that as a loyal customer, you can always call us to get a special discount for life!

---

Best I've used

By Mary B.

,

California

,

Aug 4, 2018
Verified Reviewer

Overall Experience:

I tried three different but similar products for a month each. They were all very good and did a good job. I found DermaSet to be the easiest to use. It was absorbed quickly and doesn't leave any residue on my face. If it wasn't so expensive, I would keep using it.

Bottom Line: Yes, I would recommend this to a friend

Aug 14, 2018

Hello Mary! Thank you for your feedback! Please don't forget to reach out and ask our customer service representatives for a special discount. You can also send us your before and after pictures and get a free tube!

---

A good surprise

By Paul C.

,

New York City, NY

,

Aug 4, 2018
Verified Reviewer

Overall Experience:

I had my doubts about the product and all the feedback. Out of curiosity, I tried the product and to my surprise, it worked. I would now recommend the cream. Too bad it doesn't last long.

Bottom Line: Yes, I would recommend this to a friend

---

Good product

By Beth M.

,

Oceanside, CA

,

Aug 4, 2018
Verified Reviewer

Overall Experience:

I like this product. It is kind of expensive but I noticed a difference in my skin. I would order it all the time if I could afford it. I have been in the sun my entire life, mostly without sunscreen, so I have a lot of skin damage. After using DermaSet for one month or two months, I think I'm seeing improvement in my skin.

Bottom Line: Yes, I would recommend this to a friend

Aug 14, 2018

Thank you for your feedback, Beth! Your feedback means a lot. We are glad that DermaSet was able to help you with your skin damage. Call us in and we will give you a special discount!

---