DermaSet Skin Care Reviews
Claimed This company has claimed this profile, is getting alerted on any new customer reviews entering this page, and may engage in dialogue with its customers to address their matters.

Companies cannot pay money or provide goods in order to remove or alter customer reviews.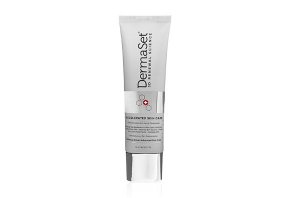 DermaSet is a celebrity-backed anti-aging cream that's claimed to use natural ingredients to provide firmer, brighter, plumper, and more moisturized skin.
What Is DermaSet?
Advertised as equally effective for men and women of all skin types, DermaSet Skincare is an all-in-one anti-aging formula that promises to deliver a blend of 10 clinically researched botanicals and natural elements that can increase skin elasticity, firmness, and moisture retention.
The website tells us that the luxurious, nutrient-rich cream should be applied once in the morning and again in the evening, in place of your daily skin care moisturizer or other facial product. After 30 days, we're told you'll notice a reduction in age spots, crow's feet, and wrinkle depth.
In addition, the company claims DermaSet will provide more even tone and texture, your skin will be soft and ultra-hydrated, you'll boast an "overall younger looking air brushed appearance," and the serum's antioxidants will help counter the aging effects of stress. And with time, this stem cell renewal treatment will only penetrate your skin more deeply, thereby boosting its impact on both the face and the neck.
Just because DermaSet's cream is clinically tested, dermatologist tested, and hypoallergenic, does this mean it will necessarily make a valuable addition to your skincare regimen?
Even then, will it help you reclaim your youth, as claimed on the website? Does it actually represent a time machine in a tube? Is it the most powerful option around? You're here for some answers, so let's dive right into the topic of stem cells.
What Role Do Stem Cells Play In the Aging Process?
In a nutshell, there are basically two types of stem cells: Adult stem cells have the ability to transform only into the same type of tissue (e.g., muscle, skin, etc.), while embryonic stem cells are pluripotent; that is, they have the ability to become any type of cell in the body. In either instance, the body uses stem cells to help maintain and repair tissue.
And while the aging process is extraordinarily complex and isn't fully understood by the medical community, according to the Harvard Stem Cell Institute, "new evidence indicates that a progressive decline in stem cell frequency and function may significantly contribute to the conditions related to aging, but it is not known why this is."
Consequently, it might make sense that boosting stem cell count on the skin could help alleviate some of the side effects of aging. But exactly how does DermaSet claim to do this, and what kinds of results might you realistically expect?
Taking a Closer Look at DermaSet Skincare's Ingredients
While no formal label was listed on the website, we're told DermaSet contains the following 10 clinically proven ingredients:
Apple Stem Cells
Edelweiss Stem Cells
Sea Fennel Stem Cells
BV-OSC
Argireline Extract
Chromabright
Dermaxyl
Matrixyl
Hyaluronic Acid
Phytoceramides
DermaSet's Stem Cells
Like the human versions, plant stem cells are undifferentiated and can become any other cell in the organism. And according to Truth In Aging, there is some clinical evidence that edelweiss, mushroom, and apple stem cells may impact different aspects of external aging.
However, interviewed for a 2015 USA Today article, Margaret Foster Riley, a law professor and expert on food and drug law at the University of Virginia, noted:
"Stem cells that are in contact with skin are not really alive anymore, so I don't really see how a stem cell product is working on the skin. I suppose some of them may actually work in a way that cosmetics work otherwise, because of moisturizing capability. But it's not stem cell capability that's working there to the degree we know how stem cells work."
DermaSet's Proprietary Ingredients
BVC-OSC is a proprietary form of vitamin C. In general, the Micronutrient Information Center at Oregon State University indicates this ingredient has been shown to provide antioxidant benefits for skin and prevent ultraviolet damage.
Argireline (formally known as acetyl hexapeptide) is another proprietary ingredient, although it works by inhibiting muscle contraction and reducing the appearance of related wrinkles.
Manufactured by Lipotec, Chromabright promises to inhibit tyrosinase, an enzyme that plays a key role in skin color. As a result, it's said to help lighten areas where it's applied.
Dermaxyl is claimed to stimulate cell communication and repair age-related skin damage, while Matrixyl (palmitoyl-pentapeptide 3) is said to stimulate collagen synthesis and skin repair.
Outside of Matrixyl, however, we didn't encounter any double blind, placebo controlled clinical studies supporting these claims during our research.
What About the Remaining Ingredients?
Hyaluronic acid is a molecule that can hold many times its weight in water, which can help maintain moisture on the skin. Although phytoceramides (plant-derived ceramides) are lipids, they can also help keep skin hydrated and plump.
Is DermaSet Clinically Proven?
A company representative sent us a copy of a July 2017 clinical study conducted by Abich, Inc., which involved 52 participants. Over the course of six to seven weeks, each participant had a strip containing DermaSet cream adhered to their back for up to 48 hours at a time.
No adverse reactions were noted.
While this is certainly positive, it's important to point out that the study was only designed to test DermaSet's irritation and skin sensitization, not its effectiveness at reducing any of the signs of aging or supporting any of the other claims made by the manufacturer.
Are There Potential Side Effects With DermaSet's Ingredients?
The product's website indicates that DermaSet is specially formulated and doesn't contain harsh chemicals or artificial ingredients that might irritate skin.
And according to many of the same sites listed in the ingredients section above, most won't cause anything worse than mild, temporary redness or irritation at the application site (no specific circumstances were noted), especially for those with sensitive skin.
There have been rumors circulating online that continued Argireline use could lead to skin sagging, although Truth in Aging indicates there's insufficient clinical evidence to support this.
However, because everyone's skin is unique, you'll definitely want to speak with your dermatologist about DermaSet before applying it to your face or neck.
How Much Does DermaSet Skincare Cost?
The only way to purchase DermaSet at the time of our research was through the company's 30-day trial.
Here, you'll pay $4.95 initial S&H and will be sent a full 30-day supply of the cream. After this time has passed, you'll be charged the full price of $179. And from there, you'll continue receiving a 60-day supply of DermaSet once every two months and charged $139 each time.
All initial orders come with a 60-day refund policy, less S&H, while recurring orders are only covered under a 15-day money back guarantee and must be sent back unopened and in the original packaging.
To request a refund or to cancel your recurring shipments, support can be reached at 855-936-8700 or support@dermasetcream.com.
What Can We Learn From DermaSet Customer Reviews?
As of 8/8/2018, 102 HighYa readers had given DermaSet an average rating of 4.0 stars. Here, most compliments appeared to reference effective results (reduced appearance of wrinkles, improved skin feel, etc.), professional customer service, and good value for the price.
On the other hand, common complaints frequently revolved around no results, unknowingly signing up for the full-price trial and recurring shipping program, and less-than-stellar support experiences. Granted, the bulk of these complaints were nearly two years old, so the company could have addressed many of these concerns since.
On Amazon, we encountered another 175 reviews and a similar 3.5-star customer rating for DermaSet, with many of the same compliments and concerns found on HighYa.
From a company perspective, DermaSet (parent company Hollywood Skincare, Inc.) had 26 reviews, 64 closed complaints, and no rating with the Better Business Bureau as of 9/6/17. There, most of these complaints revolved around being charged the full price after the initial trial.
Given everything we've discussed, how can you decide whether or not DermaSet has earned a place in your home?
Our Final Thoughts About DermaSet Skincare
While there are perhaps thousands of different anti-aging creams available in the marketplace, the American Academy of Dermatology recommends that simple sunscreen (SPF 30 or higher) and moisturizer might be the best place to start.
If they don't work after a few weeks, the AAD recommends focusing on a product that targets your concerns, whether wrinkles, dark spots, or anything else. You'll also want to buy a product formulated for your skin type, such as oily, sensitive, and so forth, and that's within your budget.
When browsing products, look for those advertised as hypoallergenic and non-comedogenic or non-acnegenic, as well as those from companies that feature a consumer hotline for questions.
Finally, they emphasize that, "anti-aging skin care products deliver modest results. You cannot get the results of a facelift from a cream." As a result, keep your expectations realistic.
How does all of this line up for the product in question? On the one hand, DermaSet came with mostly positive online customer feedback, a 60-day refund policy (for initial orders only), a customer service phone number and email address, and several ingredients that had clinical support for their efficacy related to moisturization and the inhibition of muscle contraction.
On the other hand, it was one of the highest priced anti-aging products the HighYa team has reviewed to date, and the only way to purchase it was through a trial that automatically rolls into a recurring shipping program.
Speak to your doctor about options specifically formulated to address your concerns, your skin type, and your diagnosis is the best way to go.
In the meantime, be sure to read nine home remedies for getting rid of dark circles and how to treat wrinkles, creases, lines, and folds.
This company is actively collecting reviews from its customers. All reviews submitted are subject to moderation and approval to ensure they meet our

Review Guidelines

.

Best investment ever

By Ilene A.

,

Sanger, CA

,

Oct 22, 2019
Verified Reviewer

Been using for a few days and I'm speechless. I can already see improvement. My husband and children are so excited for me. I've thought of botox but why when I have DermaSet. I've never been so excited to wake up in the morning and go to bed just to wash my face and see my lines and dropping go away. Thank you so much DermaSet!

Bottom Line: Yes, I would recommend this to a friend

---

Great product

By Margaret A.

,

Alabama

,

May 29, 2019
Verified Reviewer

I love using this under my makeup. It produces a flawless finish and just "sets" everything smooth and uplifted. I signed up for auto ship for savings, but it was very easy to cancel when I needed to take a break from auto ship. It is expensive so I don't use it daily. But they did set me up for a discount when I reorder. I don't wear make daily so I've just been using it sparingly. I am going to try it daily and see what happens even on off makeup days. I do recommend you try this and see what you think. I have been experimenting with various products lately and I definitely want to keep this on hand if not for daily use I will use it for special occasions because of the way it makes my skin look!

Bottom Line: Yes, I would recommend this to a friend

---

Advertisement

---

Best cream ever!

By Julia J.

,

Hollywood, FL

,

Nov 2, 2018
Verified Reviewer

I started using DermaSet back in April this year and I haven't stopped using it ever since. I already see so much improvements since April, and I had smile lines, but really deep ones, and this cream is the only one that helped me erase them. I am 58 and this product is the best one I've used so far!

Bottom Line: Yes, I would recommend this to a friend

---

Recommending DermaSet

By Rali K.

,

Miami, FL

,

Oct 31, 2018
Verified Reviewer

I have ordered the 30-day trial for my mom and she started using it. After 20-25 days she was so happy how her face felt and how moisturized it was that now she is a long client purchasing the product every month! My mom is 49, and everyone tells her she's looking 10 years younger! After hearing the compliments, my dad started using it as well!

Bottom Line: Yes, I would recommend this to a friend

---

Advertisement

---

A quality skin care product that works!

By Tracey F.

,

Braselton, GA

,

Oct 1, 2018
Verified Reviewer

I have tried a number of skin products for my face as I have aged. DermaSet is the first product that I was able to see improvement upon the very first use. I have combination skin, dry around the eyes and oily everywhere else. High cheekbones and under eye bags are the most telling tale of my age.

I have never been able to use a skin cream before applying makeup. It causes excess oiliness and makeup settles into creases on my face. DermaSet goes on smooth and has a matte finish, allowing me to use before applying makeup, absorbing quickly. It delays the oily outbreak during the day, and the skin under my eyes appears softer, more supple. This immediately decreased the appearance of the under eye bags upon the first use.

I took a photo of my skin prior to the first use. I wanted to make sure it was worth the price. A photo taken one month later showed subtle improvement in the texture of skin under my eyes, improvement in the creases around my mouth, and the one age spot on my face had decreased in size. It is so nice having one cream to work on all my problem areas.

I am 59 years old and learned long ago that there are no miracle creams. DermaSet is made of quality ingredients and has made my skin look younger and healthier.

Bottom Line: Yes, I would recommend this to a friend

---

Great product

By Tama H.

,

Kirtland, NM

,

Sep 11, 2018
Verified Reviewer

I really loved this product, but I found it too expensive to continue using it. If it were more affordable I would have continued with the automatic reorder program. It's really a shame that quality skin care products are not priced so that the average working woman can afford to use them every day.

Bottom Line: Yes, I would recommend this to a friend

---

I was amazed!

By Rex A.

,

Orange, CA

,

Sep 9, 2018
Verified Reviewer

I am a 76-year-old man and I thought their advertisement was a bunch of baloney, until I tried it! I was totally surprised! I looked like I was in my 50s! I have tried everything to look younger, even sliced cucumbers, and this stuff works!

I'll be glad to advertise for them anytime, at least they have a real product!

Thanks.

Bottom Line: Yes, I would recommend this to a friend

---

DermaSet Skin Care is the best

By Margaret P.

,

Fort Collins, CO

,

Sep 8, 2018
Verified Reviewer

DermaSet Skin Care anti-aging cream is great! It was very easy to start the 30-day trial offer. After using DermaSet facial cream for 60 days, I was happy with the results. I opted to continue receiving the product. The second, 60-day supply was sent in a timely manner. The product is definitely worth trying. I found it to be a nice, creamy facial lotion. It helps to smooth wrinkles and gives a nice soft texture to my skin. After continued use, my skin does seem to be showing anti-aging improvement overall. I will continue to use DermaSet anti-aging cream and would recommend this product to others.

Bottom Line: Yes, I would recommend this to a friend

---

Good but pricy

By Weldon S.

,

Abilene, TX

,

Sep 7, 2018
Verified Reviewer

Not sure if it worked or not, but it has a nice color which blends well with your skin. I returned mine before the auto-draft started. It is pricey. If I had gotten to use it longer, I may have seen better results.

Bottom Line: Yes, I would recommend this to a friend

---

DermaSet review

I've been using for four months. It has been helping my skin on the face and neck, letting it become more smooth, and it's helping with wrinkles. About my dark spots, I didn't feel so much difference. In general, I'm very happy with the result and I'll be continuing to use it.

Bottom Line: Yes, I would recommend this to a friend

---

I'm 74 years old and still care about looks

By Sherran F.

,

Spring, TX

,

Sep 7, 2018
Verified Reviewer

I am 74 years old, so of course, I have wrinkles. I don't usually get involved with this kind of thing, but decided I would give this one a whirl. I have been using DermaSet for a few months now and feel like I am noticing a change in my skin. The lines are a little thinner and my skin seems to be smoother. Yes, l would recommend DermaSet.

Bottom Line: Yes, I would recommend this to a friend

---