DeVry University Reviews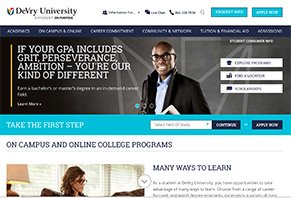 With more than 55 campuses nationwide, DeVry University can help you earn your degree with flexible class schedules in an online or on-campus environment.
About DeVry University
Are you a time-strapped working adult, who's looking to further their education? Or, do you thrive in a variety of learning environments, including online and on-campus?
In either instance, DeVry University can help you obtain your associate, bachelor's, and master's degrees in in-demand fields through their career-focused, real-world programs. Each of DeVry's courses take place throughout eight-week academic sessions offered year round, which can be attended at one of the college's 55+ nationwide campuses, online, or a combination of both.
Even through DeVry University has been around for more than 80 years, you want to know as much as possible before signing on the dotted line. So, in this review, we'll talk about the university's degree programs, costs, student feedback, and more—all aimed at helping you make a more informed decision.
DeVry University's Programs, & Degrees
Overall, DeVry University offers a variety of different degree paths and specializations across six different schools:
College of Business & Management
Each program is "designed with input from leading companies," in order to provide students with successful business and managerial careers. Degree programs include Accounting (bachelor's and associate), Business Administration, Management, and Technical Management.
Within these programs, you can also specialize in business information systems, global supply chain management, human resource management, and more.
College of Engineering & Information Sciences
DeVry puts a lot of emphasis on their engineering program, claiming, "we have been an engineering and computing technology powerhouse for over 80 years," and that they "offered one of the nation's first undergraduate degree programs in electronics engineering technology."
Associate and bachelor's programs include Network System Administration, Computer Engineering Technology, Network & Communications Management, and more. Specializations include Computer Forensics, Database Management, Systems Analysis & Integration, and more.
College of Health Sciences
Based on "input from leading hospitals and professionals active in the healthcare technology industry," DeVry designed their Health Sciences programs around a hands-on experience that can help you succeed, whether in a hospital, clinic, research firm, or any other setting.
Certificate, associate, and bachelor's programs include Medical Billing & Coding, Health Information Technology, Healthcare Administration, and Clinical Laboratory Science.
College of Liberal Arts & Sciences
Within DeVry's College of Liberal Arts & Sciences are three different schools: School of Criminal Justice, School of Communications, and School of Education. Here, students will prepare for success by infusing their education with in-depth understanding and information technology.
Associate and bachelor's programs include Communications and Justice Administration, with specializations in Business Communication, Emerging Media Communication, Corrections, Policing, and more.
Certificate and master's programs include Education, Education Technology, Curriculum Leadership, Higher Education Leadership, and more.
College of Media Arts & Technology
The College's associate and master's degree programs can "help you develop the technical, creative, and problem-solving skills you need to succeed as a new media designer." How? By giving you real world, career focused design sensibilities and visualization strategies.
An associate degree is available in Web Graphic Design, while Multimedia Design & Development bachelor's students can specialize in Graphic & Multimedia Design, Web Design & Development, and more.
Keller Graduate School of Management
Built with working professionals in mind, DeVry's Keller Graduate School of Management is focused on helping working adults meet their professional goals, expanding their marketability, and improving their earning potential. This is accomplished through a flexible schedule (evening and weekend classes, which can be taken online, on-campus, or a combination of both), real-world teaching methods, and coursework that can be tailored to your career interests.
Within the Keller School of Management, there are specialized master's degree programs, graduate certificates, and 17 different concentrations, including an MBA and CPA exam preparation.
Now that you know more about the academics offered at DeVry, let's take a look at what it takes to get in to the university and how much your education will cost you.
DeVry University's Admissions, Tuition, & Fees
While specific requirements can differ depending on your program, the first step is to submit an application to DeVry and then attend an interview with an Admissions Advisor. Afterward, they'll help with whatever you need, including securing transcripts, transferring qualifying credits, connecting you with financial aid, and setting you up with a Career Services advisor.
At this same time, you'll be given a student ID, so you can log in to My Compass, a "self-directed, personalized portal that helps you stay on track with your college admissions process." After graduation, you'll have access to one-on-one career advising and career support for free, for life.
Just like with admission requirements, how much your DeVry education will cost depends on your program. In general though, you can expect to pay:
About $609 per credit hour
Between $40K and $90K for associate and bachelor's programs
$10K to $28K for graduate programs
$25K to $40K for a Keller program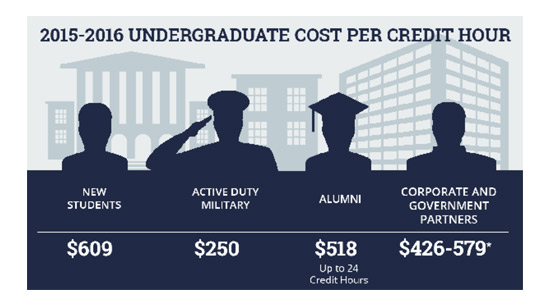 According to DeVry's numbers, you'll pay about $609 per credit hour, or anywhere between $40K and $90K for an associate or bachelor's program.
As with most other universities, DeVry offers a variety of financial aid options to help fund your education, including grants, scholarships, transfer credits, federal/private loans, and military benefits. Unlike most other universities though, DeVry provides a Fixed Tuition Promise to each of their students:
We guarantee your tuition rate through graduation — even if tuition increases, even if you switch programs, or have to add courses — your rate stays the same.
To get a better idea exactly how much it'll cost to attend DeVry, check out their net price calculator. Or, give a counselor a call at 866-338-7934.
What Are Students Saying About DeVry University?
Compared to many of the other online universities we've reviewed (more about this in a second), DeVry seemed to have starkly contrasting reviews, depending on where we looked. In other words, there seemed to be no middle ground; either students we very happy with their experience, or very dissatisfied.
For example, on Consumer Affairs, 248 DeVry students gave the university very close to a one-star rating, by far the most common complaint referencing problems with financial aid—specifically veteran's benefits.
On the other hand, DeVry had an average 3.5-star rating on GradeReports.com, along with a 3.9-star rating on Colleges.Niche.com, based on a whopping 6,500+ reviews. On both of these sites, the most common compliments appeared to reference flexible class schedules, solid support from staff, and quality education. Most complaints seemed to reference high price and no improvement in job prospects/pay after graduation.
Speaking of which, according to a 2014 US News article, more and more employers are looking at an online degree much as they would a degree from any other credible institution of higher learning. Rasmussen found something similar during their research, although this largely depends on your program.
From a company perspective, DeVry had an A+ Better Business Bureau rating at the time of our research, despite nearly 150 closed complaints (as of 2/29/16). Again, most complaints appeared to reference billing/financial aid difficulties.
Finally, DeVry University is currently involved in a federal lawsuit for allegedly citing "inaccurate graduate employment and earnings statistics" in some of their advertising. As a result, the U.S. Department of Education intends to "limit DeVry's access to federal student financial assistance programs as a penalty for failure to meet federal advertising requirements." The university claims to have done nothing wrong, and is planning to vigorously fight the legal battle.
Is DeVry battling other online universities, too?
How Does DeVry University Compare?
We've reviewed many of the most popular online universities here at HighYa, and we think it's always important to compare their (arguably) two most important aspects: academics and pricing.
The Cost of a DeVry Education
To this extent, even among online colleges (which are some of the most expensive education institutions in the country, outside of Ivy League schools), DeVry is the most expensive we've reviewed. Some of DeVry's programs are twice as much as a bachelor's from Strayer University, and nearly 3X the cost of a bachelor's degree from a state university.
Why is this important? Because when it comes to a for-profit university like DeVry, you might have a lot more flexibility than with a traditional 2 or 4-year college. However, you're going to pay for this convenience, and only you can decide if the tradeoff will be worthwhile after graduation. As yourself: Will the extra money I make as a result of my degree (if any at all) help offset the additional cost of a DeVry education?
DeVry University's Academics
Depending on the source you choose and the year the statistics were gathered, DeVry University has somewhere around a 24% loan default rate. What's this mean? Basically, that almost 1 out of every 4 DeVry students defaulted on certain federal loan repayments during the last fiscal year. Compare this to 13.7 percent for the national average.
Despite this, DeVry has an 87% retention rate (versus the national average of around 77%), which means that a large number of students return after their freshman year. On the other hand, DeVry's 4-year graduation rate hovers somewhere near 25%, so only about 1 out of every 4 students see their degree through to completion. This is roughly par for the course for most for-profit universities.
With all of this in mind, where does it leave you?
Wrapping Up Our DeVry University Review
Ultimately, the right secondary education option for you depends on hundreds of deeply personal factors. Are you a recent high school grad, or have you been in the workforce for decades? What's your goal after graduation? Are you planning to continue your education (master's, PhD)? Does the added convenience of a for-profit university make sense from a financial perspective? Are there other outside-the-box options that could work just as well, while keeping your expenses under control? When it comes down to it, these are questions only you can answer.
Awful

By Amanda H.

,

Texas

,

Oct 7, 2018
Verified Reviewer

I do not recommend DeVry to anyone. They are very uninformative, unprofessional, the teachers are awful, the advisors are horrible, the classroom settings are the worst I have ever been in; I can go on and on. DeVry will advertise anything to get you to go to their school, but once you get in, they are of no help getting you through to the end of your educational journey. If you want to transfer, keep everything on record (EMAIL!). Again, I do NOT recommend this school to anyone. It was a HUGE loss for me financially and a loss of time as well.

Bottom Line: No, I would not recommend this to a friend

---

Petitioning DeVry University

By T Lindsey

,

Pittsburgh, PA

,

Aug 31, 2017
Verified Reviewer

I received my B.S. from DeVry with very few issues or concerns, as the degree was paid for in full by the G.I. Bill. I stayed with the institution for my Graduate education because I knew I would get some credits transferred. Unfortunately, I struggled in two online courses that I pretty much was forced to teach myself. Both were math courses. I waited until they were my final two courses required to graduate, and I needed to retake them. The Dean approved me retaking the courses.

The week the classes began, headquarters sent me a dismissal email because my GPA fell below 3.0. They allow three retakes of every course. This is their policy in the student handbook. They did not allow me, a pretty good and faithful student, to do all I could to succeed. Everyone learns different, especially when they have to teach themselves, and the school offers little to no tutoring in person. Allowing me my right to retake the courses just meant more money for them, and they still denied me after initially saying yes in writing. Well, I have a lawyer now!

I was forced to go to another for-profit school to finish what I started, and they did not take most of my credits. I started my Grad degree from scratch. This is absurd! What would have been $50,000 in student loans became $100,000 plus interest. Still, I am two classes short of completing my Master's as we speak, but I have run out of financial aid. What a waste of life having to retake the same classes at another for-profit. Honestly, they're all rip-offs. Also, my Bachelor degree from these jokers impresses absolutely no one. I am truly ashamed. Take heed!

Bottom Line: No, I would not recommend this to a friend

---

Advertisement

---