Diamond Sharp Knife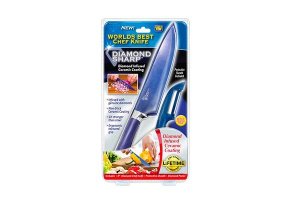 Using a diamond-infused ceramic coating and hardened stainless steel, the Diamond Sharp knife claims to be sharp enough to cut through pineapples, filet tomatoes, and slice soda cans.
About Diamond Sharp Knife
The Diamond Sharp knife is an As Seen on TV knife that claims to combine a diamond-infused ceramic coating and stainless steel to create a blade that is five times stronger than steel.
The knife's bluish-purple coloration and the faint sparkle of what seems to be diamond dust in the ceramic coating make this a striking and intriguing choice for your kitchen.
The company behind the Diamond Sharp is Spark Innovators Corp, whose line-up of As Seen on TV products includes Go Lamp, Studio Glow, Epi Smooth, Motion Bright and Slice Right.
Knives are a popular online product and there are literally dozens of choices touting various types of steel and carbon fiber. Choosing which knife is best can be confusing and frustrating.
In this review, we'll help you understand how this knife works, how its blade material compares to other materials and how much it costs. We'll also include a quick comparison of this knife to other ASOTV knives we've reviewed.
How the Diamond Sharp Knife Works
Using a dull knife can make life pretty annoying when you're trying to prep a meal. For example, if you're trying to cut through a loaf of bread and your knife is dull, there's a good chance that you're going to ravage the bread before you get a clean slice out of it. The same could be said for things like tomatoes, plums and other fruits and vegetables.
The Diamond Sharp claims to eradicate those exasperating moments by providing a knife so sharp that, according to a promo video, can cut through the following things with ease:
A pineapple from top-to-bottom with one swipe
A tomato dropped onto the blade
An orange peel in paper-thin slices
Cheese without sticking
Cut through a frozen thin-sliced steak after cutting an aluminum can.
The site says that the secret to the knife's strength is the diamonds in the ceramic coating on the blade. Diamond is a hard substance and the idea here is that ceramic mixed with diamond results in a sharper blade.
What's interesting about this claim is that it's the diamond content on the actual cutting edge that would make the difference in how well the knife cuts.
But, then again, the Diamond Sharp website never says the diamond coating makes it cut better. Rather, it says it makes the blade stronger. This is an important distinction to make, as it could be easy to get confused about how the diamonds help.
The blade also features a no-slip handle, which we see as being a safety benefit. Having a good grip on a knife allows you to control it, which can cut down on situations where the handle slips and puts your fingers in danger.
Stainless Steel Blades vs. Other Materials
We've done in-depth research of various types of blades and have found that stainless steel is a popular material for kitchen knives. We've also learned that there are different types of steel – some are stronger than others.
Two common types of blade material are carbon steel and stainless steel. Carbon steel is stronger and requires less sharpening but rusts quicker than stainless steel. Stainless steel is less susceptible to rust and breakdown than carbon steel but it needs to be sharpened more often.
These bits of information indicate that you should invest in a decent knife sharpener along with the Diamond Sharp knife, as there's a good chance it will need sharpening just like other stainless-steel blades do.
Diamond Sharp Knife Pricing, Returns and Guarantee
You can buy one knife for $10.00 + $6.99 for shipping. If you opt-in for their buy-one-get-free offer, you'll pay an additional $6.99 charge.
Each order comes with a knife, a Sheath cover, and a peeler.
The company provides a 90-day, money-back guarantee. You'll need to call 844-764-4364 to start a return, which includes getting a return authorization number that you'll include in the return. If you don't get a return authorization, you can't get a return.
According to the knife's commercial, the lifetime guarantee covers you if the knife "chips, dulls or breaks." The commercial says the company will replace it for free.
We checked the fine print to confirm this and could find no mention of the lifetime guarantee. We suggest calling the number we mentioned earlier or sending an email to sparkinnovators@customerstatus.com to make a warranty claim.
How the Diamond Sharp Knife Compares to Other As Seen on TV Knives
Here's a quick comparison table that shows you the most important details of other As Seen on TV knives we've reviewed:
| | | | |
| --- | --- | --- | --- |
| | Diamond Sharp | Water Blade | Gotham Steel |
| Price for one | $10.99 | $19.99 | $19.99 |
| Price for two | $29.98 | $29.98 | $24.94 |
| Material | Stainless steel w/ceramic-diamond coating | High carbon steel | Steel & titanium |
| Comes with sharpener? | No | Yes | Yes |
We feel the best comparison here is between the Water Blade and the Diamond Sharp, as they're similar in price. The big difference is that the Water Blade comes with a sharpener and it's made of high carbon steel instead of stainless steel.
We think this blade offers slightly better value because you get a knife sharpener instead of a peeler but remember that a carbon steel knife requires more care because it rusts easily. The upside is that you may need to sharpen it less because it's made of tougher steel than the Diamond Sharp is.
In general, we think that the Diamond Sharp is of comparable value to the Water Blade. Your choice may be boiled down to the way the knives look, if you already have a sharpener and if you mind how easily high carbon steel can rust.
The Final Word: Our Thoughts About the Diamond Sharp Knife
Based on our research of this product, we see some distinct advantages and disadvantages.
First, we believe that the knife offers decent value as compared to other As Seen on TV Knives. Also, we think that the stainless steel, ceramic-coated blade is a nice alternative to high carbon steel knives if you're the kind of person who tends to leave knives on a drying towel or in the dishwasher for a few hours before putting them away. Stainless steel rusts slower than high carbon steel.
The downside to the knife is that it doesn't come with a sharpener. The research we did revealed that stainless steel knives need consistent sharpening to keep their sharp edge, so plan on investing in a sharpener when you make your purchase.
If you want to learn more about how to choose a good knife, read through our kitchen knife buying guide. It helps you understand the main differences between high carbon steel, stainless steel and ceramic knives, as well as a few other important areas of knife features.
Cheap

By William M.

,

Tennessee

,

Dec 5, 2019
Verified Reviewer

I purchased them because of the diamonds and ceramic coatings. They dull fast, but the worst thing is they are flaking the ceramic off in my food. They got to me fast but after I ordered I saw a full set on Amazon for the same price as the 2 for 1.

Bottom Line: No, I would not recommend this to a friend

---

Not satisfied

By Mae G.

,

Charlotte, NC

,

Oct 5, 2019
Verified Reviewer

I am a professional prep cook. I purchased the knife to help me cut meat (chicken). It lasted approximately 2-4 hours before it was very dull. I would not recommend it as a chef's knife. It would work for your average housewife.

Bottom Line: No, I would not recommend this to a friend

---

Advertisement

---

Knife

By Mary L.

,

Oklahoma

,

Oct 5, 2019
Verified Reviewer

I received my knives and was very eager to use them. The first two times my knife cut very well, yeah, but I have not had them but maybe about a month and they don't work. Oh and I find them cheaper on Amazon but I wouldn't buy them anywhere again.

Bottom Line: No, I would not recommend this to a friend

---

DULL Diamond Sharp Knives

By Xandria B.

,

New York

,

Sep 21, 2019
Verified Reviewer

These knives are so dull right out of the box. If you buy these, you must buy a sharpener as this article says. I regret buying these knives. I would not recommend these knives to anyone. It's a lot of hype, but no delivery!

Bottom Line: No, I would not recommend this to a friend

---

Advertisement

---

Decent knife, not the sharpest!

By Stefan S.

,

Florida

,

Jun 13, 2019
Verified Reviewer

Attracted to this product due to ceramic coating, good sized blade, 8", and nice to look at. The double purchase worked out to $14 each with the extra handling charge, which is always a ripoff since they are packaged in China as a two pack.

Knife cuts fine for most things I have tested it with but not as sharp as pure ceramic for tomatoes or an old Chicago cutlery steel blade I have had for 20+ years.

Delivery time was about a week, information easy to get.

Bottom Line: No, I would not recommend this to a friend

---

Unsatisfied

By Jimmy G.

,

Magnolia, AR

,

May 29, 2019
Verified Reviewer

Not received my order, ordered on May 23, 2019. I am always being told that it is back ordered. Ordered about the same time on Amazon, little more money but received in 2 days...got 5 more knives with a stand and a sharpener. Will not order again.

Bottom Line: No, I would not recommend this to a friend

---

Have not received order

By Katherine G.

,

Chattanooga, TN

,

Mar 15, 2019
Verified Reviewer

I have not received my order. It is supposed to be "buy one/get one free." I have not received tracking information. I will not say it's a scam, but I would like to be able to track my order.

Bottom Line: No, I would not recommend this to a friend

---