Diamond Z4 Reviews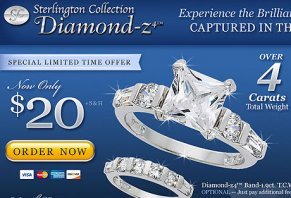 Diamond Z4 is an "As Seen on TV" ring that claims to feature simulated diamonds that sparkle just like the real thing, but at a fraction of the price.
About Diamond Z4
If you're looking to impress your friends and co-workers with grandiose jewelry but can't stomach the price, Diamond Z4 claims to help you "experience the brilliance of flawless diamonds" at a fraction of the cost of the real thing. In fact, Diamond Z4's manufacturer even claims that jewelers have difficulty distinguishing a traditional diamond from the Diamond Z4.
But is this the truth? In other words, can you really expect a $20 knockoff to look as good as a $20K diamond? We have our doubts, as we're sure you do too, which is why we did some research to find out the truth. Here's what we learned.
Diamond Z4 Details
According to the product's website, Diamond Z4 is an "As Seen on TV" ring that claims to "catch the fire and brilliance" of flawless diamonds, and to provide unsurpassed style, luster, color, and cut. However, Diamond Z4 claims to provide all these benefits at a fraction of the cost of the real thing, and specifically compares itself to rings costing $30K or more.
With this in mind, each Diamond Z4 ring includes the following stones, which are claimed to arrive in a hinged decorative velveteen box:
2.75ct princess cut center stone
2 round and 2 tapered 1.25ct T.C.W. baguettes
Polished and finished sterling silver plate
The Latest Diamond Z4 Eternity
Recently, the company has also released its Diamond Z4 Eternity ring, which uses the same simulated diamonds and silver plated band as the standard Z4, but features the following:
1.7mm, 1.5ct round center stone
Intertwined infinity accent band
Diamond Z4 Pricing & Refund Policy
Diamond Z4 is available in sizes 5-12, and is priced at $20 plus $6.99 shipping and handling. Additionally, you have the option of purchasing the Diamond Z4 ring with the 1.9ct band for a total of $29.99 plus $6.99 shipping and handling.
There's essentially no savings by purchasing the set, but more of a convenience factor for you.
Each Diamond Z4 comes with a 30-day money back guarantee, less S&H charges. In order to initiate the refund process, you'll need to contact customer service at 855-668-1655. However, the process may not be easy, which is something we'll discuss in the Bottom Line section.
What Are Other Consumers Saying About Diamond Z4?
Overall, it appears that the Diamond Z4 ring has an extremely poor online customer reputation. Nearly all complaints referenced the ring's quality and included:
That it is extremely cheap looking. In fact, several customers even went so far as to claim that Diamond Z4 looks like something you'd purchase at the Dollar Store or find in a cereal box.
That the "diamonds" look like cheap plastic instead of cubic zirconium, which is what you'd think they're made of based on the product's name.
That the diamonds do not sparkle like the commercial may lead you to believe, that they scratch easily, and quickly lose whatever sparkle they may have.
That the silver plating quickly rubs off from the bands, and has a tendency to leave you with stained green fingers.
What's the Bottom Line About Diamond Z4?
With all this in mind, should you spend your hard-earned money on Diamond Z4? Almost certainly not, and here's why:
First, Diamond Z4 is an "As Seen on TV" product, which tend to have much lower customer satisfaction ratings than more mainstream products. And as we noted in the section above, it appears that the vast majority of customers who have purchased a Diamond Z4 were not satisfied.
With this in mind, Diamond Z4 is manufactured by Telebrands based out of Fairfield, NJ, which is one of the bigger players in the "As Seen on TV" industry. You've probably seen some of their other products advertised on TV over the years.
As such, although the company has an A- rating with the Better Business Bureau, they also have a whopping 1,675 closed complaints over the past three years. The vast majority of these complaints reference:
Failure to advise customers of their total when processing their orders, even if they place their order over the phone.
Orders being processed without final consent from the customer (you can read more about this tactic here).
Multiple upsells during phone calls, as well as follow up calls in order to sell you related items (earrings, necklaces, etc.).
Rings not received despite several calls to the company. In some instance, customers were still without their rings several months after placing their orders.
Being billed for multiple duplicate transactions, which in at least one instance totaled more than $200.
Extreme difficulty returning the Diamond Z4. Based on other customer reviews, it appears that customer service will make the process as difficult as possible, while continuing to try and sell you additional products.
Next, based on the Diamond Z4 commercial, you could be forgiven for thinking that it compares to other similar rings containing traditional diamonds that sell for many thousands of dollars. However, the reality is that in real life, they don't look much like real diamonds at all. In fact, even in the Diamond Z4 commercial, the two rings shown spinning in a side-by-side comparison are actually two Diamond Z4s—not a real ring and a Diamond Z4 ring. This is very likely because the differences between the two are much more apparent than the manufacturer would like you to believe.
Finally, based on the product's name, you probably think that the "simulated diamonds" are cubic zirconium, which doesn't appear to be the case. However, other than listing "Diamond-z CZ" as the gem type, the company does not disclose what they're actually made from. Whatever the case, as we noted in the Consumer Reviews section, they scratch easily and cloud quickly.
Bottom line: As with most things, you get what you pay for, and Diamond Z4 appears to be no different. Ultimately, while the Diamond Z4 might be good for a little girl to play dress up with, it will almost certainly fall far below your expectations for anything else. As such, instead of wasting your hard-earned money on the Diamond Z4, we might recommend going to the mall and buying yourself a costume ring for about the same amount, while saving yourself the hassle of dealing with the company and their reputation for horrendous customer service.
---
Hate the dimond Z4 ring

By Grant

,

Houston, TX

,

Jul 11, 2015

Was stupid and tried to give this ring to the one I wanted to marry. But it turns her finger green. I told her I messed up and got her a real ring. It's just costume jewelry. My buddy got one his girl, doesn't care, it's cheap. It doesn't turn her finger green, but knows it's costume jewelry not good quality jewelry.

Bottom Line: No, I would not recommend this to a friend

---

Ring set order

By Roberto Habib

,

Pharr, TX

,

Aug 27, 2015

It is a scam. I ordered a ring set 2 months ago and today they said everything is canceled. And in 2 weeks more they will credit my card. It is B.S.

Bottom Line: No, I would not recommend this to a friend

---

Advertisement

---

Warning - These People Are Snakes!

By Christy

,

Pueblo, CO

,

Jan 25, 2015

I had to call these people 4 times and they still didn't have my order right so finally I canceled the order on 12/28/14 and told the guy I better not see any charges on my card and he started laughing at me... Will wouldn't you know, I check my bank account on 1/22/15 and there is a charge on there from them... I called them and was cussing them out which they asked me to stop or they would have to end the call... He put me on hold to check with his associate and then informed me that they will credit my account in 3 to 5 days... Never said anything about the product so they didn't ship it but tried to get payment from me... I wonder how many people they have done this to and have succeeded at getting away with it!? Complete BS.

Bottom Line: No, I would not recommend this to a friend

---

Diamond Z4 order

California

,

Jan 6, 2018
Verified Reviewer

On 1/4/18 I ordered one engagement ring for $19.99, shipping and handling and tax extra, and one band for $9.99 included. At the end of a long process of various other offers, all of which I said "no thanks" to, an extra $20.00 fee was added to my order without consent. Listed on the order info was a phone number to call for a $20.00 refund.

I called 866-978-8125 and first spoke to a female who refused to give her name and continuously insisted on selling me an offer I already refused when ordering. She flatly told me I would not receive a refund unless I made the purchase I refused. I was also told that she could not cancel the order. She hung up on me when I insisted on a refund of the $20.00 overcharge. I immediately called customer service online number 855-235-2092 back and spoke to Robert who said same. I heard female laughing in the background. Robert then informed me that the correct customer service number is 844-814-9730. I called and the office was closed.

I will call back on 1/05/18 and request a refund of $20.00, and rings at the advertised price, or cancel the order. Advertising prices incorrect and misleading. Have I been scammed?

Bottom Line: No, I would not recommend this to a friend

---

Advertisement

---

I smell a scam!

I ordered a Z4 diamond ring and band on May 20th, they told me that it will be shipped to me in about 2 weeks. Well, one month later, there is no ring so I called to find out the reason for delay and they said that my address was not valid. So, they let me talk to a supervisor (30 minutes later being on hold) and he said that I had to reorder it again. So I did and it would be two weeks before I should receive it. I waited for about three weeks this time and I called again to see where my rings were. But once again I was told that my order was canceled due to an incorrect address and technical error. Therefore, they said that I needed to order again. This would be my third time having to order again, no way!

I complained to the supervisor and told him that I believe that their business was a big scam. I refused to order again. So far they have not charged my credit card for the last two orders, but I will keep a watch out because I don't trust them. Please, if anyone may be considering ordering from this company, just don't do it. Something is not right about this company.

Bottom Line: No, I would not recommend this to a friend

---

Junk

I purchased this ring (both rings) with hopes of winning my girlfriend's heart on a forever basis. When the ring showed up in the mail, I was excited. The ring looked beautiful. The sparkle was magnificent and the colors in the setting looked like fire. In all honesty, I was awed!

I gave it to my girlfriend, while on bended knee, and I popped the question as I pulled out this ring set. Her eyes widened and without hesitation, she screamed, "Yes!" It was a moment I'll never forget. All of my dreams were coming true and I was the happiest guy in the whole world! Nothing could be better, but soon enough, all of my world would come crashing down.

After about two weeks of wearing this ring set, Linda noticed the silver plating was starting to deteriorate. Of course, when I gave Linda the ring, I did not tell her that it was merely silver plated nor the diamond was CZ. Rather, I told her that everything was real (as it looked real when I got it in).

After another few days, the "stones" started to loosen and a few of them fell out. It was so disappointing, and my heart plunged to the ground when my Linda exclaimed that she no longer loved me. She said that her worth was much more than a crappy, imitation diamond ring and that since my ring was junk, she decided to move out.

Months later, after working my butt off and saving money, I was actually able to purchase a real diamond engagement ring from Walmart. I went to Linda's parent's house with intentions on fixing my broken relationship, hoping that she would say yes again. I knocked on the door and her dad answered, and dropped the news that Linda moved in with my best friend, Frank.

In the end, it turned out that Frank's K-Mart diamond engagement ring won over my Linda's heart.

So would I recommend this ring to my friends? If I knew then what I know now, I would recommend this crappy ring to Frank and I would guarantee that Linda would be mine, forever.

For anyone considering this ring, let my story be your guide on what can be expected. Go to Walmart and buy a much better ring for a little more money!

Bottom Line: No, I would not recommend this to a friend

---

This product is junk!

By Keith

,

Montana

,

Aug 10, 2016
Verified Reviewer

I recently purchased this product for my wife. When I received it she wore the ring for less then 24 hours before it broke.

Bottom Line: No, I would not recommend this to a friend

---

Fraud

By Ursula L.

,

Fosters, AL

,

Jun 28, 2018
Verified Reviewer

I ordered this ring set some years ago. I wore it for maybe a month and the color changed. Someone else had the same ring set, and she told me it changed colors on her too. This false advertising should STOP. This ring set is a scam.

Bottom Line: No, I would not recommend this to a friend

---

Worst piece of trash ever!

By Sandra

,

Bronx, New York

,

Apr 27, 2015

I bought this ring and it came relatively fast. I should have known better. While it looked beautiful and had all types of fire and brilliance coming out of it, it literally broke in half. The top of the "diamond" came off and apparently that's where all the shine and brilliance was located because what's left now is a flat top on the stone. It's extremely cloudy and has absolutely no fire.

To say I'm disappointed would be a gross overstatement. And, as if to add insult to injury, it broke three days after the 30 day money back guarantee.

Do not buy this piece garbage.

Bottom Line: No, I would not recommend this to a friend

---

Total scam!

By Joann

,

North Carolina

,

Feb 6, 2015

This is nothing short of another scam to gain small amounts of money very quickly with the promise of a lovely ring when in fact, a ring from a Cracker Jack box would be far nicer! My advice? Unless you enjoy cheap gaudy jewelry that turns your fingers green within a matter of days, then run!

Bottom Line: No, I would not recommend this to a friend

---

Terrible

By Nicole

,

Mn

,

Feb 28, 2015

Paid 3 months ago for a ring that I have not yet received. Terrible customer service! No answers to any questions, no idea when I will receive the ring or how long a refund will take or if a refund is possible? They refuse to let me talk to a supervisor! All anyone gets is the same old crap: we're sorry and everything is on back order could be 8-10 more weeks. Seriously? Never would I ever recommend this ring or site to anyone.

Bottom Line: No, I would not recommend this to a friend

---