Diamotech Pan Reviews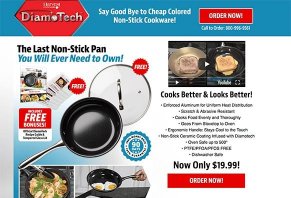 By combining a PTFE/PFOA/PFOS free non-stick coating with four layers of aluminum, ceramic, and a smooth top coat, Diamotech Pan claims to deliver superior quality.
About Diamotech Pan
Harvest Cookware's Diamotech Pans boast an innovative four-layer design that promises to not just look better, but to also help you cook better.
These layers include quality-enforced aluminum, a scratch- and- abrasive-resistant, high-temperature outer coating, a ceramic coating for hardness and durability, and a silky smooth European non-stick top coat that's PTFE/PFOA/PFOS free.
Together, their website advertises customers can expect uniform heat distribution for evenly cooked food, oven-safe functionality up to 500°F, healthier cooking with less butter, grease, and oil; and the ability to cook and serve from one pan and then quickly clean up in the dishwasher. It's even tough enough to use a metal mixer right in the pan.
Can you expect them to help make cooking easier, as advertised in the commercial? Will they be the last non-stick pan you will ever need to own?
We'll help you explore what we learned during our research so you can come to your own conclusions about important questions like these.
The Basics of Non-Stick Cookware
In Non-Stick Cookware 101, we explain these "thin metal pots, pans, or cooking sheets" are "coated with a low-friction material" that helps prevent food from sticking to their surface. This even includes notoriously hard-to-remove foods like cheese and eggs.
Traditionally, a chemical called polytetrafluoroethylene (PTFE)—commercially known as Teflon—has been used to create this ultra-slick surface. But because of some (clinically unfounded) concerns over PTFE's relationship to cancer, an increasing number of manufacturers have started releasing pans covered in other naturally non-stick materials, such as ceramic, silicone, and diamond-infused coatings.
Note: Customer service wasn't able to confirm the primary components found in Diamotech's non-stick coating when we called.
While we didn't test any options during our research, the website advertises that these pans are PTFE/PFOA/PFOS free, so it seems logical that they're coated with either ceramic or silicone.
If the latter, it's important to point out that ceramic options tend to wear more quickly than Teflon, and are also more prone to scratching. As such, we certainly wouldn't recommend scratching the surface of your Diamotech Pan with metal utensils, as advertised in their commercial.
Read more: How to Buy the Best Non-Stick Cookware
How Much Do Diamotech Pans Cost?
Diamotech Pans are available in two different 'singles' packages:
9.5" Pan: $19.99
12.5" Pan: $29.99
Both of these options include a tempered glass lid and official recipe guide. It's also available as part of two sets:
5-Piece Set – Includes a 10.25" fry pan, 1.5-quart pot w/lid, 5-quart pot w/lid, and recipe guide: $69.99
10-Piece Set – Includes everything found in the 5-Piece Set, in addition to an 8.5" fry pan, 2.5-quart pot w/lid, and steamer basket: $119.99
All options come with a 90-day money back guarantee, as well as a limited warranty against defects in materials and workmanship, which you can request by reaching out to customer service at 866-561-8543.
What Do We Know About the Company Behind the Diamotech Pan?
As an As Seen on TV company, Harvest Direct (dba Harvest Trading Group, Inc.) was founded in 1999 and is based out of Norwell, MA. Since opening their doors, they've released many popular products.
They held an A+ rating with the Better Business Bureau, based on three closed complaints, as of 5/8/18. Details were only available for two, which referenced problems processing refunds/warranties, although a company representative responded with a solution in each instance.
Diamotech Pans vs. Swiss Diamond: How to Choose the Right Non-Stick Cookware
There are likely hundreds—perhaps even thousands—of different non-stick cookware for you to choose from throughout the marketplace, including those using traditional Teflon coatings, as well as options with ceramic and diamond-infused coatings.
To this extent, while Diamotech's name and logo might automatically lead you to conclude that its coating contains diamonds, this claim isn't made in their commercial or on their website. Again, customer service wasn't able to provide additional insight when we called, so it's difficult to compare it apples-to-apples with the competition.
Related: How to Season, Use, Clean, & Store Your Non-Stick Cookware
Perhaps the biggest name in diamond-infused non-stick cookware, though, is Swiss Diamond, who combines real diamond crystals with a high quality non-stick composite material for superior performance and longevity.
Each piece of cookware in their lineup also features a comfortable handle, 500° heat resistance, pressure-cast aluminum construction, and a limited lifetime warranty. Some come with magnetic bases that can work on conduction stovetops, which is something Diamotech's pan doesn't feature.
Perhaps the biggest difference between these options is the price. Whereas a 9.5" Diamotech Pan will set you back $19.99 and 12.5" pan $29.99, comparable Swiss Diamond models were priced at $129.95 and $169.95, respectively.
Returning to our Non-Stick Pan Buying Guide referenced earlier, though, we point out that high-quality non-stick cookware will typically contain at least three layers, a spray-on non-stick coating that's smooth to the touch, and come from a brand with positive customer feedback.
Our Final Thoughts About Diamotech Pan
Compared to their close competitor Swiss Diamond, Diamotech Pan promises to provide much of the same PTFE/PFOA-free non-stick ability, but at a fraction of the cost.
However, without knowing exactly what you're getting with a Diamotech Pan (e.g., non-stick material, whether or not it's infused with diamonds, the thickness of each coating, etc.), it's impossible to know whether or not they'll deliver a similar level of value for the price.
But these pans come from a manufacturer with nearly two decades in business and who has an almost wholly positive—if somewhat limited—online customer reputation, which could be a good indication of what you might expect to experience after handing over your hard-earned money.
Just keep in mind that if you decide to request a refund from Harvest Direct within 90 days of your purchase, you'll be responsible for covering return shipping costs, which could vary greatly depending on your proximity to the manufacturer.
Regardless of the manufacturer you choose or the specific coating you opt for, it's important to point out that you should never use metal utensils on a non-stick pan, which could damage the surface and greatly reduce its useful lifespan.
Did not last

By Barbara K.

,

Texas

,

May 15, 2019
Verified Reviewer

We bought an 11-inch Diamotech Pan and thought we had finally found the perfect morning egg pan. You could have cooked them without oil but we did not.

In ONE month it was sticking worst than most of our other failures. It did not bend or scratch, it just STUCK. So much for Diamotech.

Bottom Line: No, I would not recommend this to a friend

---

2 out 2 people found this review helpful

Love mine

By Colleen S.

,

Michigan

,

Dec 26, 2018
Verified Reviewer

I bought mine at CVS because I had a 40% off coupon and I swear I cannot live without it now. I have not cooked anything but veggies and eggs, but they slide right off. I don't let anyone touch it but me, haha. I hope I don't find out later it's made of something funky!

Bottom Line: Yes, I would recommend this to a friend

---

Advertisement

---

2 out 2 people found this review helpful

Fabulous!

By Barbara O.

,

Indiana

,

Dec 21, 2018
Verified Reviewer

I have had and been using both the 12" and the 9" pans for over a month, and I LOVE THEM! I did not, however, try using a blender on the surface of either pan...simply have been using them for all types of food while cooking at all different temperatures, and they have been fabulous! These have been the first pans to have ever made me put my iron skillets away! Thank you Diamotech for this great product at such a great price!

Bottom Line: Yes, I would recommend this to a friend

---

2 out 2 people found this review helpful

Junk

By Joe C.

,

Bloomington, MN

,

Dec 13, 2018
Verified Reviewer

I used an electric mixer just like in the video, pealed the "Diamond Infused Finish" right off. Nice! Wasted my money. I tried to add pictures, not an option here. You'll have to take my word for it.

Bottom Line: No, I would not recommend this to a friend

---

Advertisement

---