DIGIPRO Robotic Vacuum Reviews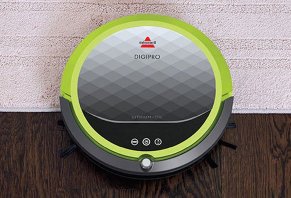 Aiming to provide you with all the core features you need, but at a price point that won't break the bank, the DIGIPRO Robotic Vacuum claims to help you effectively clean.
About DIGIPRO Robotic Vacuum
Combining powerful suction, edge-cleaning brushes, a unique brush roll, wireless navigation, and a programmable self-charging docking station, Bissell's DIGIPRO Robotic Vacuum (Model 2142) promises to automatically gather debris, dust, and hair—so you don't have to.
Additional useful features include an Li-ion battery that provides up to 80 minutes of run time, Opticlean sensors that tell the robot to change to spot cleaning mode when it detects a heavy amount of dirt, along with a triple action cleaning system that provides outstanding coverage everywhere, including along edges, corners, and under furniture.
The DIGIPRO Robotic Vacuum certainly seems to provide a lot of essential features at a competitive price. But is it necessarily the right model for you? That's exactly what we'll help you find out here, starting with the device's functionality.
How Does the DIGIPRO Robotic Vacuum Work?
On the Bissell website, we found an extensive list of how-to and demo videos for the DIGIPRO Robotic Vacuum, which you can browse at your leisure. Instead, we'll briefly cover some of the core details here.
Basic Specifications
Weighing in at about four pounds, the cordless, bagless vacuum uses a rotating brush system designed to clean hard flooring and low pile carpet, along with a low-profile design that allows it to access hard-to-reach areas. When it encounters a new flooring type, it will automatically self-adjust, and the Li-ion rechargeable battery promises to provide more than an hour of run time.
Controls & Operating Modes
On top, you'll find a control panel and an LED display, as well as an infrared receiver that helps guide it back to the charging station. Underneath, there's a cliff sensor in between the spinning brushes, a small brush roll in the center, and two larger rear wheels and a single smaller wheel in front for precise turning.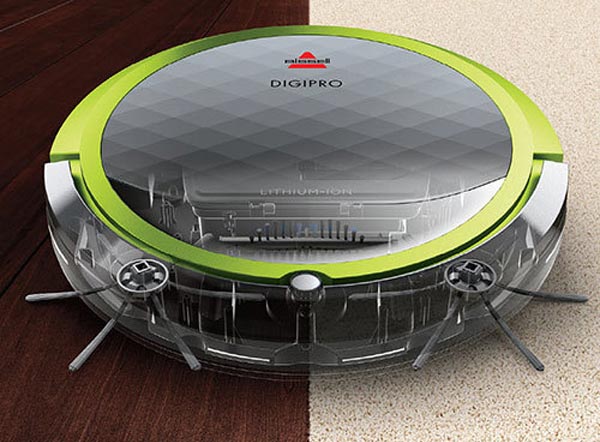 Currently only available in one color (ChaCha Lime w/ Titanium Accents), the DIGIPRO Robotic Vacuum claims to deliver many useful features, including five cleaning modes, a cliff sensor, and a remote control, at a competitive price. Credit: Bissell
Using this control panel, the DIGIPRO robot vacuum offers five different operating modes:
Along the Wall – The two edge-cleaning brushes clean in corners and other hard-to-reach areas.
Spiral – Concentrates cleaning in your most heavily trafficked areas by working in circles until it encounters an obstacle, and then switches to Auto mode.
"Z" Formation – Will move along the room in a zigzag pattern. When there is no more space to the left side, will switch to Auto mode.
Diagonal Path – Robot will move in diagonal paths around the room, adjusting its direction as obstacles are encountered.
Auto – Cycles through each of the cleaning patterns to make the most efficient use of run time.
Docking Station Features & Fitment
DIGIPRO Robotic's docking station also features an LED control panel on the top, where you can schedule cleanings, as well as choose manual cleaning options (e.g., run time, whether or not the robot returns to the docking station once it's finished, navigation mode, cleaning power, etc.).
Pro tip: According to the vacuum's User Guide, in order to operate optimally, the docking station requires at least 40 inches of space on one side, 12 inches on the other, and 70 inches in front. So, if you're planning to tuck DIGIPRO away in a corner, you might want to maintain realistic expectations about where it can realistically go.
Emptying & Upkeep
When the time comes, Robotic Vacuum's display will indicate that the 0.4 L dustbin is full. You'll open the top lid and flip up the handle to remove, and then take out the filter and empty the contents into the trash. The dustbin can be cleaned by hand with tap water, while the filter can be cleaned using a soft bristle brush, but cannot get wet.
You'll also need to occasionally clean the vacuum's intake, sensors, and side brushes, which shouldn't take more than a few minutes.
How Much Does the DIGIPRO Robotic Vacuum Cost?
If purchased directly through Bissell, the DIGIPRO Robot Vacuum is priced at $249 and comes with everything you need, including parts, a power adapter, and a programmable docking station.
In addition, Bissell's parts for the vacuum (replacement brush rolls, docking stations, wheel assemblies, etc.) are priced between $2.99 and $59.99.
We also found the device available on Amazon for $279 and Walmart.com for $199 at the time of our research.
If ordered from Bissell, standard shipping is free, while expedited shipping is $35.99. They offer a 30-day refund policy on direct orders, although you'll be required to pay $4.95 for return shipping.
Regardless of where it's purchased, the DIGIPRO Robotic comes with a one-year limited warranty against defective or malfunctioning parts. In order to request either of these options, customer support can be reached at 800-237-7691.
What Can We Learn From Customer Reviews for the DIGIPRO Robotic Vacuum?
There were only three customer reviews on the vacuum's website at the time of our research, who had given it an average rating of five stars. Frequent compliments referenced effective cleaning, ease of use, and low price.
However, we encountered another 35+ reviews on Walmart.com, where it earned a slightly lower average rating of 4.2 stars. Many of the same compliments were noted, although several remarked that it didn't perform as well as expected, or clean as well as they had hoped (especially related to pet hair).
As a company, Bissell Homecare, Inc. is based out of Grand Rapids, MI and has been in business for nearly 150 years. They held an A+ Better Business Bureau rating, based on two negative reviews and 85 closed complaints, as of 1/4/17.
Most of these appeared to revolve around warranty difficulties. In each instance, a company representative responded with a solution.
The Bissell DIGIPRO 2142 vs. iRobot Roomba & Other Robotic Vacuums
Even just a brief online search for 'robotic vacuum' on marketplaces like Google Shopping and Amazon will reveal that there are hundreds of products potentially competing for your money. Here were some of the most popular options at the time of our research:
| Brand | Price | Fully Charged Battery Life | Standout Features |
| --- | --- | --- | --- |
| DIGIPRO Robotic Vacuum | $249 | 1+ hours | 2 edge-cleaning brushes, 4lb weight, self-adjusts to different flooring types, 5 modes |
| iRobot Roomba | $300-$900 | No more than 60 minutes | Several models come with app and Wi-Fi connectivity, scheduling, 3-stage cleaning system, and self-charging |
| Neato Botvac | $400-$700 | Up to two hours | Patented laser-guided technology, unique wedge-shaped design, large dustbins, scheduling, boundary markers |
| Eufy RoboVac 11 | $250 | None listed | Li-ion battery, 3-point cleaning system, infrared sensor, fall avoidance technology, 1,000Pa suction |
Given all these features, technologies, and price points, how can you hope to figure out which robot vacuum—if any—is right for you?
Consider this first: As we outline in our Vacuum Cleaner Buyer's Guide, robotic options often represent the latest technologies, require minimal human input, can easily access hard-to-reach areas, and are frequently quieter than their full-size brethren. Most also automatically return to their bases to recharge or when full.
Like any other product, though, they're not perfect. Robotic models are usually among the most expensive vacuums—and you'll still need to purchase a full-size model. Why?
As TechGearLab points out, none of these models are a perfect replacement for an upright. In other words, while they're "intended to do a frequent cleaning job, substantially prolonging the time between required deep cleans with a manual system," you'll still need to deep clean with a full-size system every so often.
Furthermore, robotic vacuums typically take longer to clean, can only handle hard flooring and low-pile carpet, and can only address level surfaces.
TechGearLab also emphasizes that these vacuums often only run long enough to clean one room, so be sure to take the room's dimensions into account when purchasing. Specifically, Tom's Guide recommends that you only choose models with at least one hour of battery life.
From there, both of these sites noted that you'll want to base your decision only on key features that you'll regularly use (whether Wi-Fi connectivity, remote control operation, auto scheduling, adjustable cleaning times, etc.), and avoid paying a higher price for those that may have a lot of 'cool factor,' but aren't all that functional in the real world.
In the end, TechGearLab summed it up this way:
"We found that our evaluation essentially was distilled down to a single phrase: How confident are we that these will clean the floors, avoid getting trapped or damaging anything, and make their way back to the docking base to recharge."
This is where online customer feedback for any models you're considering can be invaluable.
Our Final Thoughts About the DIGIPRO Robotic Vacuum
Taking everything we've learned together, it seems like the DIGIPRO Robotic Vacuum delivers most of the essential features (e.g., 1+ hour battery life, five navigation modes, a programmable self-charging docking station, multi-floor functionality, and automatic return to base station), but at a price that's meaningfully lower than much of the competition.
So, if you're looking for a no-frills model that can get the job done in a single room (such as a kitchen or a living area) while you're away from home, then it certainly seems like the model 2142 could deliver a lot of bang for the buck. Of course, there's no way to know for sure without giving it a try in your home.
In this regard, Bissell seems to stand behind the DIGIPRO Robotic Vacuum with a 30-day refund policy (other retailers' policies may vary), which should be plenty of time to gauge its cleaning ability. Just keep in mind that you'll have to pay to ship it back if you're dissatisfied, which will vary based on your location.
» For Further Reading: Best Robotic Vacuum Cleaners Buying Guide
Pile of crap

By Tara S.

,

San Anselmo, CA

,

Nov 6, 2019
Verified Reviewer

Worked right one time...Will not read doc or charging station, constantly have to pick up and set on charger, keep getting a battery error code. I've had one almost two years and every 4 to 6 months I'm calling and getting a warranty replacement. This thing isn't worth $1, let alone the $399 I stupidly paid for this product. Not to mention the Bissell customer service is horrible. Learn from my mistakes and don't buy this. Run as far and fast away from this and any other Bissell product. It'll save you time and money.

Bottom Line: No, I would not recommend this to a friend

---

Horrible

I have had my DIGIPRO for approximately six months and all of a sudden I began getting an E5 error, which means that the floor is too light. I have used this vacuum for the last six months, and all of a sudden my floors are to light.

I cannot find any help on resolving this issue, and customer service was of no help. $300 gone down the drain!

Bottom Line: No, I would not recommend this to a friend

---

Advertisement

---