Digit Reviews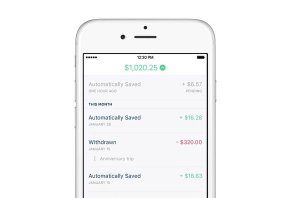 If you're looking for a simple way to save money, savings app Digit could be a good solution because it automatically withdraws money from your checking account based on in-house algorithms.
What Is Digit?
Digit is a savings app that does automatic withdrawals from your checking account based on in-house algorithms that track your spending and your income to determine how much and when to deposit.
What makes this app so interesting is that it decides how much to withdraw but never, according to its website, makes transfers that would result in causing an overdraft of your account.
Digit is based in San Francisco and its founder is Ethan Bloch, a University of Florida grad who bounced around between several S.F. startups before starting Digit.
The app is one of many new personal finance services intended to help you save by using a third-party bank to provide you an account in which to put your money.
With the dozens of apps out there claiming to be able to strengthen your financial life, how do you choose the right one for you?
Over the course of this review, we're going to help you discover how useful Digit could be for your finances. We'll answer basic questions like how you sign up, how the savings transfers work and talk about some of the app's benefits.
How to Sign Up for Digit
Signing up for the app is very similar to other financial apps. You provide basic information (name, DOB, SSN, address) and then you choose the account you want to connect to Digit. This account will be the place from which Digit will pull money.
At the time of publishing, the app was able to support more than 7,000 banks and credit unions. Unlike SmartyPig, which makes small deposits into your connected account and asks you to verify them, Digit makes the small deposits and automatically verifies them; you don't have to do anything.
Pro tip: You can connect your Digit account to budgeting app Mint. It will appear in the same way that a bank account would.
How Digit Saves Your Money
In all the financial apps we've reviewed, we've seen two basic ways of depositing your funds into the app. The first and most common way is to set up automatic withdrawals from a funding account and indicating how much you want to be withdrawn. So, for example, you'd set up the app to withdraw $50 every two weeks.
The other way is what's known as "round-up". When you use your connected account to purchase something, the transaction is rounded up to the next dollar and the difference is deposited to your account. Acorns is a good example of this.
Digit, however, offers a novel way to save. Their secret math equations (algorithms) are able to analyze your spending and make decisions about when and how much to withdraw from your connected account.
Here's how they describe it:
"Digit takes into account each user's unique financial situation for the day. It learns things like paydays, rent, upcoming bills, spending patterns, and average balance to determine how often to save and how much to safely set aside."
So, as you can see, how much they withdraw and how often they do it varies from person to person based on that user's spending habits and income.
Despite the fact that patterns will be different for each person, the app's site says that withdrawals typically happen 2-3 times a week and that the deposit amounts average between $10 and $30. Deposits can be smaller or larger than that but most fall into that range, the site says.
Now, you also have the option of saving more or saving less, which is something you can do simply by texting "Save More" or "Save Less" up to three times, sort of like how you'd turn a volume knob up or down three clicks.
If, at any time, you want to know your savings balance, you text "Savings" to Digit.
Using Digit Commands to Adjust Your Savings
As we mentioned earlier, Digit uses text messaging to update you about your account information. Well, it turns out there are 28 commands. Here's a quick overview of some of the more important ones:
Recent: See your last five transactions
Minimum + number: Set the minimum you have to have in your checking account for Digit to make withdrawals
Save + number: A one-time deposit to your Digit account
Pause + number: Pause your savings deposits for a certain amount of days
We went through the first few steps of the sign-up process until we were able to identify the Digit phone number, which is (650)753-7045. Our first official message from Digit was, "Hi! This is Digit. Pleasure to meet you. Add me to your contacts so you'll recognize me when I start reporting how much I've been saving for you."
Digit's Benefits
One of the things that makes Digit interesting is their use of Goalmojis. These are emojis available in the app to which you assign savings goals. For example, you can use the Digit custom keyboard to assign a vacation savings goal to their plane emoji.
Then, you can text "Save 30 ✈️" and $30 will be added to your vacation goal.
The other main benefit you get by using Digit is that, if you save with them for three consecutive months, they'll deposit a 1% reward to your account based on your average daily balance.
As far as benefits for savings accounts go, this is one of the best characteristics of apps like Digit or other savings platforms like SmartyPig. Traditional banks offer minuscule interest rates on their savings account. Chase, for example, offers a savings account with 0.01% interest.
As a point of fact, Digit's interest rate is one hundred times better than Chase and about 30 times better than Bank of America (0.03%).
That sounds like a lot, but, in reality, if you have a $500 Digit balance, 1% over three months is about $1.25.
Pro tip: You only get the 1% bonus if you make deposits for three consecutive months.
Digit's Fees
For the 100 days you use Digit, you won't have to pay a monthly fee. After that, you'll pay $2.99 a month for its services.
This monthly fee is an interesting one because, as far as savings apps go, free is usually the standard. However, Digit's $2.99 charge is cheaper than what you'd pay to Bank of America if your daily balance is lower than $500.
Digit's Security
The money you deposit into your Digit account is protected by the FDIC, which is basically an insurance policy that covers you for up to $250,000 should Digit go bankrupt and disappear.
As for the security of your information, Digit uses 128-bit encryptions. This isn't as strong as the 256-bit encryption used on platforms like Clarity Money and Trim, but the difference isn't as much as you think.
Encryption at the 128-bit level would take about 10,000,000,000,000,000,000 years to crack, whereas 256-bit would take at least 30 times as long. Either way, it's pretty much impossible, statistically speaking, to crack either security measure in one lifetime.
Public Opinion About Digit
The Digit app has 4,475 reviews in the Google Play store. Of those more than 4,400 reviews, 71% of them are 5 stars and around 10% of the reviews are 4 stars. In total, the app has, at the time of publishing, 797 reviews of 1, 2 or 3 stars.
Of the 10 most recent reviews, half were 5 stars. The most common praise of the app is that it makes it super easy to save.
Some of the complaints were that withdrawals requested on the weekend take longer to process and that, at times, it didn't make any of the calibrated deposits.
Our Final Thoughts About Digit
Savings accounts used to be pretty simple. They're what you put your money in when you wanted to save for a vacation or a new car … and they always came from your bank or credit union.
We live in a different time and, arguably, a better time because you have more non-bank choices. Are those choices better?
Digit has its strengths and its weaknesses. Based on our research, we believe that Digit's text-based commands are very interesting and can make savings deposits and hitting goals very easy. In addition to that, we like how Digit gives you 100 days of use for free. We also like how you can use the platform on phones, tablets and laptops/desktops.
As far as disadvantages go, the $2.99 monthly fee is a drawback and what makes this app a little different than the competition. However, based on our research, we think the flexibility you have with the app and the ease with which you can assign deposits may be worth the monthly fee.