Discover it Secured Credit Card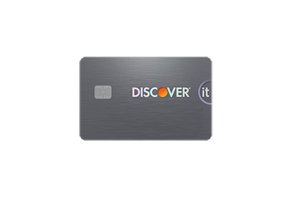 The Discover it Secured Credit Card is designed for consumers with bad credit scores who want to rebuild their credit, earn rewards and pay a minimal number of fees for using the card.
Discover it Secured Credit Card Review: Best Card for Bad Credit?
If you've got bad credit, then the Discover it Secured Credit Card could be your solution for slowly rebuilding your credit back to where it needs to be.
The Discover it Secured is one of many credit cards created for and marketed to consumers with bad credit, but that's where the similarities stop.
The card provides a cash-back rewards system that's pretty much a unicorn in the bad credit world and there are a few other features that could provide great benefits for you.
But, in order to know how this card can help you, we'll need to explore exactly what this card has to offer:
Short-term benefits
Long-term benefits
Rates and fees
Expert reviews
Comparison to other similar cards
Once we work through each of these areas, we'll conclude with some of our observations about the pros and cons of this card, as well as provide our thoughts on who this card is good for.
A Quick Word About Bad Credit
There's no hiding the fact that bad credit seriously affects the interest rates you get from credit cards, auto loans, and mortgages.
The good news is that you have the power to change that through some very basic habits that you can adapt quicker than you think.
At the end of this review, we'll give you a few links to articles we wrote on how to increase your credit score fast and how to turn bad scores into good ones.
The Short-Term Benefits of the Discover it Secured Credit Card
As you research credit cards for bad credit, you'll discover that most of them have bare-bones benefits and perks.
The main reason behind this is that credit card companies see you as a risk…they don't think there's a good chance you'll pay your balances on time.
They're worried about the headaches late payments will cause, so they hold back benefits they'd give to people with good or excellent credit.
However, that doesn't mean there aren't some good benefits out there and the Discover it Secured is a perfect example.
Rewards Matching
The card allows you to get cash-back rewards on purchases you make, which we'll talk about in a minute. As far as short-term benefits go, though, Discover will, in the first year, match all the cash back you earn with your card.
7-Month Review
As you probably know, a secured credit card means that you pay money up front, and that money is used as collateral for a credit limit of the same amount.
Discover's secured credit card allows you to deposit $200 or $500, meaning that your credit limit will be either $200 or $500.
We read through Discover's fine print and found that, after seven months, they'll take a look at your overall credit profile and, if you meet their requirements for responsible borrowing, they could return your deposit and change your card to an unsecured card.
This is a significant perk if you're able to maintain on-time payments and pay down your debt.
Discover's fine print doesn't say exactly what you need to do in order to get your deposit back, but, based on our research, we know that it always looks good if you make on-time payments and you reduce the balances on your cards.
If you don't pass their "test" at seven months, don't worry: Discover will do a review every month after the seventh month.
Balance Transfer APR
At the time of publishing, Discover was offering 10.99% APR on balance transfers made within a few months of being approved for your card; the APR is good for six months.
Pro tip: Pay down all your cards to under 30% of their credit limit and your credit scores will rise.
The Long-Term Benefits of the Discover it Secured Credit Card
Here's where things get interesting. The secured Discover card offers you a perk that you can't get on any other card designed for consumers with bad credit: cash back.
The QuicksilverOne from Capital One also gives cash back for purchases, but the QuicksilverOne is designed for average credit: Think 650 and above.
Here's a quick breakdown of how you can earn cash back rewards on this card:
2% on cash back at restaurants and gas stations
1% cash back on everything else
These rewards are capped at $1,000 in purchases for both categories combined.
That means that you can get cash-back rewards on $800 in restaurant and gas purchases and $200 on everything else or $400/$600. The combination isn't as important as the total spend each quarter.
As far as rewards go, you can multiply your gas/restaurant purchases by .02 to find out how much you've earned in cash rewards for the quarter. A $400 spend in this category would get you $8 in rewards, while a $400 spend in "everything else" is worth $4 in rewards.
Now, it might not sound like a lot of money, but you have the ability to earn around $50 a year in rewards. With Discover's match program, you can double that.
In our article about good credit cards for bad credit, several of the cards had annual fees between $30-$49, which means that, while other companies are charging you for using their cards, Discover is actually paying you for it.
Free FICO Score, No Annual Fee
In addition to your cash back rewards, Discover will give you access to your free FICO score and won't charge you an annual fee for using their card.
The Discover it Secured's Rates and Fees
Every credit card has a set of rates and fees they'll charge you. In most cases, those rates and fees will kick in only if you don't pay your balance in full every month.
Considering that your credit limit will start out at either $200 or $500, paying off your balance shouldn't be too big of a problem.
However, if you do end up paying late or carrying a balance, here's what you can expect to pay:
APR on purchases: 23.74%
APR on balance transfers: 10.99% for six months
APR on cash advances: 25.74%
Penalty APR: None
Annual fee: None
Late fee: $0 for 1st late payment, $37 after that
Returned payment fee: $37
Normally, we'd say that 23.74% is a high APR, but that interest rate needs to be taken in the context of the Discover it Secured being a card for consumers with bad credit.
With that in mind, we think the APR is average, considering that Chase credit cards give the same APR to applicants with lower credit scores.
However, as our article on cards for people with bad credit points out, there are a couple of other cards which have lower APRs.
On the plus side, the Discover card is the only one of its kind to offer a reduced APR on balance transfers. This could actually save you a lot of money if you have balances on other cards that have high APRs.
Remember, though, that promotional APR of 10.99% only applies to balances you transfer by, at the time of publishing, August 10.
Reviews of the Discover it Secured Credit Card
The Discover it Secured is one of the more popular credit cards if you have bad credit, so there is a decent amount of reviews out there both from experts and consumers.
NerdWallet
NerdWallet's review of Discover's secured card is pretty positive. In fact, they didn't list any cons to owning this card, noting the pros were the card's lack of annual fee and the intro APR on balance transfers.
Meanwhile, 14 NerdWallet users gave the card an average rating of 4.5 stars, with one reviewer saying, "I've heard nothing but good things with this company, and this card has been the only one that offers the kind of benefits it does."
Credit Karma
At the time of publishing, Discover's secured credit card had a 4.6-star rating based on 76 user reviews, earning the site's "Cardholders' Choice" award for its high score.
Eighty percent of the reviews were 5-star, while only 8% were between 1 and 3 stars.
Value Penguin
Value Penguin's Robert Harrow gave the Discover it Secured a 94 out of 100, saying, "With no annual fee and a cash back rewards program, this is one of the best credit cards for rebuilding credit."
WalletHub
The Discover it Secured card received excellent reviews from WalletHub's John Kiernan, as well as from many of the 305 consumers who rated the card based on their experience with it.
Kiernan gave the card 5 stars, saying the card is "superb at the task" of helping you rebuild your credit.
The sites users gave the card a 3.5 stars out of 5, with nearly identical numbers of reviewers giving the card 3 and 4 stars.
Bottom Line on the Discover it Secured Card
As we've mentioned several times in this review, the Discover it Secured credit card has some unique features that you won't find on other cards for people with bad credit.
We believe it's these unique features, along with the overall fee structure of the card, that make it one of the best that you can find.
Pros of the Secured Discover Credit Card
Two huge benefits make this card worth your time.
First, Discover's cash rewards and first-year matching can help you earn anywhere from $80 to $160 in your first year.
Second, the card's absence of an annual fee is an anomaly in the world of secured credit cards.
While we don't always recommend transferring a balance, the card's intro balance transfer APR of 10.99% is a great bonus, too.
Cons of the Secured Discover Credit Card
If there's one beef with have with this card, it's that your credit limit is either $200 or $500 when you start.
For a student who gets a great job out of college but without a credit history, this can be a hindrance since they may have a well-paying job that allows them to put down several thousands of dollars on a deposit.
The same goes for any consumers who have plenty of cash on hand but poor credit scores.
Who Is This Card Good For?
The Discover it Secured credit card is a good fit for someone with low credit scores who is responsible enough to pay off their entire balance every month.
The higher APR on this card could negate any cash rewards you get if you carry a balance by causing you to pay higher interest fees every month.
» See Also: Best Secured Credit Card for Bad Credit
We also think this is a great card for college students who commute to campus. The fact that you're a college student means your credit scores are probably low because you don't have much of a credit history, and that you drive a lot.
The 2% rewards on gas purchases make your commute worthwhile knowing that you're getting a little bit of cash back every time you swipe your card at a gas station.
The Final Word: Top Card for Consumers with Bad Credit
We believe that the Discover it Secured Card could be the best credit card on the market today for consumers who have low credit scores.
Just the fact that you can earn rewards and that you aren't paying an annual fee vault this card ahead of the competition.
In the meantime, take a few moments to read through our articles on credit scores. Each one tackles a very specific issue in the world of credit scores and provides you the information you need to confidently change your habits and start building excellent credit scores: