Discover it Secured Credit Card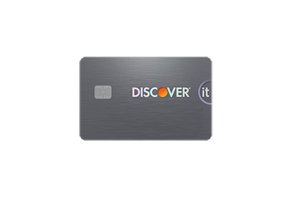 The Discover it Secured Credit Card is designed for consumers with bad credit scores who want to rebuild their credit, earn rewards and pay a minimal number of fees for using the card.
Discover it Secured Credit Card Review: Is It the Best Card for Bad Credit?
The Discover it Secured is a credit card for those with bad credit who are looking for yearly rewards, low fees, and good customer service.
What makes this card unique is that it's the only major card for bad credit that offers a rewards rate as well as a sign-up bonus.
Because cards for bad credit are pretty unique, our review is going to offer you analysis of how this card works as well as advice on how to use these kinds of cards to build your credit.
Specially, we'll talk about this card's rewards, its rates and fees and how it compares to other cards designed for people with bad credit.
We'll also include a section on how to use this credit card to increase your credit scores.
How the Discover it Secured Credit Card's Rewards Work
Quick Facts

Pros: $200 in rewards each year, $200 first-year bonus, no annual fee

Cons: Average APR, deposit required to open card

Estimated Yearly Cash Rewards: $200

Sign-Up Bonus
Annual Fee
Regular APR
$200
None
25.24%
Rewards Rate: 2x on gas and dining, 1x on everything else

When we talk about "rewards," we're referring to a system the credit card company sets up for you to earn money by using your card.
Discover's rewards system works like this:
Use your card to buy things
Discover gives you one point for every dollar you spend
They deposit the points at the end of your billing period
Those points are worth one cent per point, which means 100 points is worth $1. You can view how many points you have by logging into your Discover account. At any time, you can redeem the points you have for a statement credit.
So, if you have 10,000 points and you redeem them, they'll show up on your credit card statement as a $100 credit.
Now, the Discover it Secured provides bonuses for three different types of purchases. You'll earn two points for every dollar you spend at gas stations and restaurants, and one point per dollar for everything else.
If you spend $20,000 per year, we believe the bonuses this card provides can earn you 23,000 points a year. This points total is worth $230, or nearly $20 per month.
The one catch here is that your 2% cash back is capped to the first $1,000 you spend every quarter. According to our research of average household spending, you most likely won't reach those limits every three months.
Discover also gives you a way to earn $460 the first year you own the card. Discover does something called a "cash-back match" the first year.
This means that, after your first year of card ownership, Discover will calculate the number of points you earn, double them and add them to your account.
There are a few bits of fine print you need to know about, though. First, your account has to be open at the time that Discover calculates your rewards the first year. If you cancel your card within the first year, you won't any points from the cash-back match.
Second, it will take up to eight weeks for Discover to send the matched rewards to your account; the match doesn't appear instantaneously.
The Discover it Secured's Rates and Fees
In many cases, credit card companies will charge you more money and higher interest rates and fees to let you use their card.
They do this because lower credit scores present more risk to them: a risk that you'll rack up a balance you can't pay, a risk that you'll be late on payments or a risk that you'll stop making payments altogether.
We'll give you the Discover it Secured's rates and fees, then explain them after:
Interest rate for purchases and balance transfers: 25.24%
Interest rate for cash advances: 27.24%
Balance transfer fee: 3%, then 5%
Cash advance fee: $10 or 5%, whichever is greater
Foreign transaction fee: None
Late/returned payment fee: First one free, then up to $39
Annual fee: None
Most cards have a range of interest rates, or "APR" (annual percentage rate) and you won't which one you get until the company approves your application. The Discover it simplifies it with just one APR.
That APR will be 25.24%. Discover will charge you interest according to this rate if you don't pay off your balance on the due date every month. If you pay your balance in full by the due date, you'll never have to worry about APR.
The second rate to look for is the cash advance APR. You can put your Discover it Card into an ATM to withdraw money. We don't recommend it, though.
Discover will charge you a high interest rate (27.24%) and a fee. If you make a withdrawal equal to or lower than $200, you'll pay $10. If it's higher than $200, you'll pay 5%.
The card's balance transfer rate was 3% at the time of publishing but, according to the fine print, the percentage would go up to 5% two months after. This is a fee Discover charges to move a balance from another card to this one.
When compared to other cards, this card's rates and fees are very reasonable, especially for cards for people with bad credit.
The Discover it Secured's Deposit
This credit card is what's known as a "secured" card. This means that you have to make a cash deposit to open the card. Discover keeps this cash as collateral in case you don't pay your bill. If you don't, Discover takes money from your deposit to cover the bill.
The minimum deposit you need to make is $200. Your credit limit—the maximum balance you can have on your card—is equal to your deposit.
There are two ways to get your deposit back. First, you can close your account. If you do that, make sure it's outside of the first year so you can earn your cash-back match.
Second, after your first eight months, Discover will do regular reviews of your account. If you prove yourself responsible (on-time payments, low balance), Discover may choose to upgrade your card to a regular credit card. If they do, they'll give back your deposit.
How the Discover it Secured Compares to Other Cards for Bad Credit
The following chart shows you how the Discover it Secured compares to other popular credit cards for bad credit:
| | Discover it Secured | Indigo Platinum Mastercard | TOTAL Visa Credit Card | Deserve Classic Mastercard | Citi Secured Mastercard | Capital One Platinum Credit Card | Wells Fargo Secured Credit Card |
| --- | --- | --- | --- | --- | --- | --- | --- |
| Intro offer | $200 | None | None | None | None | None | None |
| Rewards rates | 2x/2x/1x | None | None | None | None | None | None |
| Yearly rewards for $20K spending | $200 | None | None | None | None | None | None |
| Minimum deposit required | $200 | None | $89 | None | $200 | None | $300 |
| Annual fee | None | Up to $99, depending on credit | $75 first year, $123 after | None | None | None | $25 |
| APR | 25.24% | 24.90% | 34.99% | 24.99% | 24.49% | 26.99% | 20.99% |
| Penalty APR | None | 29.90% | None | None | 29.99% | None | None |
| Late fees | 1st one free, up to $39 after | Up to $39 | Up to $39 | Up to $25 | Up to $39 | Up to $39 | Up to $37 |
There are a couple of important things to take away from this chart. First, the Discover it Secured is the only card that offers rewards.
To us, that's a big deal, because the card can teach you how rewards work so that, if you graduate to a better card, you'll know how to leverage that new card to your advantage.
However, the card requires a security deposit while the Capital One Platinum Credit Card, the Citi Secured Mastercard, and the Deserve Classic Mastercard do not.
The Discover it Secured's APR is average. The Wells Fargo Secured Credit Card's APR is 4.25% lower, whereas the TOTAL Visa Credit Cards's APR is nearly 10% higher.
Overall, we think the Discover it Secured performs well against the competition. It's a combination of rewards, APR, and annual fee make it the best card for bad credit in the chart.
How to Use the Discover it Secured to Build Your Credit Scores
Two factors have more influence on your credit score than any other: timely payments and low balances.
As such, the best way to use this card to raise your credit scores is to make on-time payments every month.
Also, pay your balance off every month. Instead of taking a monthly approach, though, take a weekly approach. At the end of every week, pay off your spending. This will ensure your balance stays low.
A low balance in relation to your credit limit will help push your scores up.
If you keep your balance near your credit limit, the bureaus that calculate your score will see this as risky behavior and drop your score. The goal is to make sure your Discover it Secured's balance is less than 30% of the credit limit.
The Bottom Line: Pros and Cons of the Discover it Secured Credit Card
Based on our research, we think this credit card has several excellent features. First, we believe that its rewards rates and first-year match can earn you at least $400 in rewards the first year you own the card.
This perk alone makes the card worth using if you can pay off your balance each month.
Second, there is no annual fee and you won't have to pay a fee the first time you make a late payment.
Also, if you pay your entire bill on time every month, after eight months there's a good chance Discover will return you deposit and upgrade you to an unsecured card.
The only downside is the card's APR, which isn't quite as good as other bad credit cards and is higher than most leading credit cards. Also, the security deposit requirement could be a big drawback if you don't have the money.
In general, though, we think you can't go wrong using this credit card if you pay off your balance every month.
As a bonus, Discover's customer service leads the industry. So, when you call them to ask questions about your card, there's a good chance you'll have a positive experience.