Discover Personal Loans Reviews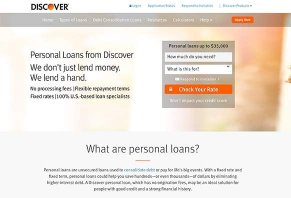 Personal loans from Discover present amounts ranging from $2,500 to $35,000 and interest rates that range from 6.99% to 24.99%. The loans have no origination or early repayment fees.
About Discover Personal Loans
Discover Personal Loans is a lending division of Discover bank that provides personal loans without origination fees and with APR's ranging from 6.99% to 24.99%.
Their personal loans website allows you to see what your rates would be without taking a hit to your credit score, a fact that makes their site useful for those who are shopping around for a personal loan.
Discover is one of just dozens – if not hundreds – of online lenders claiming to offer great personal loans to help you consolidate debt, pay off credit cards, finance a home renovation project or do any number of other things with the cash.
How do you know that they're the best, though? Are there other sites that claim to offer personal loans without any fees?
These are the types of questions that you should be asking as you consider which lender will give you your personal loan.
In this review, we're going to answer these questions by giving you an in-depth analysis of Discover's personal loans. Here are the areas we'll cover:
Their loans and rates
Who can qualify
The important points in the fine print
After we cover these areas, we'll compare Discover's loans to the loans you can get from Wells Fargo, Prosper, and Best Egg.
At the end of the review, we'll provide you with our thoughts on the lender's pros and cons.
Types of and Rates for Discover Personal Loans
Personal loans are different from car loans and home loans because they're often used for unsecured debt. What that means is that the stuff people buy or pay off with their personal loans isn't something that Discover can take from you if you decide not to pay them back.
Therefore, these loans, while awesome for you, are actually kind of risky for Discover. And, when lenders take on more risk, they charge more interest.
Interest Rates
Discover's personal loans have APR's of 6.99% - 24.99%, which, when compared to car loans and mortgages, are high. The best rates for car loans and mortgages are, at the time of publishing, under 5%.
The interest rate you get depends on a few factors, the most important of which include your credit scores and credit history. Here's how Discover words it: "Interest rates are determined by many factors such as your credit history, application information, and the term you select."
Remember, they want to try and reduce the risk they take on, so someone who is asking for more money repaid over a longer period should also be someone who has proven to be responsible with other debts in the past.
To put yourself in the best possible position to be approved for a Discover personal loan, raise your credit score as fast as you can before applying.
Origination Fee
These personal loans have no origination fees or any other fees involved in actually getting the loan. You will pay a late fee of $39 if you don't make a payment on time.
While it's not unheard of to pay a no-fee loan, it is rare in the sense that sites like FreedomPlus and Prosper have origination fees of 0%-5%. Another personal loan lender, BestEgg, charges origination fees of 0.99%-5.99%.
Types of Loans
When you apply for a loan with Discover, they're going to ask you why you're taking out the loan. They give you several different options:
Auto repair
Credit card financing
Debt consolidation
Home remodel or repair
Major purchase
Medical expenses
Other
Personal
Taxes
Vacation
Wedding
Debt consolidation will require that you meet certain conditions, which we'll talk about in a few minutes.
When you apply for your loan, you'll be able to choose the loan amount and the repayment length, which, according to Discover's site, ranges from three to seven years. The longer the repayment term, the higher the interest rate.
Loan amounts range from $2,500 to $35,000 and your payments are fixed, which means they'll be the same every month.
Who Can Qualify for a Discover Personal Loan?
Discover's FAQ page notes that you have to earn at least $25,000 in order to qualify for a loan. We called Discover's customer service phone number to inquire about any minimum credit score requirements.
The phone rep told us there is no minimum score requirement because there are multiple factors Discover considers as they determine your eligibility for a personal loan.
When we asked, "So, I wouldn't be automatically rejected if my credit score was 650," the phone rep replied, "No."
Discover's FAQ section does not that you can strengthen your case by reporting all income in your household. So, even if you are the one asking for the loan, you can count your spouse's income along with yours when you fill out your application.
Important Parts of the Discover Personal Loans Fine Print
As we read through the various FAQ pages on Discover's site, we noted one important rule for personal loans that are used for debt consolidation: 70% of the loan must be used to pay off debt.
So, if you're borrowing $10,000 for credit card refinancing or debt consolidation, at least $7,000 of it needs to go toward your debt. You can pay it yourself or you can have Discover pay off those debts directly.
Also, Discover has a 30-day guarantee on their loans. If you aren't happy with your loan, you can return the money in the first 30 days for free.
Other details of note are:
No early payoff penalties
It can take up to seven days to get your money
Discover can set up automatic payments
Discover Personal Loans Compared to Competing Sites
When you're shopping for a personal loan, it's important to compare rates that you get from the different sites in which you're interested.
We created the table below to give you an idea of what some of the more popular personal loan lenders offer in four important categories: APR, origination fee, repayment length and loan amounts.
| | | | | | |
| --- | --- | --- | --- | --- | --- |
| Company | Discover | Wells Fargo | BestEgg | FreedomPlus | Prosper |
| APR | 6.99% - 24.99% | 7.24% - 24.24% | 5.99% - 29.99% | 4.99% - 29.99% | 6.95% - 35.99% |
| Origination Fee | None | None | 0.99%-5.99% | 0% - 5% | 0% - 4.95% |
| Repayment Length | 3 to 7 years | 1 to 5 years | 3 or 5 years | 2-5 Years | 3-5 Years |
| Loan Amount | $2.5K - $35K | $3K - $100K | $2K - $50K | $10K-$35K | $2K - $35K |
Discover's personal loans, in our opinion, offer the best mix of loan amounts, low fees and low rates. For those with excellent credit who can qualify for the lowest rates, choosing Discover means you won't pay an origination fee like you would with BestEgg, FreedomPlus and Prosper.
It also means that you'll most likely get a lower interest rate than you would with Wells Fargo, whose lowest APR is 0.25% higher than Discover's. Over the course of five years on a $30,000 loan, that 0.25% will cost you an extra $75.
Best Egg, FreedomPlus and Prosper have lower APR's than Discover but their highest APR, 29.99%, is a full 5% higher than Discover's worst APR.
Now, let's say you've got a solid credit history and high credit scores (700+). If you chose Prosper and received a 5.99% interest rate, you'd pay less interest on a $30,000 loan than you would with Discover's 6.99% -- about $300 less.
However, you have to keep in mind that those three sites charge origination fees. So, you could be approved for an interest rate that's the same as what you'd get with Discover, but there's a good chance those sites will tack on an origination fee.
For example, BestEgg's fine print notes that, if you get a five-year loan from them, then your origination fee will be at least 4.99%. This fee is taken off the top of the loan, which means that, on a $30,000 loan, you'll get $28,503 after the (at least) 4.99% fee is taken off.
Another thing to note is that Discover offers the longest repayment terms, which can lower your monthly payments. There may be a chance that Discover offers you higher rates on these seven-year loans than they would a three-year loan, a practice that's common when lenders provide auto loans.
The Final Word: Pros and Cons of Discover Personal Loans
We believe the strength of Discover's personal loan program is that they don't charge any fees. On a $30,000 loan, a lock of an origination fee can save you around $1,500 over a site that charges a 4.99% origination fee.
We also like how the site provides loans with seven-year repayment periods. They might charge you a higher interest rate for these loans but, in the end, there's a good chance you'll be paying less per month with your Discover debt consolidation loan than you would on multiple credit cards with interest rates above 17%.
The downside to Discover's loans is that they max out their loan amounts at $35,000, whereas Wells Fargo offers personal loans up to $100,000 and BestEgg has loans up to $50,000.
Based on our research, we believe that Discover's personal loans are a good fit for someone with excellent credit scores who is looking for a loan up to $35,000 and wants a repayment period longer than five years.