DIY Tax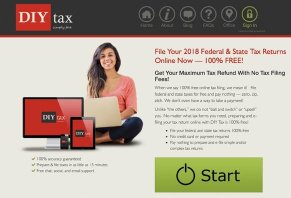 DIY Tax's tax software is one of the few truly free sites that allow you to file simple and/or complex tax returns, making it a possible option for those who don't want to pay to file their taxes.
DIY Tax Review: Who Is This Free Tax-Filing Software Good For?
DIY Tax is a tax software site that offers free tax filing for simple or complex tax returns.
What makes the site unique is that they are one of the few who claims to provide free complex tax returns, which typically cost more than $60 on any of the major tax software sites.
"Our Vision is to change the way you prepare your tax return. We offer free tax preparation because you should keep more of your hard-earned money," their website says. "DIY Tax is simple: Answer questions about your life and we'll handle all of the calculations. No more confusing tax forms, figures, or rules!"
We couldn't find out much about the origins of DIY Tax but we did discover that it has ties to Liberty tax by virtue of the fact that they're both owned by the same parent company, a DIY Tax rep told us. We find this interesting because Liberty Tax has its own online filing software that ranges in price from $24.95 to $79.95 but makes no mention of DIY tax.
In this review, we'll unpack this seeming conflict by analyzing what DIY Tax offers, talk about its limitations, compare it to what's offered on Liberty Tax's website as well as Credit Karma's free filing tool, then conclude with a section on our thoughts about the service's pros and cons.
What DIY Tax Offers
According to the website's limited information, the site allows you to file state and federal taxes for free.
"When we say 100% free online tax filing, we mean it! File federal and state taxes for free and pay nothing – zero, zip, zilch," DIY Tax's home page says. "We don't even have a way to take a payment!"
We wanted to test this out so we set up a dummy account to see if the return was actually free. One thing we really liked about the sign-in process is that, once your account is created, they do two-step authentication each time you log in. You have to provide your username and password first, then DIY Tax will send a verification code to your email address on file. This protects you against people who have your password but haven't hacked your email address.
We went through the tax return using arbitrary information about self-employment income, student loan interest as well as interest accrued from stock. At no point did the site tell us that we needed to upgrade to a paid version.
However, we did notice that, in the top left corner of the screen, there was a button labeled "Premium" that we can only assume means that, at some point, the site may have asked us to upgrade to a paid version of the tax return.
We were curious about this, so we contacted customer support to see what they had to say. A live chat representative told us that the Premium button we saw was "a legacy portion of the code...you can safely ignore it."
In other words, that button was a leftover portion of code that wasn't removed from the site.
We asked the live chat rep if there was audit support or upgrades we could buy and the rep told us that there weren't.
As far as our experience on the site went, DIY Tax was underwhelming. The website's design is very basic and not quite as user-friendly as experiences we've had on TurboTax, H&R Block, and TaxSlayer.
In this sense, we believe that the DIY Tax experience is more of a "you get what you pay for" endeavor, which is something similar to what we concluded about Credit Karma Tax, another free filing site for simple and complex returns.
Customer Reviews of DIY Tax
At the time of publishing, there weren't that many customer reviews of this company. We found five reviews on DIY Tax's Facebook page. Three of the five reviews gave the company one star while two gave it five stars.
Those who gave DIY Tax a low rating said that they had issues with the software being glitchy and others complained about poor customer service.
Here's an example of a review submitted on Feb. 25, 2018, that we feel is representative of other negative reviews:
"The free tax preparation is poor. The software has glitches that haven't been corrected. It is not user-friendly. This is a poor reflection on Liberty Tax. The customer service is mixed. They get overly busy probably because the system is so poor and questions abound. My taxes are simple and the software makes it difficult."
Keep in mind that DIY Tax has had a year (at the time of publishing) to work out these bugs, so it remains to be seen of the issues the reviewer mentioned have been fixed.
How DIY Tax Compares to Liberty Tax and Credit Karma Tax
We've established that DIY Tax is a sister company of Liberty Tax. During our demo of their tax software, we saw an ad for Liberty Tax and when we talked with a chat rep we were told that audit assistance would be something we'd have to go to a Liberty Tax office to get.
Considering the companies are related in what seems to be a significant way, we felt it best to compare the site to Liberty Tax's online tax software. And, because DIY Tax is free, we wanted to compare it to Credit Karma Tax, too.
Liberty Tax's filing solutions cost between $24.95 and $79.95. They cover pretty much every tax situation you could find yourself in: homeowner, charitable giver, parent/caretaker, self-employed, investment owner, etc.
In our review of Liberty Tax, we point out that their prices are pretty high compared to the competition. One unique thing about their online software, though, is that there is no free filing option. We see DIY Tax as the solution to that issue.
We went to Liberty Tax's online software to set up an account so we could do a quick demo of their product and found that it's almost identical to the format of DIY Tax. So, it seems to us that DIY Tax would be the better choice because you're getting the same experience you would using Liberty's online tax software but you aren't paying any money.
In our research of tax season products and services, we also tried out Credit Karma Tax since it too is a free filing site. Based on our experience, the site's software looked better and had more of a helpful feel to it than DIY Tax.
Like DIY Tax, Credit Karma Tax was free for both simple and complex returns. What we noticed using Credit Karma Tax is that the site wasn't quite as user-friendly as TurboTax and similar sites. To us, this is a common theme between DIY Tax and Credit Karma Tax and is something that you should be prepared for if you choose to use free tax software this year.
The Final Word: Strengths and Weaknesses of DIY Tax
Tax season offers you dozens of different filing options, from in-office visits with private CPA firms or chains like Liberty Tax to online software options like TurboTax, H&R Block and, of course, DIY Taxes.
Among all those choices are some pretty substantial difference in pricing – Liberty Tax office visits, as well as CPA visits, can surpass $500 depending on how complex your return is. Even online tax software can run as high as $169.99 if you want to be able to access the help of CPA's or IRS experts while you're working on your return.
In that context, DIY Tax's greatest strength is that it offers a free alternative amid what can be a costly expense during tax season. Based on our demo run of their tax return software, there weren't any hidden upcharges for adding student loan interest, self-employment income or interest earnings, three things which usually vault you into a tax website's most expensive tax return tier.
While the fact that complex tax returns are free on DIY Tax is a big draw, the site has one big weakness: user experience. The website's design was very basic and there wasn't much in the way of help or explanations as you work through each question.
The site does have a Help section where you can search for answers and you can query the site's live chat but, based on our experience filing with other sites, we think there are more helpful options.
Of course, this isn't an issue if you're doing a simple tax return in which your filing status is single, you have one W-2 and no dependents, homes or investments. If that's the case, we think that DIY Tax is a great solution because of its simplicity.
We also think that DIY Tax could be a good fit for someone who would normally require a tax software's mid-range package because they have one or two complexities like charitable donations or interest earned from a savings account, for example.
With all this being said, you can get more help from us if you aren't certain that DIY Tax is the right choice for you. We have a guide of the best tax software that helps you see how the major tax sites compare to each other, as well as which sites are best for specific situations.