DNA My Dog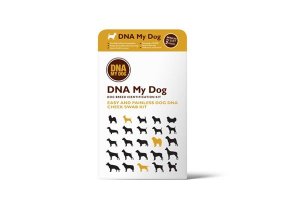 DNA My Dog is a series of canine genetics tests that will teach you about your pet's breed, key behavioral traits, and potential health future.
DNA My Dog Review: Is It Worth It?
What Is DNA My Dog?
DNA My Dog is a home DNA test for dogs that relies on a quick cheek swab to interpret the health and ancestral history in your dog's genetics.
Depending on which test you purchase, you'll learn your pet's breed, age, genetic background, likely personality traits, energy level, genetic health concerns, predisposition to disease, and more.
According to the DNA My Dog website, the test was borne out of an initiative called the Dog Genome Project.
The project was completed in 2005 and has since given scientists tools to understand the genetic indicators of different breeds, which include tail shape, color, fur length, and others.
The company website states that this test is designed to be used by animal shelters, veterinarians, and for home use.
DNA My Dog test claims to differentiate between almost 100 dog breeds to give you results within two weeks of receiving the sample. But it's far from the only DNA test out there.
Does DNA My Dog stand out from the competition, or should you go in a different direction to learn more about your pet? We'll share the specifics here.
How Does DNA My Dog Work?
To use DNA My Dog, you will first need to purchase a DNA kit from the company, which should arrive within a week of ordering.
You'll need to use the included cotton swabs to harvest cheek cells from your pet. To ensure your results are as accurate as possible, make sure you take a saliva sample at a time when your pet's mouth is free of food debris.
You'll want to swab firmly to get a good amount of cheek cells and avoid touching the tip of the swab, so you don't contaminate it.
You'll need to let the swab dry for a few minutes before packaging it. Don't let it contact other surfaces during this time. Next, you'll package the swab within the included pre-paid return shipping materials to send it back to the lab.
It's possible to test pets at any age, though DNA My Dog recommends waiting until puppies are weaned so you don't risk contamination from their mother's milk. If you do test a puppy, separate it from its mother and littermates for at least an hour before taking a sample.
You can also solicit your vet to secure some blood samples to test instead. Testing blood requires an extra $20 fee, and you can start the process by contacting the company at vet@dnamydog.com.
Once the lab receives your sample, it will be processed to remove the cheek cells from the swab to access the DNA. They then cross-reference the DNA through the company's comparison database in search of DNA markers indicative of different breeds.
Your pet's DNA results are displayed as levels, which are categorized as the following:
Level 1: over 75% of your pet's DNA
Level 2: between 37-74% of DNA
Level 3: 20-36% of DNA
Level 4: 10-19% of DNA
Level 5: 9% or less of DNA
While the percentages are estimates, they should reveal a broad picture of the overall genetic makeup of your pet.
If your pet has any DNA that doesn't exactly match a DNA My Dog known breed, it will be assigned to the breed family that's most closely related or labeled as "unidentified" on the report.
The company website states that they don't detect every known dog breed but rather have limited their genetic scope to the approximate 100 most common breeds across the United States. Even so, they state that their data set successful matches the breeds found in more than 99% of samples.
After the analysis, DNA My Dog will send you a personalized report of identified dog breeds, predicted personality traits, and genetic health concerns. You can expect your report emailed about two weeks after the lab receives your sample.
Along with your pet's DNA results, you will receive a custom certificate showcasing your pet's breeds and an (optional) photo of your dog.
You can submit a pet photo through your online account at any time before the final results are posted. Otherwise, the certificate might be mailed without it.
How Accurate Is DNA MY Dog?
Completing a canine DNA test can feel like taking a shot in the dark because it's difficult to know how accurate the results will be if you don't have any way to test whether they are right or wrong.
DNA My Dog acknowledges that about 2.3% of all canine DNA testing is inaccurate or produces results that can't be interpreted.
That's partly because dogs have high levels of oral bacteria that can interfere with samples, and partly because the company doesn't test for every known dog breed.
Saying that, DNA My Dog employs strict quality standards to ensure the accuracy of their analysis by running numerous control dogs each day. In the event a control sample fails, the company will retest all customer samples as well.
What Does DNA My Dog Cost?
DNA My Dog offers several packages at the time of writing:
DNA MY Dog Breed Identification Test ($68.99): This test gives you a report on your pet's dominant breeds, personality traits, and health concerns as well as a custom photo certificate.

DNA My Dog NEXTGEN Breed Identification and Genetic Age Test ($99.99): You'll receive the standard breed identification test along with a genetic age test that determines the biological age of your dog.

DNA My Dog Breed Test Plus Wolf-Canid/Hybrid Test ($88.99): Along with a standard DNA test, you receive a bonus DNA test to report whether your pet has any wolf or coyote DNA.

DNA My Dog Deceased Dog DNA Breed Testing ($167): This test is used to process the DNA on any items your deceased pet came in contact with while alive. This can include toys, blankets, and chewed household items. You will need to send one or more items directly to the lab for testing.

DNA Breed Identification Test Plus Full Genetic Screening ($188.99): You will receive the standard breed test along with an extensive genetic screening report that looks at over 100 common breed diseases. This service takes an additional two weeks.

DNA Breed Identification Test Plus Health Plan ($99): The standard breed identification test comes pared with a Health Plan screening tool designed to share information about your pet's specific health risks and how to manage them based on your pet's most common breeds. Unlike the genetic screening, it won't reveal specifics for your dog's health beyond his general breed traits.

Canine Full Genetic Health Screening ($139.99): This gives you the full genetic test without requiring a purchase of the Breed Identification Test.
All DNA My Dog purchases qualify for free shipping. Unopened packages qualify for returning, minus a 15% restocking fee. The company offers refunds on a case-by-case basis, so you can contact the company at info@dnamydog.com or (416)691-4160 to see whether you qualify.
Analysis of DNA My Dog Customer Reviews
Are customers happy with their DNA My Dog Results? We looked at reviews left on Amazon and Chewy.com, and the consensus isn't exactly glowing.
The DNA test is ranked at about three stars out of five on both platforms, and dozens of reviews mention that users thought their test results were wildly inaccurate.
Many people reported that they were told their dog contained breeds that were significantly different sizes than the reality.
For example, ten-pound dogs were classified as part rottweiler, and sixty-pound Labrador retrievers purportedly were more than 50% chihuahua. Some users tried out the test on pets they were confident were pure-breeds, only to have the results say otherwise.
A disproportionate number of reviewers also mentioned that the company seemingly lost their sample results, so they had to resubmit them and wait an extra two weeks. Others thought that the company was over-relying on the photo of their pet rather than their actual DNA.
Saying all this, many reviewers had positive experiences and reported that the DNA results seemed accurate and were worth the price.
Are There DNA My Dog Alternatives?
DNA My Dog is just one brand of canine DNA test on the market today. One popular brand is Wisdom Panel, which we've written about previously.
Wisdom Panel costs $84.99 for a standard breed test at the time of writing, and $149.99 for a breed test and health report. You'll pay $68.99 and $188.99 for similar options from DNA My Dog.
The Wisdom Panel test covers over 350 dog breeds (compared to DNA My Dog's 100) and checks for more than 150 disease risks. Like with DNA My Dog, you'll need to submit your pet's salvia sample and then wait for two to three weeks for results.
Beyond boasting a more comprehensive breed directory, Wisdom Panel has better reviews on Amazon and Chewy, where it's ranked a full star higher.
We also found that many people who reviewed DNA My Dog suggested going with Wisdom Panel instead.
However, DNA My Dog's base kit is cheaper than Wisdom Panel, and it stands out with their variety of test types, especially for testing deceased dogs and identifying wolf and coyote lineages.
The Bottom Line: Should You Sign Up for DNA My Dog?
While the field of canine DNA tests has exploded in the past decade, we think you might be disappointed if you purchase DNA My Dog. We based this conclusion on the fact that customer reviews call to question this brand's testing accuracy, which is the crucial factor when deciding on a DNA kit brand.
While the test might be 97.5% accurate as it claims, the standard customer experience seems to show otherwise, which is why we think you might be happier with a brand like Wisdom Panel.
Saying that, canine DNA testing is still in its infancy, and your results are likely to be somewhat inaccurate regardless of the brand you commit to.
We recommend thinking of these tests as a fun experiment rather than the absolute truth in regards to your pup. If you're looking for proof that your pet is a pure-bred, you'll do far better tracking his lineage through certified breeders.